Learn how to make Chinese cabbage stir fry as a fast, healthy dinner or side dish.
Simply seasoned ground beef sautéed to perfection along with sliced cabbage, sesame oil, ginger and garlic - all sprinkled with fresh scallions.
A light and flavorful keto stir fry everyone will love.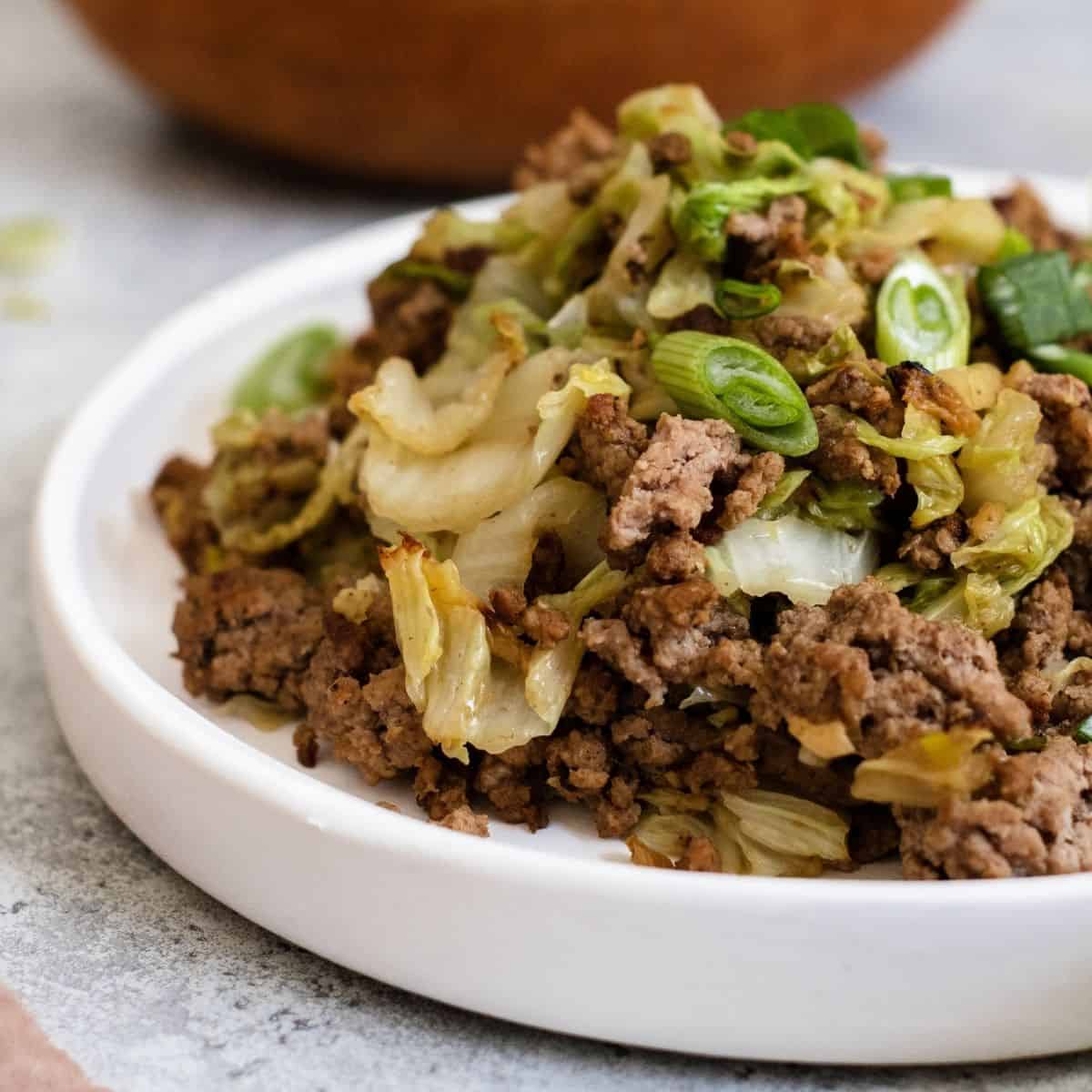 Table of Contents
Chinese cabbage really is an underestimated vegetable, especially for those of us on keto. It's very low in carbs, yet so versatile and easy to cook with.
And a healthy vegetable stir fry is the perfect choice for this wonderful vegetable! Stir fry's are quick and easy to make, while being packed with vitamins, nutrients and fiber that you may be missing out on when following a low carb diet.
This ground beef and cabbage stir fry is a quick and easy meal to throw together on a busy weeknight and works great made in batches for meal prep. You can incorporate it into lunch and dinner as a main dish or side.
Let's get stir frying!
Looking for more keto cabbage recipes? Try our roasted cabbage steaks or spicy keto fried cabbage!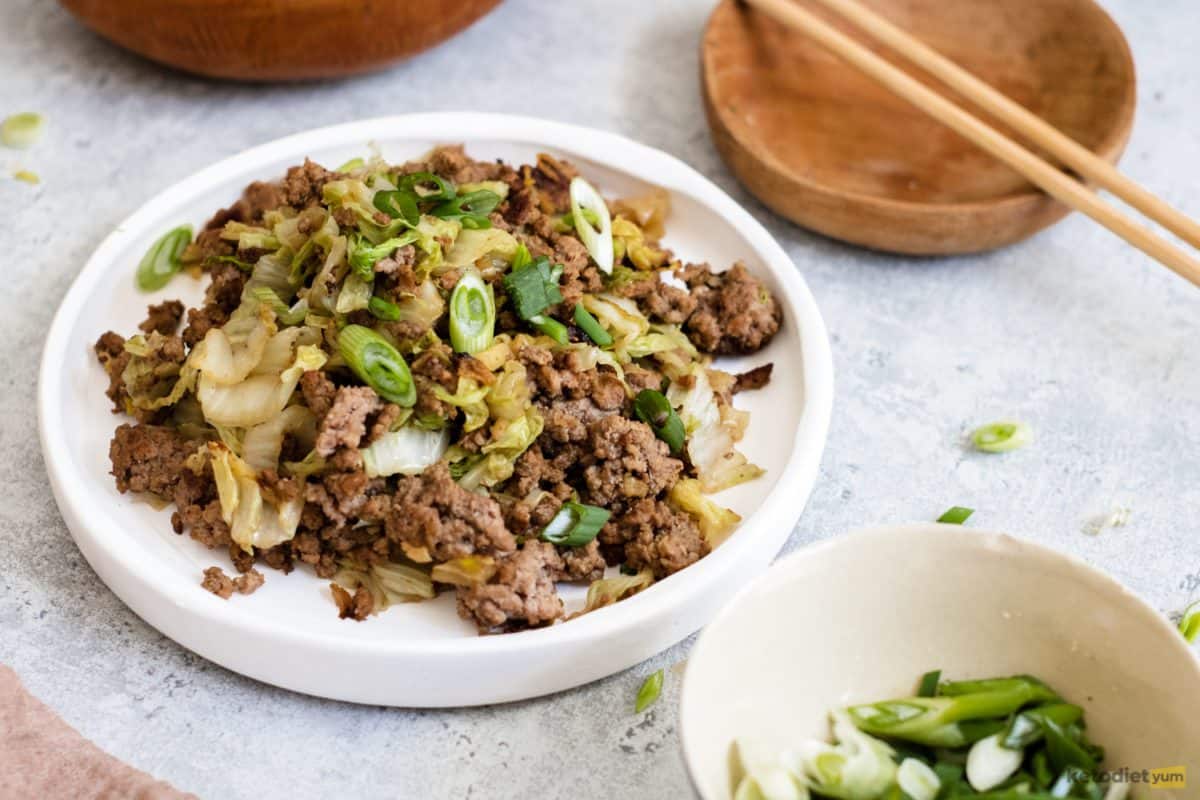 Why You'll Love Keto Cabbage Stir Fry
Healthy and packed with vitamins and nutrients
Fresh, fragrant and flavorful
Just 350 calories per bowl
Only 3.7 grams of net carbs per bowl(!!)
Ready to eat in 20 minutes
Cabbage Stir Fry Ingredients
This healthy cabbage stir fry only requires 9 simple ingredients, and you probably have most of them in your kitchen right now!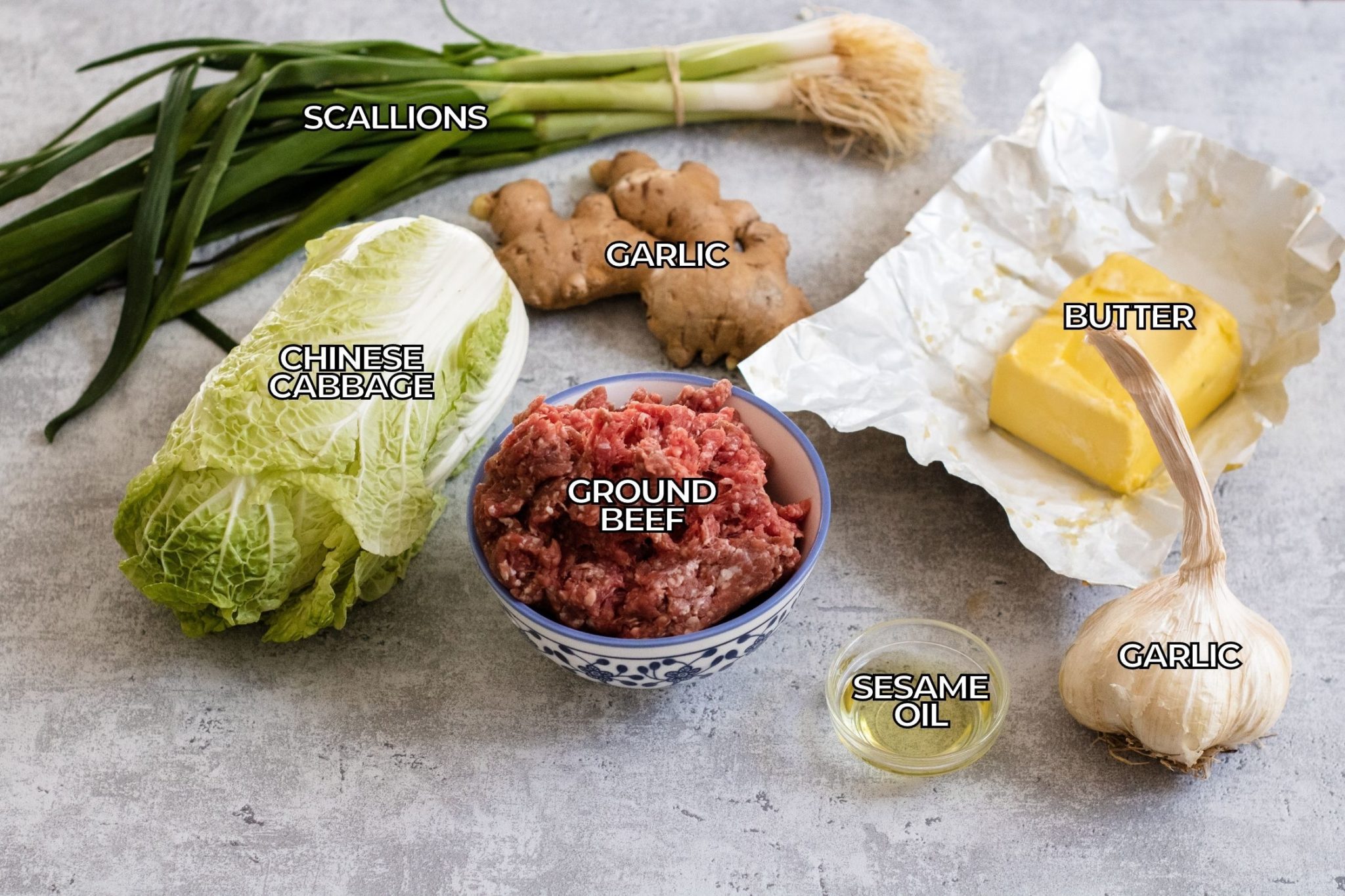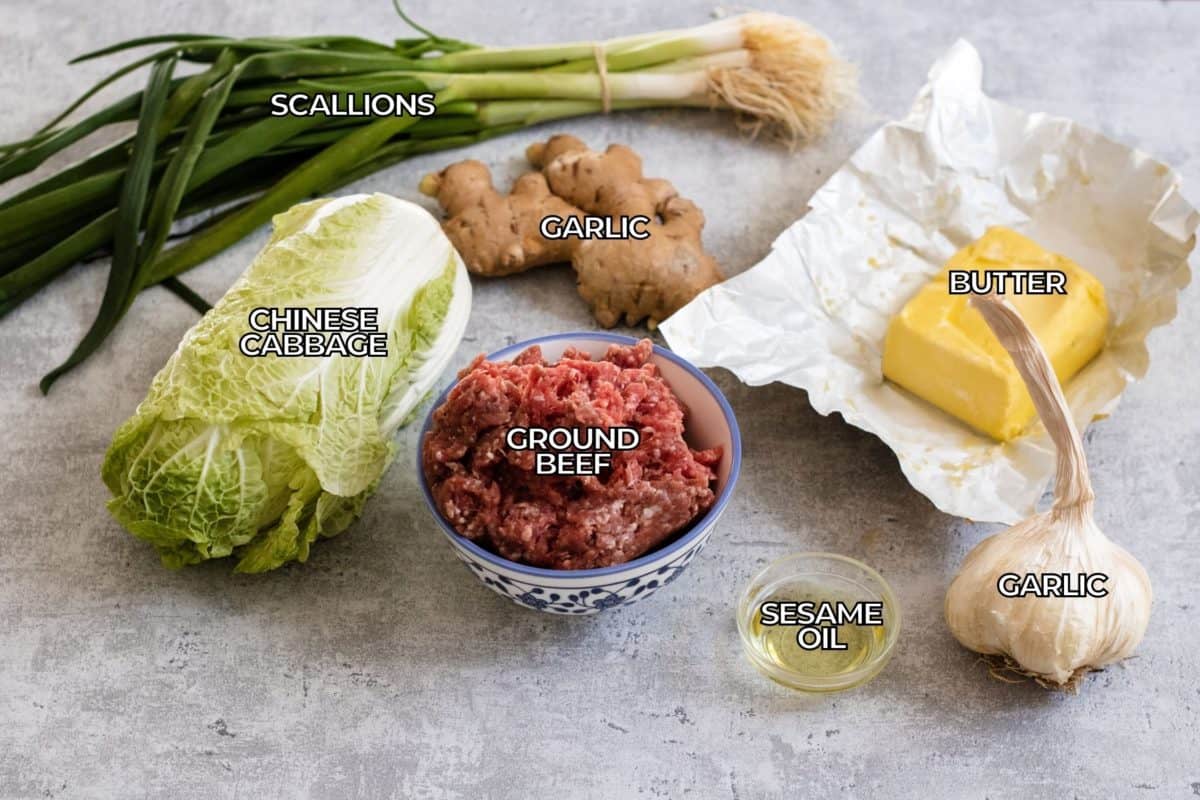 Chinese cabbage - is Chinese cabbage the best cabbage for stir fry? In my opinion, yes! Also known as Napa cabbage, it has a slightly sweeter flavor than green and red cabbage. The leaves are far more tender making it the perfect choice for stir-fries, dumpling fillings and raw salads.
Protein - we used ground beef in this recipe but you can easily substitute it for ground chicken, pork or shrimp. The best type of ground beef to use is
Ginger, scallions and garlic - the simple addition of fresh ginger, scallions and garlic add so much fragrance and flavor to this cabbage stir fry. You can also add other low carb vegetables like broccoli, peppers and asparagus.
Butter - we use grass-fed raw butter to perfectly sauté the ground beef and veggies in this cabbage stir fry.
Sesame oil - adds those important stir fry flavors and fragrances we love. Sesame oil is used as more of a seasoning than a cooking oil and has a number of health benefits.
Seasonings - you only need the simple combination of salt and freshly-ground black pepper for this Asian cabbage recipe. However, feel free to add your own seasonings as well. Cumin, red pepper flakes, low sodium soy sauce and ground cloves all work great with this recipe.
How to Make Ground Beef and Cabbage Stir Fry
This beef cabbage stir fry recipe is simple and straight forward to make. With just 5 minutes of preparation, and 15 minutes of cooking, you will have a healthy and delicious Chinese cabbage recipe ready to enjoy!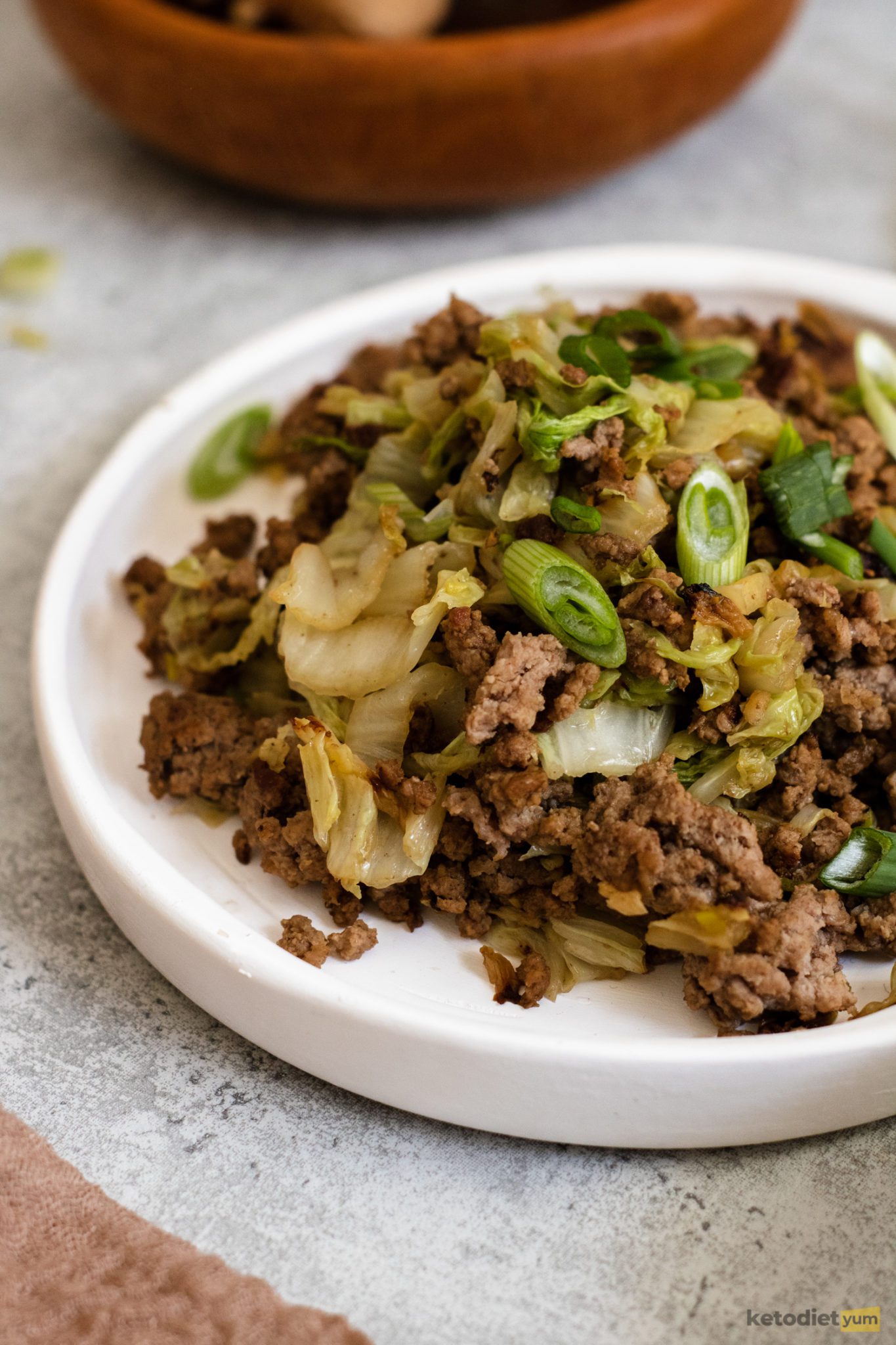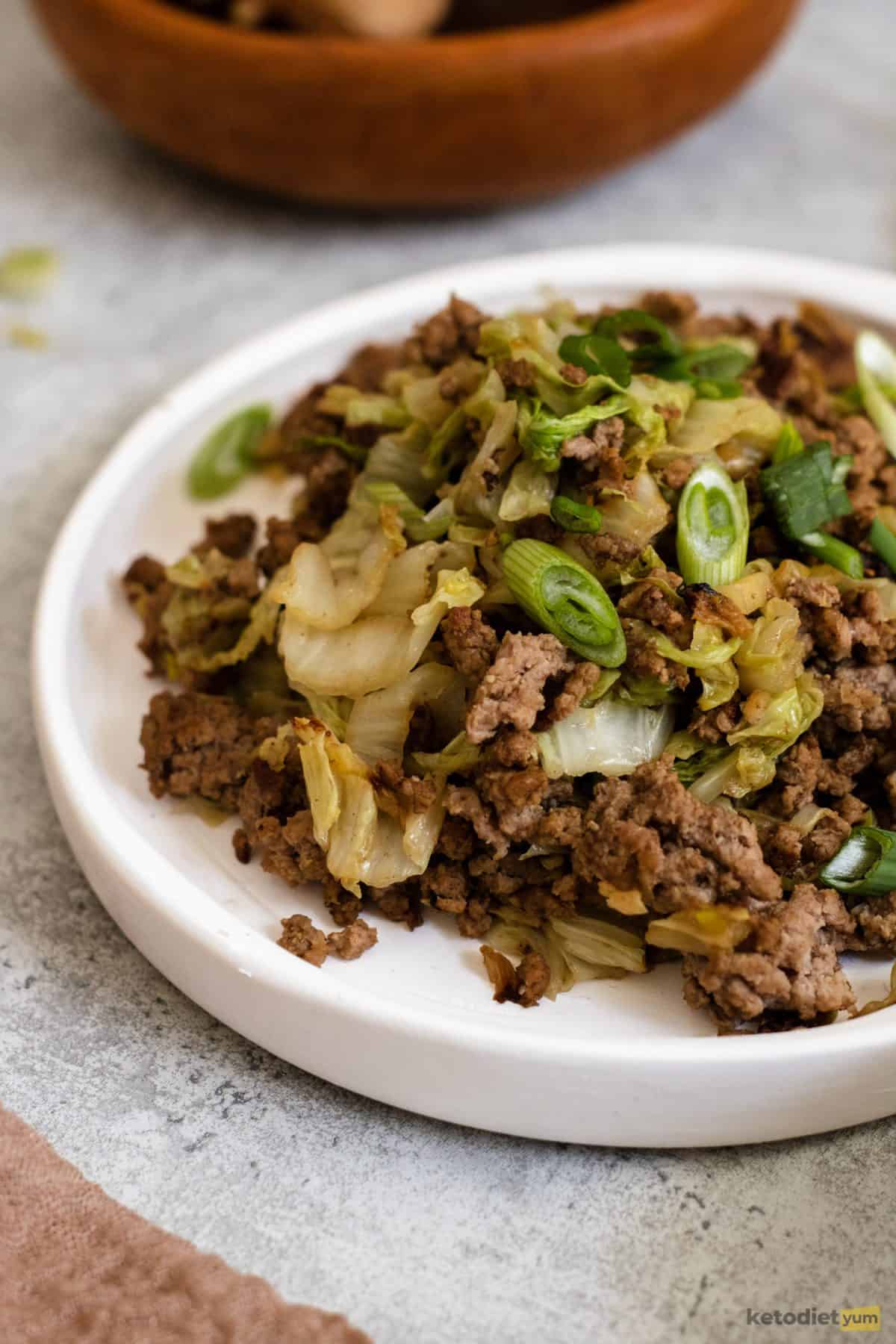 Step 1
Take a large skillet or wok and add the butter over a medium-high heat. Sauté the ground beef for around 5 minutes seasoning with a pinch of salt and black pepper.
Step 2
Add the sesame oil and shredded cabbage to the ground beef and continue to sauté for 5 to 7 minutes, stirring occasionally until fragrant and slightly brown.
Step 3
Stir in the garlic and ginger and continue to simmer for 2 to 3 minutes. Serve the cabbage stir fry hot, garnished with chopped scallions.
How to Store Ground Beef Cabbage Stir Fry
In the fridge: you can keep any leftover cabbage stir fry in an airtight container refrigerated for 3 to 4 days.
In the freezer: any leftovers can also be frozen for up to 3 months. Store leftovers in an airtight freezer-proof container. The texture of the stir fry will definitely change, but the flavors are still there and it's just as tasty.
How to reheat: to reheat the stir fry add it to a large skillet or wok over a medium-high heat. Stir fry with a tablespoon of rice vinegar to perk the vegetables back up.
Tips and F.A.Q
How to Cut Cabbage for Stir Fry (or not!)
The best way to prepare cabbage for a stir fry is to hand tear it. It's actually believed that using hand torn cabbage makes the final dish more tasty, and we definitely want that!
Simply tear the cabbage into small, irregular pieces. It actually makes it easier to remove the lower stem of each cabbage leaf using this technique. If you have pieces of stem when stir frying, they won't be cooked through when the thin leaves are perfectly cooked.
Is Cabbage Keto Friendly?
You might be wondering to yourself 'Is cabbage low carb?'
Well, the answer is yes!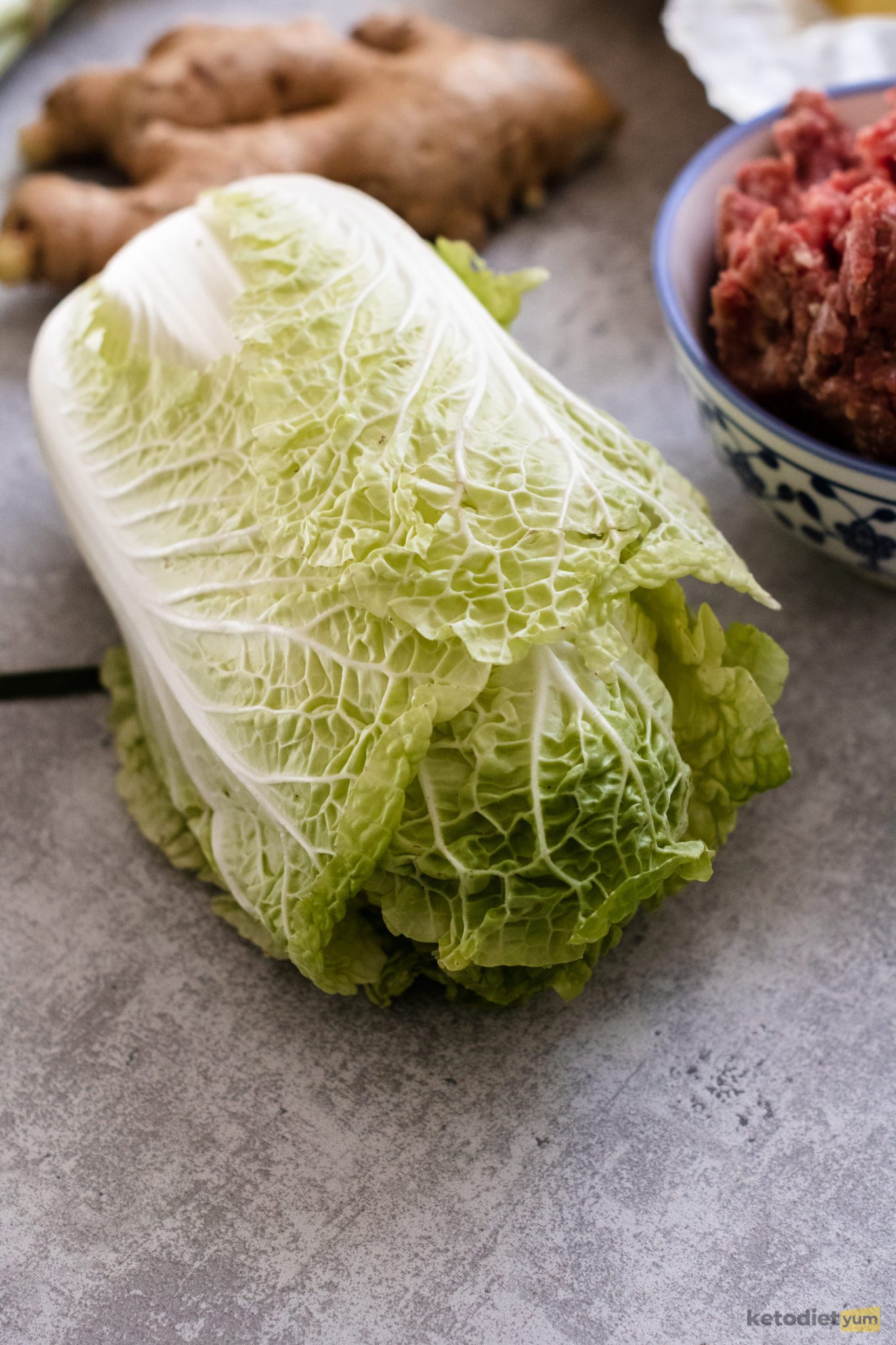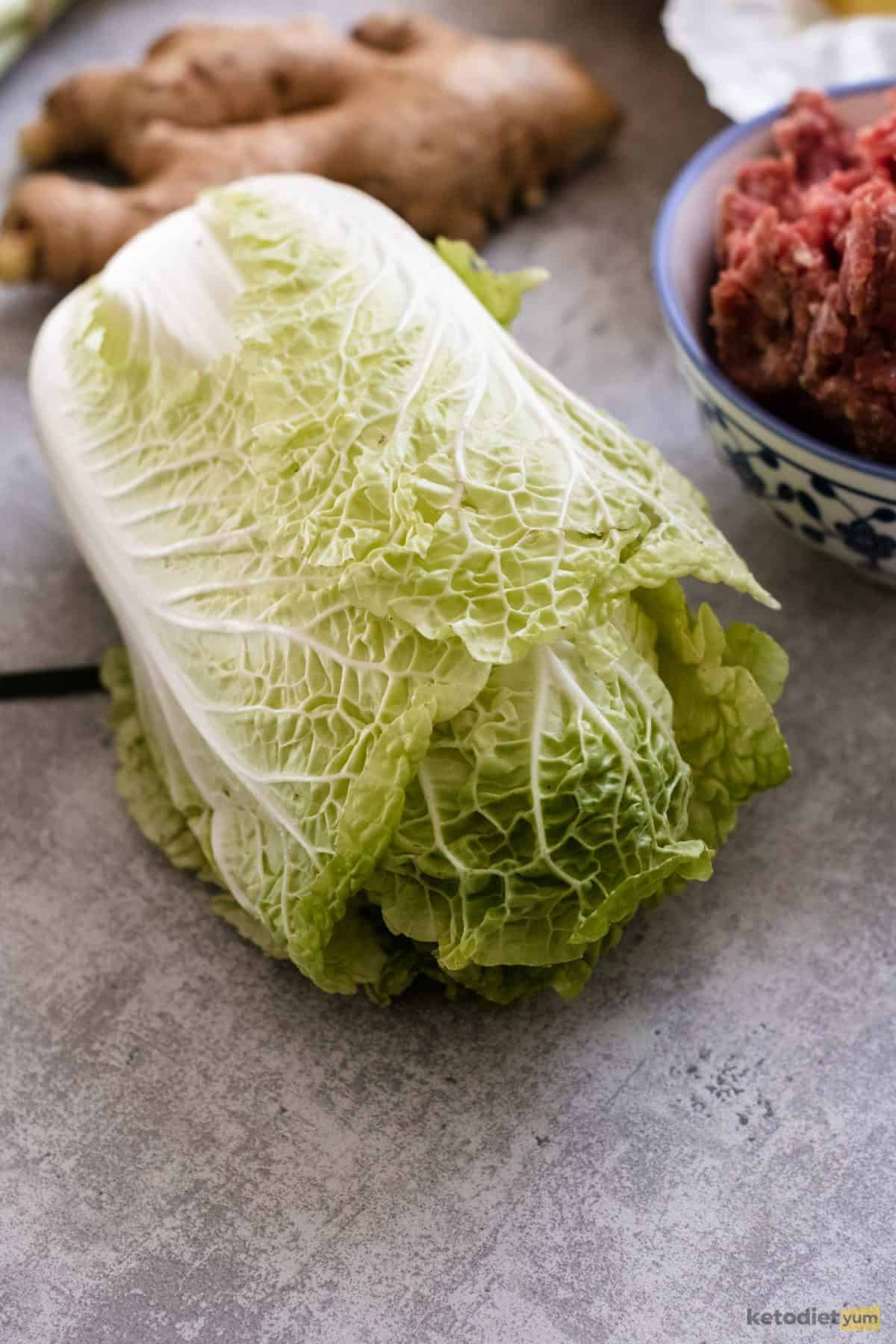 Each 1 cup serving of cabbage contains roughly 1.5 grams of carbs and 0.7 grams of dietary fiber, for a total 0.8 grams of net carbs. It's also very low in calories with only 9.1 calories per cup.
So, cabbage on keto is definitely a great vegetable that you should utilize in your meals.
What are the Health Benefits of Cabbage?
Chinese cabbage is a nutrient-dense vegetable that is high in vitamin C, fiber and antioxidants.
It also has many health benefits like promoting heart health, preventing cancer and protecting your skin from sun damage. [1] [2] [3]
More Healthy Recipes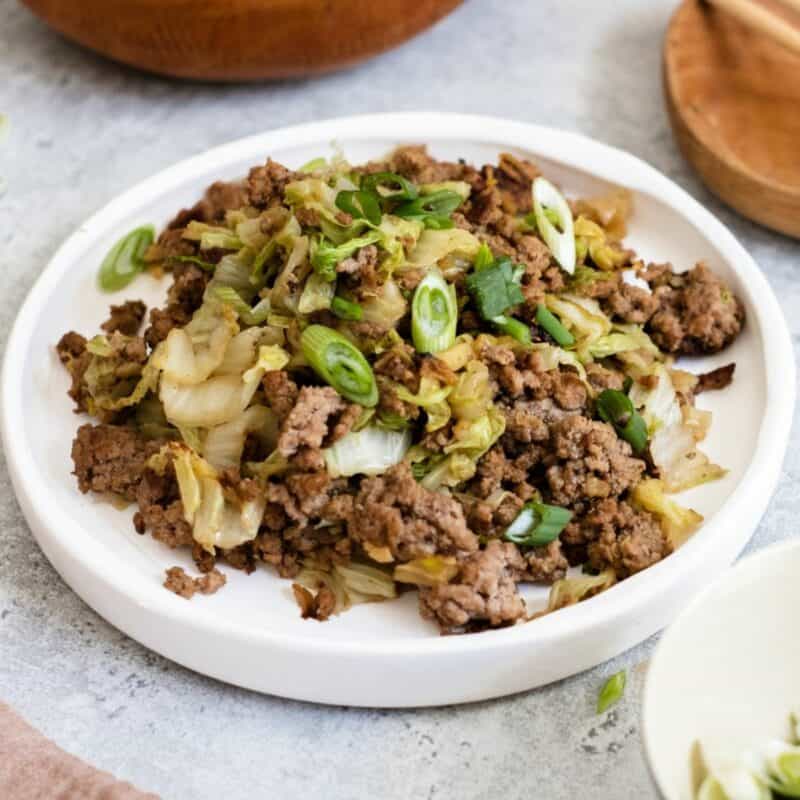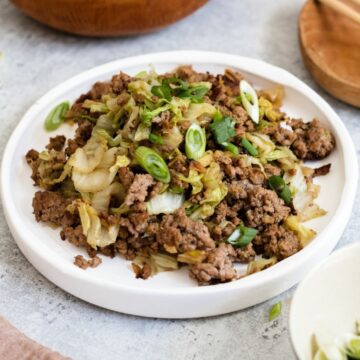 Healthy Chinese Cabbage Stir Fry Recipe
Simply seasoned ground beef sautéed to perfection along with sliced cabbage, sesame oil, ginger and garlic - all sprinkled with fresh scallions. A light and flavorful keto stir fry everyone will love.
Pin It
Print
Ingredients
1

lb

Chinese Cabbage

hand-torn into pieces

1

lb

Ground Beef

2

tablespoon

Ginger

fresh, grated

4

tablespoon

Scallions

chopped

2

cloves

Garlic

sliced

2

tablespoon

Butter

2

tablespoon

Sesame Oil

½

teaspoon

Salt

¼

teaspoon

Black Pepper

freshly-ground
Instructions
Heat the butter in a large skillet or wok and sauté the beef for 5 minutes, seasoning with a pinch of salt and pepper.

Add the sesame oil and the cabbage and sauté for 5-7 minutes, until fragrant and slightly golden.

Add the ginger and garlic and stir, simmering for 2-3 minutes.

Serve hot, garnished with scallions.
Last Step: Leave A Rating!
Share your recipe by tagging @keto.diet.yum with hashtag #ketodietyum on Instagram - everyone would love to see it!
Nutrition
Calories:
350
kcal
Carbohydrates:
5.4
g
Protein:
36.6
g
Fat:
20
g
Saturated Fat:
7.4
g
Cholesterol:
117
mg
Sodium:
482
mg
Potassium:
805
mg
Fiber:
1.7
g
Sugar:
1.6
g
Calcium:
133
mg
Iron:
23
mg
Net Carbs:
3.7
g