This irresistible low carb keto chicken parmesan recipe is so easy to make in one pan! Juicy chicken breasts slathered in marinara sauce with LOTS of cheese.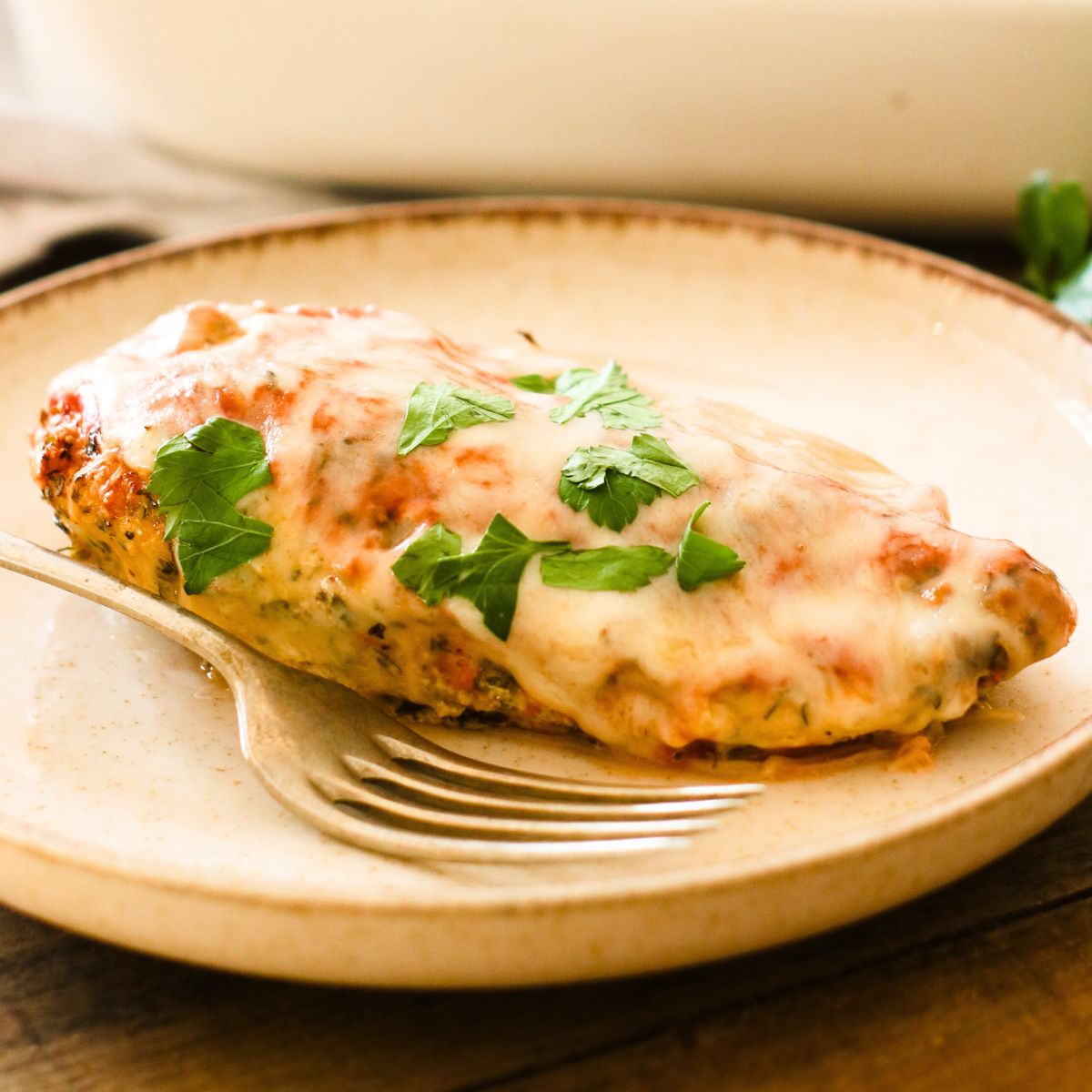 Table of Contents
Best Keto Chicken Parm
Chicken parmesan has to be one of my favorite dishes that is always a popular choice at Italian restaurants. Most people think that it requires a lot of prep and time to cook, but it can actually be incredibly easy! Along with my chicken bacon ranch casserole and garlic butter chicken, this keto chicken parmesan is one of my go-to easy chicken dinners.
Chicken is such a staple ingredient, and it's one we cook in our house regularly. A fantastic source of protein, chicken is a wise choice to turn to for promoting lean muscle mass and consistent energy throughout the day. Our keto chicken parmesan is a delightful way to enjoy this versatile meat, with the creamy additions of both parmesan and mozzarella cheese.
Boasting impressive quantities of vitamins B6 and B3, this tasty dish will help keep your immune system healthy and aid your body in utilizing energy from nutrients, all with the power of keto! The prep for our keto chicken parmesan is effortless, so it's ideal for a last-minute dinner or late weekday supper after the kids' soccer practice.
This recipe serves four, but I like to double the amount and have some cheesy parmesan crusted chicken ready to go in the fridge. I've served up this chicken parm with a fresh green salad, spicy cauliflower rice, and even sliced some up and eaten it cold from the fridge! Flexible recipes able to provide a variety of meals are a winner in my eyes, and this is certainly one not to miss.
Is Chicken Parmesan Keto?
Traditionally, chicken parmesan isn't a keto friendly dish. This is due to the addition of breadcrumbs to create a crunchy coating around the succulent chicken breasts. Our recipe uses parmesan mixed with various herbs and seasoning to achieve a crispy coating making it low carb but just as divine.
Ingredients for Low Carb Chicken Parm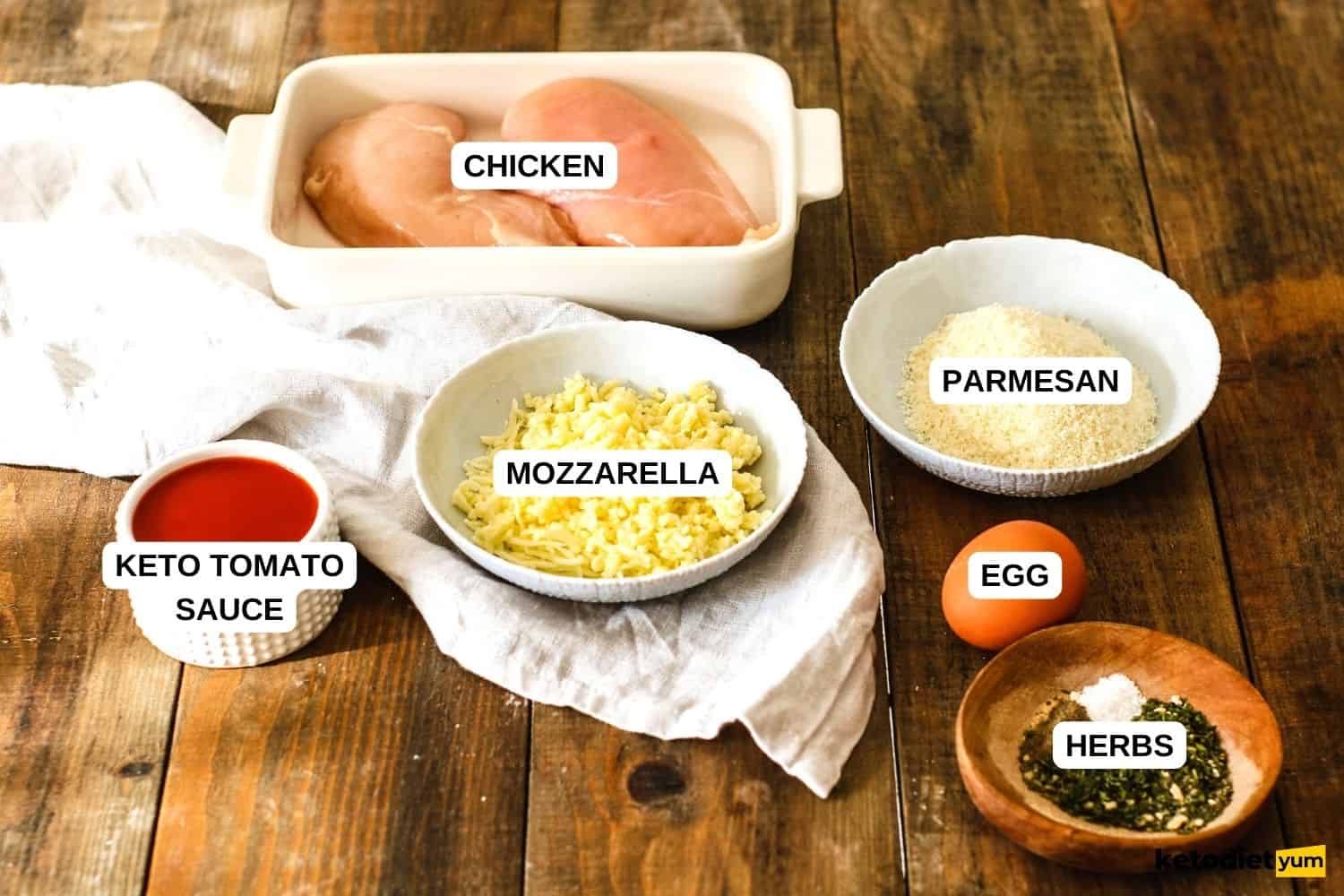 Chicken breast: Great for the whole family, chicken is relatively low-calorie but still provides a fantastic boost of protein. It's also substantially lower in fat than red or highly processed meats which is beneficial for those watching their cholesterol level and calorie intake. Organic chicken is more costly, but I think choosing high-quality meat is essential for this recipe since chicken is the star of the show!
Egg: Another fantastic source of protein and healthy fats is eggs, which you'll be no stranger to with keto recipes! Our keto chicken parmesan recipe only calls for the use of one egg, but trust me when I say it makes all the difference. The egg helps create a sticky mixture to dip the chicken into before coating it with a herby parmesan blend that becomes golden and crispy in the oven.
Cheese: Cheese is a favorite in my kitchen, and with feta, cheddar, and blue stilton usually to hand, it's a nice change to bring some different variety onto our plates. This recipe calls for the addition of both parmesan and mozzarella to bring savory saltiness and a golden, melty layer on top of the chicken.
Sugar-free tomato/marinara sauce: Nothing screams comfort more than tomato and herbs, and with the two cheeses, it's possible to close your eyes and float away to Italy when eating this keto chicken parmesan. The acidity of the tomato sauce helps cut through the rich cheese, bringing not only ruby color to the dish but a depth of flavor too. Here's my low carb marinara sauce recipe that is great as a pasta sauce, pizza sauce, and dipping sauce!
Herbs: Dried herbs are a best friend in the kitchen. I don't have any time to dedicate to a veggie garden, let alone several pots of fresh herbs! Therefore, I always keep a supply of dried herbs and spices to transform recipes into flavor explosions with little effort. Dried parsley, dill, onion powder, and dried garlic all work together with the chicken and cheese creating a fresh-tasting, comforting dish for any night of the week.
Seasonings: Sea salt and freshly ground black pepper are two things I never forget when cooking any kind of savory keto dish. Healthy meals don't have to be laborious to cook and require endless ingredients. Simply sprinkling some sea salt and cracked black pepper into any dish helps bring overall balance, just like in this chicken parm.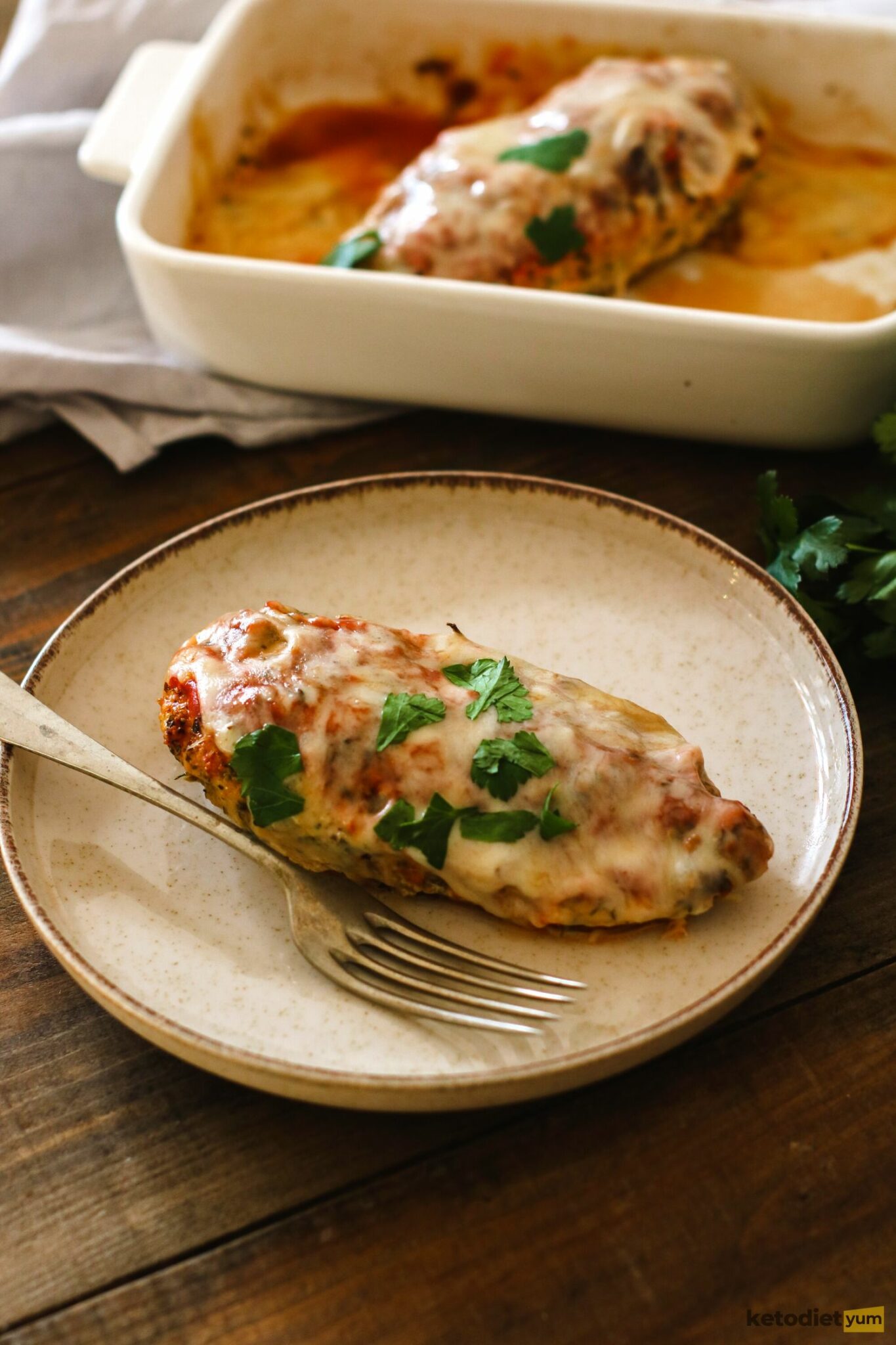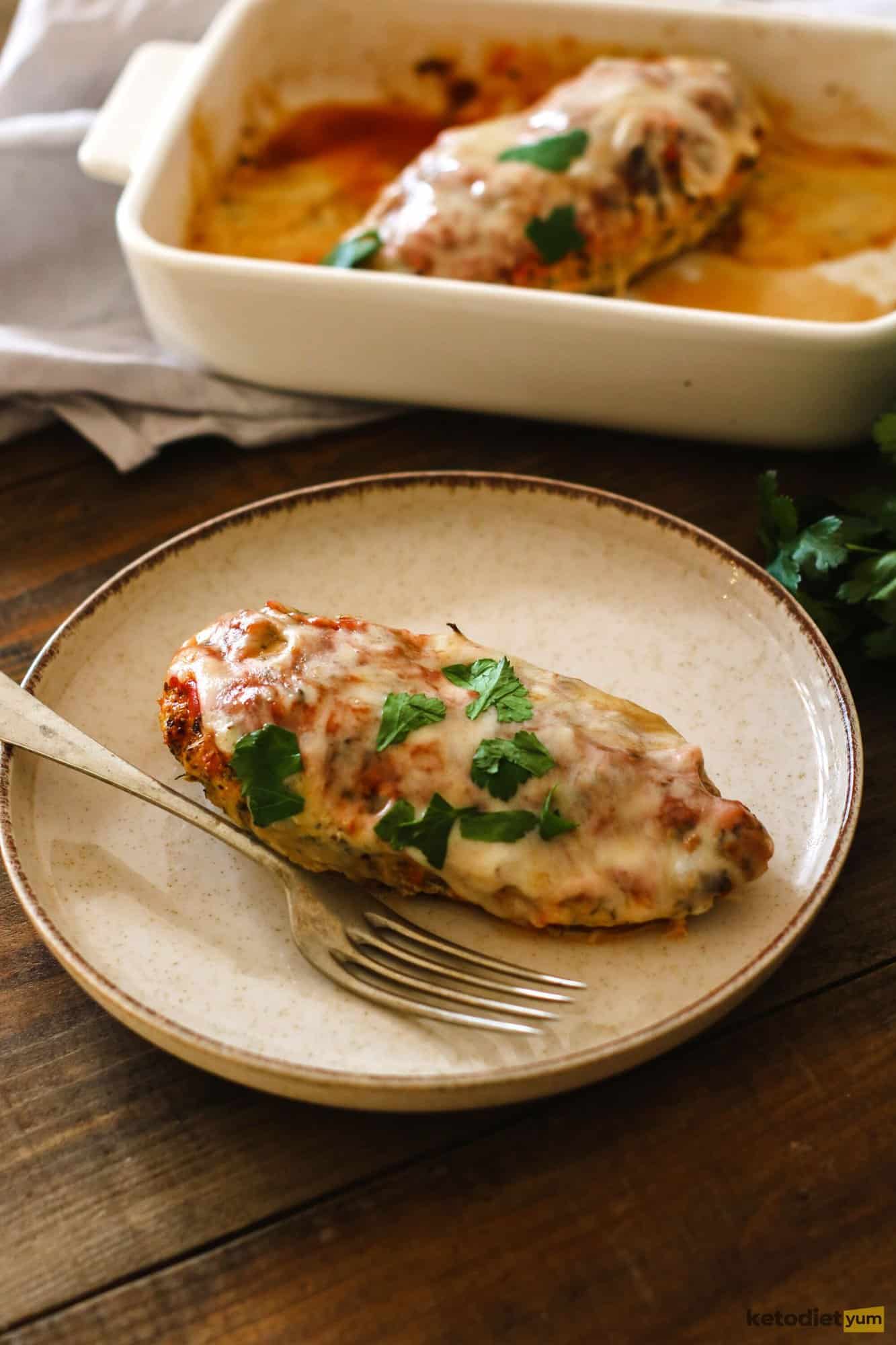 How To Make Low Carb Chicken Parmesan
Whipping up these cheesy-coated chicken breasts is easy, and since they only take 30 minutes to cook in the oven, there's even a window for the kitchen clean-up. If you've only ever had a mediocre chicken parm and are looking to liven things up on your keto quest, you won't regret cooking this recipe. You could even chop and change the herbs and cheeses to experiment with flavor combinations!
Step One: To reach ultimate golden crispiness, the oven needs to be at a high temperature. Before getting to work on the chicken, preheat the oven to 425°F (218°C). Grab a suitable-sized tray for the chicken breasts and pop it to one side to use later.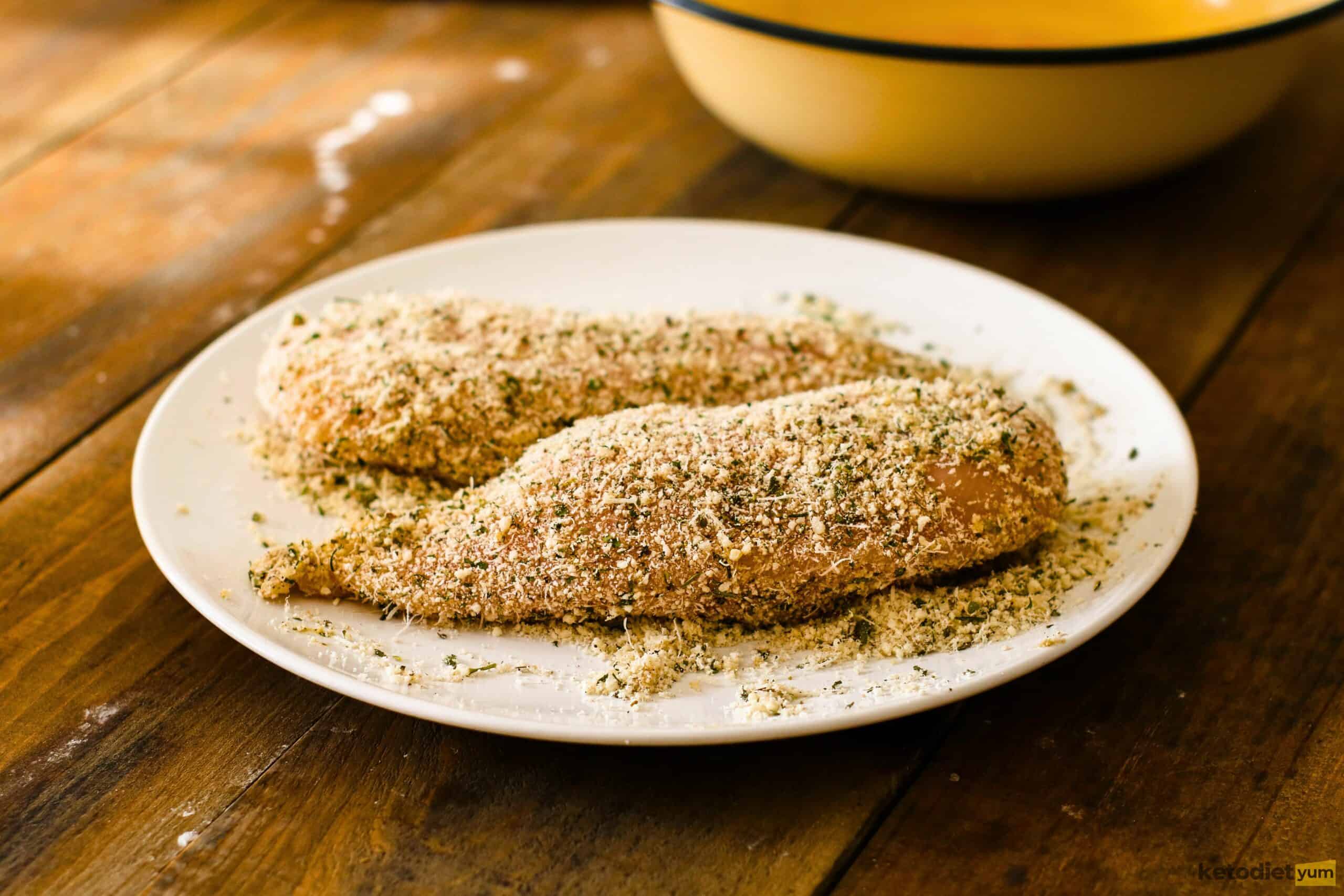 Step Two: In one bowl, thoroughly beat the egg, and in another, combine the parmesan cheese, dried herbs, and seasoning. Use bowls or plates large enough so that when it comes time to coat the chicken, there's no struggling for space!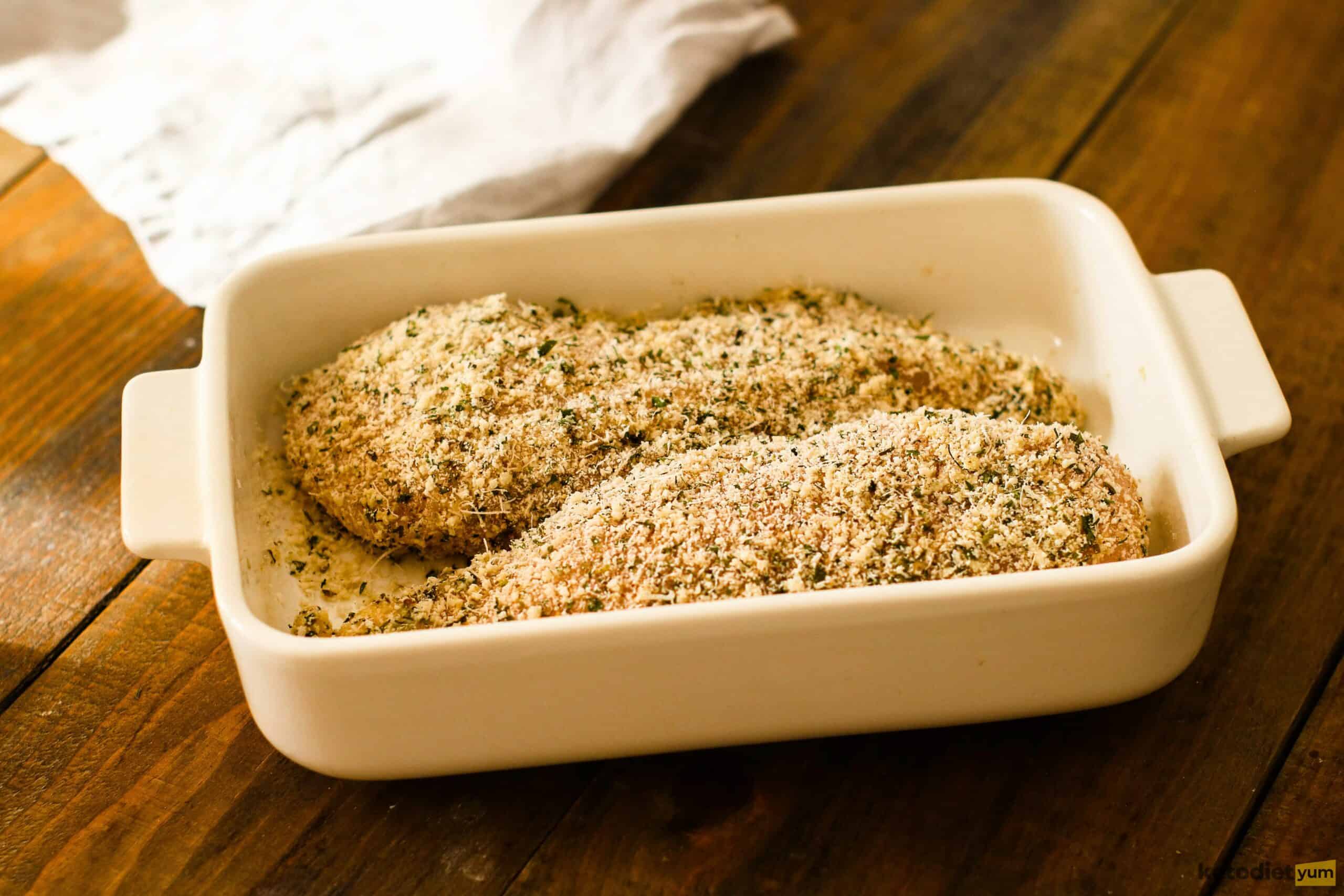 Step Three: Now it's time to get messy! Take the prepared chicken breasts, one at a time, and dip them into the beaten egg. Then coat the chicken with the herby parmesan mixture and place on a baking sheet. Make sure there's plenty of herb mixture on each chicken breast as the crunchy coating is a big characteristic of a chicken parm!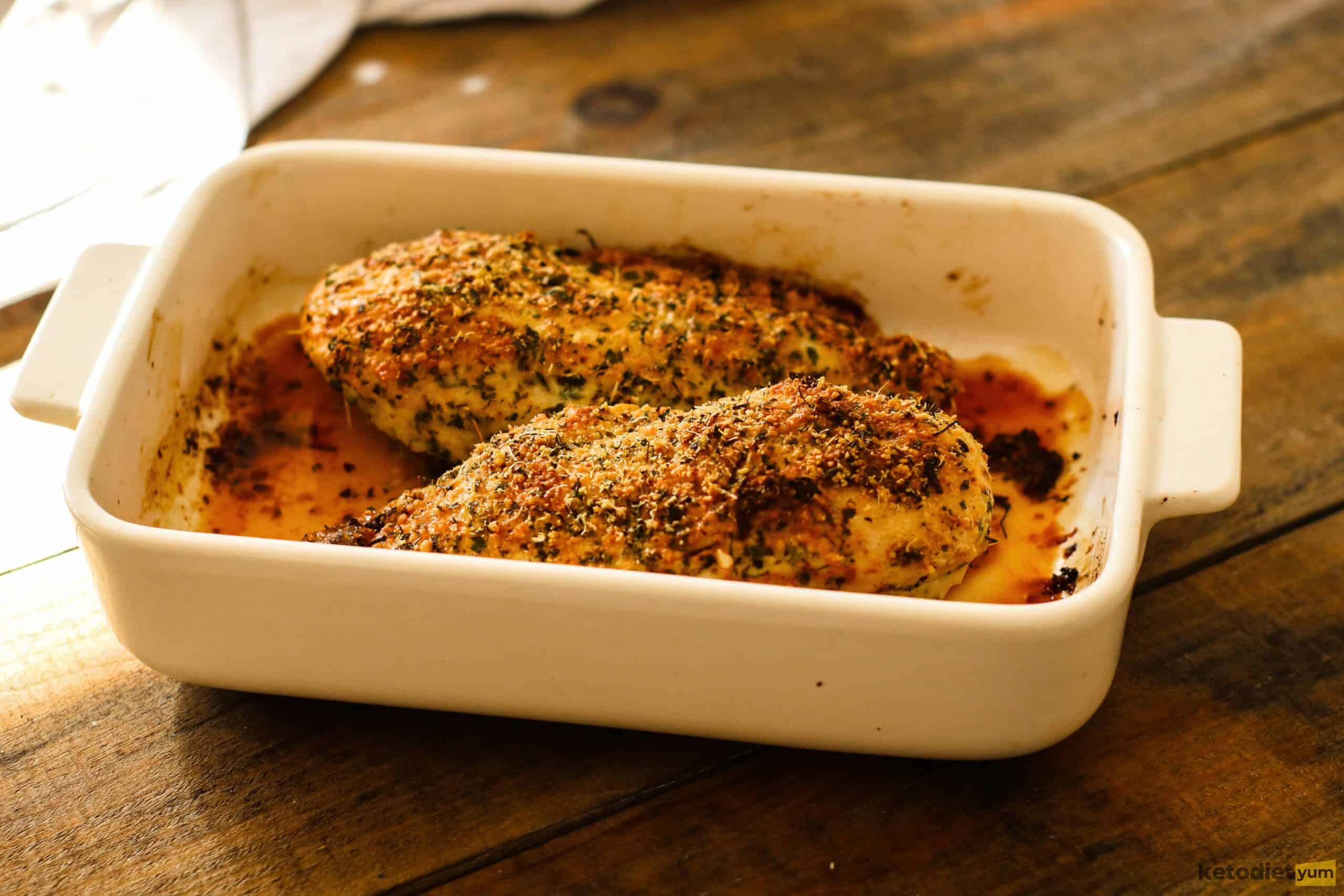 Step Four: Allow the chicken breasts to cook for 20-25 minutes before topping each one with tomato sauce and mozzarella cheese. For an added boost of flavor, use a tomato sauce infused with basil or garlic.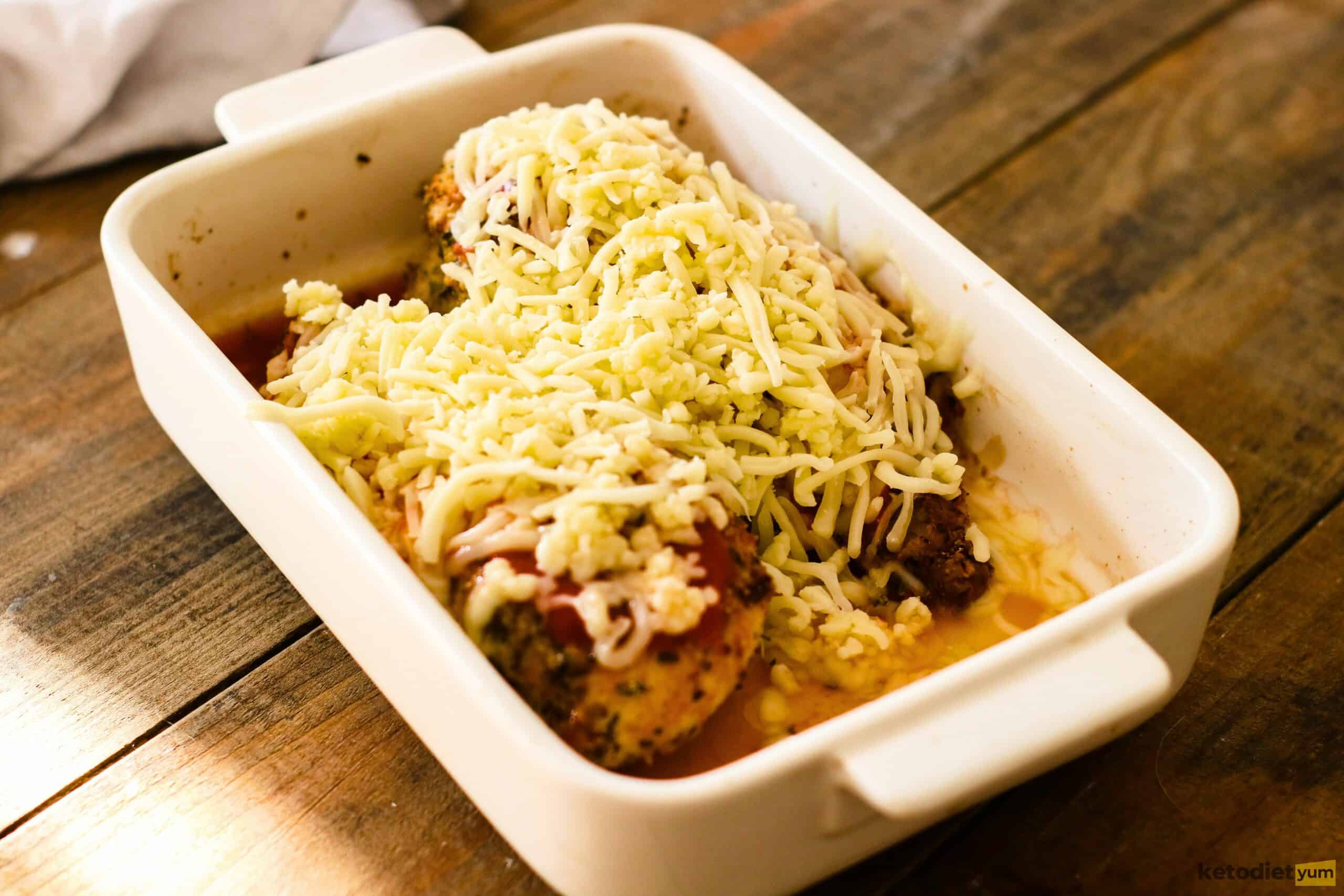 Step Five: Return the chicken to the oven for another 10 minutes, or until the mozzarella starts to bubble and become a molten white top layer. Once the cheese has melted, remove the tray from the oven and get ready to devour some keto chicken parmesan.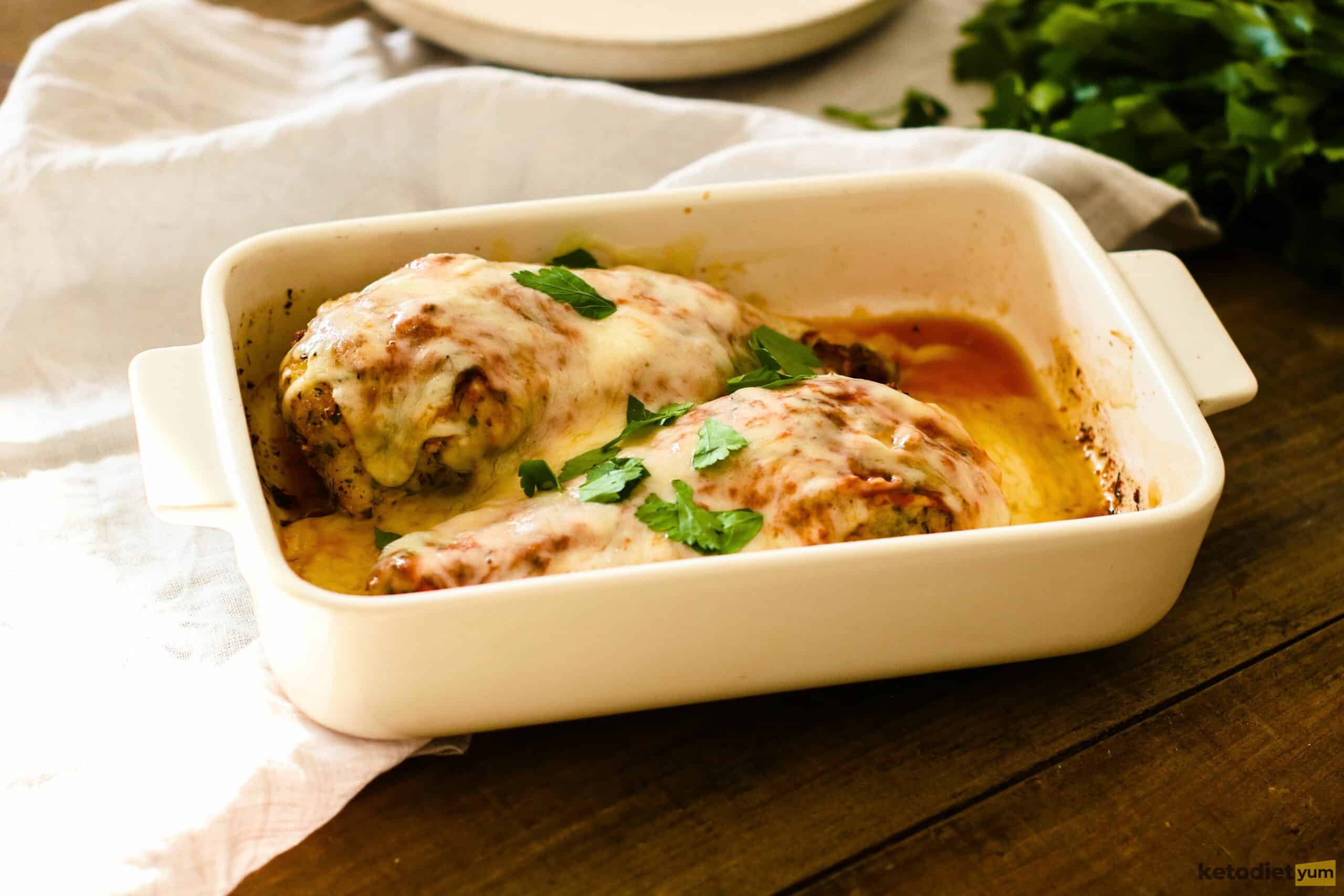 Tips And Variations
Fiery chili option: Experimenting in the kitchen is part of the fun of cooking! That's why trialing different herbs and spices with this keto chicken parmesan recipe could result in you creating a new favorite flavor combination! Adding some dried chili to the parmesan herb mixture creates a fiery kick bringing heat to the juicy chicken and silky mozzarella.
Breadcrumb substitute coating: If you don't have any parmesan to hand or just fancy switching this classic dish up even more, a low carb keto breadcrumb adds a nice crunch. Almond meal or coconut flour mixed with dried thyme and rosemary provides a delicious crispy alternative to parmesan if you don't have any in the store cupboard.
Dairy-free chicken parm: Avoiding dairy is becoming the norm for many, and it's easy to make this keto chicken parmesan dairy-free without sacrificing flavor. Plant-based cheeses may not be the top choice for everyone, but coconut oil-based cheeses, in particular, tend to be creamy and melt like a dream without any milk in sight.
Common Questions
How Long Will Keto Chicken Parmesan Keep?
Once cooked, keto chicken parmesan should keep well in the refrigerator for 3-4 days. To reheat, the chicken can either be warmed up in the microwave or popped in the oven. I prefer to reheat the chicken parm in the oven whenever I can as I find this helps everything become crispy again if it's been sitting in the fridge for a couple of days.
Can You Freeze Chicken Parmesan?
Freezing chicken parmesan after it's cooked is possible, but it's best to wrap the chicken in foil or similar before placing it in a sealed, airtight bag. It's also wise to write what's inside the bag and the date of cooking/freezing so you know where to grab some keto chicken parmesan whenever you need to!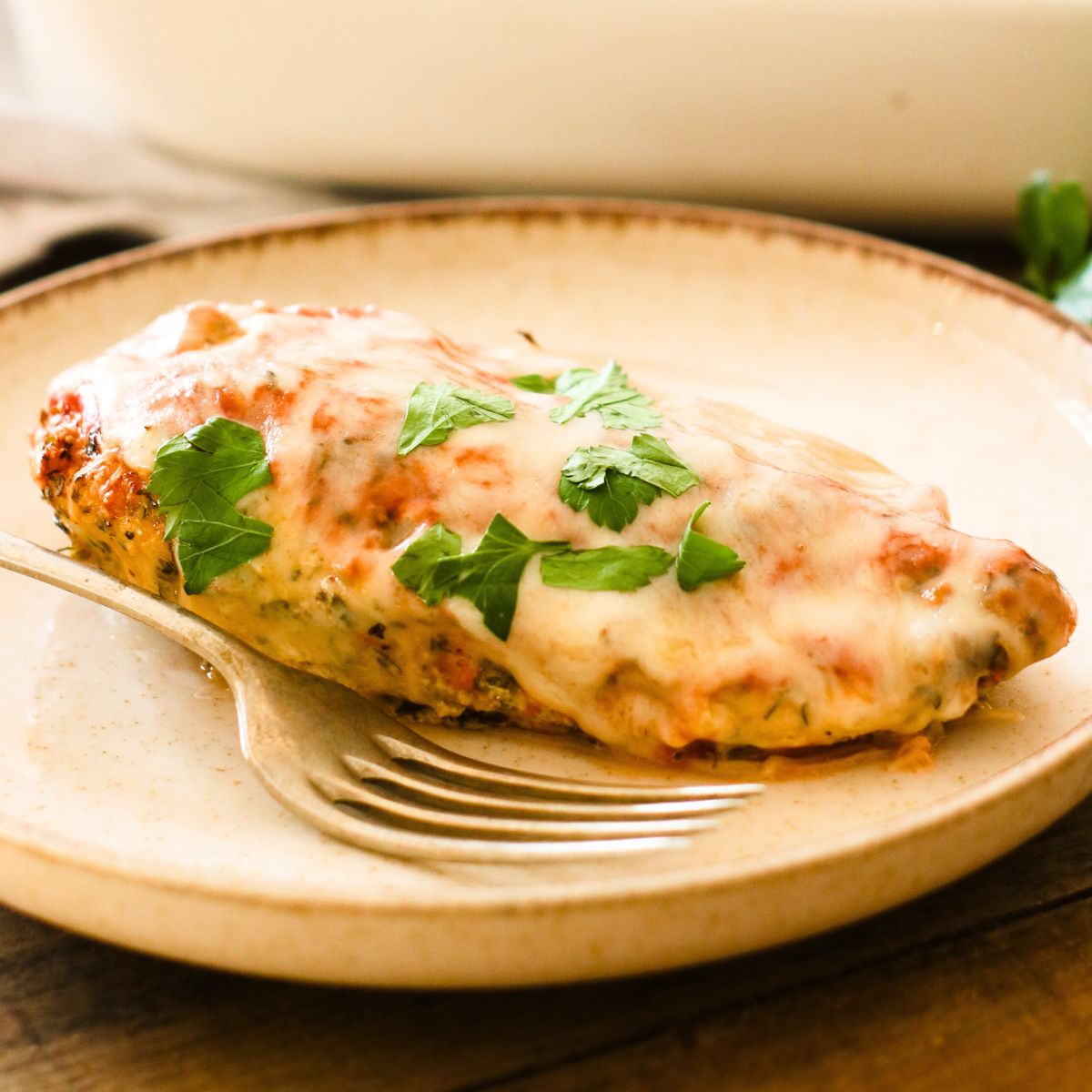 Keto Chicken Parmesan (One Pan Chicken Parm)
A new way to make the Italian classic and family favorite- low carb keto chicken parmesan! These super cheesy baked chicken breasts are topped with marinara sauce and lots of parmesan and mozzarella cheese.
Pin It
Print
Ingredients
4

Chicken Breasts

1

medium

Egg

1

cup

Parmesan Cheese

grated

1

cup

Mozzarella Cheese

grated

1

cup

Keto Tomato Sauce

1

teaspoon

Dried Parsley

1

teaspoon

Dried Dill

½

teaspoon

Onion Powder

½

teaspoon

Garlic Powder

Sea Salt

to taste

Black Pepper

freshly ground, to taste
Instructions
Preheat the oven to 425°F (220°C).

Beat the egg in a mixing bowl and mix the Parmesan cheese with the dried parsley, dried dill, onion and garlic powder, salt, and pepper in another bowl.

Dip the chicken into the egg and then into the Parmesan and seasoning mixture. Coat well.

Place the chicken breasts on a baking sheet and bake for 20-25 minutes.

Remove from the oven, top with the tomato sauce and shredded mozzarella cheese. Return to the oven for 10 more minutes until the mozzarella cheese is golden and bubbly.
Last Step: Leave A Rating!
Share your recipe by tagging @keto.diet.yum with hashtag #ketodietyum on Instagram - everyone would love to see it!
Nutrition
Serving:
1
chicken breast
Calories:
470
kcal
Carbohydrates:
2.4
g
Protein:
79.5
g
Fat:
13.8
g
Saturated Fat:
5.4
g
Polyunsaturated Fat:
1.5
g
Monounsaturated Fat:
4.1
g
Cholesterol:
264.5
mg
Sodium:
690.4
mg
Potassium:
992.7
mg
Fiber:
0.6
g
Sugar:
0.7
g
Vitamin A:
128.2
IU
Vitamin C:
0.6
mg
Calcium:
549
mg
Iron:
1.7
mg
Net Carbs:
1.8
g