Are you finding yourself too busy and looking for some low carb keto fast foods options? We've got you covered!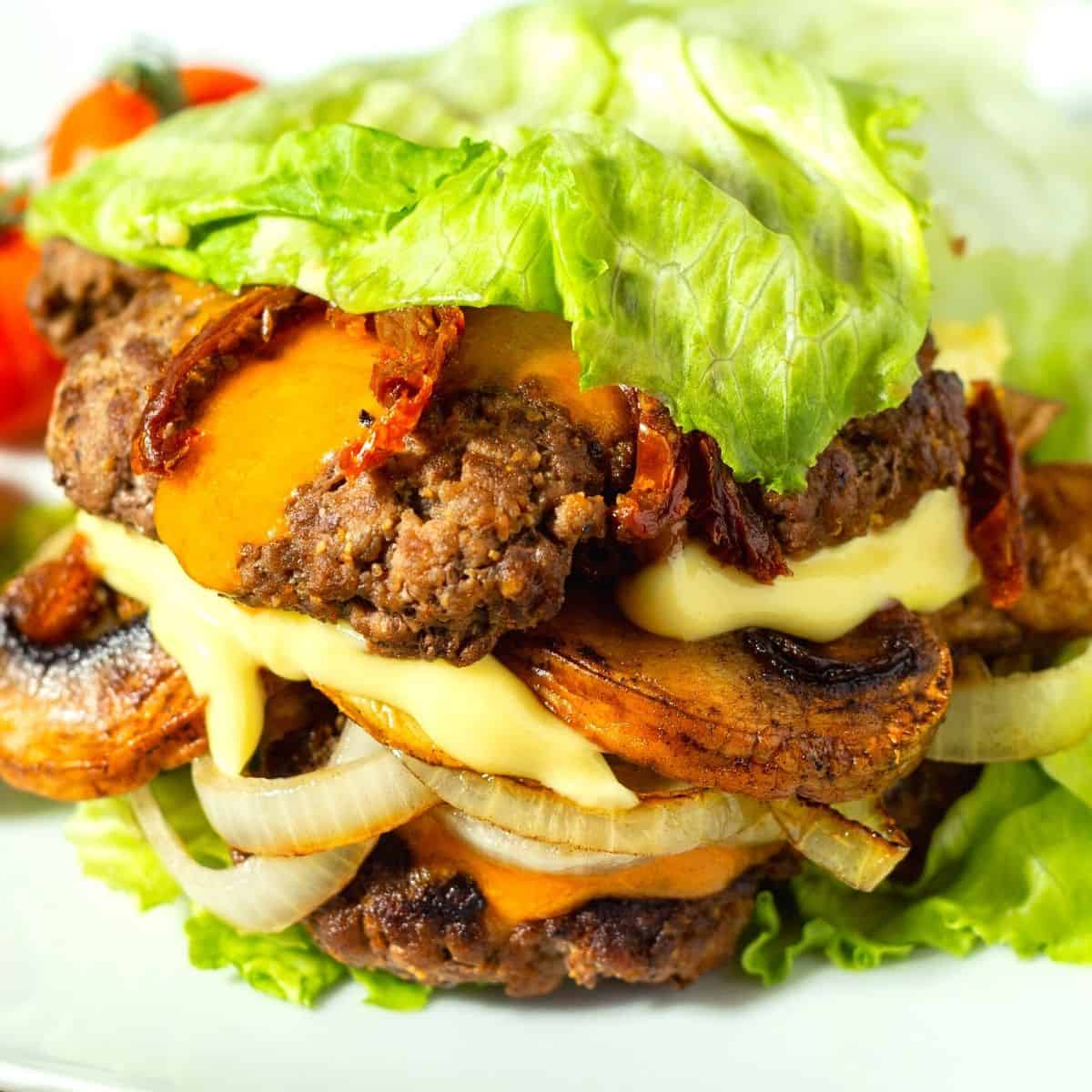 Table of Contents
Low-carb keto diets are an increasingly popular method of losing weight.
One problem with keto is that sticking to a very restricted carb intake can be difficult. Especially today, when high-carb processed foods are so common and readily available.
The truth is most fast foods are high in carbs and low in healthy fats and protein.
If you've had a long day, you may be tempted to stop and get a burger instead of breaking out the kitchen supplies and cooking food, and I can't blame you!
Popular Restaurant Tips
Dining out, especially at fast food joints, could seem a bit daunting, but you have options that you may not realize you have.
I will run through some of the more common places and what is available for you.
1. McDonald's / Burger King
Both McDonald's and Burger King offer items that can be made low carb at a cheap price. You can ask for a breakfast sandwich at either restaurant and order without the bun. The same goes for a grilled chicken breast or burger for lunch or dinner.
My personal favorite is the McDouble from McDonald's Value Menu. Just forget the bun and the ketchup. Very tasty and keto-friendly at only 4g carbs.
2. KFC
KFC is a great place to stop for a meal. Each serving of their grilled chicken is either only 0 or 1g of carbs. Ordering a few pieces of grilled chicken is super simple and super quick.
Just remember to skip most of the sides and ketchup, but if you must have one, order an individual serving of green beans, which is only 2g net carbs.
If you prefer a salad, order without dressing, and it will only be around 2g of carbs
3. Taco Bell
You may be able to order just the side dishes. The chicken, beef, lettuce, and guacamole come in cheap, and the number of carbs is pretty decent also.
4. Gas Stations
Many gas stations offer eggs, deli meat, and string cheeses which can be a viable option. Also if they sell a breakfast sandwich, just discard the bun, and you will be left with tasty sausage, egg, and cheese.
5. Wendy's
Their double stack order without a bun comes in at 4g carbs. It is also easy on the wallet. They also have the ultimate chicken grill sandwich, which is 5g carbs without the bun.
6. In-N-Out Burger
If you are lucky to live close to these guys, they will supply a burger without a bun, but instead of a bun, they will supply it in a lettuce wrap.
Just swap the house spread and replace it with mustard and extra pickles.
7. Chipotle
Fancy Mexican? For spicy food, this is probably your best bet, order the burrito bowl without rice, or they have a wonderful salad available.
The meat, cheese, sour cream, lettuce, and salsa cost extra, but it can be worth the little extra to be satisfied with some wholesome food without any fear of overstepping your carb mark.
8. The Unwich
All of their sandwiches can be ordered without bread or tortilla, which is replaced by a lettuce wrap. As you can order online, you are able to check your carbs as you go.
9. Five Guys Burger and Fries
These guys will supply your burger without a bun and without any hassle.
They will supply a lettuce wrap, or you can take it to go in an aluminum tray.
You can also pick your toppings from their menu board.
They also give extra cheese and extra bacon at no extra charge. If you find yourself dining in, they also have peanuts in the shell that you can nibble on while waiting for your burger.
More Keto Fast Food Tips
Here are some more keto fast food options that are low in net carbs and keto-friendly. Even better, these options are cheap and tasty.
10. Bunless Burgers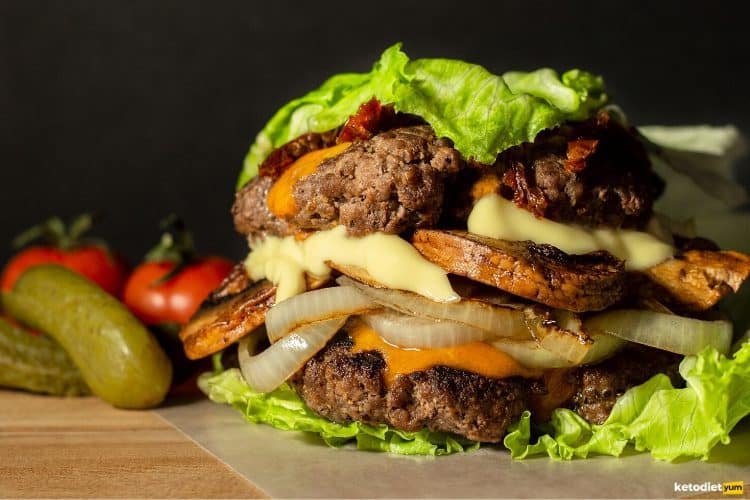 Most fast-food burgers have a high carb count because of the buns.
You can make virtually any keto-friendly fast-food burger by removing the bun and holding any high-carb toppings.
Things like onions, honey mustard, and fried toppings are a no-go, but classic toppings like lettuce, tomato, cheese, and pickles are all fine.
Add some mayo or ranch dressing to your burger to get an extra source of healthy fats.
A single bunless burger from popular fast food joints like Wendy's or McDonald's has almost 20 grams of fats and over 20 grams of protein, perfect for keto diets.
Other places, such as In-N-Out, will let you switch a bun with lettuce wraps, and these are great low-carb options.
Check out our own bunless burger recipes here!
11. Grilled Chicken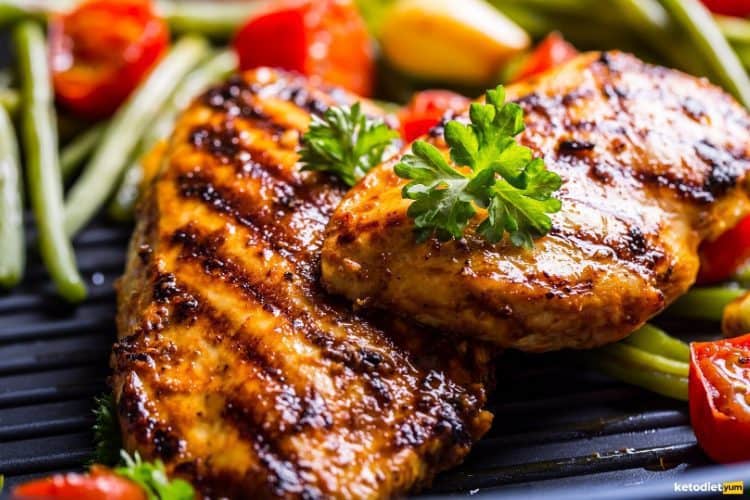 Chicken, in general, is a decent keto food because it is lean and packed with protein.
Fried chicken, on the other hand, has a ton of carbs, mostly from breading and additives.
Luckily, most fast food places that serve fried chicken now offer grilled chicken alternatives for the same price.
For example, KFC offers a grilled variant of their famous chicken, and Chick-Fil-A has grilled versions of their breaded nuggets.
Many other popular fast food places will replace a fried chicken patty with a grilled version of sandwiches upon request, which is low in net carbs.
12. Burrito Bowls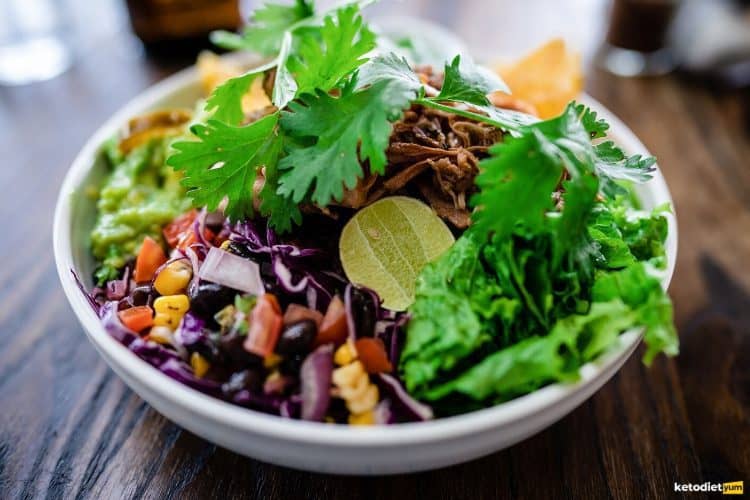 Despite what you might think, a single burrito can have up to 50g of carbs.
Most of these come from the tortilla wrap and some ingredients, like beans or rice.
Burritos are pretty flexible so that you can build a keto-friendly burrito easily.
First, ditch the wrap and put the ingredients in a bowl.
Make sure to only pick low-carb toppings like veggies, tomatoes, leafy greens, cheese, and onions, along with a protein source.
Avoid starchy toppings such as corn, beans, tortilla chips, and rice to lower your net carbs.
13. Make it an "Unwich"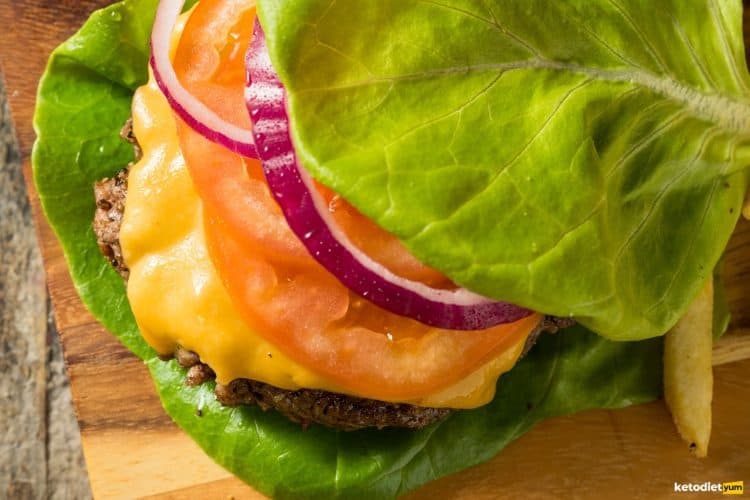 Sandwiches are cheap and easy to make, but unfortunately not normally a good keto-option because of all the bread.
An "unwich" is exactly the same as a sandwich, just minus the bread.
The term "unwich" comes from the sandwich chain Jimmy John's, which offers every unwich version of every sandwich on its menu.
Keep in mind that you also need to remove any high-carb toppings.
J.J's also has slim versions of their unwiches that have a lower calorie count, which is great low-carb options.
14. Buffalo Wings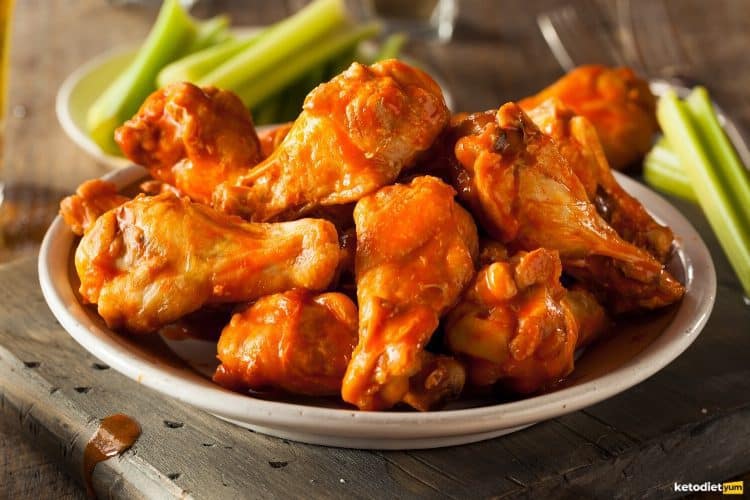 Buffalo wings are a great keto-friendly fast food. Many buffalo wings are fried, but several chains may offer low-carb versions that are not fried or not dipped in batter.
Generally, buffalo sauce is fairly low-carb, too as it's made from basically vinegar and peppers.
In contrast, other sauces like barbecue, honey mustard, or teriyaki can be rather high in carbs.
Buffalo wings also usually come with veggies like carrots and celery, which are good keto foods.
Make sure you figure out how the wings are prepared, so you know if they have a low net carbs count.
15. Bacon, Sausage, and Eggs
Bacon is often considered a stable food for keto diets because it is packed with protein and fats with almost 0g carbs.
Likewise, sausage has tons of fats and protein, while eggs have proteins and amino acids.
Sometimes a simple breakfast is the best, and most fast food places that serve breakfast items have some kind of bacon, sausage, or egg dish.
For example, you can get a biscuitless sausage egg and cheese biscuit from McDonald's, which has up to 38 grams of fat and over 20 grams of proteins.
Keep in mind though, that heavy consumption of fatty meats like bacon and sausage are linked to heart disease, so while they make decent keto foods, you should still eat them sparingly.
16. Keto-Friendly Snacks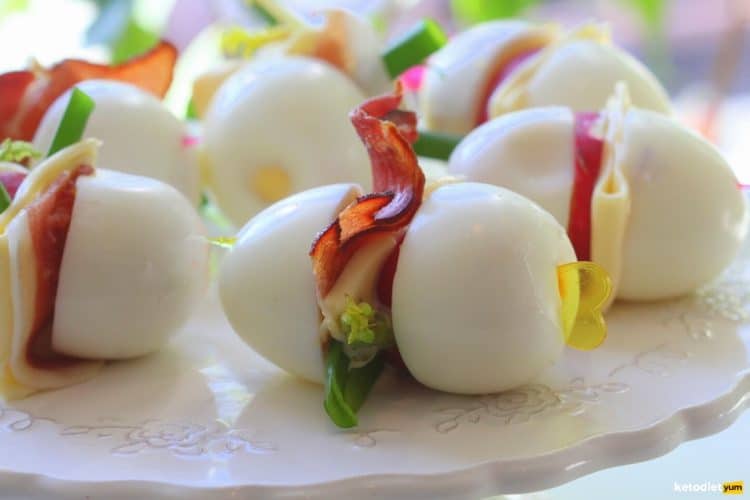 Sometimes you may be running behind and don't have time to stop for a full meal.
Keeping some keto-friendly snacks on hand can give you something to tide you over until you have time for your next meal.
It may come as a surprise, but a lot of gas station convenience stores have some really good keto-friendly snack options. Things like:
String cheese
Nuts
Beef jerky
Sunflower seeds
Pork rinds
Dark chocolate (>70% cocoa)
They are all fairly decent sources of nutrition while having relatively few carbs.
Convenience store snacks are cheap and make a good treat on the go, but generally, making your own food at home is a better option.
17. Keto Bowls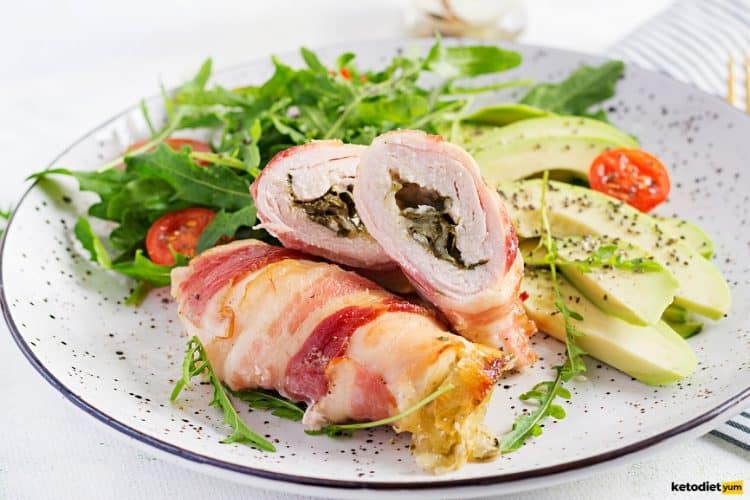 Several fast food places offer "bowls" which are basically versions of their entrees in a bowl.
Taco Bell, for example, offers power bowls that have your choice of grilled meat coupled with toppings (low in carbs).
Panera (or St. Louis Bread Co., depending on where you're from) offers some nice breakfast bowl options with eggs and meat that are low in carbs and high in proteins.
Even if a place does not specifically offer it on the menu, you can always ask if they can make a bowl version of one of their entrees.
Conclusion
Keto diets are tough to stick to because you have to keep your carbs low.
Fortunately, most fast food places have jumped on the train of offering low-carb or healthier versions of classic dishes, which means there are a number of keto fast foods.
Even if a place mostly features high-carbs options, it should not be too difficult to make a keto-friendly meal by making some simple substitutions.
Fast food is definitely not the optimal choice, and you should cook food at home whenever you can.
But if you need a quick bite to eat, there are a lot of great fast-food options that won't require you to break your diet restrictions.