The best keto red velvet cake that has a smooth, moist texture and subtle vanilla flavor topped with a delicious cream cheese frosting. This sugar free red velvet cake is healthy and sure to satisfy your sweet tooth!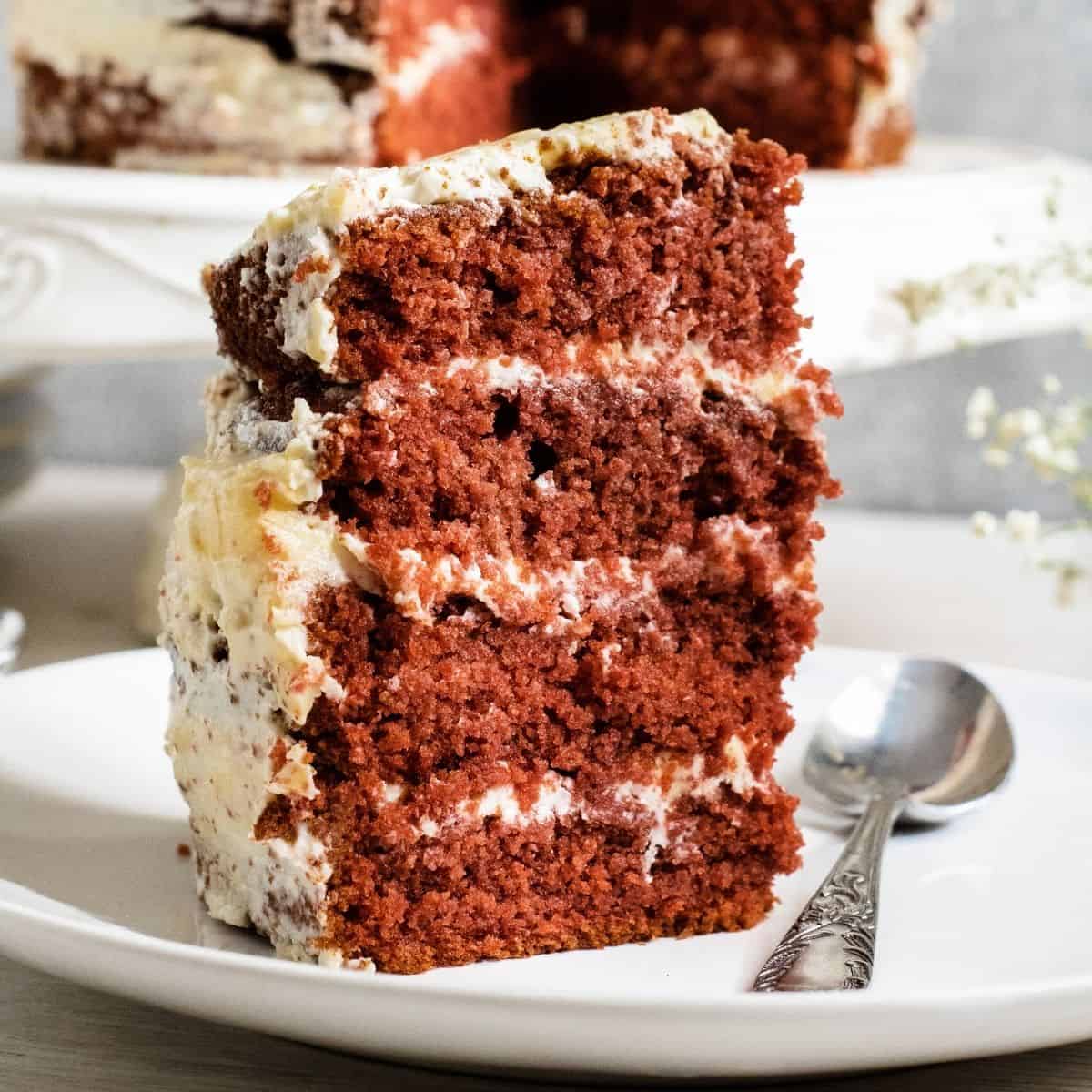 Table of Contents
Some things are classic for a reason. Like baking a delicious cake for your loved ones. However, if you're following a low carb or keto diet this can be a problem. But don't worry, we've got you covered!
This low carb, healthy red velvet cake is the perfect choice for any celebration. Whether it's a loved ones birthday or special occasion like Valentine's Day or anniversary, a red velvet cake is one the best choices to express your love!
It's one of the most comforting cakes to indulge in and definitely deserves a spot in our most "Instagramable" desserts ever!
Looking for more keto cakes? Try our best chocolate cake and chocolate cream cheese frosting!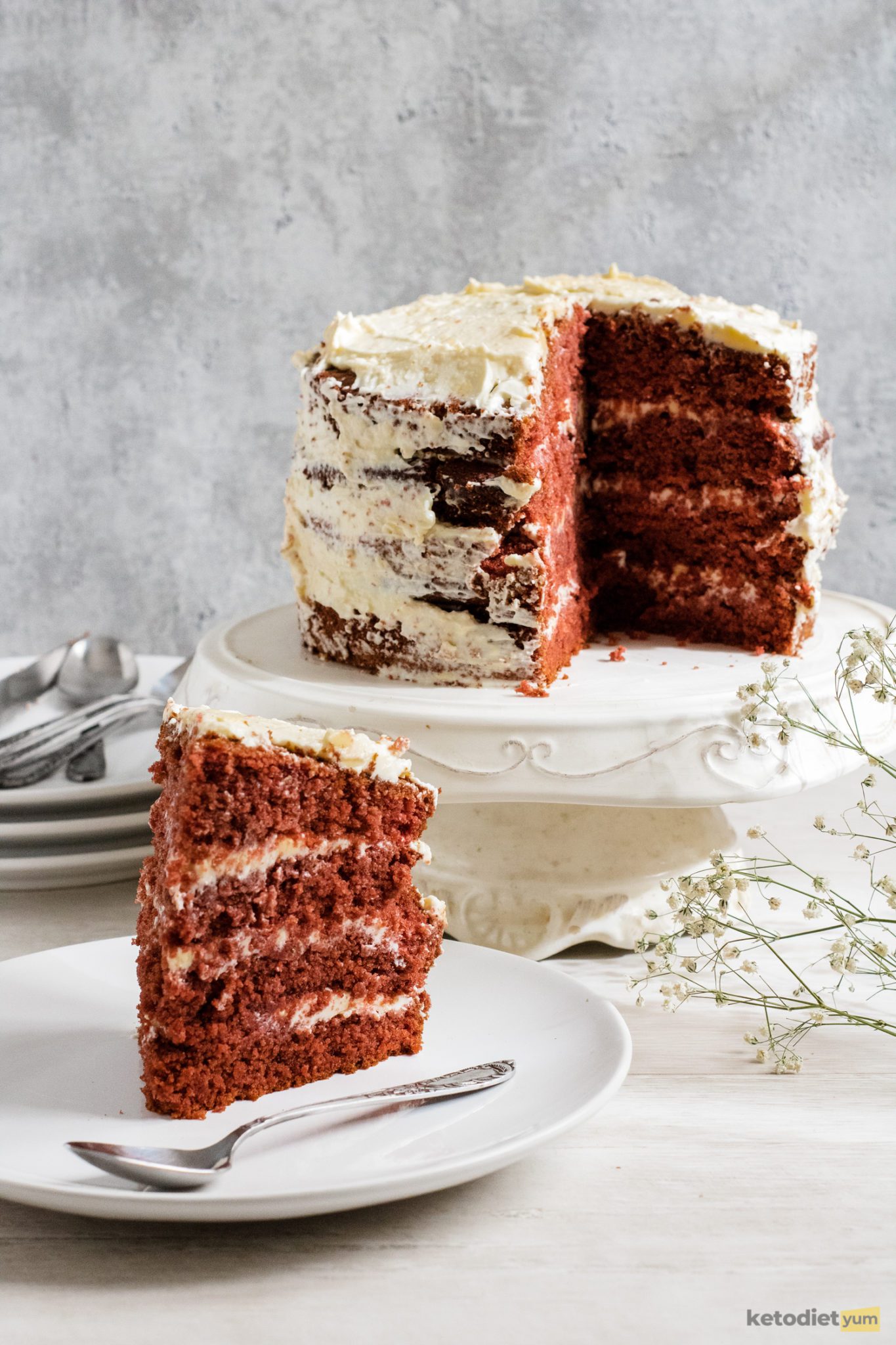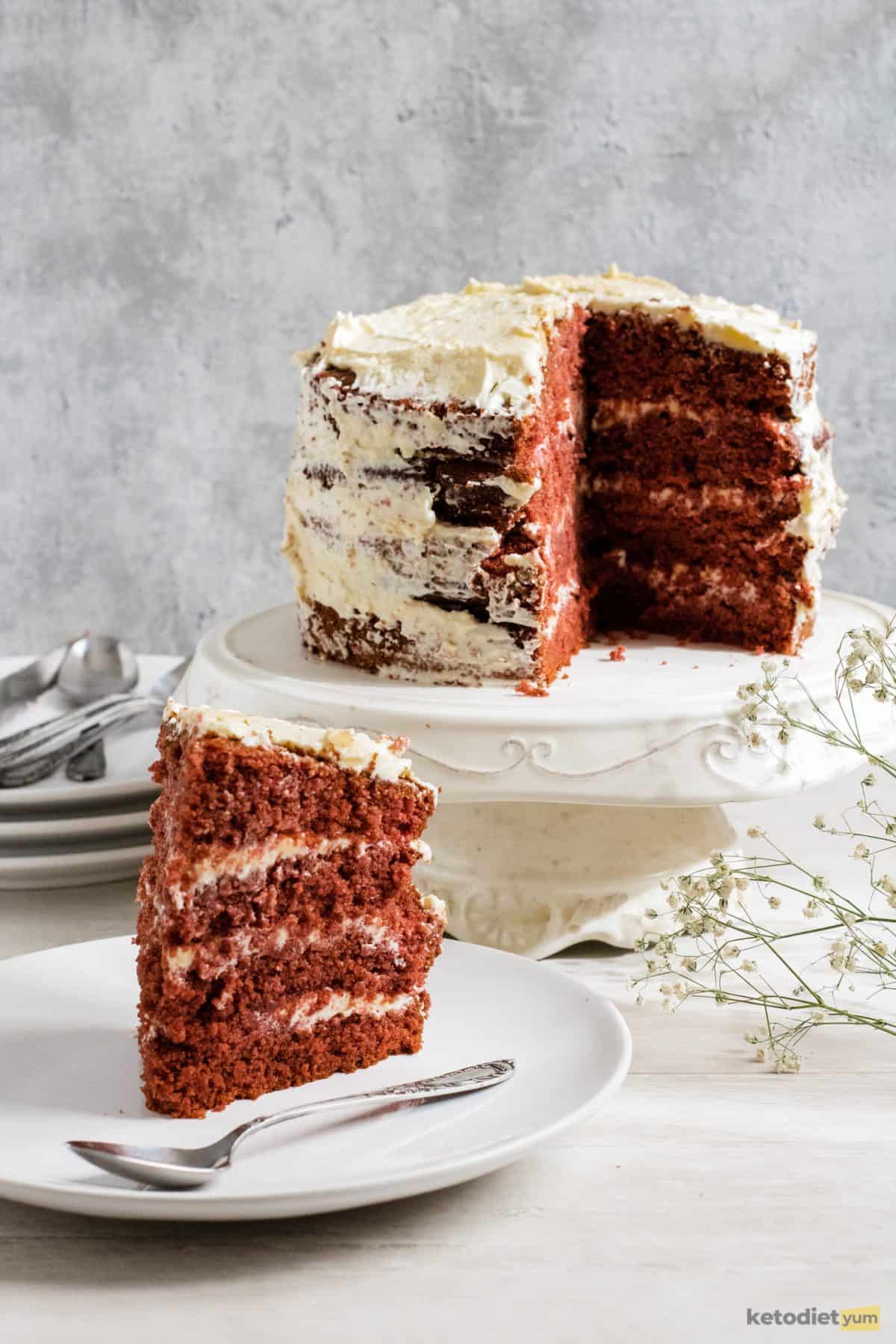 Why You'll Love Sugar Free Red Velvet Cake
Delicious vanilla, cocoa and buttery flavor
Perfectly moist texture
The best cream cheese frosting
Only 4.3 grams of net carbs per slice!!
Ingredients for Keto Red Velvet Cake
This sugar free red velvet cake only needs 12 ingredients to make. Make sure all the ingredients are at room temperature and you don't substitute any of the ingredients (unless noted below).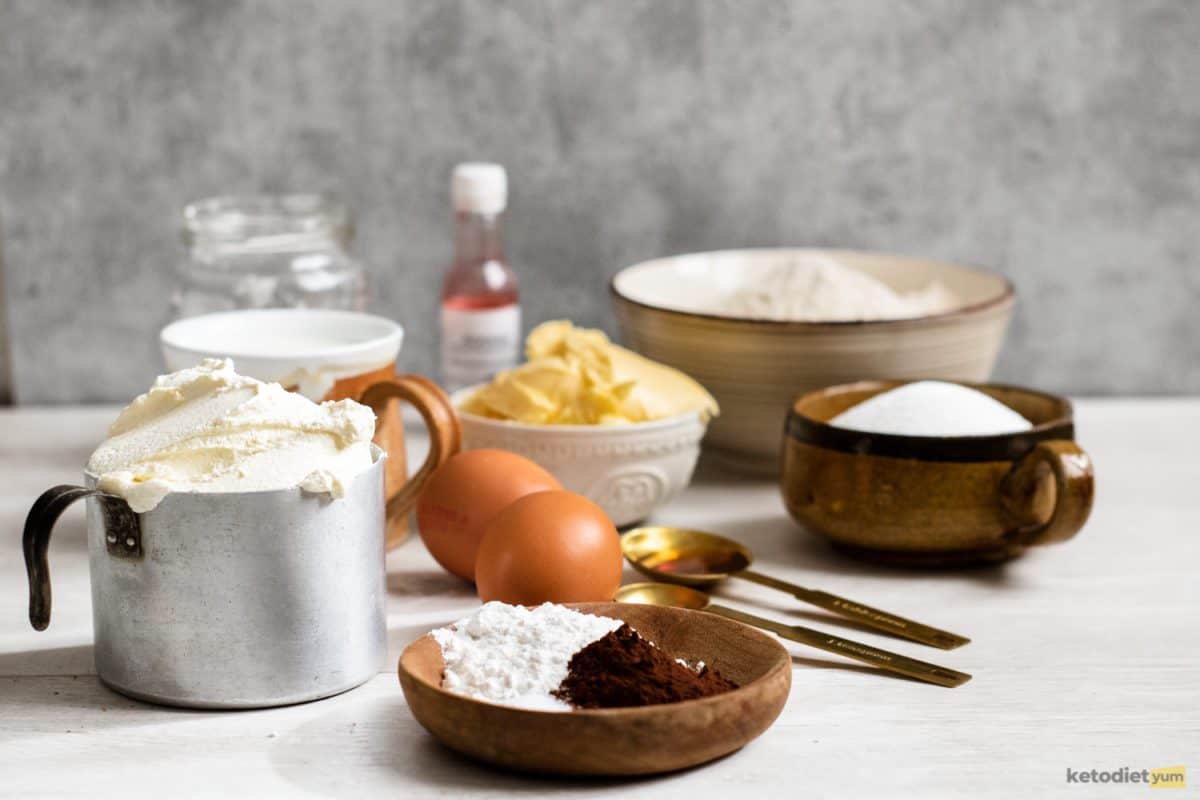 Almond flour - make sure you use a very fine almond flour for this cake. If it's too coarse, the cake will be dry and dense instead of soft and moist.
Baking powder - because this is a low-carb cake it won't rise much when baking. Adding baking powder and white vinegar helps to make the cake texture lighter.
Cocoa powder - use unsweetened cocoa powder with no added sugar. Remember to check the nutritional information to make sure it's low carb and keto friendly.
Egg - use large eggs that are at room temperature. If the eggs are cold, you'll have issues with lumps in the batter, and if the eggs are too small the cake will be too dry.
Butter - ideally use grass-fed butter and make sure it is completely soft and at room temperature. If you need to soften it quickly, cut it into cubes and leave it out at room temperature. It should be VERY soft and melt when you touch it with your fingers.
Cream cheese - as with the butter and other ingredients, make sure your cream cheese is at room temperature.
Sour cream - helps to add moisture to the cake.
Erythritol - make sure you're using a powdered Erythritol here. Crystal Erythritol will cause butter lumps when you're mixing the ingredients together.
Vanilla extract - adds a subtle vanilla flavor that you expect from a red velvet cake.
White vinegar - as mentioned above, works with the baking powder to produce a lighter texture.
Food coloring - use a natural red food coloring for red velvet cake! Feel free to use any other colors you like depending on the occasion.
Salt - just a pinch of salt.
How To Make Red Velvet Cake
To make this low sugar red velvet cake recipe follow the instructions below. Make sure to read through each step and follow them carefully to get the perfect cake!
Preparing the Cake Batter
Step 1 - Combine butter and sweetener
First, we'll combine the butter and Erythritol with an electric beater or mixer with a whisk attachment. Make sure the butter is softened and at room temperature or you'll get lumps. Mix until the beaten butter becomes fluffy.
Step 2 - Add eggs, vanilla, sour cream and vinegar
Next, add the egg into the beaten butter while continuing to beat. If you're increasing the recipe, make sure you add the eggs one by one. As mentioned before, it's very important the eggs are at room temperature to avoid lumps in your batter. Also add the vanilla extract, sour cream and vinegar.
Step 3 - Add the almond flour, cocoa powder and baking soda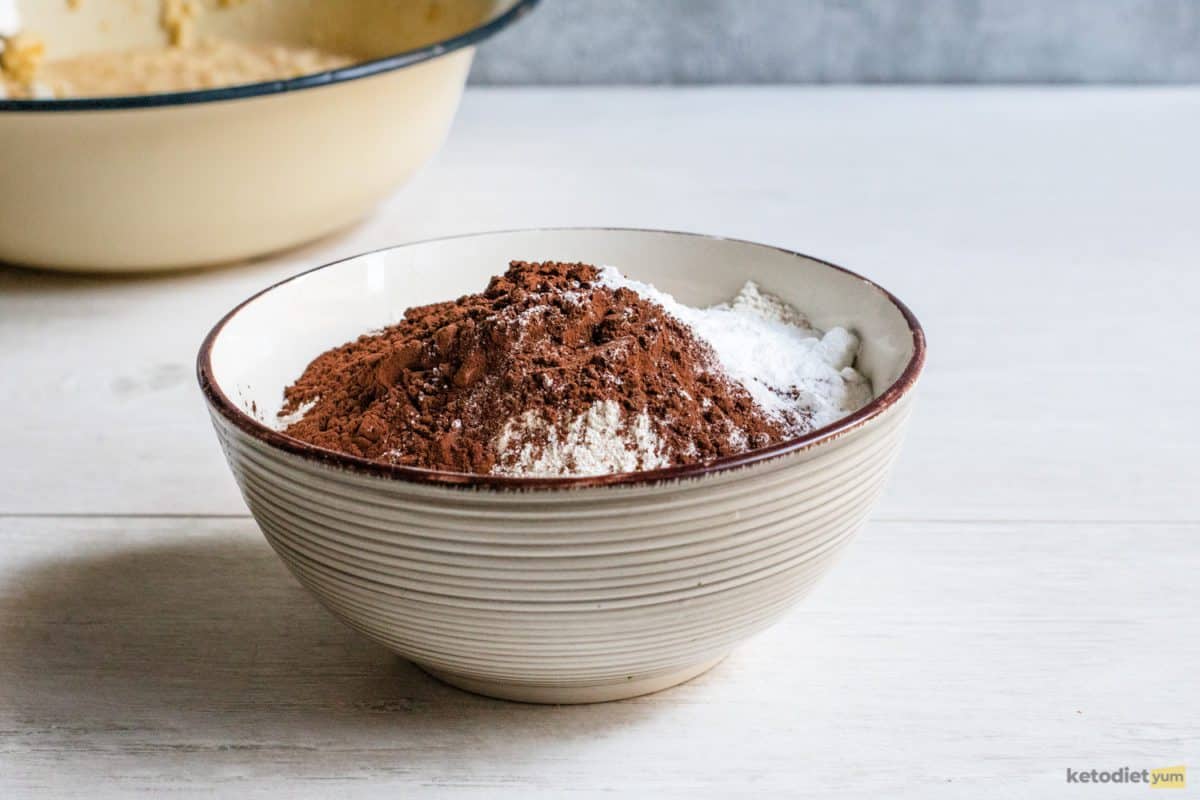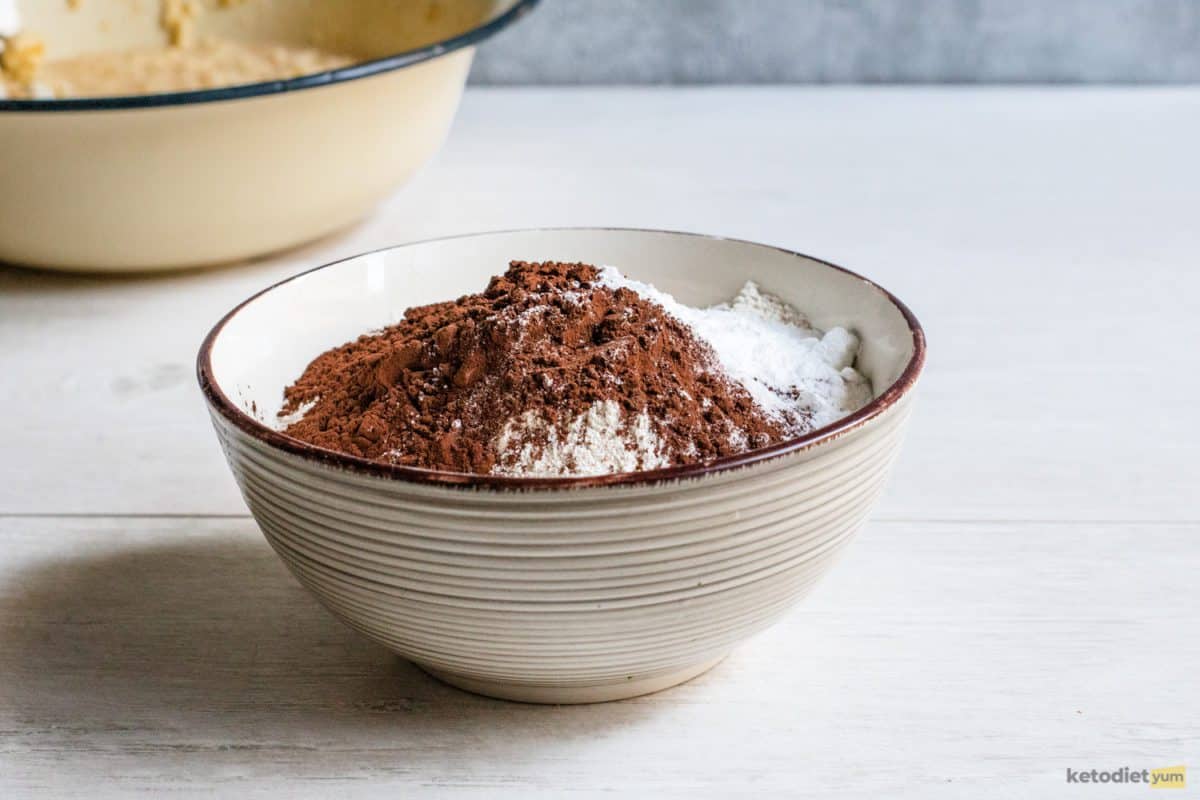 In a mixing bowl combine the almond flour, cocoa powder, baking soda and a pinch of salt then mix them all together. Once they're well combined, gently fold them into the butter mixture.
Step 4 - Add the food coloring
Once the batter is ready, add a few drops of red food coloring and mix it into the batter until you get the desired shade of red.
Preparing the Frosting
The cream cheese frosting is made with just 2 simple ingredients - cream cheese and powdered Erythritol. Simply whisk them together in a mixing bowl until well combined.
If you're more of a chocolate frosting fan, check out our best keto chocolate frosting which only requires 5 ingredients. It works great with this red velvet cake as well!
Baking the Keto Red Velvet Cake
This low sugar red velvet cake is made as a four-layer cake. We'll be using two separate 9-inch round non-stick springform pans, and then cutting each cake horizontally to make the four layers.
Preheat the Oven
Preheat the oven to 350 degrees Fahrenheit or 180 degrees Celsius.
Grease the Pans
The best way to stop the cake batter from sticking to the pan is to double grease them. First, spray each pan with oil and then place a piece of baking paper at the bottom of each pan. Finally, spray another layer of oil over the baking paper.
Pour the Batter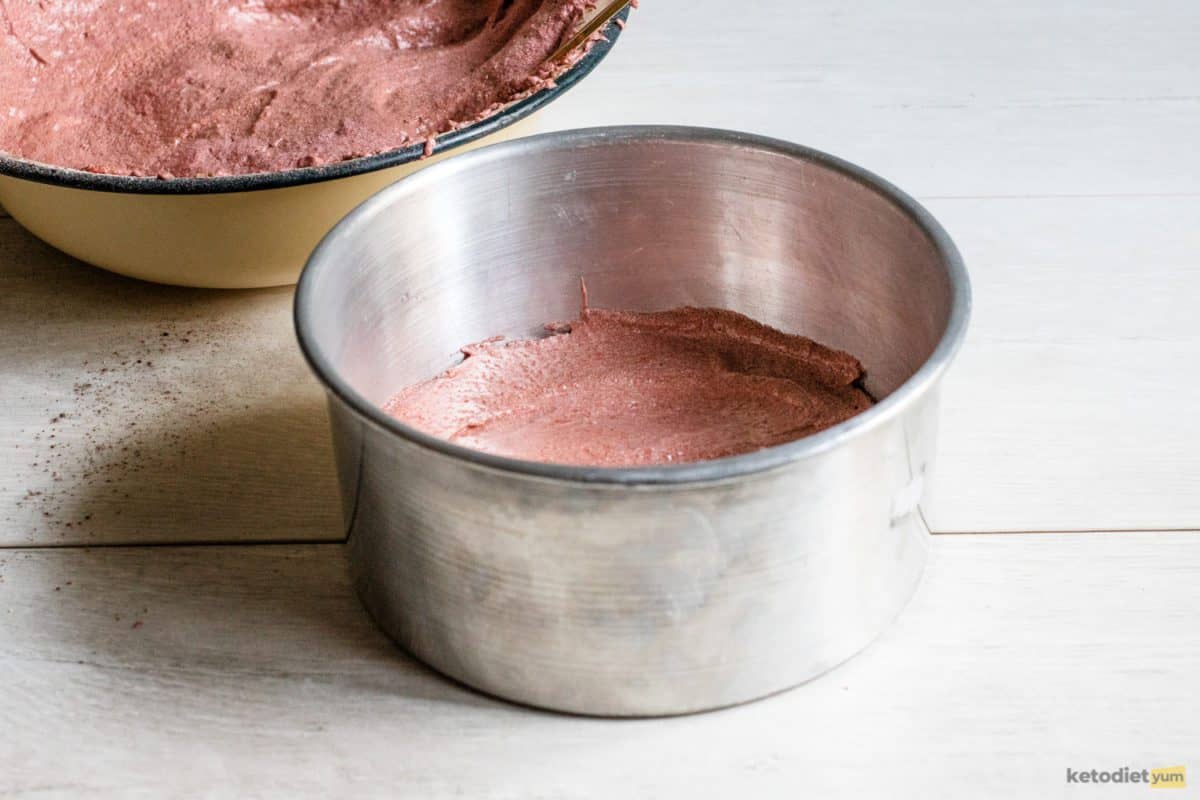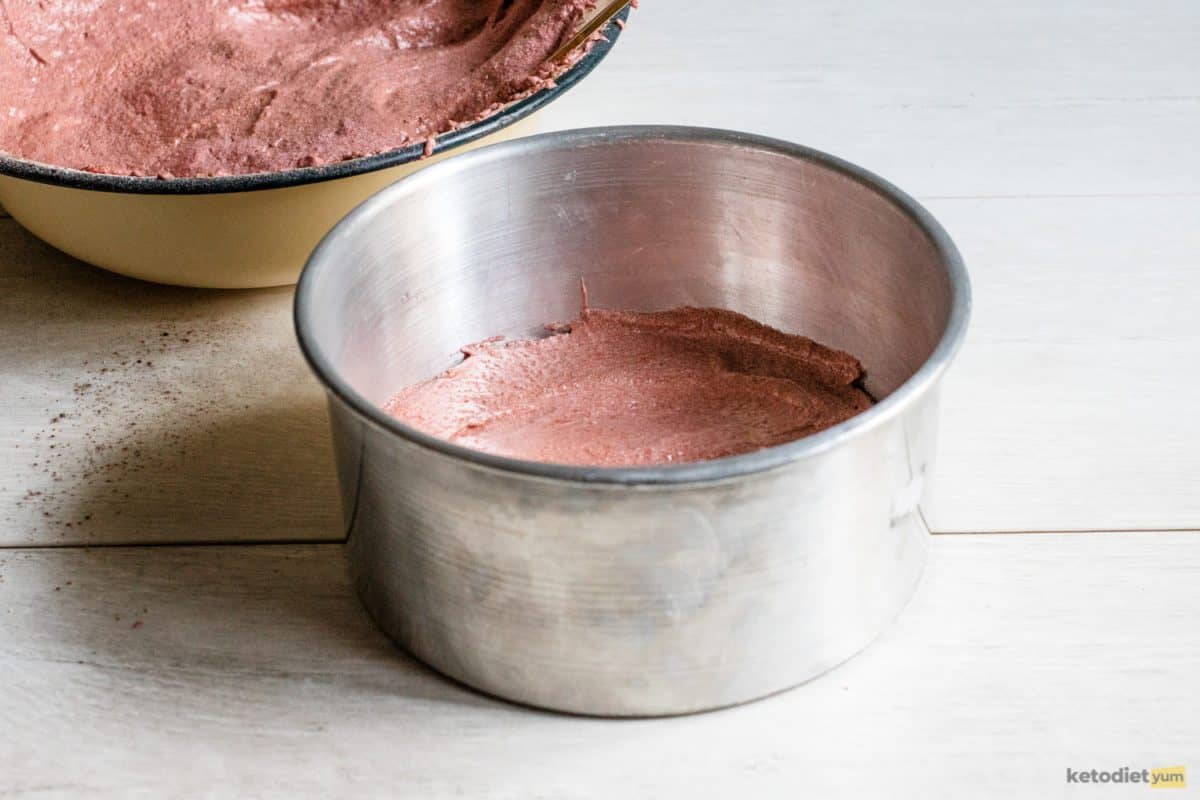 To make sure you get even thickness of the layers, add the batter a little at a time to each baking pan.
Bake the Cake
Bake the cakes in the preheated oven for around 20 to 25 minutes. If you're using convection mode on your oven, don't change the temperature and just subtract around 5 minutes from the baking time (15 to 20 minutes).
Allow to Cool
The best way to stop the cake from sticking to the pan is to remove it from the mold 5 minutes after removing it from the oven. If you find the cakes are sticking slightly, gently run a knife around the edge of the pan to loosen it. Allow the cakes to cool to room temperature.
Cutting the Cake
Once your two cake layers have cooled to room temperature, use a bread knife to carefully cut each one horizontally into two equal pieces.
Adding the Frosting
Now we're almost finished!
Finally, add the frosting you prepared earlier to the top of each layer of cake, placing one layer on top of the other until you've done all four.
Once you've completed frosting the three layers, add the frosting to the top and sides of the cake. You don't have the be precise with the frosting and can use a cake turntable if you have one.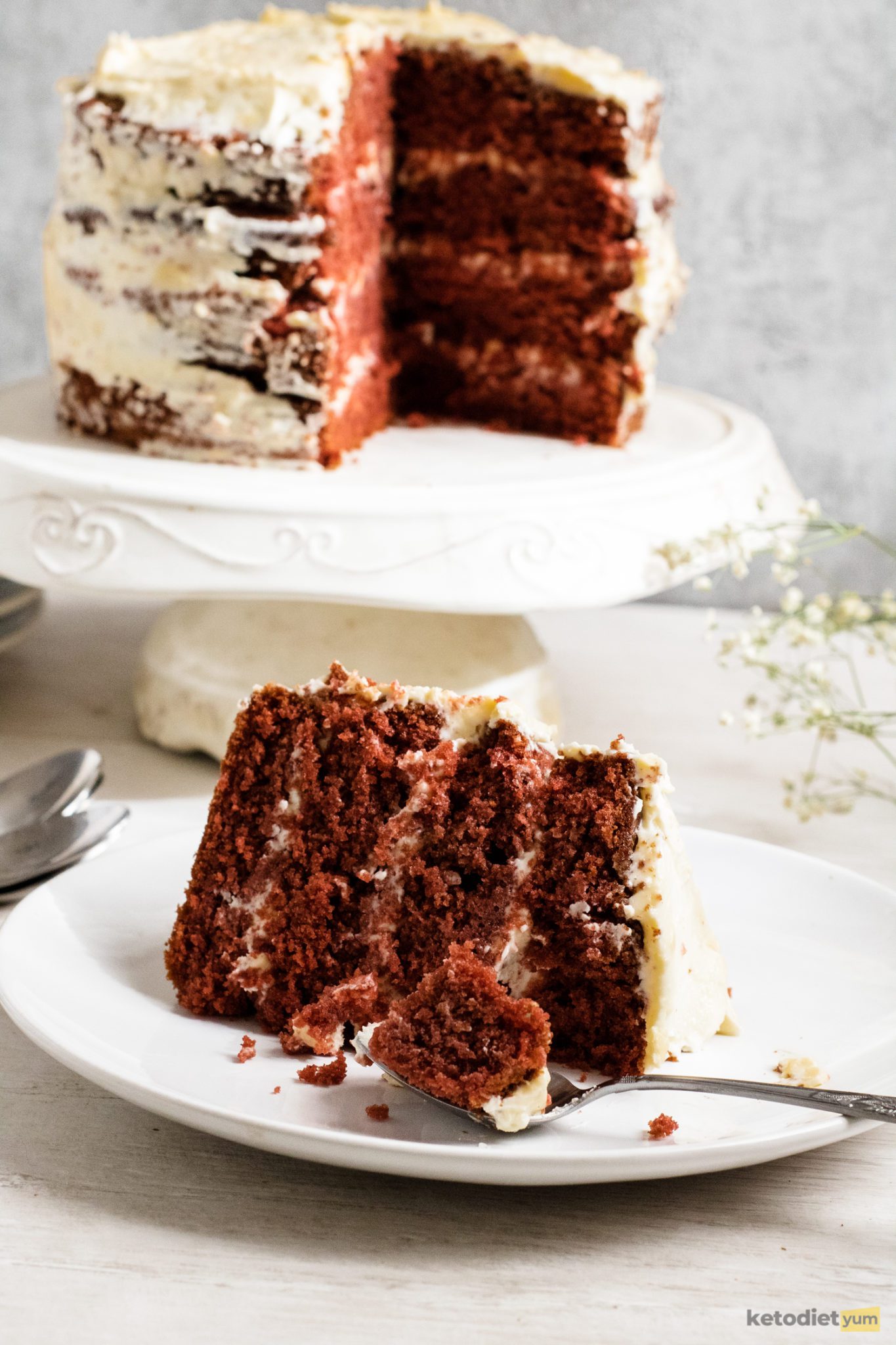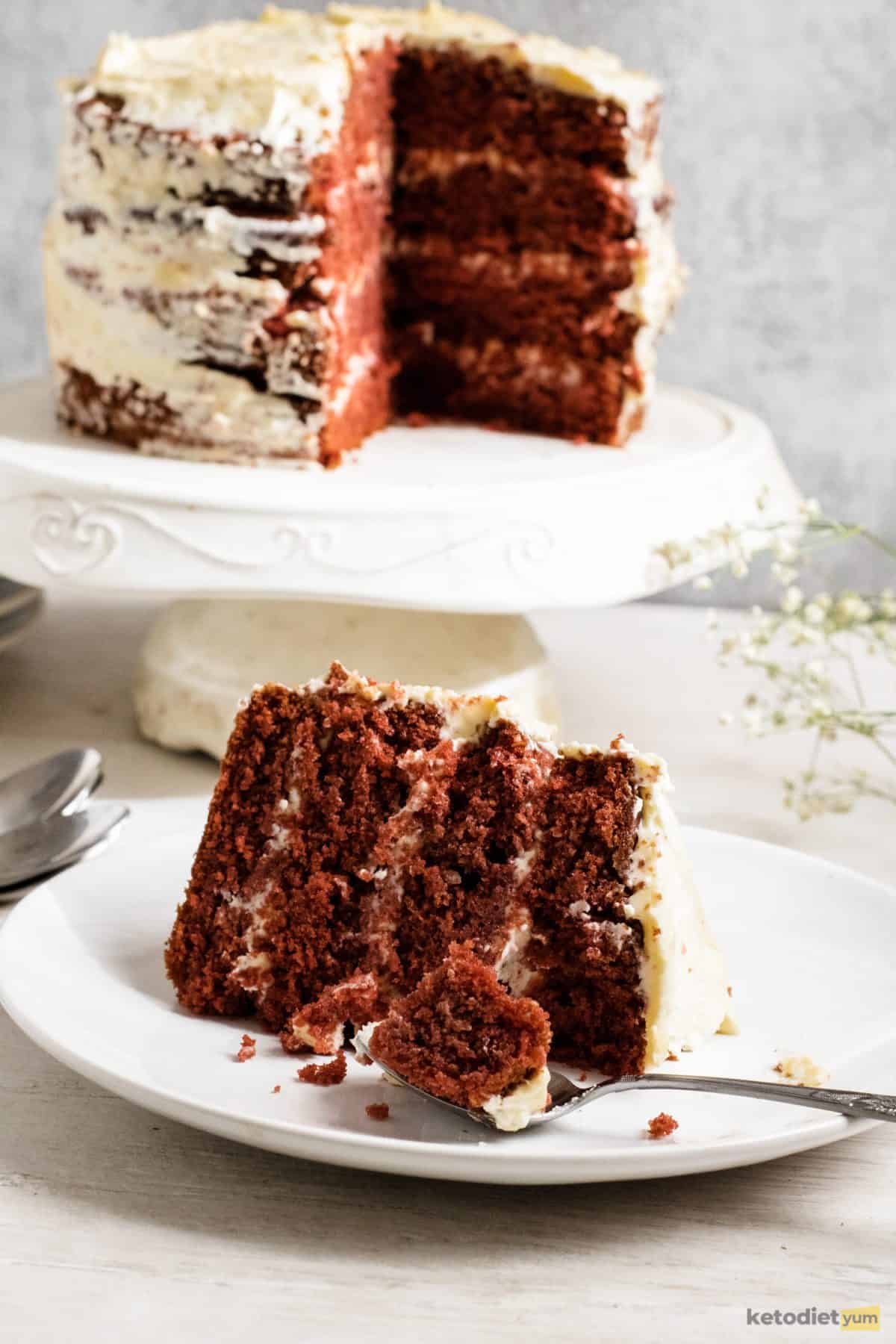 How To Store Keto Red Velvet Cake
In the fridge: This recipe makes 10 slices of keto cake which you may not be able to finish unless it's a large celebration. Luckily, you can store the cake in the refrigerator for up to 3 days. Remember to store leftover slices in an airtight container to keep them as fresh as possible.
In the freezer: You can also freeze leftover cake if you want to keep it longer. Use freezer-proof airtight containers and it will freeze well for up to 3 months. When you're ready to eat the cake, leave it in the fridge overnight to thaw, then leave it to reach room temperature and it should be moist and delicious!
Tips and Tricks
This red velvet batter isn't only for making a keto cake. You can also use it to make keto red velvet cupcakes that are amazing as low carb gifts or party food!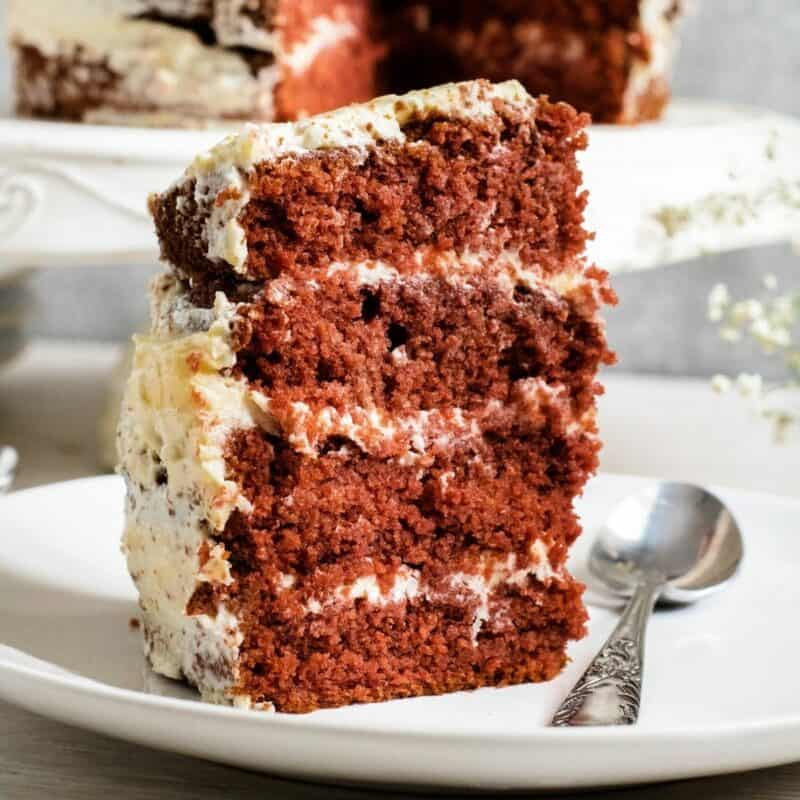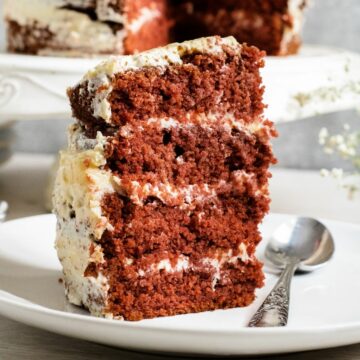 Keto Red Velvet Cake Recipe
This keto red velvet cake is healthy, delicious and perfect for any special occasion. It's moist with a smooth buttery vanilla flavor and topped with the best cream cheese frosting ever!
Pin It
Print
Ingredients
For the Cake
¼

cup

Butter

softened

½

cup

Erythritol

1

large

Egg

½

tablespoon

Vanilla Extract

½

cup

Sour Cream

½

teaspoon

White Vinegar

1 ¼

cups

Almond Flour

1

tablespoon

Cocoa Powder

unsweetened

1

teaspoon

Baking Powder

3-6

drops

Red Food Coloring

natural

¼

teaspoon

Salt
For the Frosting
1 ½

cups

Cream Cheese

3

tablespoon

Erythritol

powdered
Instructions
Preheat the oven to 350°F (180°C) and line the bottom of two small, (approx. 9 inches) round springform pans with baking paper.

Combine the softened butter with the Erythritol and beat with an electric mixer until fluffy.

Beat in the egg, vanilla, sour cream, and vinegar.

In a mixing bowl combine the almond flour with the cocoa powder, baking soda and a pinch of salt. Fold into the butter mixture.

Add a few drops of red food coloring until you get the desired shade of red.

Divide the mixture into the prepared pans and bake in the preheated oven for 20-25 minutes. Allow them to cool to room temperature.

Slice each cake in half horizontally, with a bread knife.

Make the frosting by whisking together the cream cheese and the powdered Erythritol.

Frost each layer of the cake and cover the sides as well. You don't have to be precise with the frosting!

Slice and serve at room temperature.
Last Step: Leave A Rating!
Share your recipe by tagging @keto.diet.yum with hashtag #ketodietyum on Instagram - everyone would love to see it!
Nutrition
Serving:
1
slice
Calories:
411
kcal
Carbohydrates:
6.1
g
Protein:
9.2
g
Fat:
39.4
g
Saturated Fat:
20.9
g
Cholesterol:
120
mg
Sodium:
463
mg
Potassium:
133
mg
Fiber:
1.8
g
Sugar:
0.4
g
Calcium:
76
mg
Iron:
1
mg
Net Carbs:
4.3
g