Ah, cornbread… too bad it's not a great dish if you're trying to follow the keto diet!
But wait a minute… is there such a thing as a great keto cornbread recipe?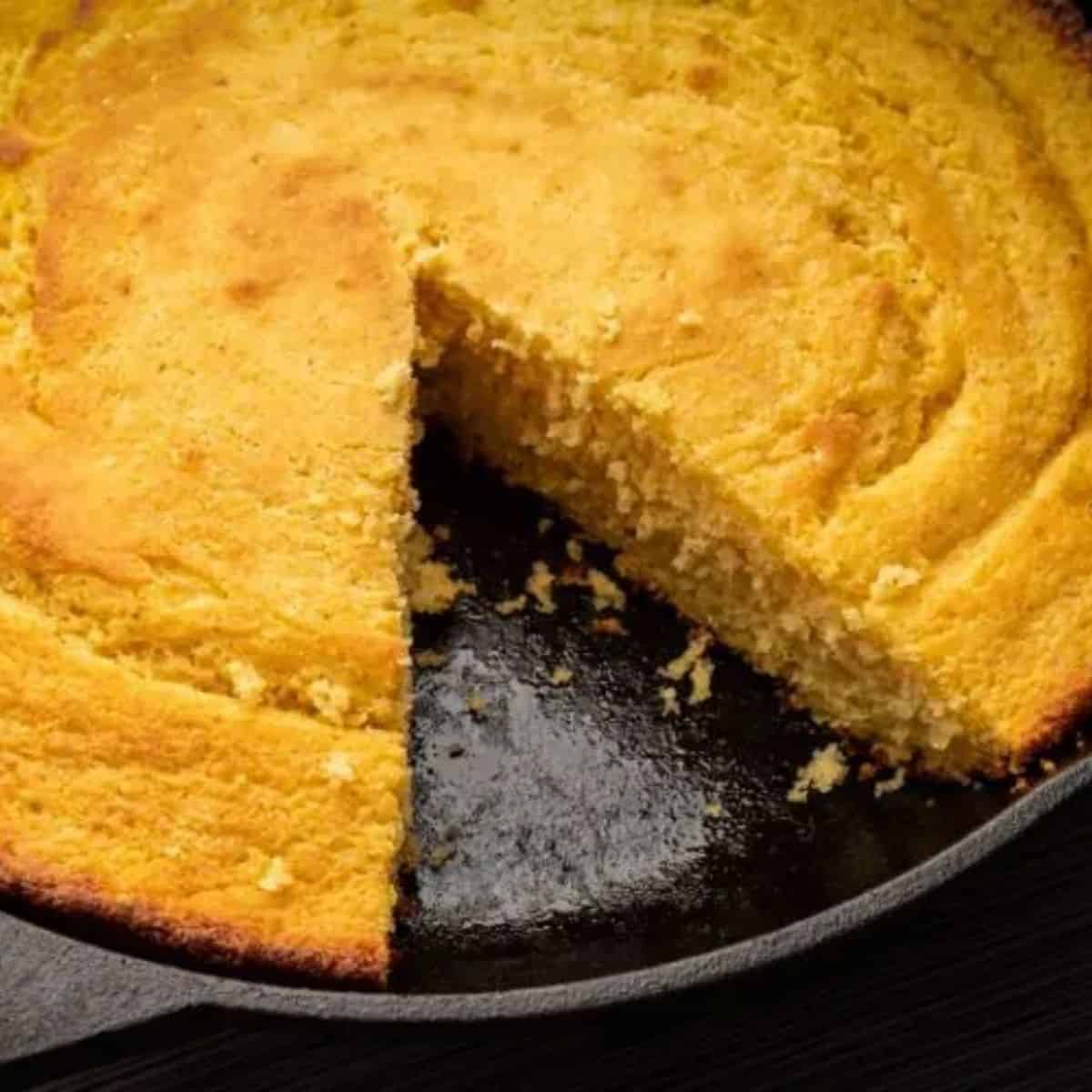 Turns out there sure is, and yes, you can eat corn on keto!
Check out how we love to whip up some top-tier keto cornbread that tastes – if we do say so ourselves – better than the original thing!
Table of Contents
Keto Cornbread That Tastes Great!
How do you make cornbread for keto? Is corn keto-friendly?
Not really; corn has too many carbs to be acceptable for the keto diet.
This is why, for our keto low carb cornbread recipe, we'll use a sweetcorn extract and coconut flour to give the cornbread the same flavor you would expect from a regular recipe without the additional carbs.
Sound good? Let's dive into this recipe!
Oven Time
To begin, preheat your oven to about 350°F, taking into account how hot or warm your oven normally runs and adjusting the temperature accordingly.
If you don't have lots of experience with the oven you'll be using, don't worry; there are parts of this process where you can slow down or speed up when needed.
Mixing Methods
Next for this recipe, add all the wet ingredients – including the eggs, egg yolks, salted butter, heavy cream, and cornbread extract – into a medium to large-sized bowl.
Just make it a bowl that can hold all the ingredients without spilling anything during mixing.
With this recipe we've found that doing the eggs first is the easiest way to get things going.
Another good tip for this recipe is to leave the butter out at room temperature for a little bit before starting; it makes mixing the butter around so much easier than trying to mash up refrigerated stuff.
Mix all the ingredients until they're combined well together, forming a thick, liquid-y substance that isn't yet too dry.
This is critical, as you're about to add several dry ingredients that will soak up the moisture present in the mixture.
If the mixture into too dry before you begin baking, the cornbread will end up crumbly and unappealing.
Once the wet ingredients are mixed together, add the remaining dry ingredients and continue mixing.
You can either mix everything together by hand or use an automatic mixer.
All told, mixing everything should take between 5 to 10 minutes if you're being thorough with a spoon.
Use a larger utensil for an easier time.
Time to Bake
Next, place a sheet of baking paper on an 8 x 8 baking tray.
Coat this sheet with baking spray or a similar lubricant, then add the cornbread batter.
As you pour, take special care to evenly distribute the mixture around the tray.
Using a spatula works great and allows you to get rid of any lumps or spread the batter around without removing too much as a side effect.
After the batter has been spread around the tray, put the baking sheet in the oven and set a timer for 45 to 50 minutes depending on how hot your oven runs.
You can check the low carb cornbread several times over the process but don't open the oven door too often or you'll cool things down.
Using your oven window and the interior light is a great idea.
You can also use these to check on the cornbread and make sure that it doesn't brown too quickly.
If it does, don't freak out! Just cover it with a piece of tinfoil for the last 10 minutes of cooking time.
This will prevent the cornbread from becoming too hot and essentially slow down the cooking process.
Cooling
After the timer has pinged, remove the keto cornbread and let it cool down completely while still on the tray.
This will take anywhere between 15 minutes to a half-hour depending on your ambient room temperature.
This keto low carb cornbread is meant to be enjoyed on the day of baking and while the cornbread is about room temperature; if it's too hot or cold, some of the texture and flavor are lost.
The only alternative to this is leaving the cornbread out overnight and uncovered.
This does two things: one, it cools down the cornbread even further and allows the bread to fully solidify, and two, it improves the consistency of the cornbread and makes the flavor even better.
Because of these aspects, the cornbread is actually best enjoyed the day after baking, making it a great treat for literally any occasion whenever you want a snack or side to another dish.
You can heat it up in the oven if you like the cornbread while it's hot.
Be aware, however, that cornbread that's heated multiple times will eventually become dry and crumble to a kind of cornbread dust.
We're not here to judge, though, so eat it however you like it best!
Keto Cornbread Tips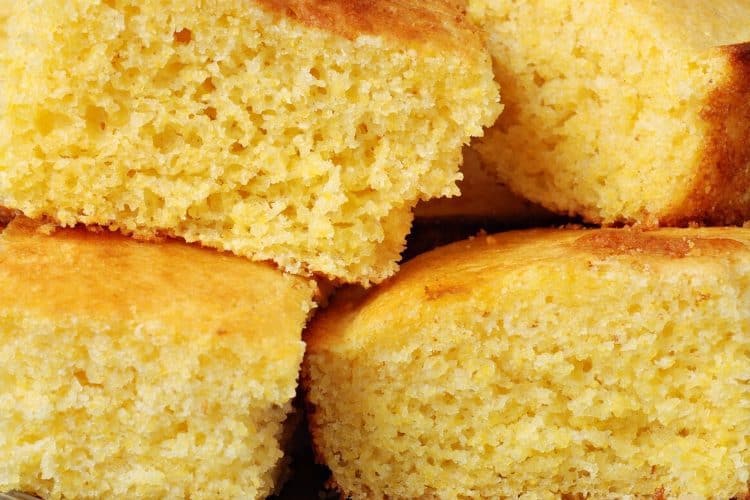 Normal cornbread lasts for about 3-4 days, and this delicious keto low carb cornbread recipe is the same way.
You'll want to cut it up into slices or squares after you've left it out overnight, as this way you can put it in airtight containers and refrigerate it if necessary.
It should last for about a week in the refrigerator.
Honestly, though, we'd recommend just chowing down and munching away on the cornbread over the first few days after baking.
This way you never make it cold and have to heat it up again.
Another good idea is to combine the keto cornbread with meals where you'd normally miss bread or carbs in corn.
Since this keto cornbread tastes pretty darn similar to the normal recipe, this can help you maintain your nutritional goals and stay committed to keto even if you're tempted away.
Stay strong and reap the rewards while tricking your taste buds at the same time.
Low Carb Cornbread Nutritional Facts:
Makes 9 servings
415 calories per serving
5g of protein
8g of carbs
3g of net carbs
5g of fiber
40g of fat
Low Carb Cornbread Ingredients:
2sticks of salted butter
5 ounces of heavy cream
3 large eggs
2egg yolks
3 teaspoons of corn extract
½ cup of coconut flour
1 quarter cup of sugar-free sweetener
1 teaspoon of baking powder
We hope you love this keto cornbread recipe as much as we do, please leave a comment below if you tried it!