The juiciest and most tender keto ribs with a sugar-free BBQ sauce and dry rib rub. Simply season the ribs, bake in the oven, brush with BBQ sauce, and grill to get a charred and crispy crust.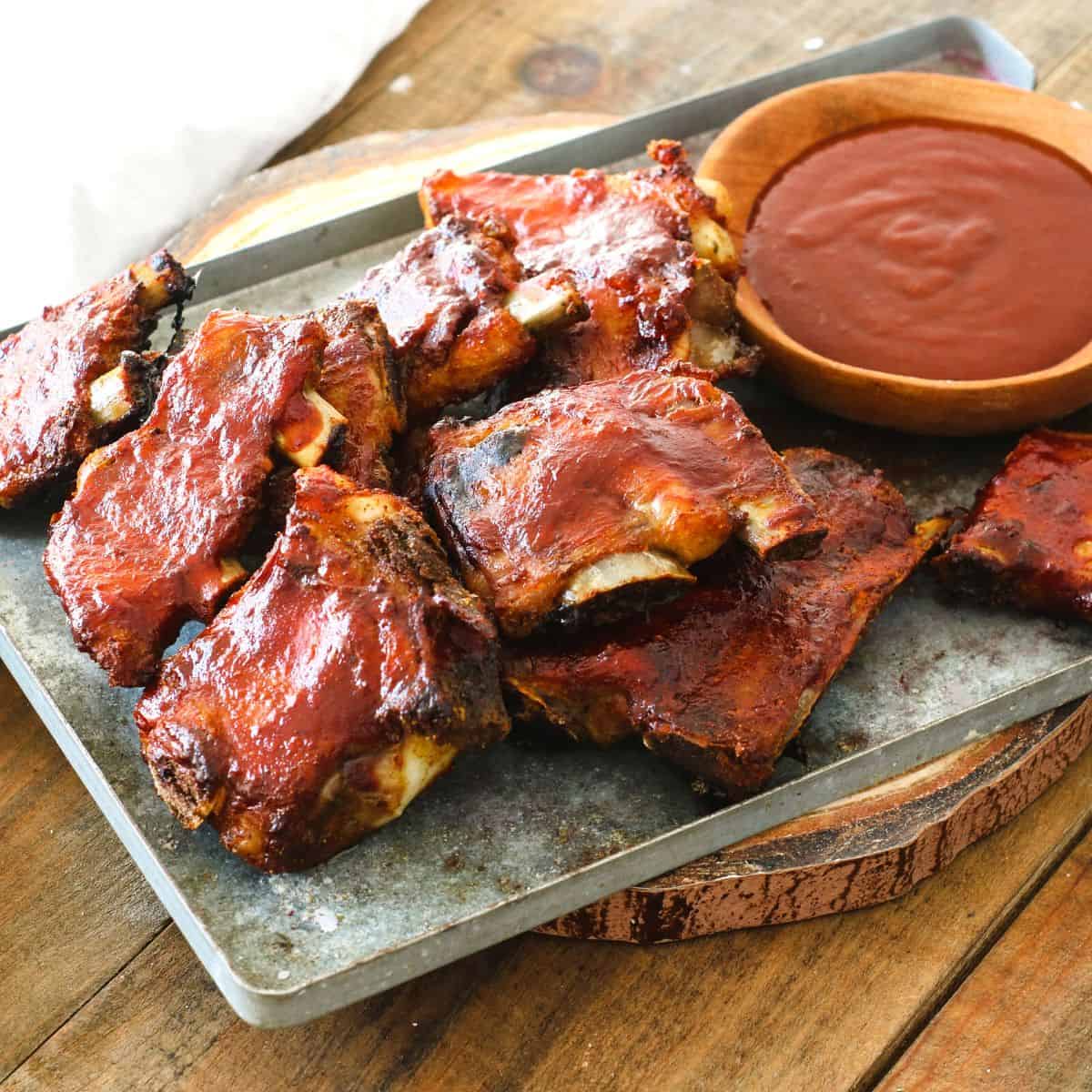 Table of Contents
These keto short ribs are sure to wow your entire family! We came up with this homemade BBQ keto rib rub that you can make with a few staples you probably already have in your pantry. The flavor-packed rib rub is made with paprika, garlic, onion, mustard, and cayenne.
This way, you know what goes into your meals instead of trying to read the labels. Plus, you can make extra and put it in a pretty jar; it makes a lovely present!
Are Pork Ribs Keto?
Pork ribs are a high-fat, low-carbohydrate protein suitable for a low-carb or keto diet. However, it depends on the preparation method and any additional sauces or seasonings used when preparing ribs.
Most pork ribs are cooked with a sweet, sugary barbeque sauce. Fortunately, you can make pork ribs keto-friendly by substituting a sugar-free bbq sauce for the high-sugar sauce.
Ingredients You'll Need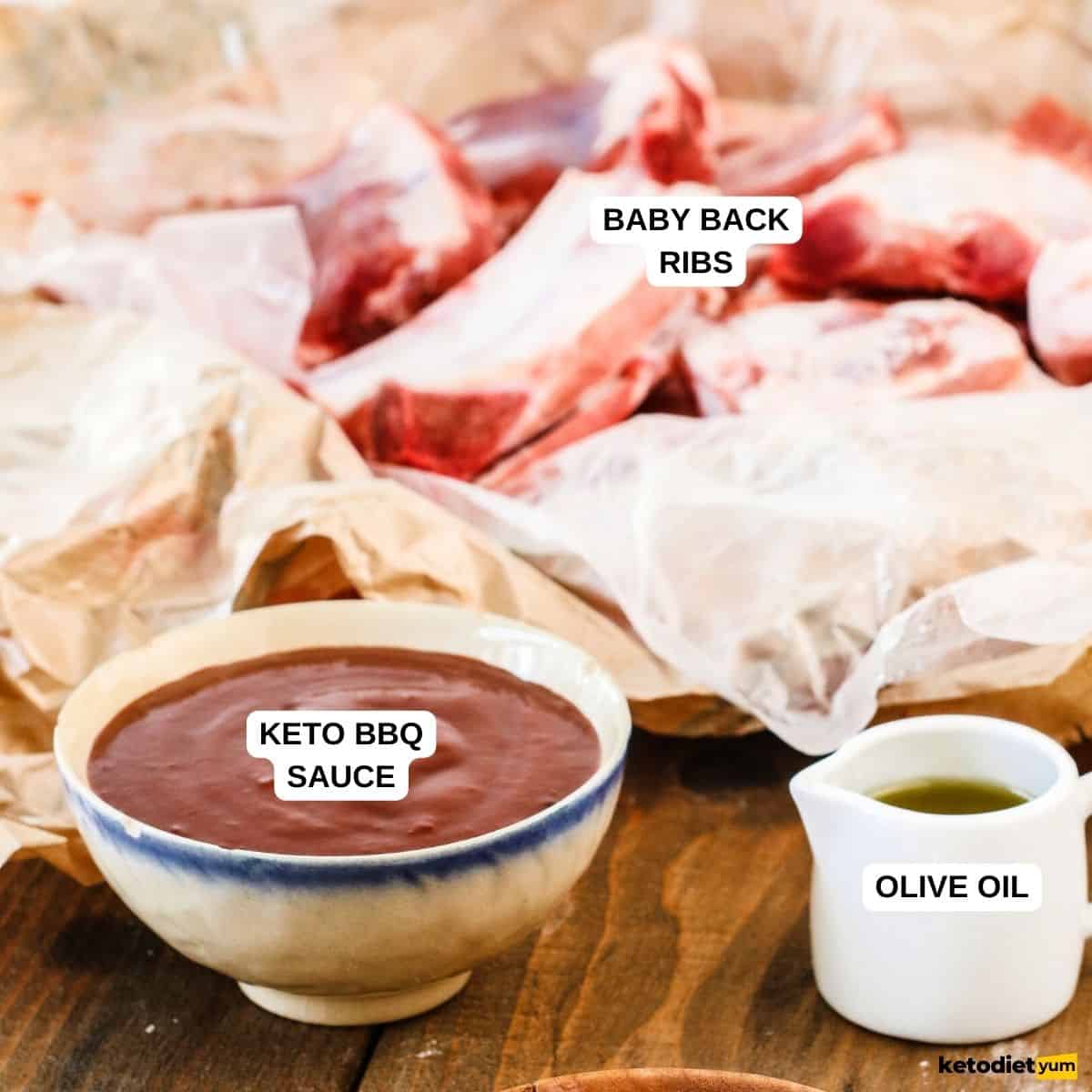 For the Ribs
Ribs - Two full racks of baby back ribs chopped into portions.
BBQ sauce - A sugar-free keto bbq sauce.
Olive oil - To help the rib rub bind to the ribs.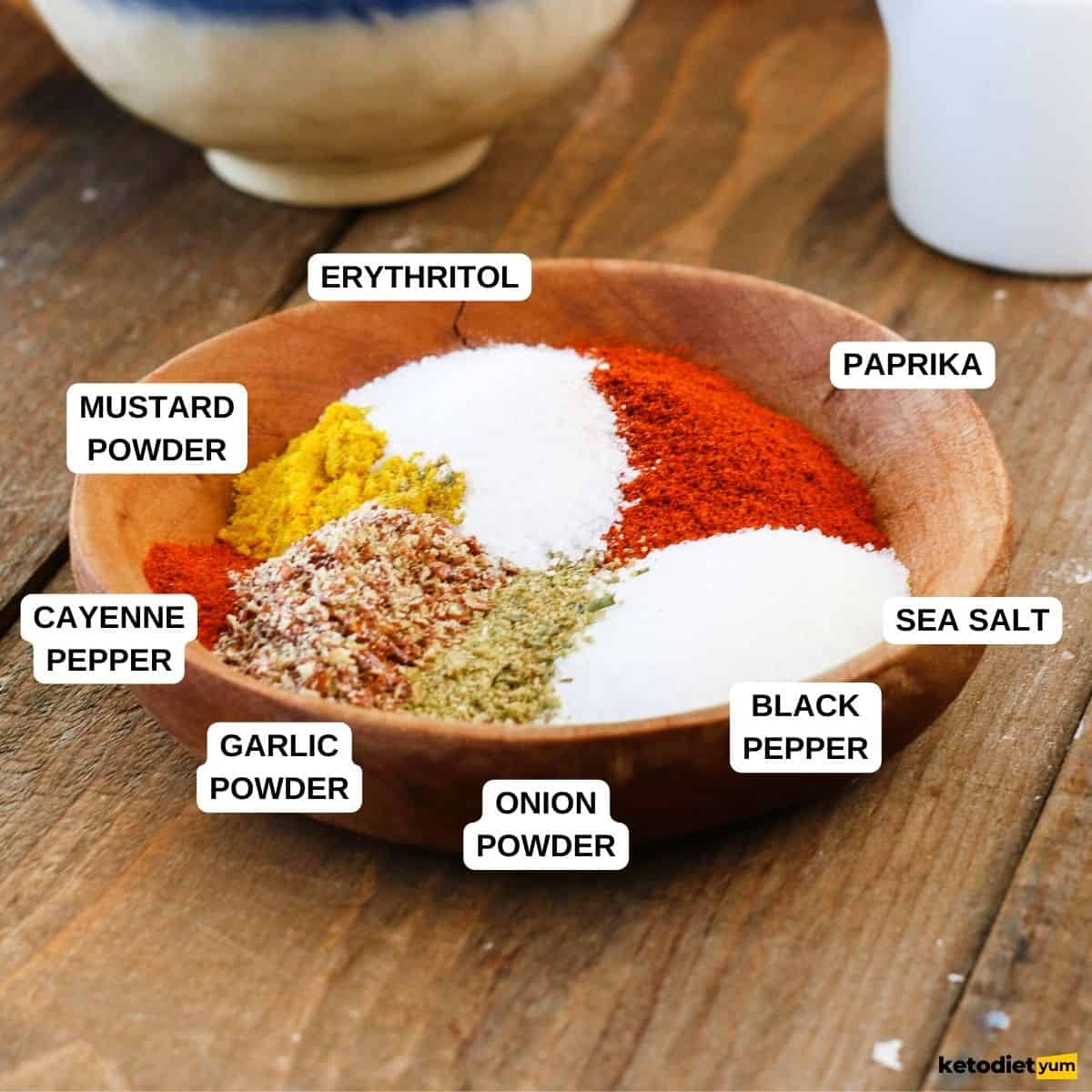 For the Keto Rib Rub
Erythritol - We'll use a sugar-free sweetener instead of sugar to keep the recipe low in carbs. We used Erythritol, but you can substitute it with sugar-free sweeteners like stevia, monk fruit, xylitol, allulose, etc.
Paprika - Adds a delicious smoky bbq flavor to the ribs.
Garlic powder - Adds savory flavor and helps create a flavorful crust.
Onion powder - Adds savory flavor like garlic and enhances the flavor of the meat.
Mustard powder - Adds tanginess to the ribs and helps to bind the rib rub to the ribs.
Cayenne pepper - Gives the ribs added heat.
Black pepper - Adds more flavor and heat.
Sea salt - Not only to season but to help draw moisture out of the ribs.
How To Make BBQ Keto Baby Back Ribs
Prepare the oven. Preheat your oven to 300 degrees Fahrenheit (150 degrees Celsius) and line a baking tray with baking paper.
Prepare the ribs. Cut the ribs into portions and pat them dry using paper towels. Rub the ribs all over with olive oil.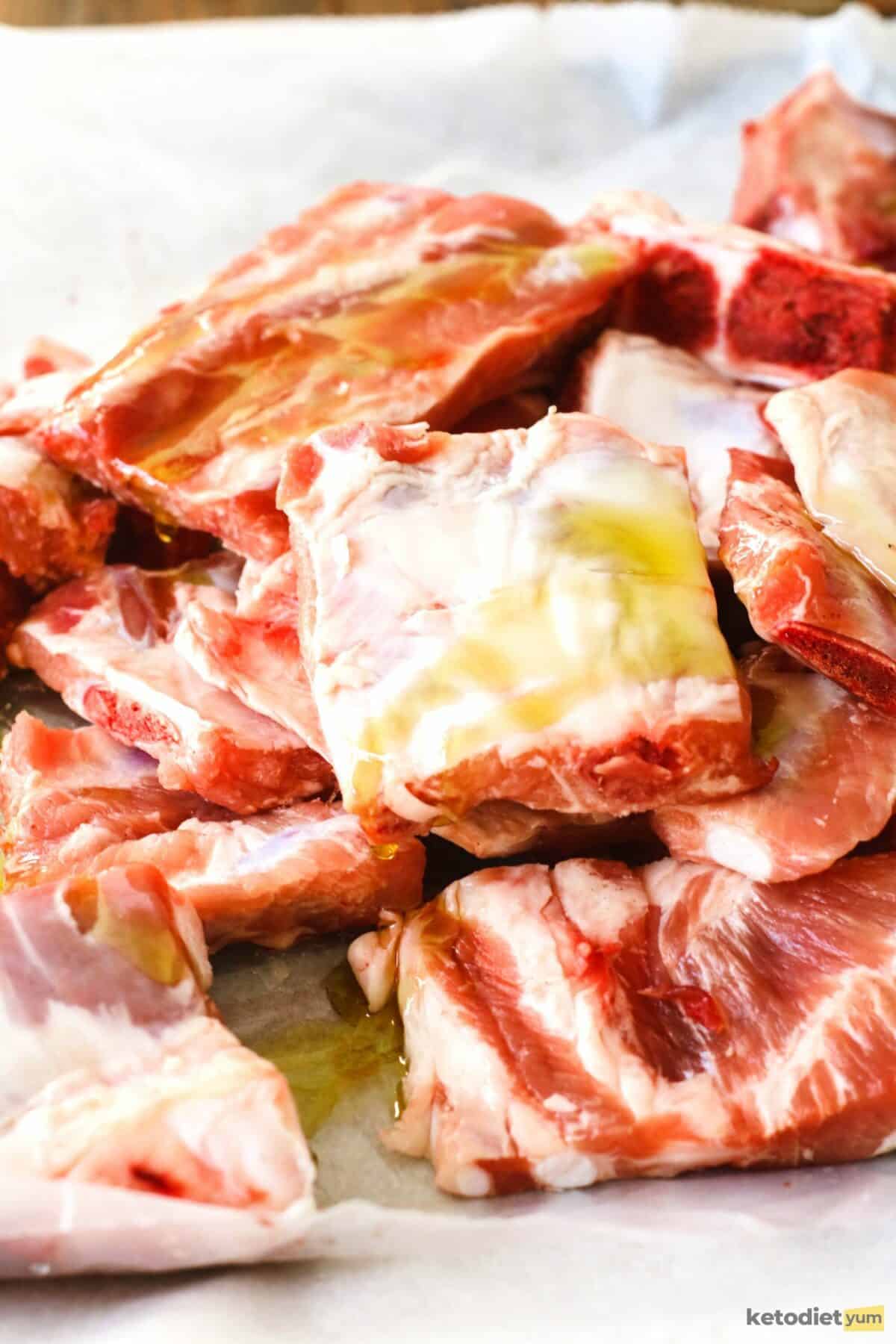 Prepare the keto rib rub. Make the bbq rib rub by combining the Erythritol, paprika, garlic powder, onion powder, mustard powder, cayenne pepper, sea salt, and black pepper.
Season the ribs. Massage the rub into the ribs until they are entirely covered.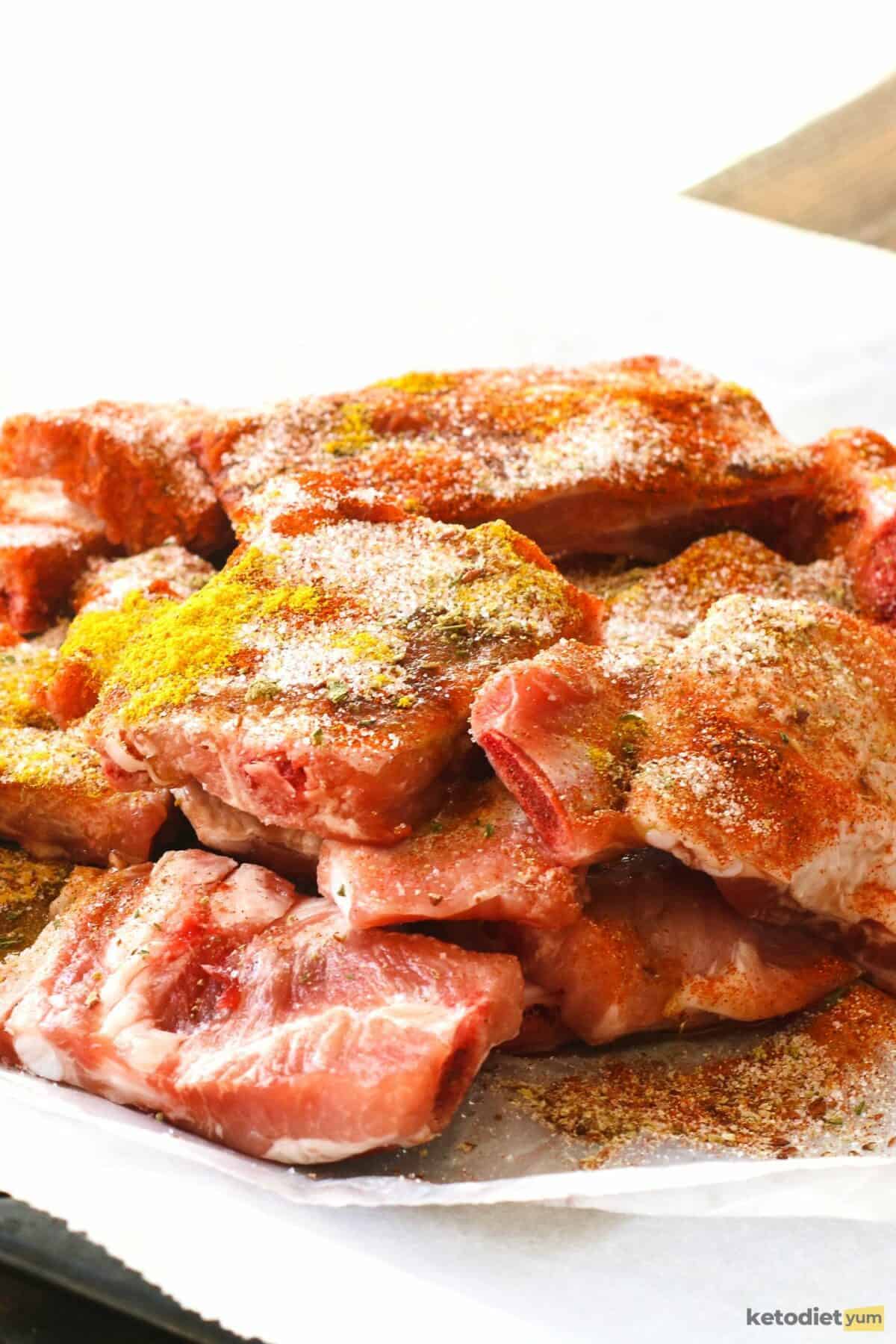 Cover and bake. Arrange the ribs in a single layer on the baking tray and cover them with foil. Cook in the oven for 2 to 2 ½ hours.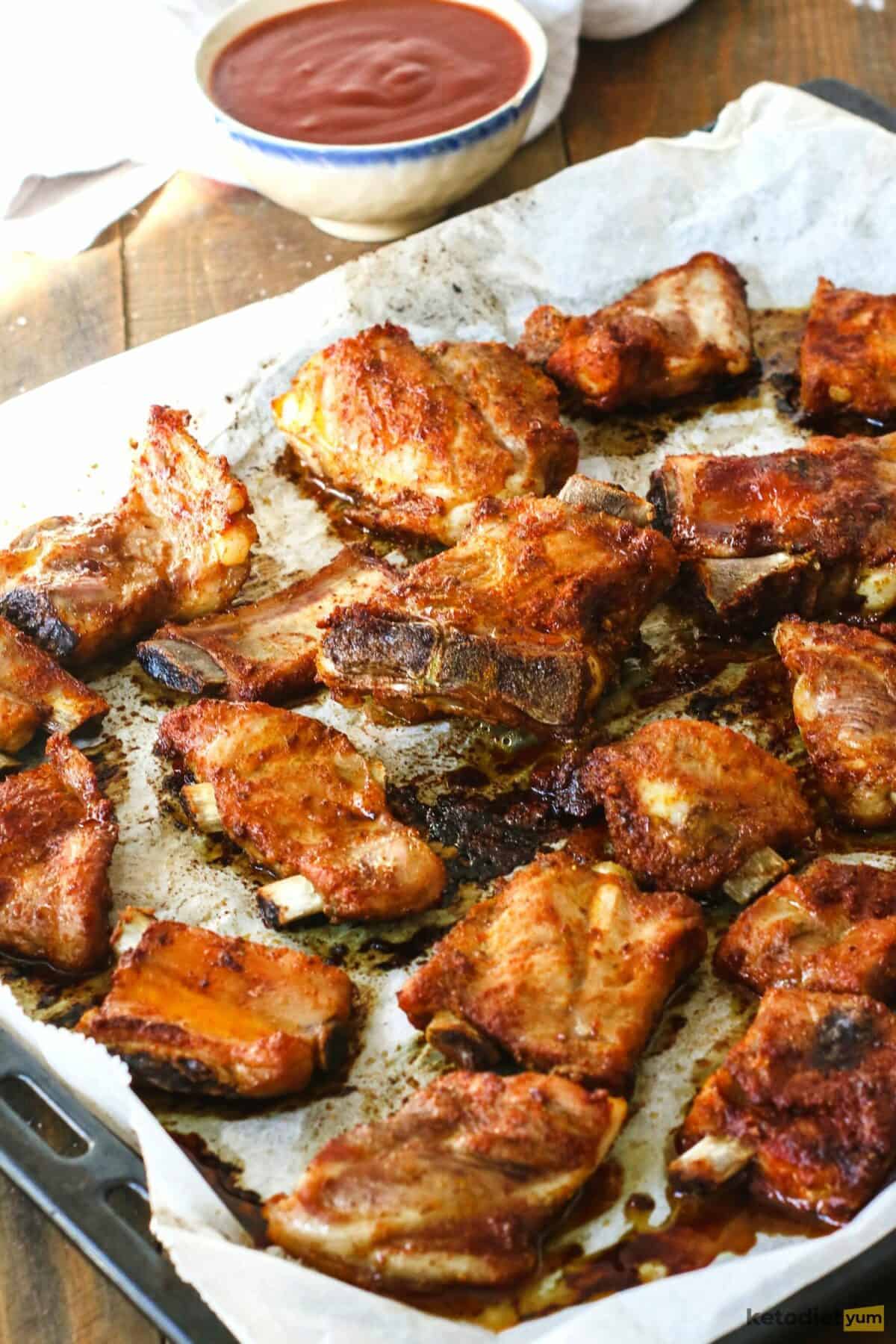 Add the bbq sauce. Remove the foil from the tray and brush the ribs with the keto barbeque sauce.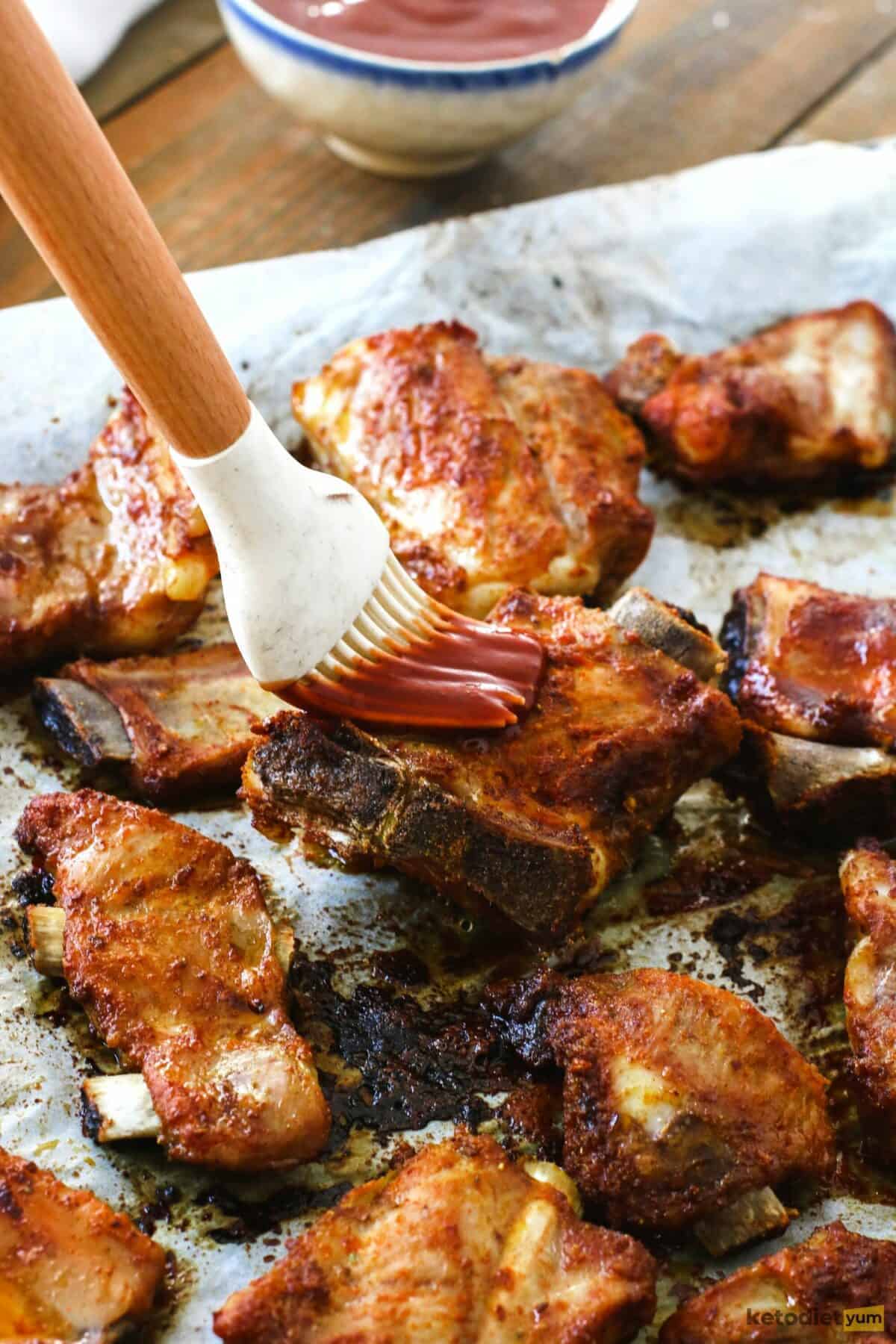 Broil the ribs. Set the oven grill or broiler setting on and cook for an additional 20 to 30 minutes, uncovered, until slightly charred.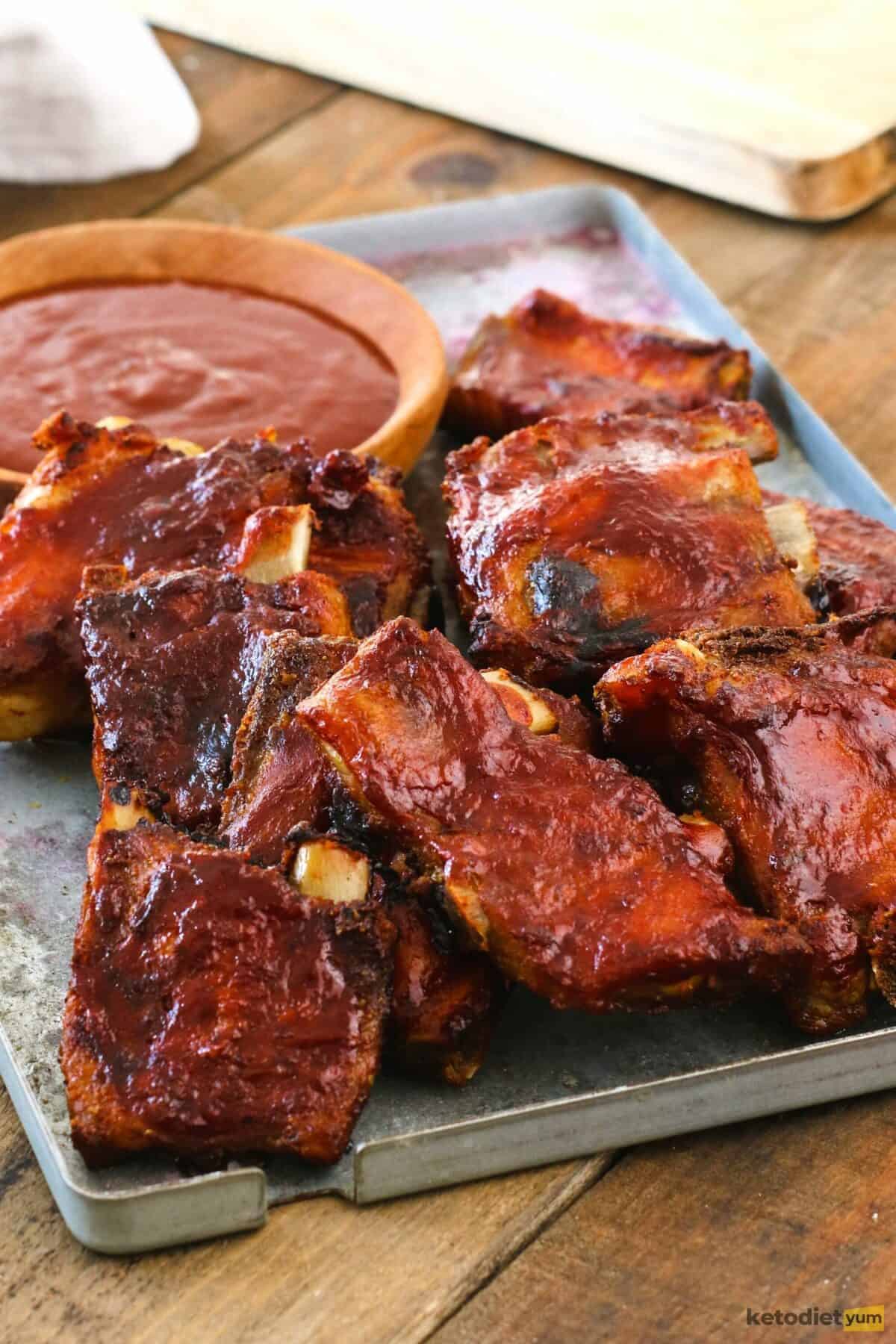 Storage Instructions
Allow keto baby back ribs to cool to room temperature before storing. Wrap the ribs tightly in plastic wrap, or aluminum foil once cooled to prevent them from drying out or absorbing any odors from the refrigerator.
If you intend to keep the ribs for an extended period, place them in an airtight container or resealable freezer bag. To prevent freezer burn, remove as much air as possible.
Refrigerated pork ribs can be kept for around 3 to 4 days. You can freeze them for 2 to 3 months if you want to keep them for a longer period.
It's critical to reheat the ribs properly to ensure they're safe to eat. You can reheat the ribs in the oven, grill, or microwave, but they must be well heated before consuming. The ribs should reach an internal temperature of at least 165°F (74°C) before serving.
What To Serve With BBQ Keto Ribs
Depending on your preferences, there are lots of keto sides that pair well with these barbeque pork ribs! Here are some popular low carbs sides:
They're also great served with grilled low-carb vegetables like zucchini, bell peppers, or asparagus.
BBQ Keto Ribs Recipe
The juiciest and most tender keto ribs with a sugar-free BBQ sauce and dry rib rub. Simply season the ribs, bake in the oven, brush with BBQ sauce, and grill to get a charred and crispy crust.
Pin It
Print
Ingredients
2

full racks

baby back ribs

chopped

½

cup

Keto BBQ Sauce

4

tablespoon

Olive Oil

divided

1

tablespoon

Erythritol

1

tablespoon

Paprika

1

teaspoon

Garlic Powder

1

teaspoon

Onion Powder

1

teaspoon

Mustard Powder

¼

teaspoon

Cayenne Pepper

Sea Salt

to taste

Black Pepper

to taste
Instructions
Preheat the oven to 300°F/150°C and line a baking sheet with baking paper.

Pat the ribs dry with paper towels and rub with olive oil on all sides.

Mix all the spices together and rub the mixture into the ribs.

Cover the ribs with foil or baking paper and cook in the preheated oven for about 2 to 2 ½ hours.

Remove the foil, and coat the ribs with the keto BBQ sauce. Turn the grill or broil setting on and cook an additional 20-30 minutes uncovered, until slightly charred.
Last Step: Leave A Rating!
Share your recipe by tagging @keto.diet.yum with hashtag #ketodietyum on Instagram - everyone would love to see it!
Nutrition
Calories:
631
kcal
Carbohydrates:
3.525
g
Protein:
46.7
g
Fat:
48.7
g
Saturated Fat:
15.55
g
Polyunsaturated Fat:
2.875
g
Monounsaturated Fat:
24.175
g
Trans Fat:
2
g
Cholesterol:
156.3
mg
Sodium:
627
mg
Potassium:
726.3
mg
Fiber:
1.25
g
Sugar:
1.05
g
Vitamin A:
44.3
IU
Vitamin C:
4.6
mg
Calcium:
40.6
mg
Iron:
4.9
mg
Net Carbs:
2.275
g