This keto chocolate mousse is fluffy, light as air, and has a rich chocolatey flavor. Made with just 3 ingredients in 5 minutes, in my opinion, it's one of the best quick and easy keto desserts!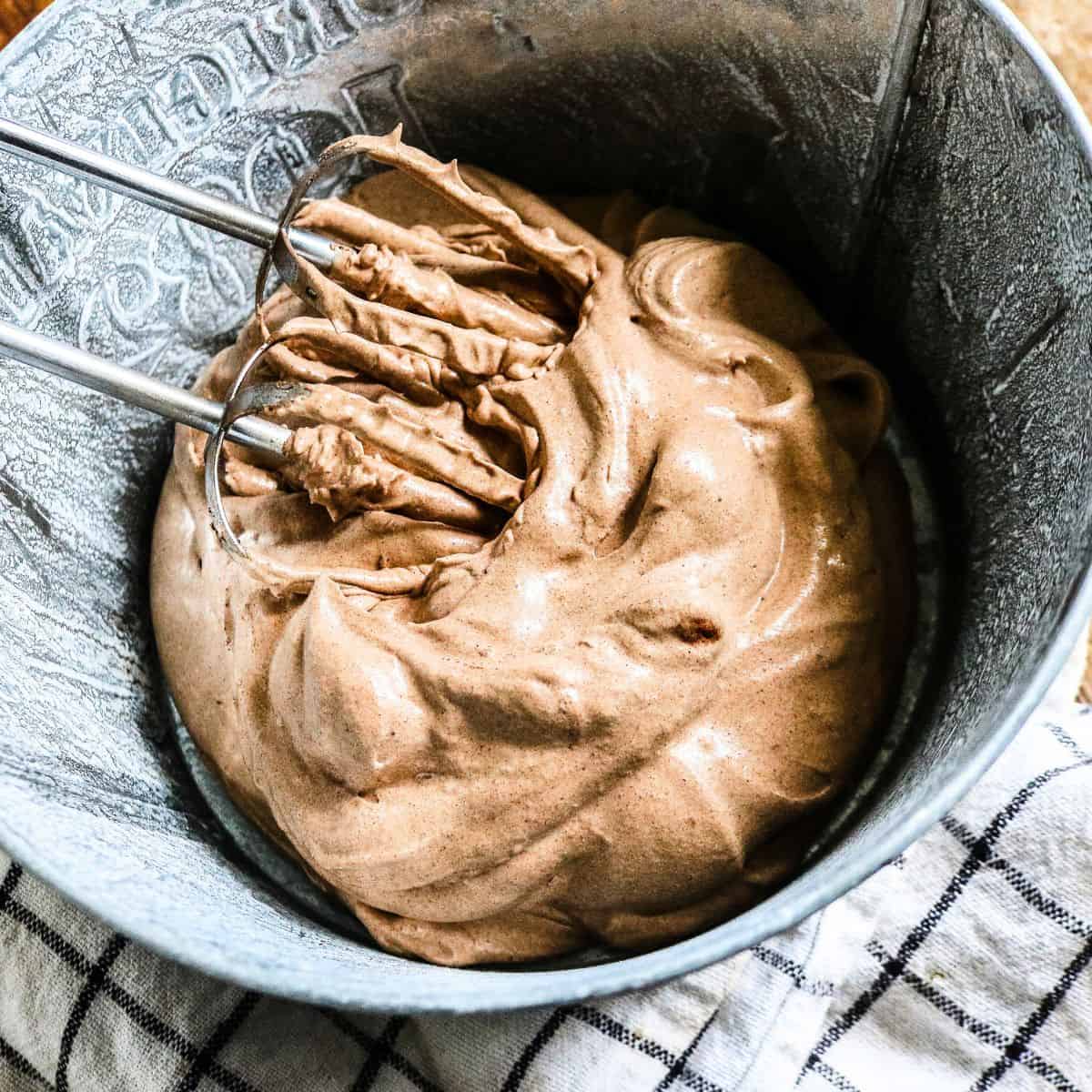 Table of Contents
When I'm craving something chocolatey and indulgent, my go-to recipes are chocolate lava cake, chocolate peanut butter fudge, and this chocolate mousse. So chocolatey, so fluffy, and light as air, and yes, it's low carb, sugar free, and keto. Now, you don't have to save indulging in a chocolate treat to satisfy your sweet tooth for weekends and special occasions. Just 3 ingredients and five minutes, and voila! A classic 'mousse au chocolat' on the table. We topped ours with sugar free chocolate shavings, but low carb fruit would also make a great topping.
Why You'll Love Sugar Free Chocolate Mousse
Who doesn't love chocolate? It's one of the most popular flavors in the world, and there are so many ways to enjoy it. If you're following a keto diet, you may think that chocolate desserts are off-limits.
But fear not - this low carb chocolate mousse is here to save the day! In just five minutes, you can have a delicious, fluffy, and indulgent chocolate treat that's low-carb and sugar-free.
One of the best things about this keto chocolate mousse recipe is how easy it is to make. With just three ingredients and no cooking required, you can whip up a batch of this mousse in no time.
This chocolate mousse recipe uses no sugar and is sweetened with your choice of keto-friendly sweeteners such as stevia, Erythritol, or monk fruit. With just 2.8 grams of net carbs per serving, you can indulge in a sweet treat without sabotaging your diet.
While this keto chocolate mousse is delicious on its own, you can also get creative with your toppings. We like to sprinkle some sugar-free chocolate shavings on top for an extra chocolatey boost. But you could also top it with some whipped cream, chopped nuts, or even some low-carb fruit like raspberries or strawberries. The possibilities are endless!
Whether you're looking for a quick and easy dessert to make for yourself on a weeknight or you want to impress your guests at a dinner party, this keto chocolate mousse recipe is perfect for any occasion.
Since it's so quick and easy to make, you can whip up a batch whenever you want something sweet. And since it's so delicious, your guests will never guess that it's low carb and sugar free.
Ingredients for Low Carb Chocolate Mousse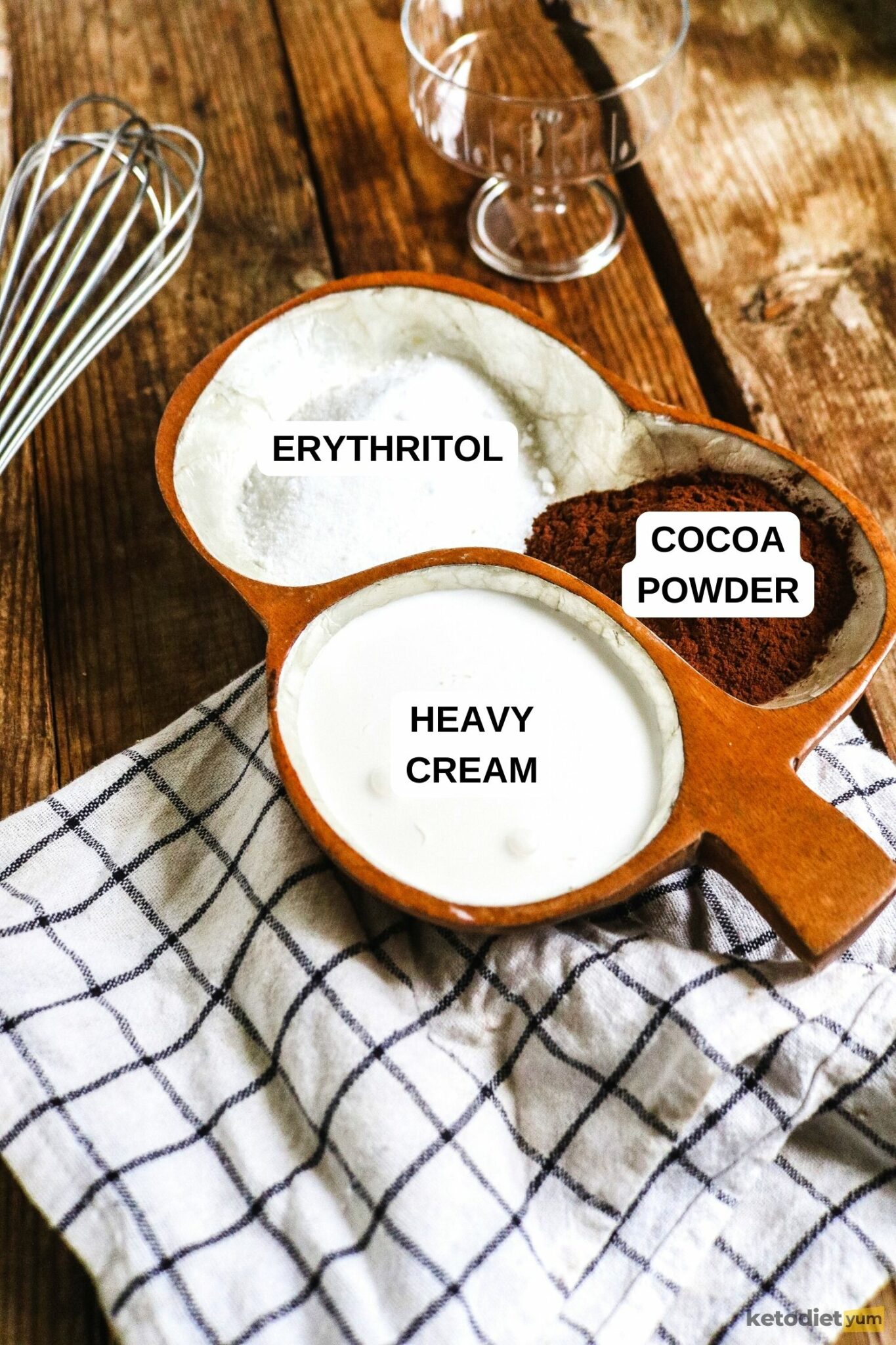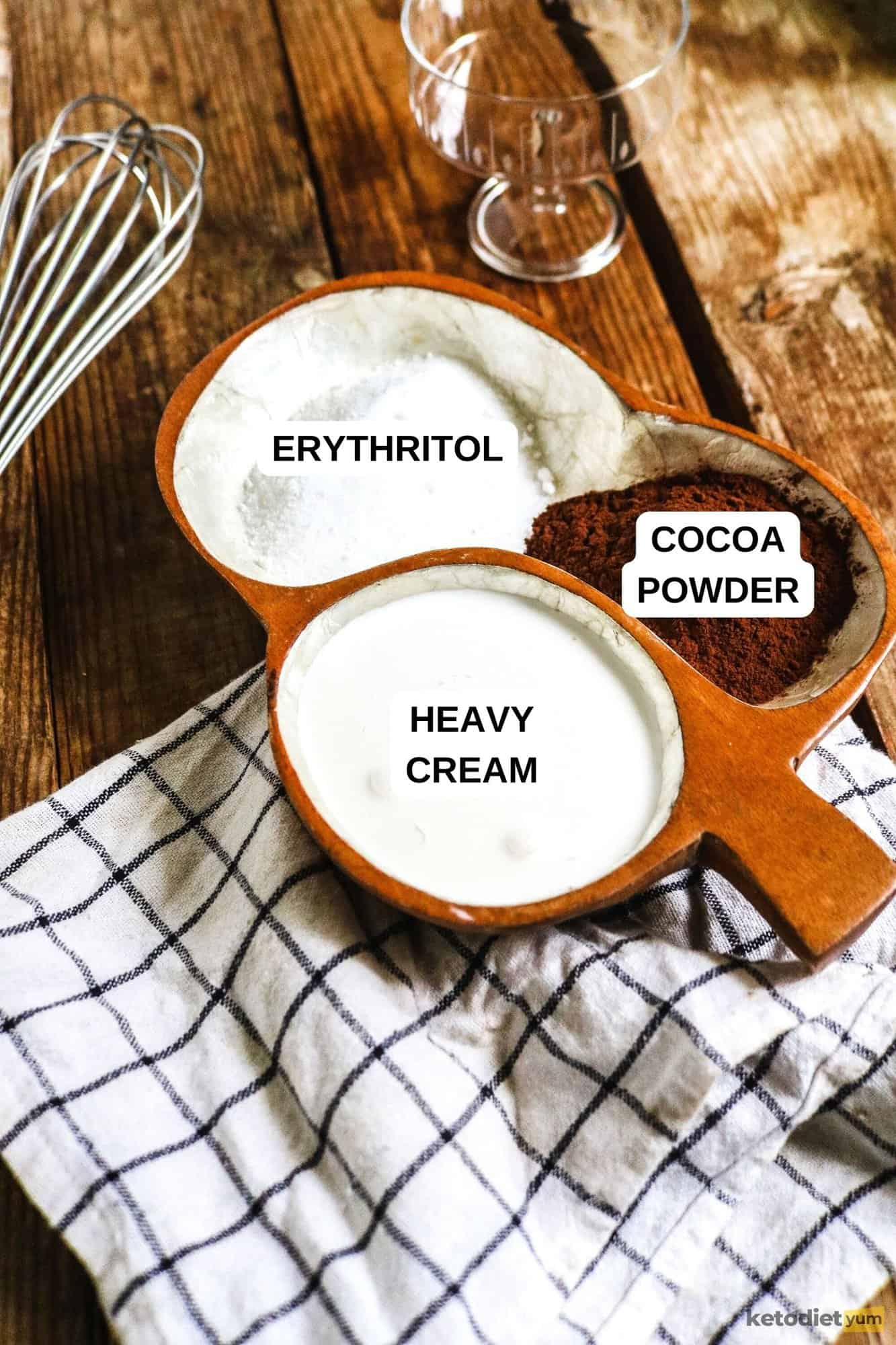 Here's what you'll need to make this keto chocolate mousse:
Heavy whipping cream: The star of the show, heavy cream, is a keto dieter's best friend. High in fat and low in carbs, this ingredient is loaded with vitamin A, calcium, vitamin D, magnesium, zinc, phosphorus, and vitamin B1. When whipped, it provides a rich, creamy texture to the mousse.
Unsweetened cocoa powder: Cocoa powder adds depth and richness to the chocolate flavor in this mousse. It's also packed with antioxidants and minerals like iron, magnesium, and zinc, making it a healthy addition to your dessert.
Powdered Erythritol: This is a natural sweetener derived from fruits that is low in calories and carbs and doesn't raise your glycemic index. Erythritol is an excellent alternative to regular sugar and contributes to the sweetness of the mousse (but you can substitute other keto-friendly powdered sweeteners if you prefer, too).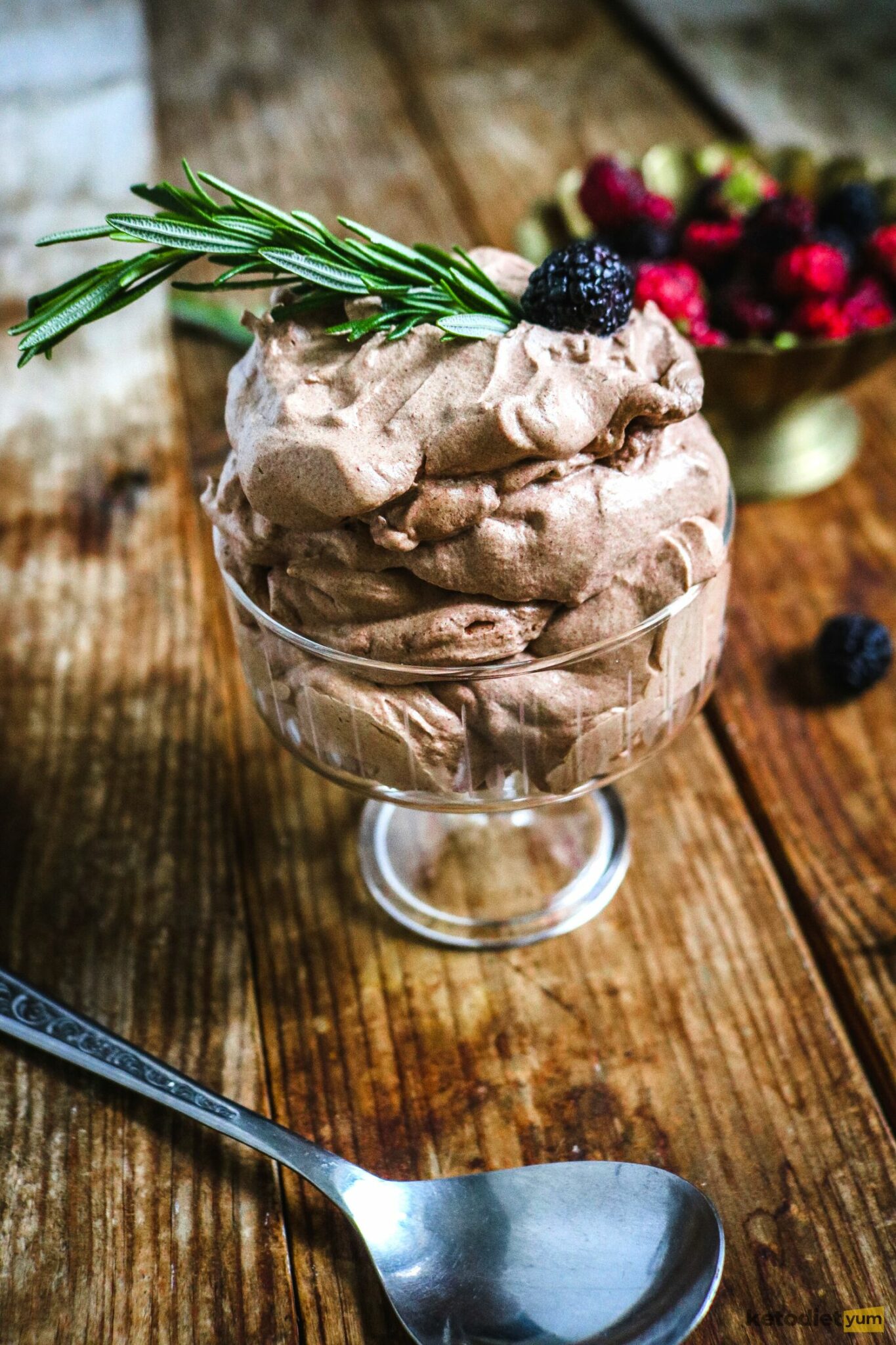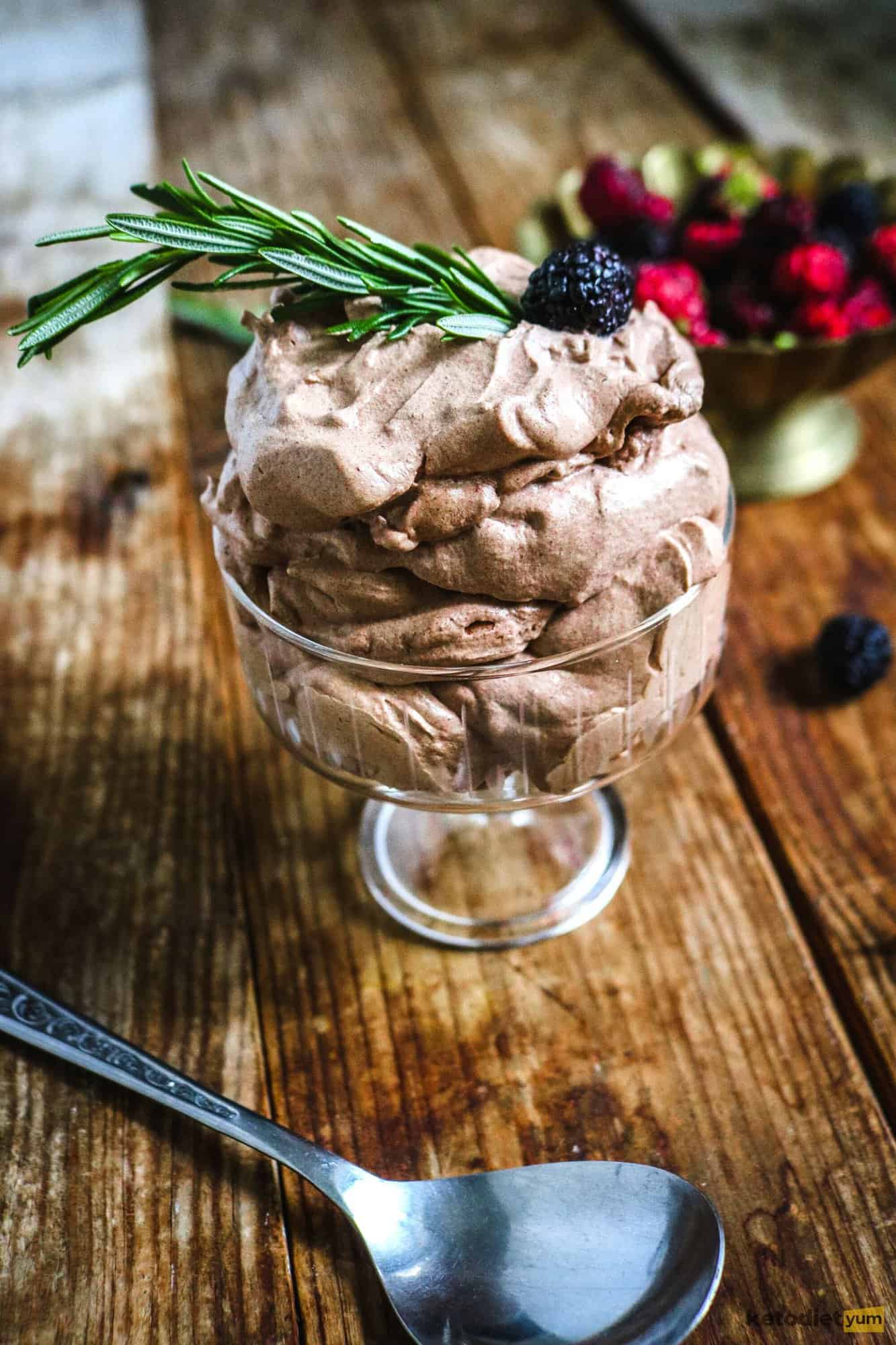 How to Make Chocolate Mousse
Read on to learn how to make this delightful dessert that will make your taste buds jump for joy:
Step One: Whip the Cream and "Sugar": The first step to making keto chocolate mousse is to whip the heavy cream with the Erythritol in a large mixing bowl using an electric mixer. It's important to use Erythritol instead of sugar as it's a natural sweetener that does not spike blood sugar levels. Whip it for three or four minutes until it becomes light and fluffy.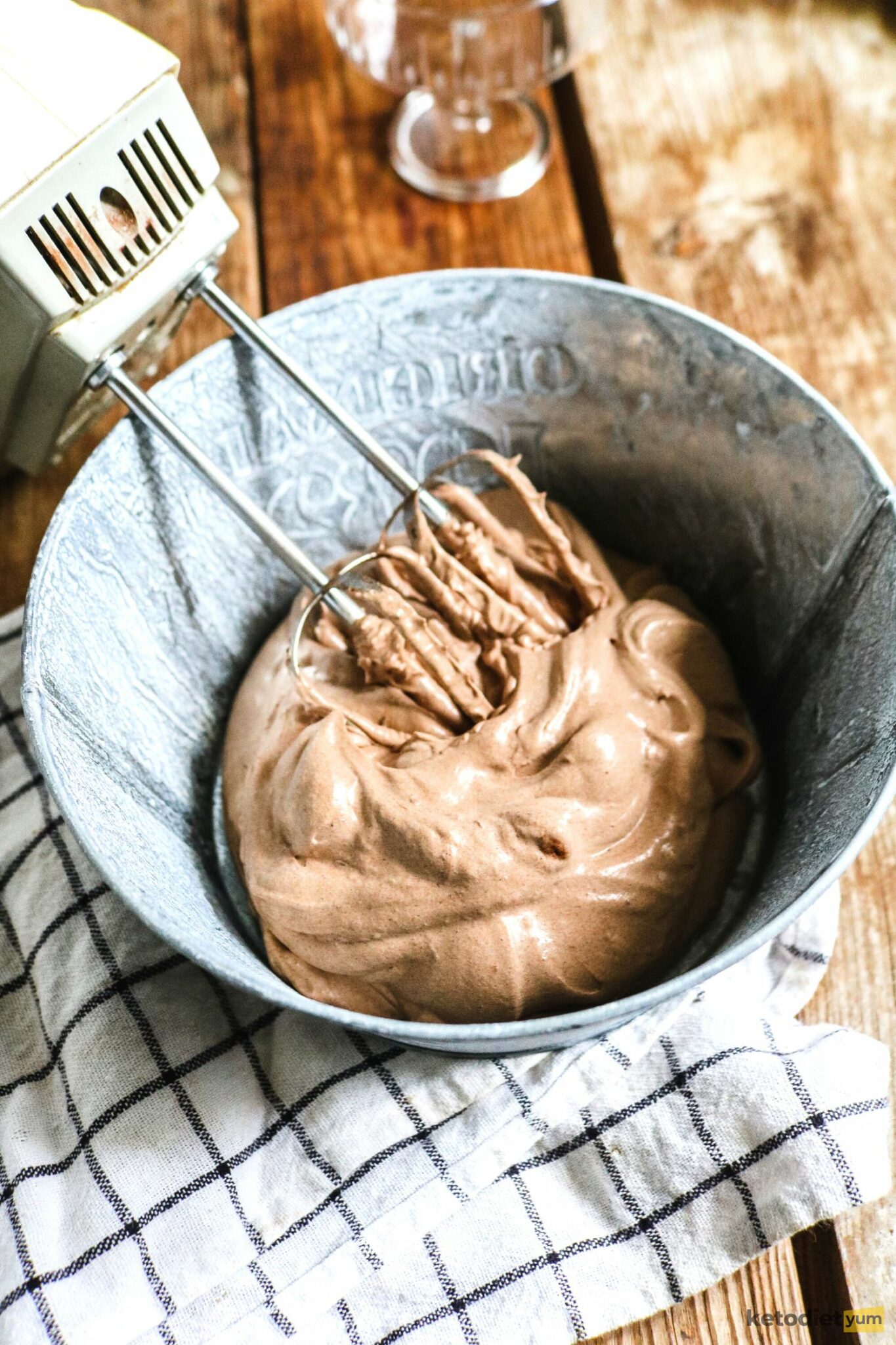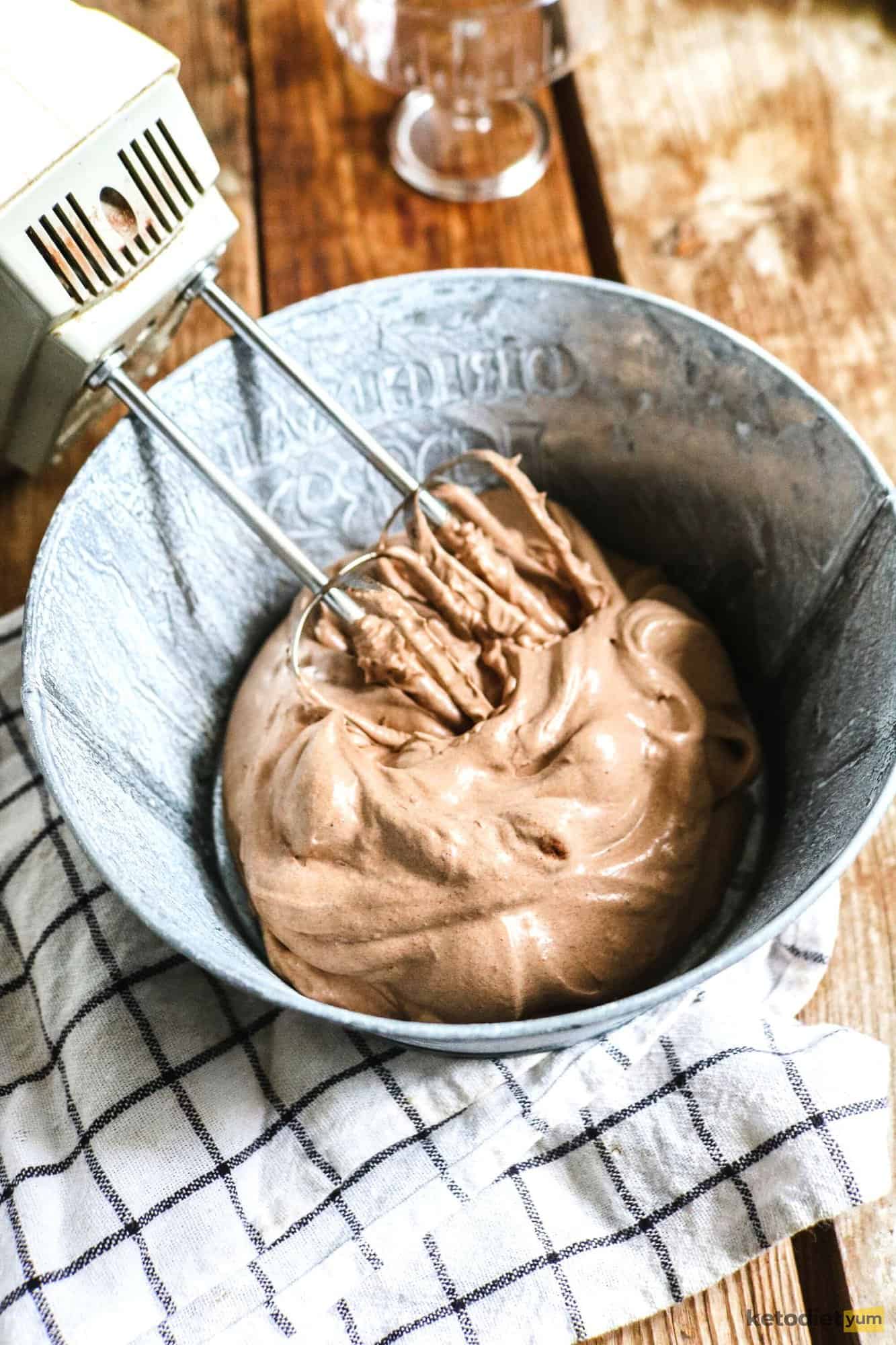 Step Two: Add Cocoa Powder: Once the cream and Erythritol are well combined, add cocoa powder to the mixture. To ensure that your mousse is thick and creamy, it's important to beat the mixture until stiff peaks form. It may take a few minutes, but it's worth the effort.
Step Three: Spoon Out the Mousse: Choose your serving bowls or glasses and spoon the mousse mixture into each one. You can choose to spoon the mousse on top of sliced strawberries or blueberries for an added burst of flavor.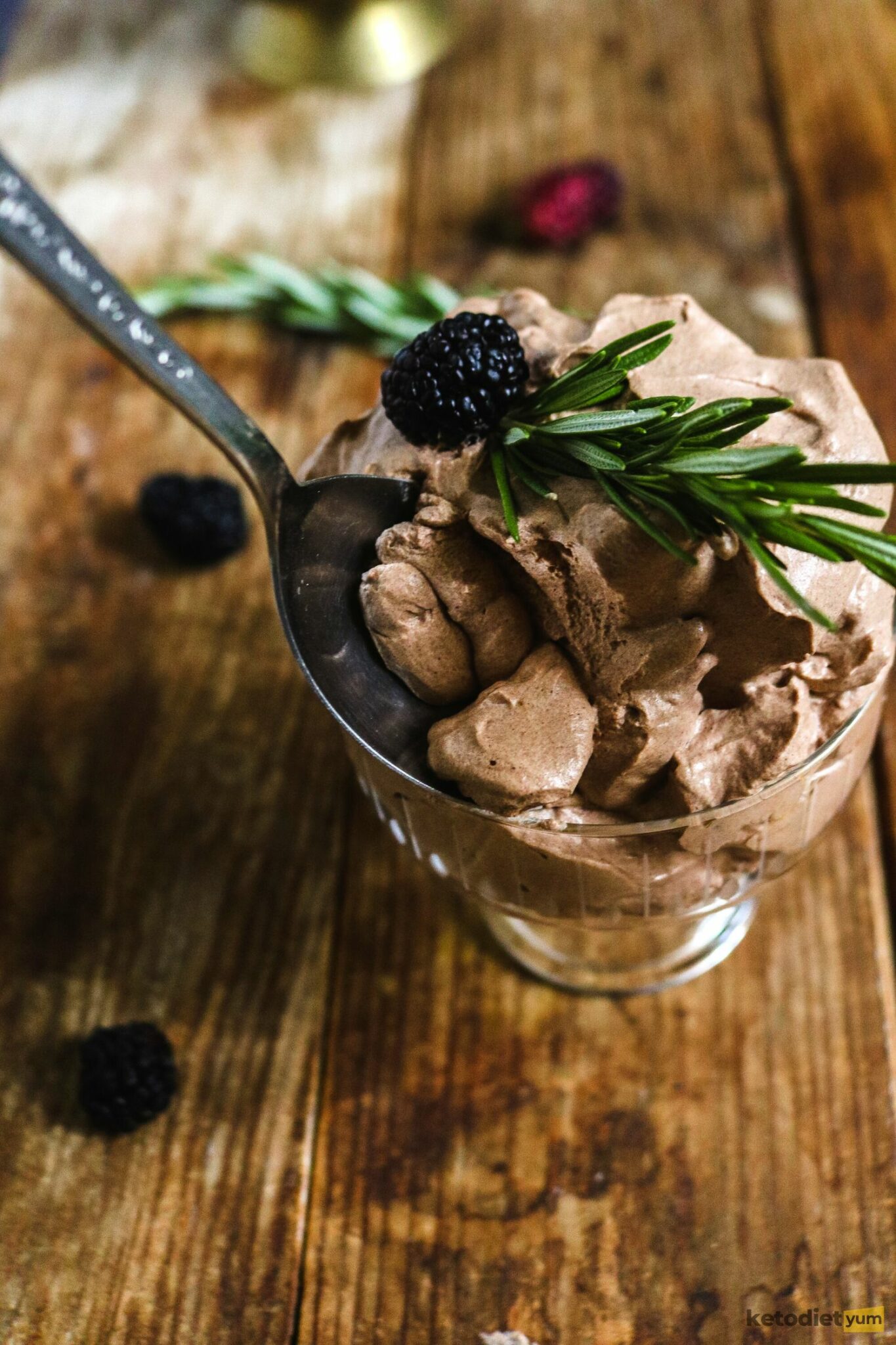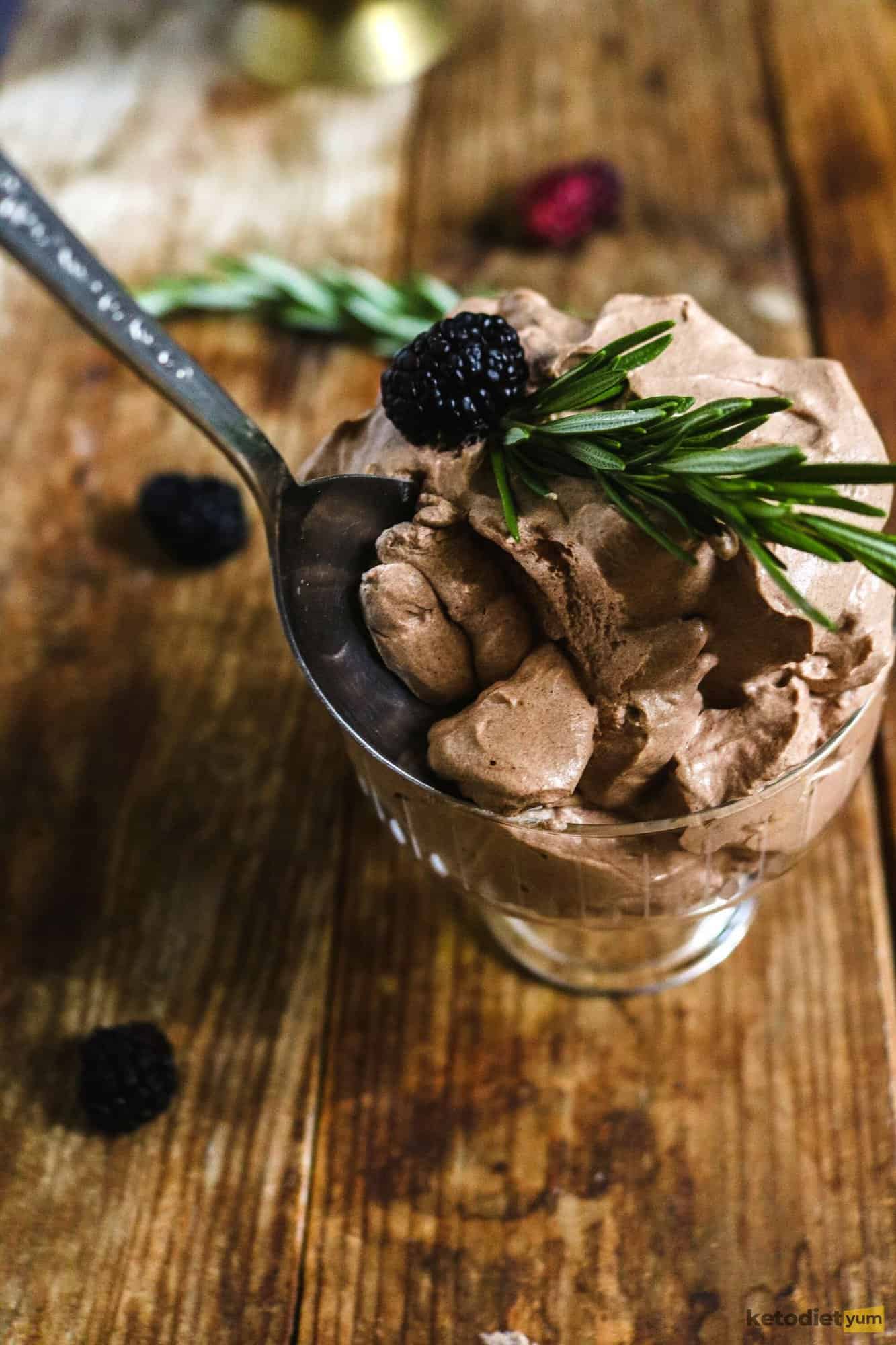 Step Four: Add Toppings (Optional): If you want to add an extra dimension of flavor, top it with sugar-free chocolate shavings, berries, or even nuts. This makes the perfect finishing touch to an already sensational dessert!
Step Five: Chill and Enjoy: Voila! Your keto chocolate mousse is ready to be devoured. You can chill it in the fridge for an hour or so to add to the decadence. Enjoy this delicious dessert without worrying about added sugars or carbs!
Tips & Variations
Here are a few tips for making your own keto chocolate mousse:
Use high-quality chocolate: The star of any good chocolate mousse is, of course, the chocolate itself. When making a keto chocolate mousse, it's important to choose high-quality, low-carb chocolate. Look for chocolate that contains at least 70% cocoa, as this will give you the most intense chocolate flavor without adding too many carbs.
Use a sugar substitute: There are plenty of sugar substitutes besides Erythritol that work well in keto desserts. Some popular options include xylitol and stevia. Be sure to read the labels and choose one that is keto-friendly and won't spike your blood sugar.
Get creative with add-ins: Consider adding in some chopped nuts, berries, a sprinkle of sea salt, or even some espresso powder for a mocha twist. You could also experiment with different extracts, like almond or peppermint, to give your mousse a unique flavor.
Try different serving methods: While most people serve their chocolate mousse in individual ramekins, there are plenty of other ways to enjoy this dessert. You could try layering it with fresh berries or whipped cream for a parfait-style presentation or even serve it as a frosting on a keto cake. Don't be afraid to get creative and mix things up!
Chill out!: After you've made your mousse, let it sit in the fridge for at least a few hours to set. If you want to speed up the process, you can also put it in the freezer for 20-30 minutes before transferring it to the fridge. Just be sure not to leave it in the freezer for too long, as it can freeze solid and ruin the texture.
Storage Instructions
To store: Always store any leftover mousse in the refrigerator, tightly covered, or in an airtight container. It will keep for up to 2 weeks.
To freeze: You might be surprised to learn that you can freeze chocolate mousse! Store it in a sealed freezer-proof container, and it will keep for up to 6 months. You will need to completely thaw the mousse overnight in the refrigerator when you're ready to eat it.
Frequently Asked Questions
How many carbs are in keto mousse?
The exact carb count of keto mousse varies depending on the recipe used. However, a standard keto mousse recipe typically contains between 2-4g of net carbs per serving. This chocolate mousse recipe has just 2.8g of net carbs in each bowl.
What is the lowest carb chocolate?
Is chocolate mousse low carb?
Most chocolate mousse contains a high amount of carbs because it is made with sugar, chocolate, and heavy cream. However, by using sugar free sweeteners, dark chocolate, and high-fat ingredients, you can make this low carb version of chocolate mousse.
Why is chocolate mousse good for you?
Dark chocolate, in particular, is a good source of antioxidants, which can help protect against free radicals that can damage cells in the body. High-fat ingredients like heavy cream that are used in chocolate mousse can help keep you feeling full and satisfied, which can lead to fewer cravings and overeating.
What is the difference between chocolate pudding and chocolate mousse?
Chocolate pudding is typically made with milk, cornstarch, and sugar, resulting in a creamy, smooth texture. Chocolate mousse, on the other hand, is made with heavy cream and chocolate, which gives it a light and airy texture.
Do you refrigerate chocolate mousse?
Yes, chocolate mousse should be refrigerated before serving. Since it's made with whipped cream, it can be quite delicate and will not hold up well at room temperature.
Can you eat chocolate on keto?
Yes, but it's important to choose the right type of chocolate. Dark chocolate with a high cocoa content is the best choice because it contains less sugar and is lower in carbs than milk chocolate or white chocolate.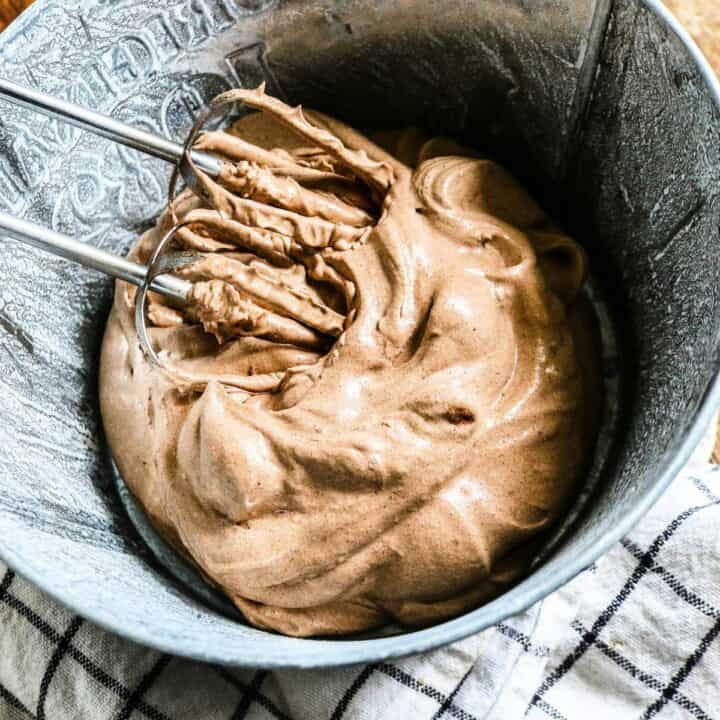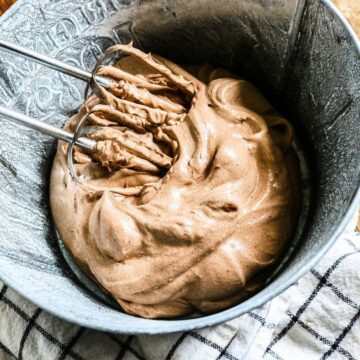 Easy Keto Chocolate Mousse in 5 Mins
This keto chocolate mousse is fluffy, light as air, and has a rich chocolatey flavor. Made with just 3 ingredients in 5 minutes, in my opinion, it's one of the best quick and easy keto desserts!
Pin It
Print
Ingredients
1 ½

cups

Heavy Whipping Cream

sugar-free

½

cup

Cocoa Powder

unsweetened

⅓

cup

Powdered Erythritol
Instructions
Whip the heavy cream with the Erythritol in a large mixing bowl, using an electric mixer, for 3-4 minutes until fluffy.

Add the cocoa powder and beat until stiff peaks form.

Scoop into serving bowls or glasses and optionally top with fresh fruit or sugar-free chocolate shavings.
Last Step: Leave A Rating!
Share your recipe by tagging @keto.diet.yum with hashtag #ketodietyum on Instagram - everyone would love to see it!
Nutrition
Serving:
1
chocolate mousse (4 per recipe)
Calories:
169
kcal
Carbohydrates:
5.4
g
Protein:
2.7
g
Fat:
17.2
g
Saturated Fat:
10.9
g
Polyunsaturated Fat:
0.7
g
Monounsaturated Fat:
4.4
g
Trans Fat:
0.6
g
Cholesterol:
50.8
mg
Sodium:
13.7
mg
Potassium:
151.9
mg
Fiber:
2.6
g
Sugar:
1.4
g
Vitamin A:
185
IU
Vitamin C:
0.3
mg
Calcium:
38.9
mg
Iron:
1
mg
Net Carbs:
2.8
g