This EASY low carb keto turkey meatloaf recipe is tender, juicy, and packed with flavor! Made with ground turkey seasoned to perfection and a simple glaze, this is my family's favorite meatloaf recipe!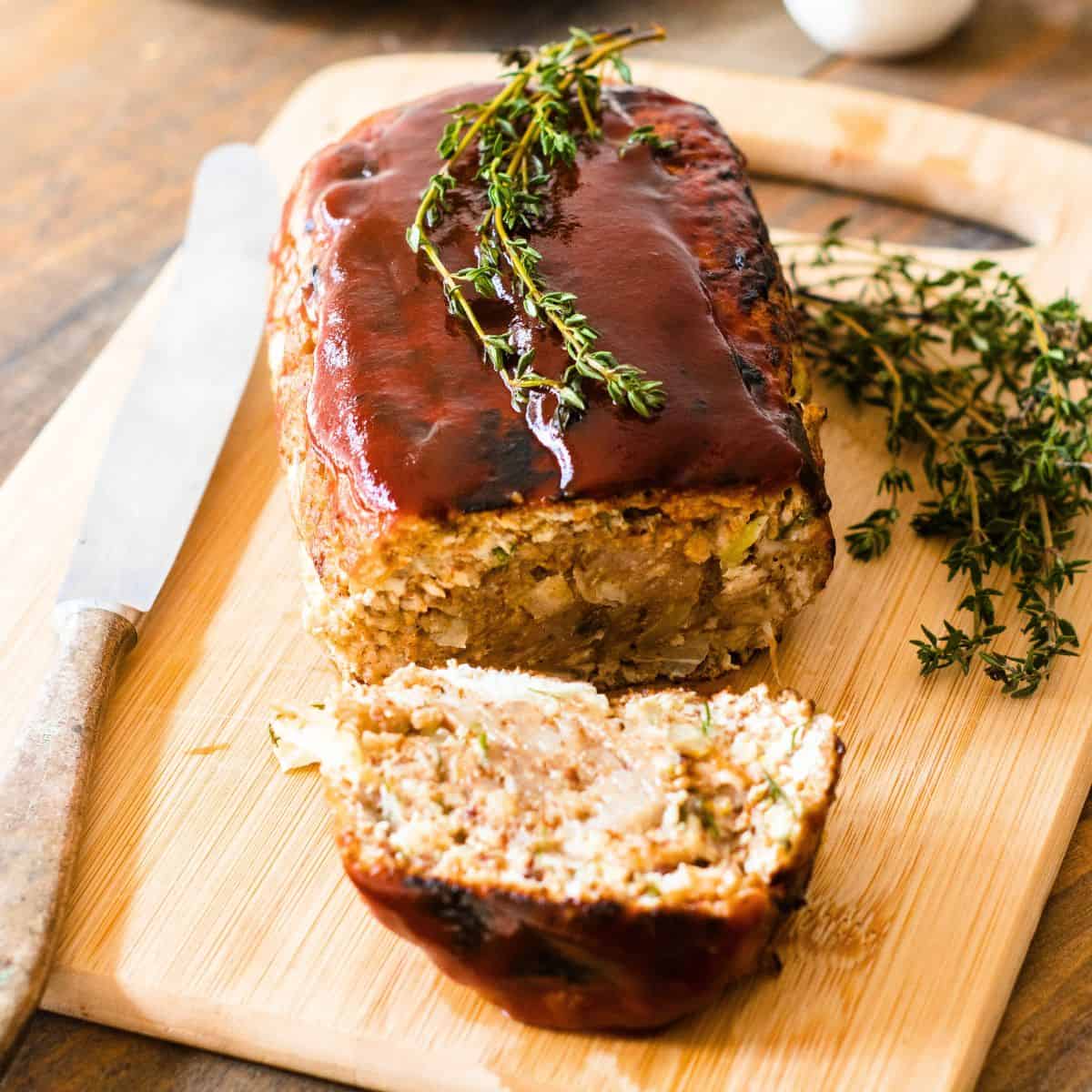 Table of Contents
If you're on the lookout for delicious and healthy keto recipes, you've come to the right place. Today, I want to share with you a fantastic recipe that's perfect for the whole family: keto turkey meatloaf.
Not only is it easy to make, but it's also packed with protein and healthy fats that will keep you full and satisfied for hours. Along with keto soups and keto casseroles, this low carb meatloaf recipe is one of the best comfort foods everyone will love!
Why You'll Love Low Carb Turkey Meatloaf
One of the best things about this keto turkey meatloaf recipe is that it is perfect for serving a whole family.
Whether you're cooking for a large family dinner or just meal prepping for the week ahead, this recipe is versatile and adaptable. Plus, you can easily double or triple the recipe if you need to feed a bigger crowd.
With just five minutes of prep time, you can have this turkey meatloaf in the oven and ready to bake. The hardest part is waiting for it to cook, but trust me, it's worth it. Set a timer and read a magazine or something - I know it's tough, but the wait will be well worth your time.
Moving on to other benefits. This recipe is not only easy to make, but it's also packed with all the nutrients your body needs to stay active and healthy. With just 489 calories per serving, 27.6 grams of fat, 5.5 grams of net carbs (very little), and a whopping 49 grams of protein, this turkey meatloaf is perfect for those following a keto or high-protein diet.
And did I mention that it's perfect for leftovers? If you're like me, you don't have time to whip up a brand-new recipe for dinner or lunch every single day. If you make a big batch, you can enjoy this turkey meatloaf for days to come. It's perfect for meal prep or for those busy weeknights when you don't have time to cook.
Keto Meatloaf Ingredients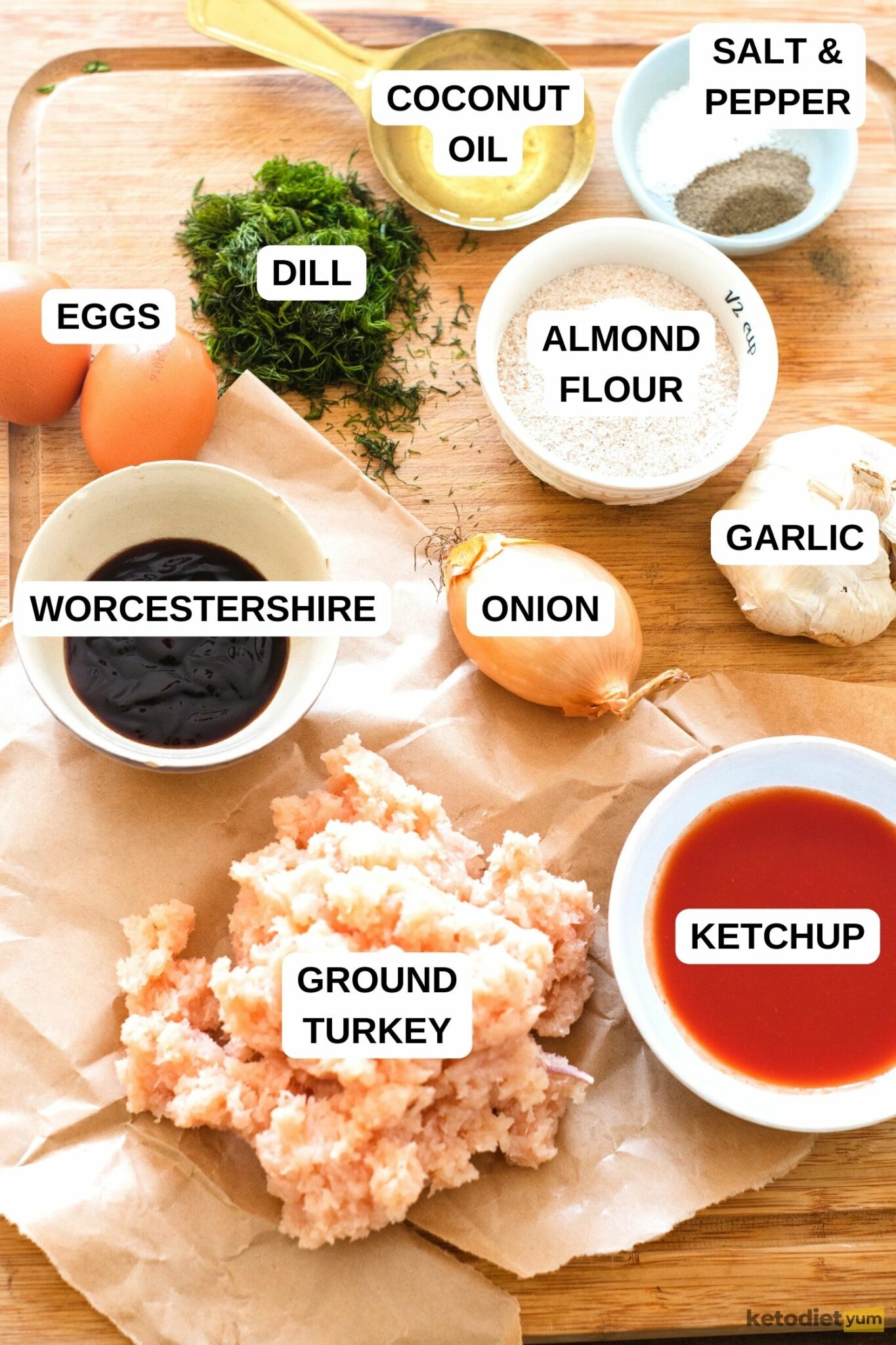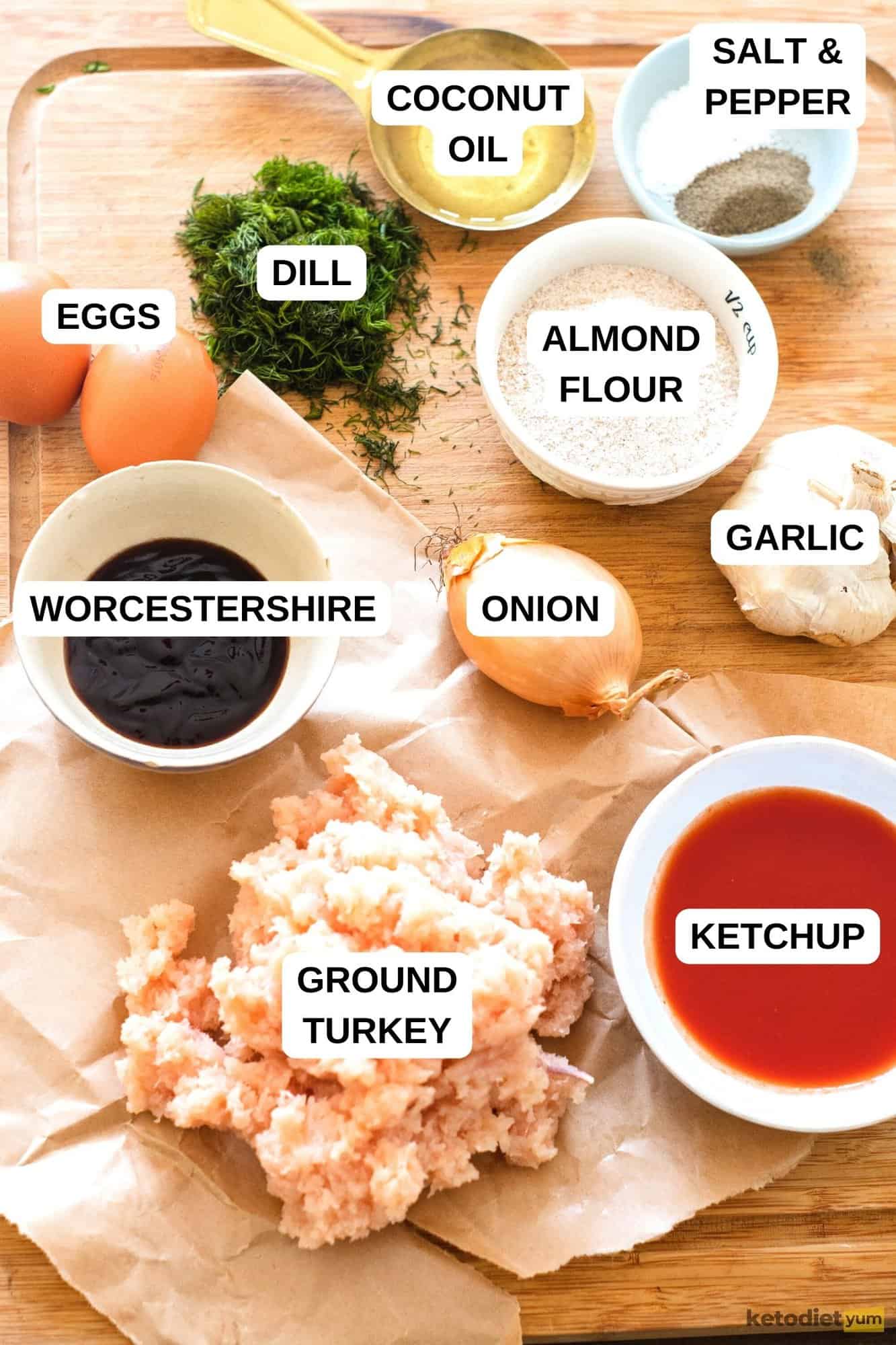 Ground turkey: Packed with lean protein, ground turkey is a great substitute for beef in any dish. It is also much lower in fat, making it an ideal choice for anyone looking to maintain a healthy diet without sacrificing flavor. If you don't have ground turkey on hand, ground chicken is a great substitute that offers similar benefits.
Eggs: These provide structure and texture to the meatloaf while adding a boost of protein. If you don't have eggs on hand or have an allergy, you can substitute eggs for one tablespoon of chia seeds mixed with three tablespoons of water to replace each egg.
Almond flour: Almond flour serves as a binder for the meatloaf. It adds healthy fats, vitamins, and fiber to the recipe while keeping it gluten-free. If you have a nut allergy or don't have almond flour on hand, you can substitute it with coconut flour or even ground pork rinds.
Keto ketchup and Worcestershire sauce: The keto ketchup and Worcestershire sauce give the meatloaf its signature flavor. My keto ketchup recipe is lower in sugar and carbs than traditional ketchup, while the Worcestershire sauce is low-carb and gluten-free. If needed, you can substitute the keto ketchup with tomato paste and a little bit of allulose or another keto-friendly sweetener. For the Worcestershire sauce, you can substitute it with coconut aminos if you prefer a sweeter taste.
Onion, garlic, and herbs: These give the meatloaf added flavor and nutrients. The onion is high in antioxidants and adds a slightly sweet taste, while the garlic adds a savory flavor as well as some potential health benefits. Fresh dill adds a pleasant herby taste, but you can use other fresh herbs like cilantro or parsley if you prefer.
Coconut oil: This last ingredient adds healthy fats to the recipe and helps to keep the meatloaf moist. If you don't have coconut oil or prefer another oil, you can substitute it with olive oil or avocado oil.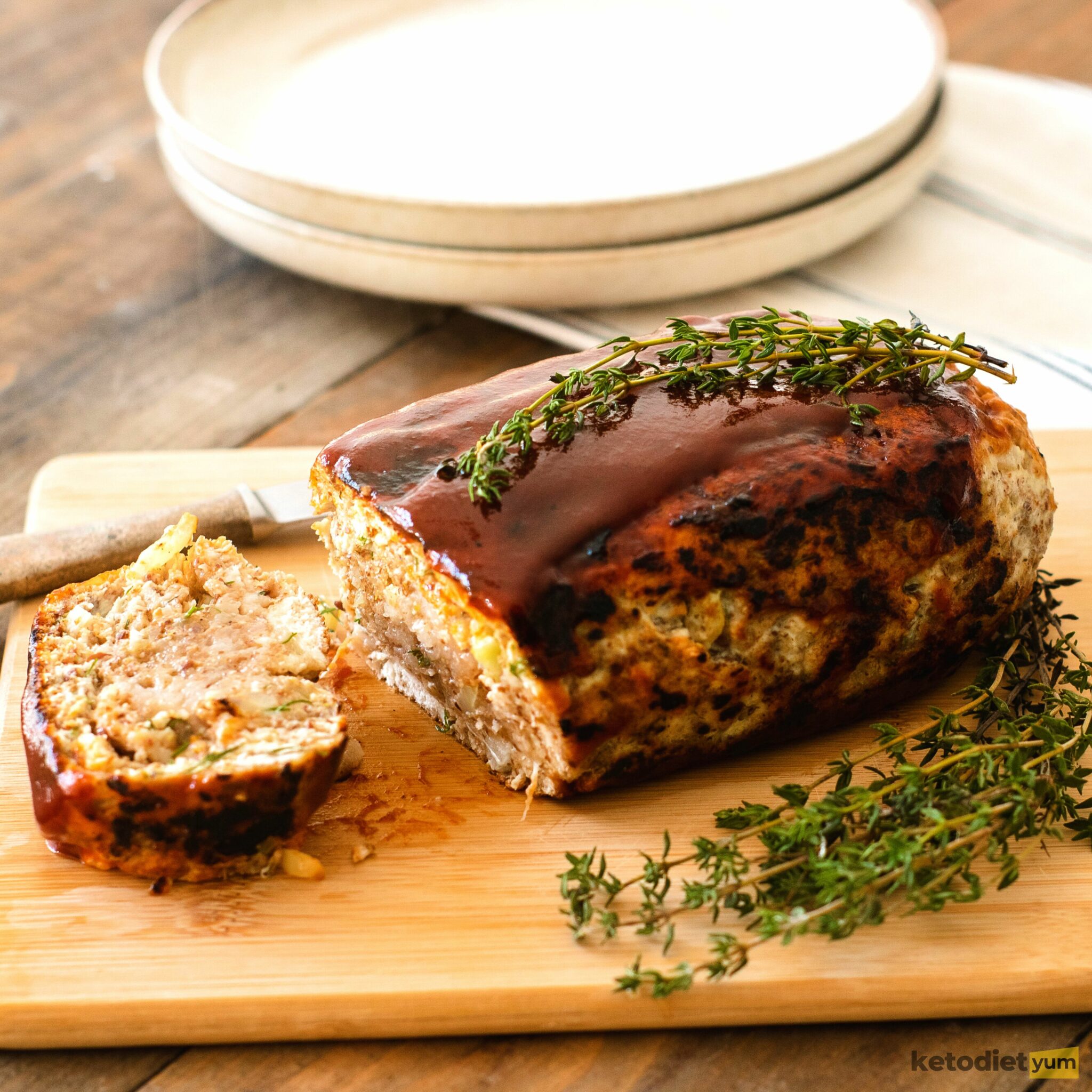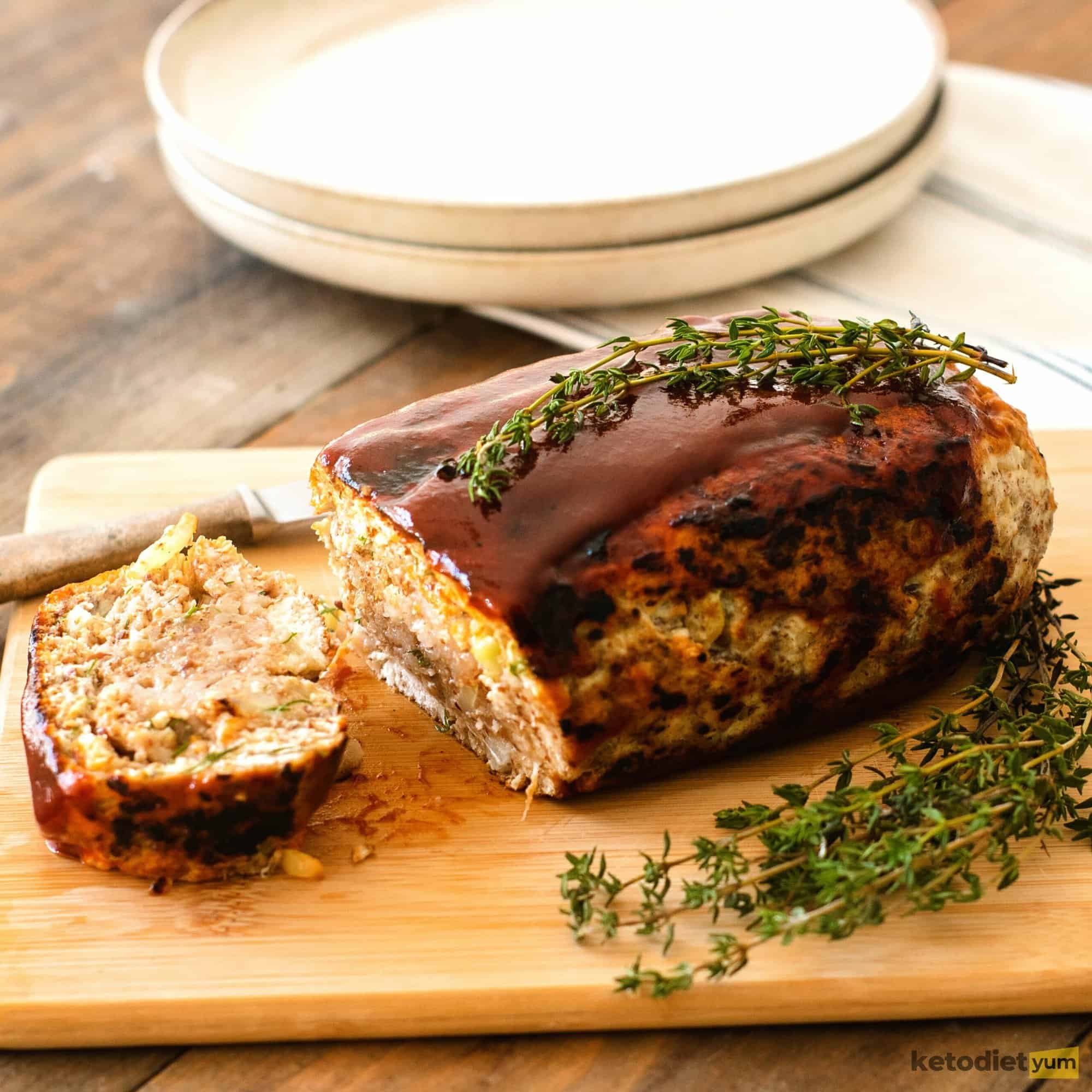 How To Make Keto Turkey Meatloaf
Are you in search of a delicious and healthy dinner recipe that will satisfy your cravings while keeping you on track with your keto diet? Look no further than this keto turkey meatloaf recipe!
Packed with flavor and nutritional benefits, this recipe is a winner for anyone looking to impress their taste buds while staying on track with their goals. Here's how to make it.
Step One: Preheat the Oven: Preheat the oven to 375°F (190°C) and line a loaf tin with baking paper (parchment paper).
The baking paper will prevent the meatloaf from sticking to the tin. Make sure to press the paper firmly into the corners of the tin so it stays in place while you add the meat mixture.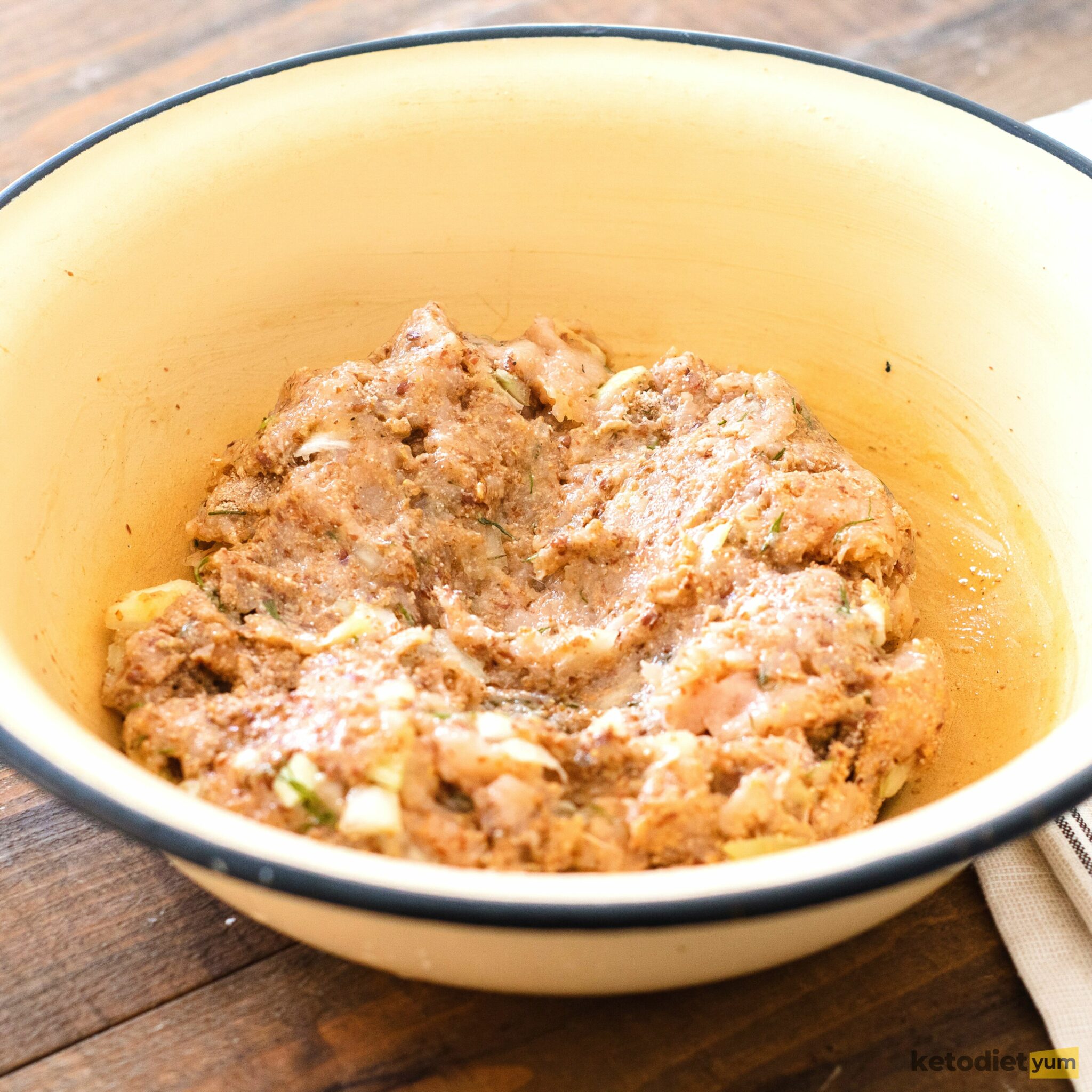 Step Two: Combine Turkey with Other Ingredients: In a large bowl, combine the ground turkey with the eggs, almond flour, diced onion, minced garlic, fresh dill, and a pinch of salt and pepper. Mix well using your hands or a large spoon.
Make sure to combine all the ingredients evenly so that every slice of meatloaf has the same delicious flavor.
Step Three: Shape the Loaf: Using your hands, shape the meat mixture into a loaf shape, making sure it fits snugly in the loaf tin. Brush the top of the meatloaf with olive oil, which helps to keep the meat moist while cooking and adds a lovely flavor.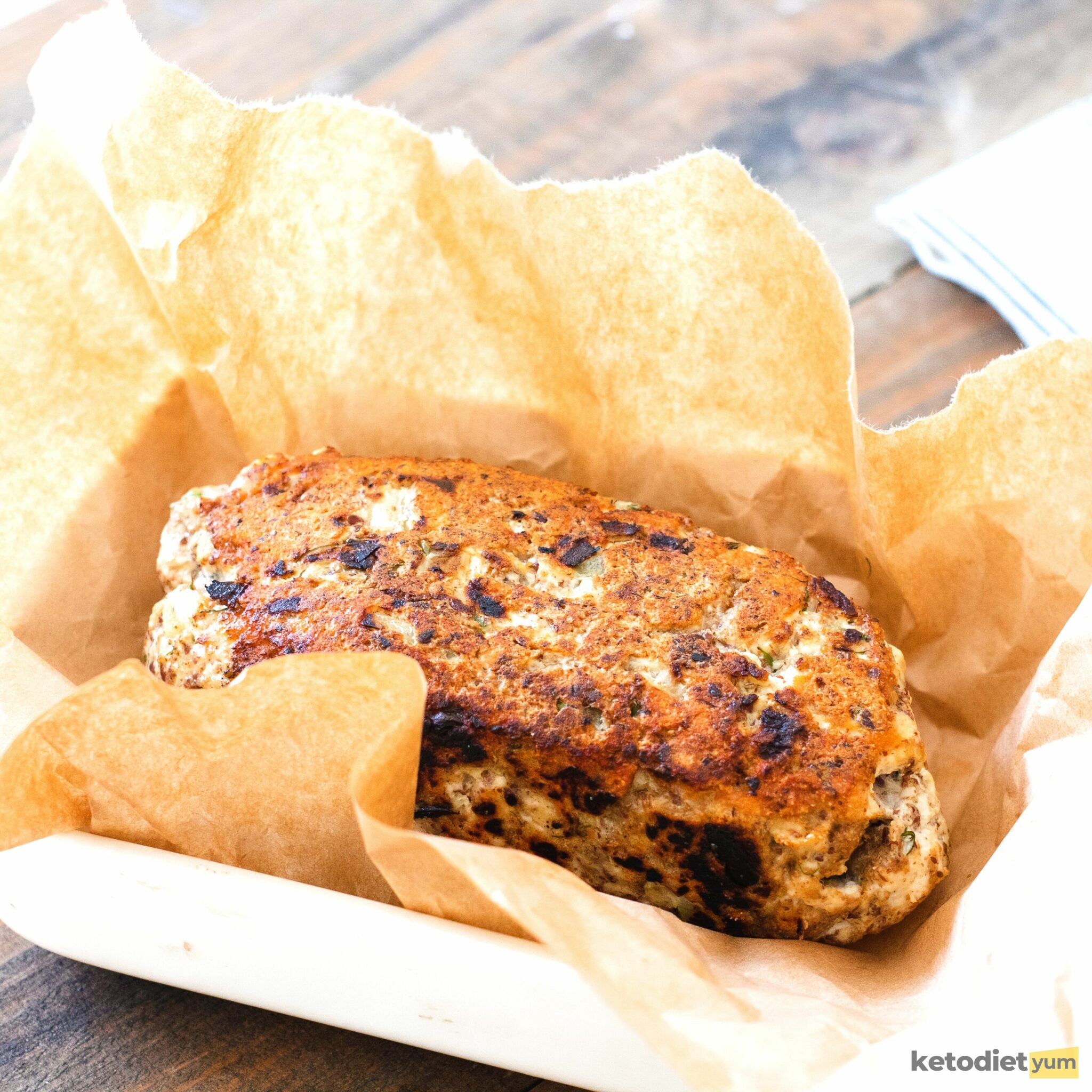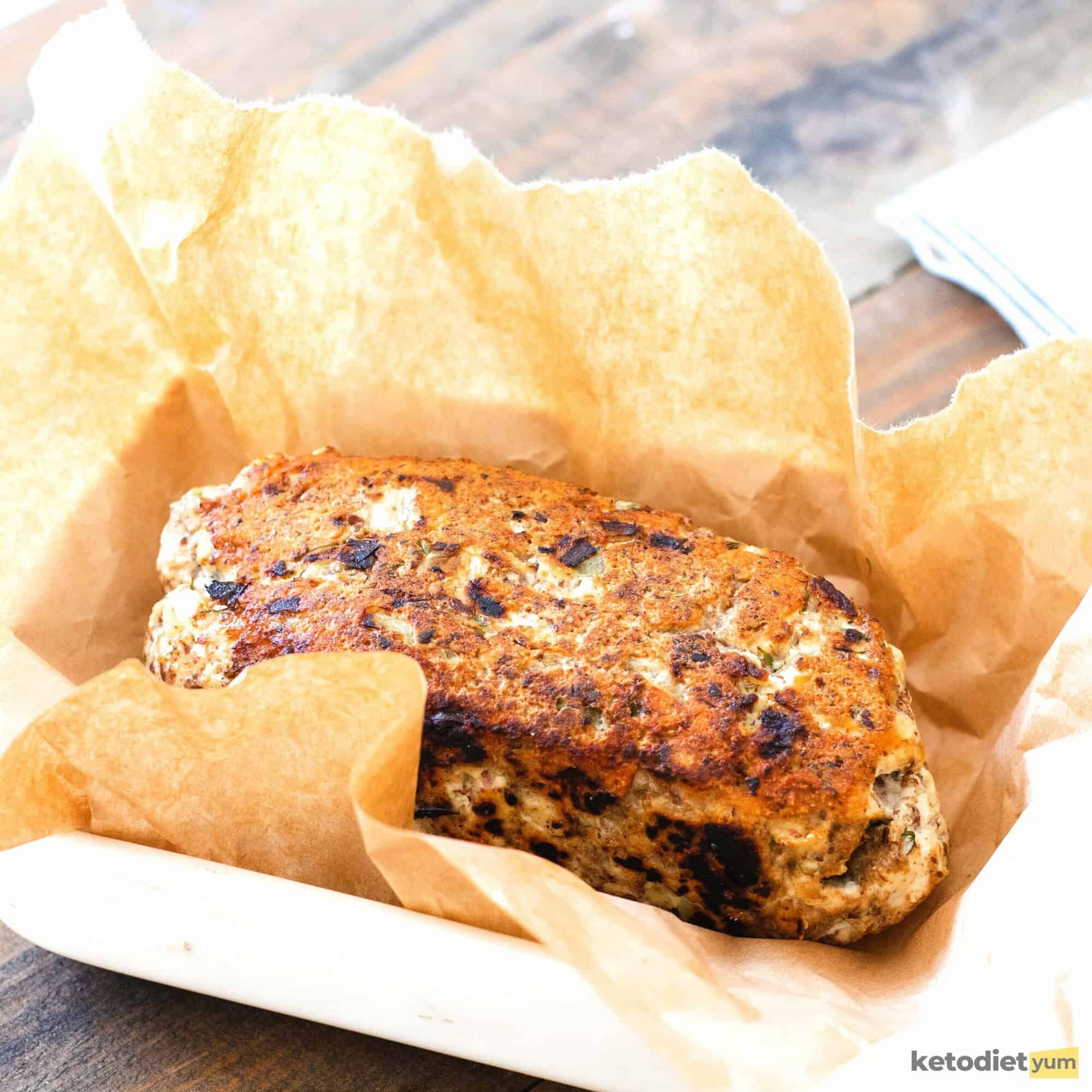 Step Four: Bake the Meatloaf: Place the meatloaf into the preheated oven and bake for about 30 minutes or until the internal temperature is 165°F (74°C) using a food thermometer. Make sure that the meat is cooked all the way through but not overcooked, or it will become dry.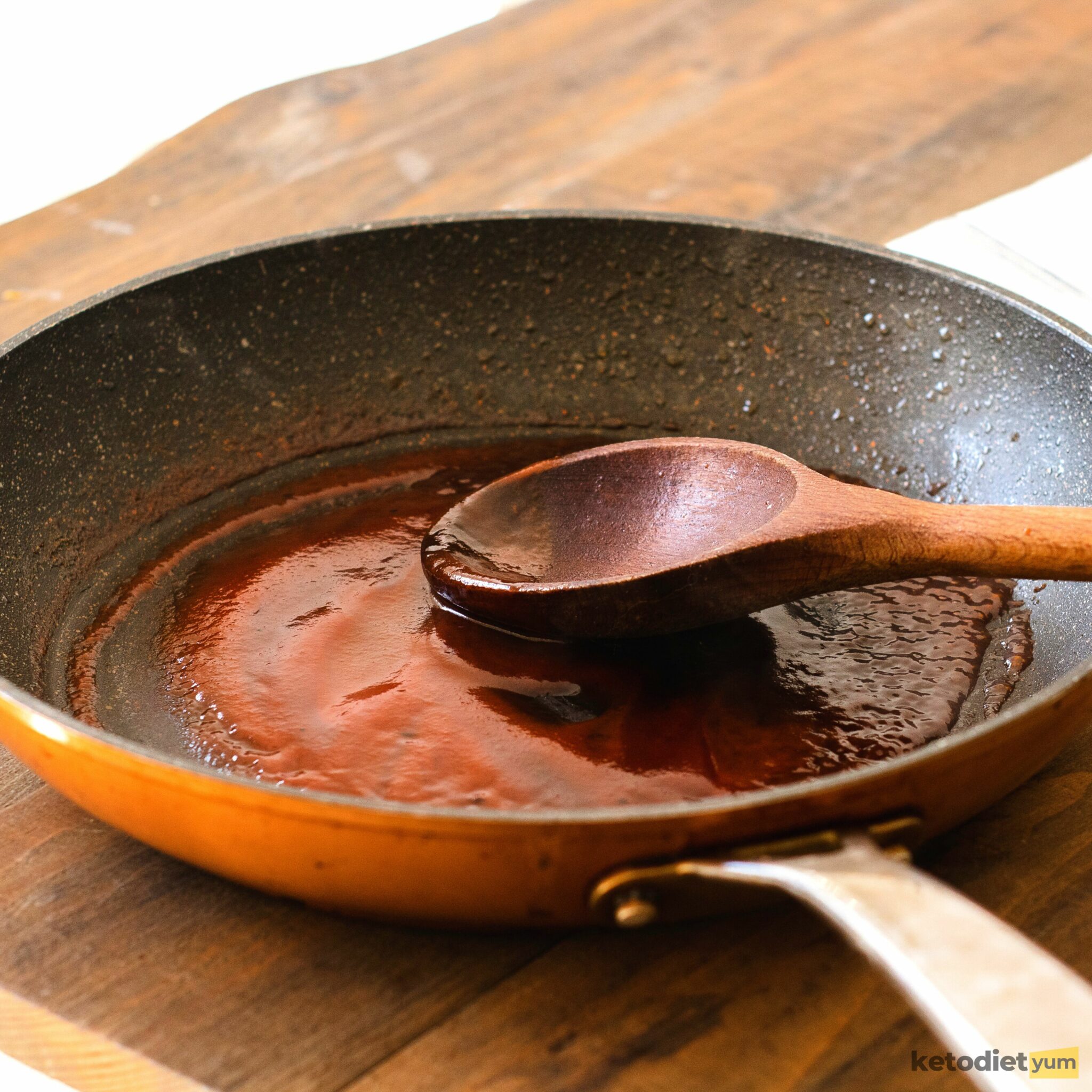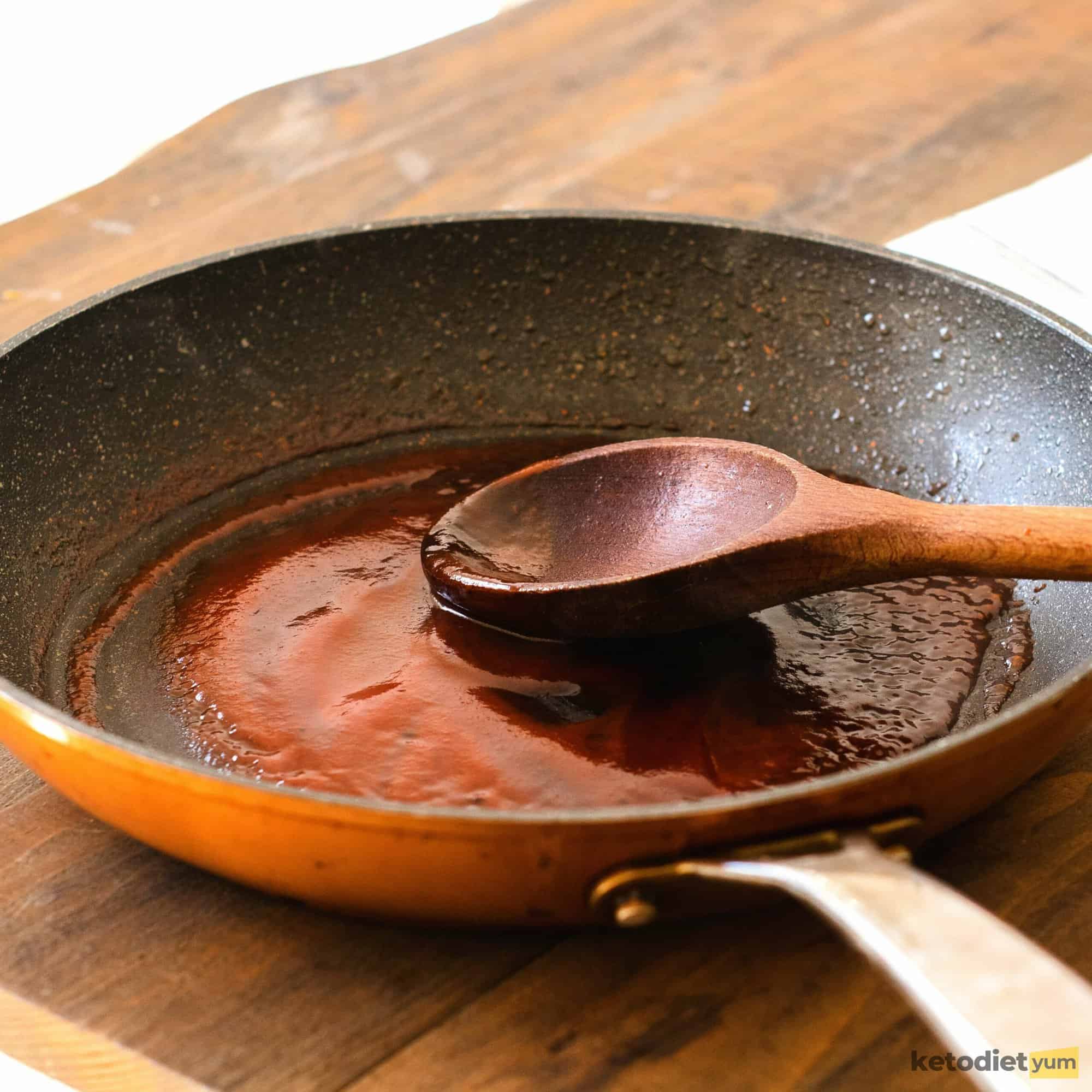 Step Five: Make a Glaze for Your Meatloaf: While the meatloaf is cooking, it's time to make the glaze for the meatloaf. In a separate frying pan, combine ketchup with Worcestershire sauce over medium heat. Add a bit of water if needed to thin it out, and cook for 2-3 minutes until the sauce thickens.
Step Six: Serve: Once the meatloaf is cooked through, remove it from the oven and brush the top with the glaze. Let it rest for a few minutes before slicing and serving. Enjoy your delicious and healthy ground turkey meatloaf!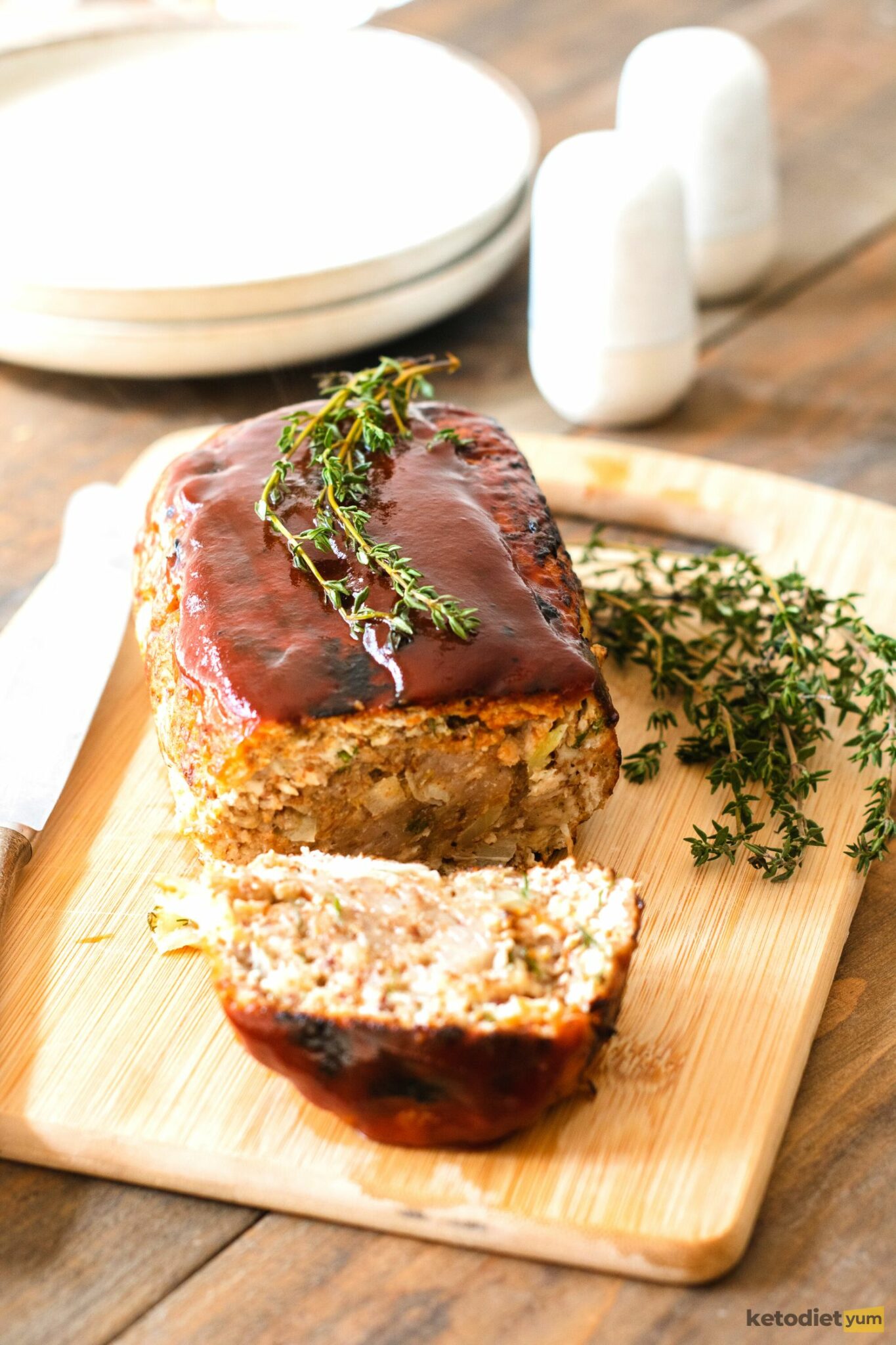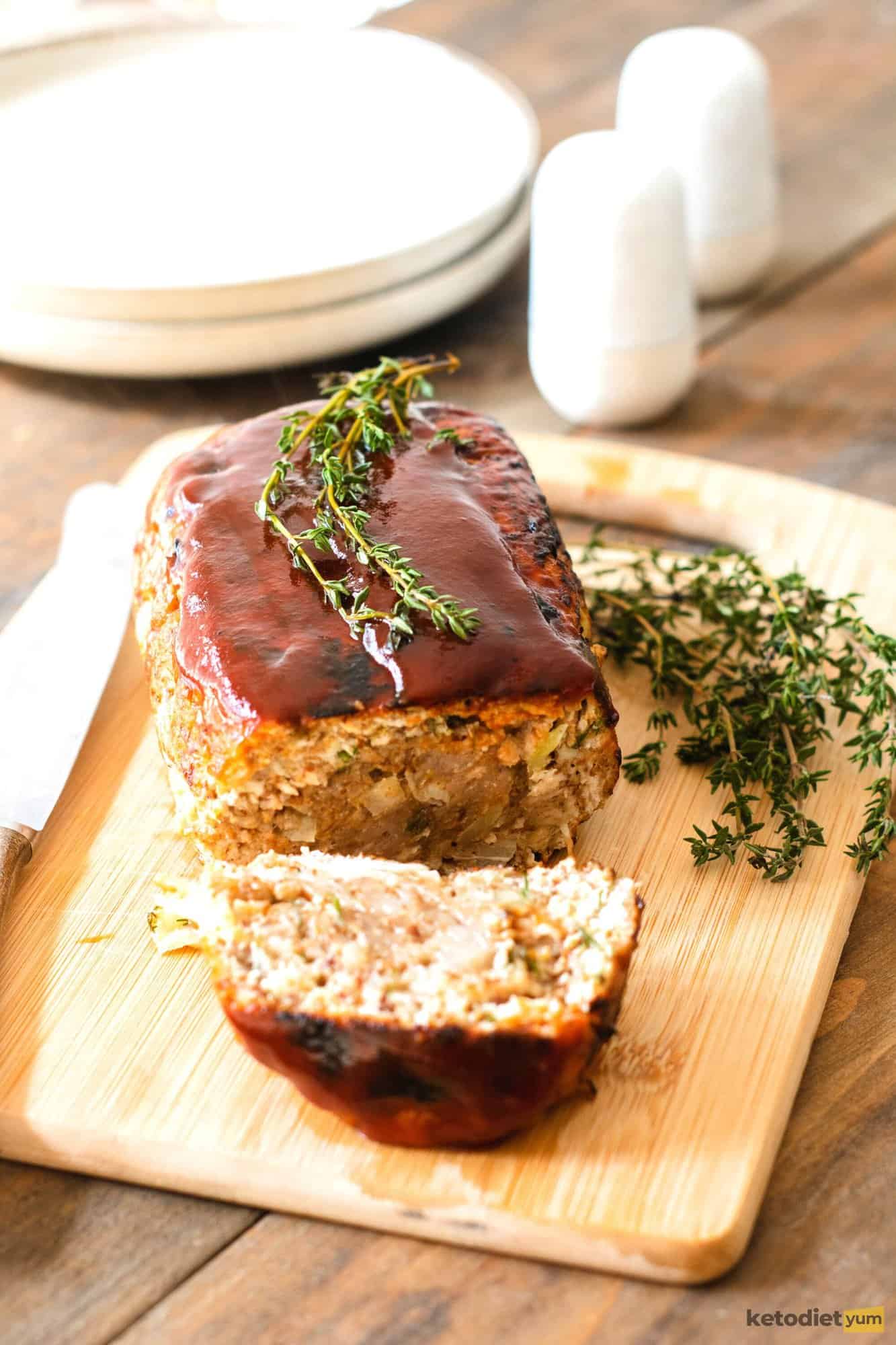 Tips & Variations
One of the things I love the most about this recipe is that it's highly customizable. You can add or subtract any ingredients depending on your preferences.
For example, you can add some chopped vegetables like carrots or zucchini to the mixture for added nutrition. Or, you can add different spices like cumin or paprika for a little extra flavor. Of course, as I mentioned earlier, you can swap out turkey for other proteins, too. The sky's the limit, so feel free to get creative.
While I could eat this turkey meatloaf practically every week, the reality is that it's sometimes good to switch things up! Here are some other ways you can freshen up this recipe to keep it just as delicious - and just as healthy - without getting bored.
Add some cheese on top during the last few minutes of baking.
Mix in some chopped mushrooms or peppers for some extra veggies (just watch your carbs).
Use different kinds of sauces, like keto BBQ or hot sauce, to give it a different kick.
Make mini meatloaf muffins instead of a big loaf, so they're easier to portion and grab on the go.
Frequently Asked Questions
What ground turkey should I use?
A higher-fat ground turkey will make your keto meatloaf more juicy and flavorful. I find using 85% lean ground turkey works best for this recipe. If you use a more lean ground turkey your meatloaf is going to end up very dry and bland.
Does turkey meatloaf have carbs?
Turkey meatloaf does have carbs, but the amount varies depending on the recipe. For example, a basic turkey meatloaf recipe like the one I've given you in this post only has six grams of carbs - not too shabby.
Is turkey OK on keto?
Turkey is a great source of protein and is suitable for the keto diet. It's a staple in many keto recipes, as it's lean, low in calories, and high in nutrients.
How much turkey can you have on keto?
There's no limit to how much turkey you can have on keto as long as you stick to your daily macronutrient goals. If you're following a 20g net carb per day diet and your turkey meatloaf has 5 grams of carbs per serving, you can have up to 4 servings.
How do you make ground turkey taste better?
Ground turkey can be bland and dry if not seasoned properly. To make it taste better, try adding spices like garlic powder, onion powder, cumin, and smoked paprika.
What ingredient keeps meatloaf from falling apart?
Eggs are the most common ingredient used to bind meatloaf together and prevent it from falling apart. Almond flour or coconut flour can also be added to the mix as a binder in place of breadcrumbs.
Is turkey meatloaf healthier than beef?
Turkey is a leaner meat, which means it has less saturated fat and calories than beef. It's also a good source of protein, iron, and other essential nutrients.
Is ground turkey high in carbs?
Ground turkey is low in carbs and can be an excellent protein source for keto. One ounce of ground turkey has 6g of protein and almost no carbs.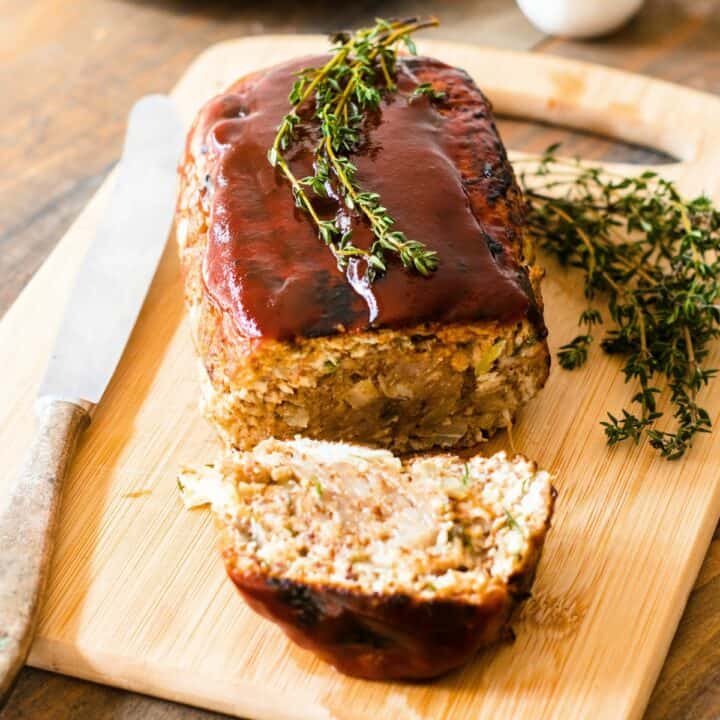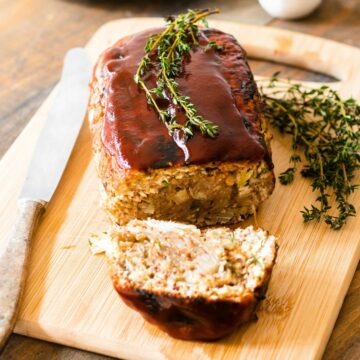 Best Keto Turkey Meatloaf (Easy & Low Carb)
Yummy and packed with flavor, this keto turkey meatloaf is both moist and a fantastic choice for a low-carb family dinner. It's just like the traditional meatloaf but made gluten-free, making it a hit with everyone, whether they're on a keto diet or not.
Pin It
Print
Ingredients
2

lbs

Ground Turkey

4

medium

Eggs

¼

cup

Almond Flour

3

tablespoon

Keto Ketchup

2

tablespoon

Worcestershire Sauce

1

small

Onion

finely chopped

2

cloves

Garlic

minced

2

tablespoon

Fresh Dill

chopped

2

tablespoon

Coconut Oil

Sea Salt

to taste

Black Pepper

freshly ground, to taste
Instructions
Preheat the oven to 375°F (190°C) and line a loaf tin with baking paper.

Mix the ground turkey with the eggs, almond flour, onion, garlic, dill, and a pinch of salt and pepper. Shape into a loaf, place in the prepared pan, and coat with the oil.

Bake in the preheated oven for about 30 minutes until completely cooked through.

In a frying pan, combine the ketchup with the Worcestershire sauce. Heat over medium heat, adding a bit of water, if needed, and cook for 2-3 minutes to make a thick sauce.

Remove the meatloaf from the oven and glaze with the sauce. Serve hot.
Last Step: Leave A Rating!
Share your recipe by tagging @keto.diet.yum with hashtag #ketodietyum on Instagram - everyone would love to see it!
Nutrition
Calories:
489
kcal
Carbohydrates:
6.4
g
Protein:
49
g
Fat:
27.6
g
Saturated Fat:
10.9
g
Polyunsaturated Fat:
5.5
g
Monounsaturated Fat:
7.2
g
Trans Fat:
0.2
g
Cholesterol:
238.3
mg
Sodium:
831.6
mg
Potassium:
724.8
mg
Fiber:
0.9
g
Sugar:
1.9
g
Vitamin A:
85.5
IU
Vitamin C:
3.6
mg
Calcium:
101
mg
Iron:
4.2
mg
Net Carbs:
5.5
g