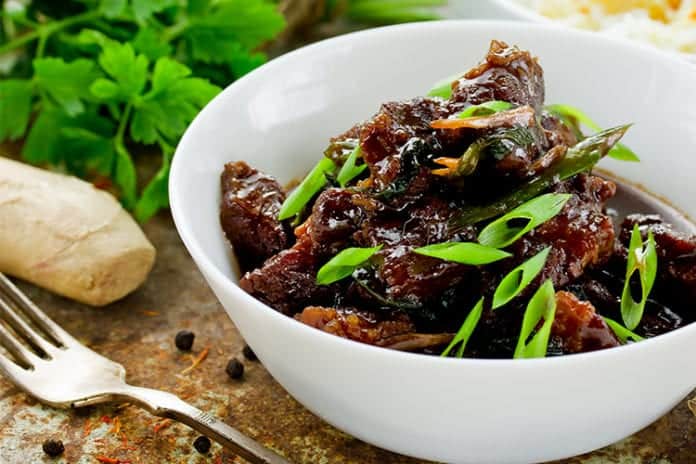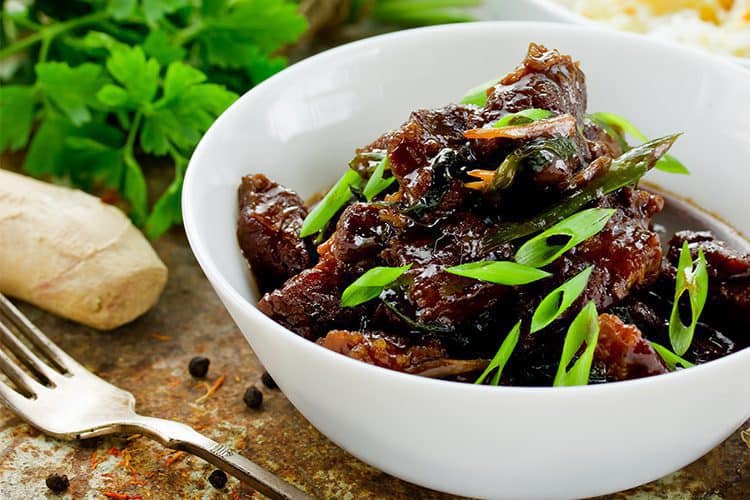 This Chinese beef stir-fry recipe is probably my favorite Keto recipe.
Perfectly browned slices of steak coated with a tasty, thick and sticky sauce, yum!
A sweet and savory flavor to die for – add an extra kick and sprinkle some red pepper flakes into the dish.
It's the perfect option if you're on the keto diet and are craving Chinese takeout.
Not only that, this recipe works for Atkins, diabetic, gluten-free, grain-free and dairy-free diets as well!
A low-carb Chinese food recipe that tastes absolutely amazing, there's no better meal. I promise you that.
Keto Stir Fried Beef with Orange
Nutrition per serving: Calories 649, Fat 44.5g, Protein 53.5, Carbs 5.5g
Ingredients
3.5

oz

Beef

thinly sliced

1/4

cup

Beef Broth

1

tbsp

Coconut Oil

1/2

medium

Onion

diced

2

medium

Green Onions

thinly sliced

1/4

Orange

zest and juice

2

cloves

Garlic

minced

1

inch

Ginger

sliced

1

pinch

Ground Cinnamon

1/2

tsp

Soy Sauce

1/2

tsp

Fish Sauce

1

Bay Leaf
Instructions
Dice your onion and cut the beef into 1ʺ thin slices.

Heat coconut oil in a cast-iron skillet over medium heat and add diced onion, garlic, and ginger.

Cook for 1 minute then add beef and cook for 5 minutes, add soy sauce and fish sauce, bay leaf, cinnamon and orange juice and beef broth.

Raise heat and cook until juices have started to thicken.

Transfer to a serving plate and sprinkle with orange zest and green onions.
Ready to start your Keto Diet?
If you're still unsure about how to eat, what to eat or what to avoid, don't worry you're not alone! There is a little-known diet system called The 28-Day Keto Challenge which will teach you everything you need to know and guide you through your first month. Getting that in check will increase your metabolism and allow you to shed weight and shed it fast. Women who have followed The 28-Day Keto Challenge reported losing up to 21 pounds and 2-4 inches from their waist in just a matter of 4 weeks—the methods in The 28-Day Keto Challenge are all backed by scienceCheck out this video on The 28-Day Keto Challenge now to learn more about how to follow the diet—and lose weight and improve your life in 28 days.