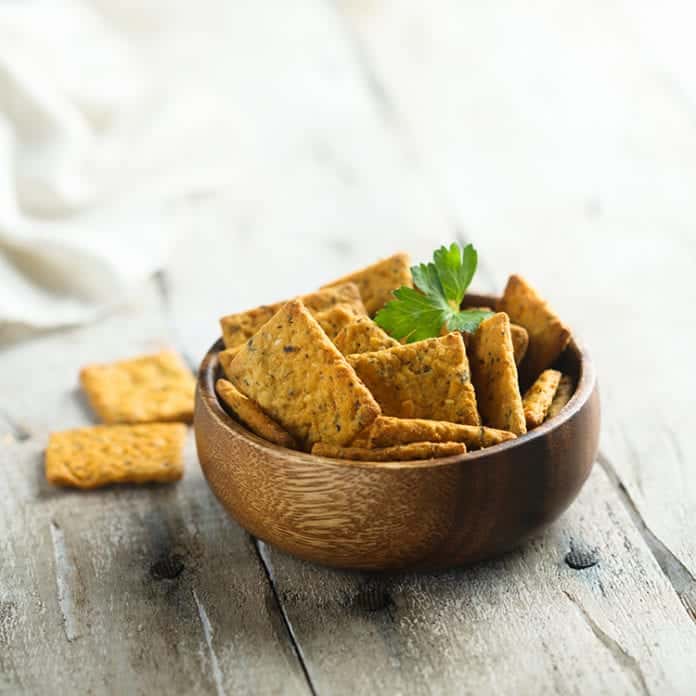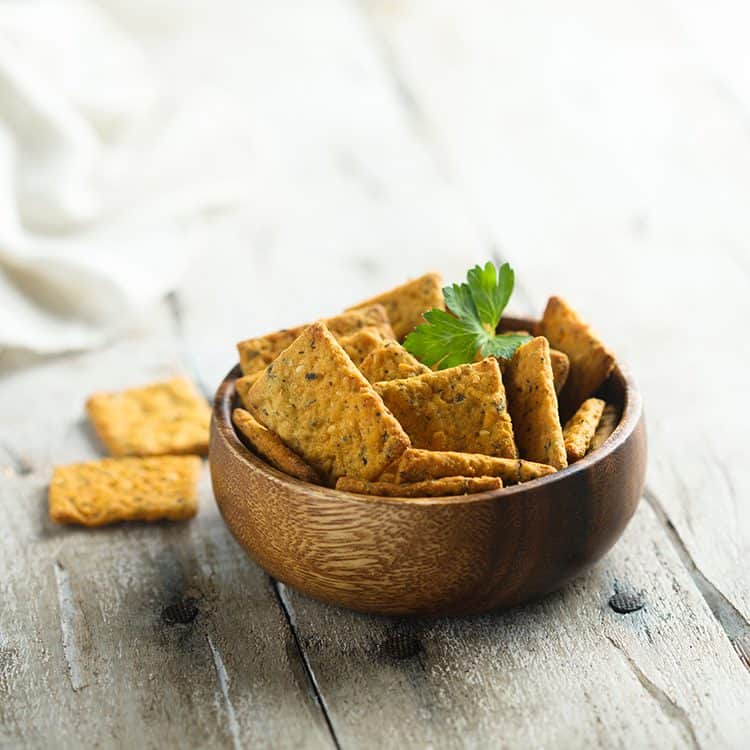 These delicious Keto Pesto Crackers have a crispy buttery texture that is to die for.
A beautiful Italian taste with the combination of basil, garlic, black pepper and a hint of cayenne to give them a kick!
Enjoy them with cheese or with your favorite soup or salad.
Keto Pesto Crackers
Nutrition per serving: Calories 210, Fat 19.3g, Protein 5g, Carbs 6g
Ingredients
1 1/4

cup

Almond flour

1/4

tsp

ground black pepper

1/2

tsp

salt

1/2

tsp

baking powder

1/4

tsp

dried basil

Pinch of cayenne pepper

1

clove

garlic minced

2

tbsp

basil pesto

3

tbsp

Butter

1

Egg
Instructions
Preheat Oven to 160 degrees (C) / 320 degrees (F).

In a medium bowl add Almond flour, pepper, salt, and baking powder, whisk until smooth.

Add Basil, Cayenne pepper, Garlic and stir until evenly combined.

Add in the Pesto and egg and whisk until the dough forms into coarse crumbs.

Slice the butter into the cracker mixture, mix with the fork or your fingers until the dough forms into a ball.

Transfer the dough to a prepared cookie sheet and spread out the dough thinly until it is about 1 ½ mm thick. Ensure equal thickness so the crackers will cook evenly.

Bake for 14 to 17 minutes until the color will be Golden Brown.

Remove from the oven once it is cooked, and slice into desired sizes.
Ready to start your Keto Diet?
If you're still unsure about how to eat, what to eat or what to avoid, don't worry you're not alone! There is a little-known diet system called The 28-Day Keto Challenge which will teach you everything you need to know and guide you through your first month. Getting that in check will increase your metabolism and allow you to shed weight and shed it fast. Women who have followed The 28-Day Keto Challenge reported losing up to 21 pounds and 2-4 inches from their waist in just a matter of 4 weeks—the methods in The 28-Day Keto Challenge are all backed by scienceCheck out this video on The 28-Day Keto Challenge now to learn more about how to follow the diet—and lose weight and improve your life in 28 days.