Tofu scramble is a vegan keto breakfast that the whole family will enjoy! Tofu is a great source of protein, and it absorbs flavors like a sponge, making it the perfect base for spices and seasonings. I like to serve mine between two slices of low carb bread, add fresh seasonal veggies, and make a delicious scramble sandwich!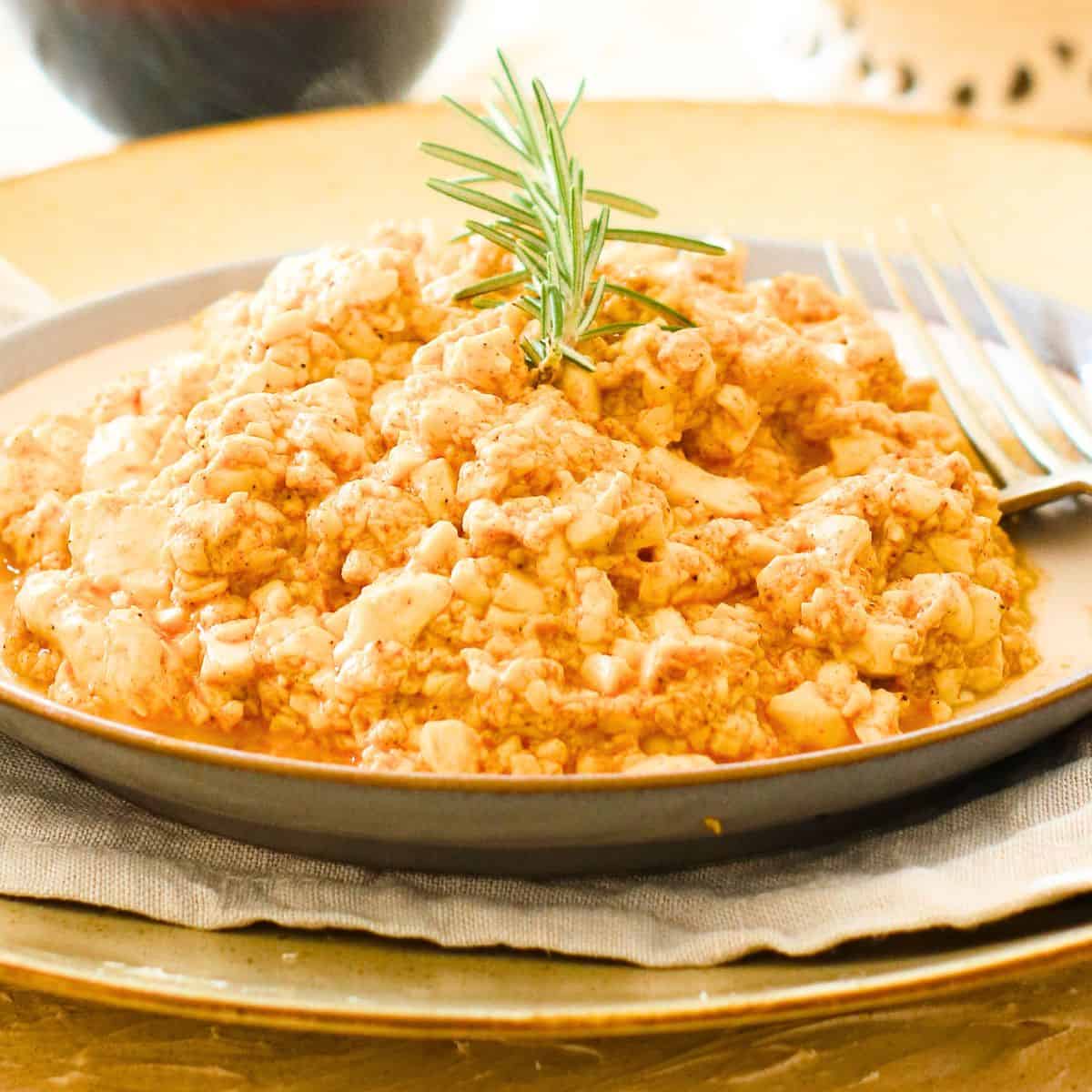 Table of Contents
Tofu is a versatile soybean curd product that can soak up flavor like a sponge, making it ideal for keto tofu scramble. Unseasoned tofu needs a little love and attention in the kitchen to transform from a bland solid block into a delicious scramble, ideal for a high-protein, tasty vegan breakfast.
Keto tofu scramble is the perfect 'make-ahead' dish. Once cooked, it can be used as a sandwich filler, as a snack on some keto toast, or even mixed through a salad to make it filling and satisfying. Our tofu scramble is flavored delicately with smoked paprika, salt, and pepper and is fried lightly with olive oil.
Tofu may not be too much of a star ingredient when it's left unseasoned, but it's surprising how much it can transform when crumbled into a hot pan! Transforming tofu is the work of moments, and this recipe can be on the table in less than 20 minutes. The whole family will fall in love with this tofu scramble, and adding a simple side of steamed fresh veggies is a great way to turn it into a meal.
Scrambled Tofu Ingredients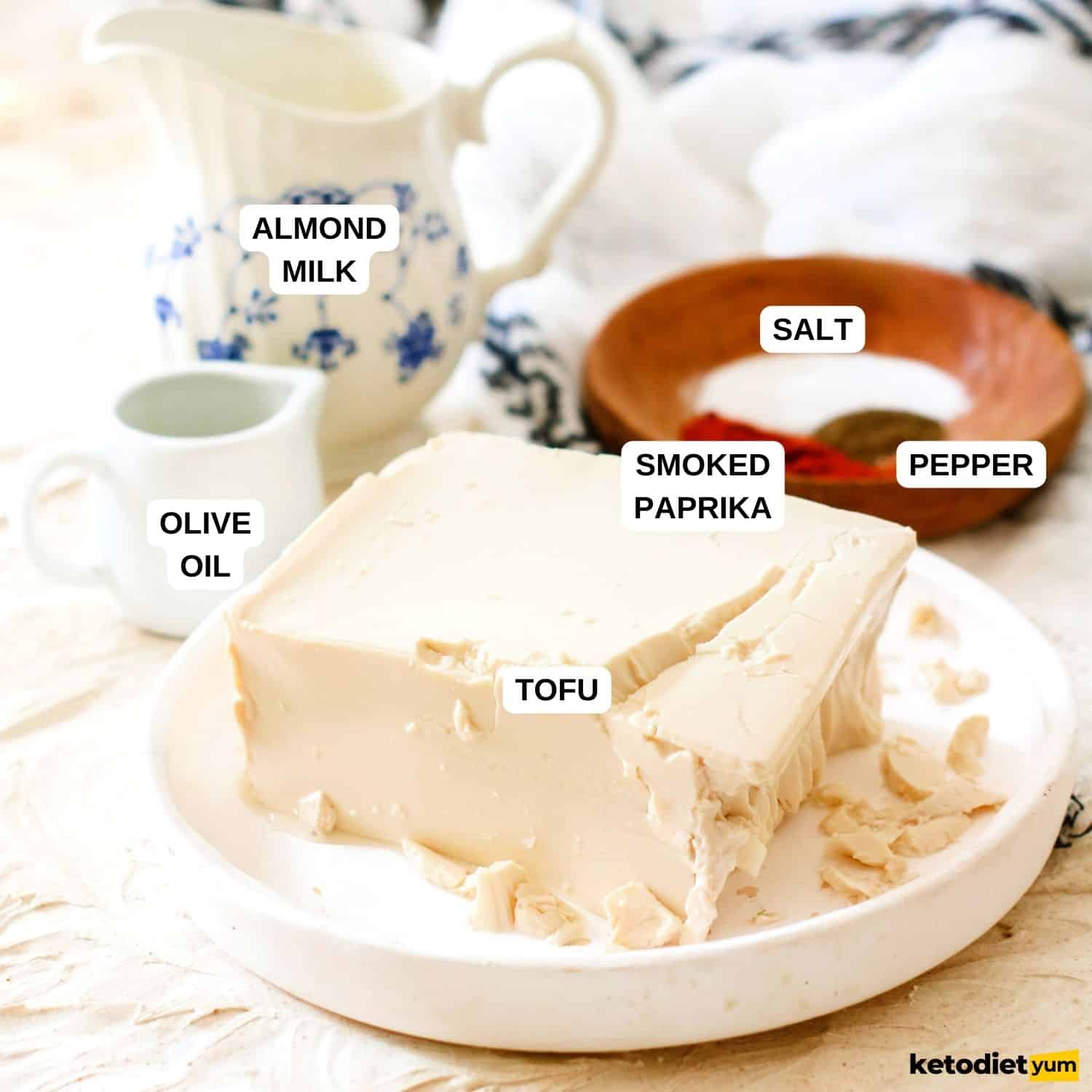 Tofu: Various kinds of tofu can be found at the store, but for our scramble, it's best to use firm tofu as it crumbles well and holds its shape while being cooked. For an even firmer texture, wrap the tofu in a dish towel and place a couple of books on the top to draw out additional liquid. This helps the tofu get a little crispy in the pan and ensures it's ready and able to absorb the paprika and simple seasoning.
Almond Milk: Subtly sweet and nutty, almond milk is a great non-dairy milk alternative to help scramble the crumbled tofu to perfection. Allowing the tofu to cook in the milk for 10 minutes enhances its silky texture and creates an egg-like consistency. As this is a savory recipe, opting for unsweetened almond milk is a wise choice and means there won't be any contradicting sugary flavors to offset the scramble.
Olive Oil: A small amount of oil is needed to fry the keto tofu scramble, and what better option than to use a few drops of olive oil? The light, golden liquid brings color and richness to the otherwise bland tofu, allowing it to drink up all the wonderful flavors coming to life in the pan.
Smoked Paprika: Offering stunning burnt orange hues and a hum of barbeque, smoked paprika is a punchy spice to match with the tofu. Smoked paprika has a slight sweetness that balances the sea salt and black pepper, and the deep orange color creates a bath of flavor for the tofu to soak up.
Salt And Pepper: Seasoning food is vital for balancing and enhancing flavor, and it especially comes in useful with plain ingredients like tofu. A sprinkling of sea salt and cracked black pepper over the tofu while it's cooking helps awaken the scramble, resulting in a well-balanced dish able to be enjoyed in a variety of ways.
How To Make Keto Tofu Scramble
Making keto tofu scramble takes minutes, and only store-cupboard-friendly ingredients are needed, so you likely won't even have to visit the store! With 3.1g of net carbs per serving, this is a delicious keto and vegan-friendly dish with minimal carbs and maximum flavor. It's possible to make the tofu scramble ahead of time, too; just be sure to let it cool, and it can be stored in a sealed container in the fridge.
Step one: Place a large, non-stick frying pan on medium heat and gently crumble the tofu into the pan. Try to avoid squishing the tofu too firmly between your fingers, as it's nice to have a range of different-sized chunks in the final scramble.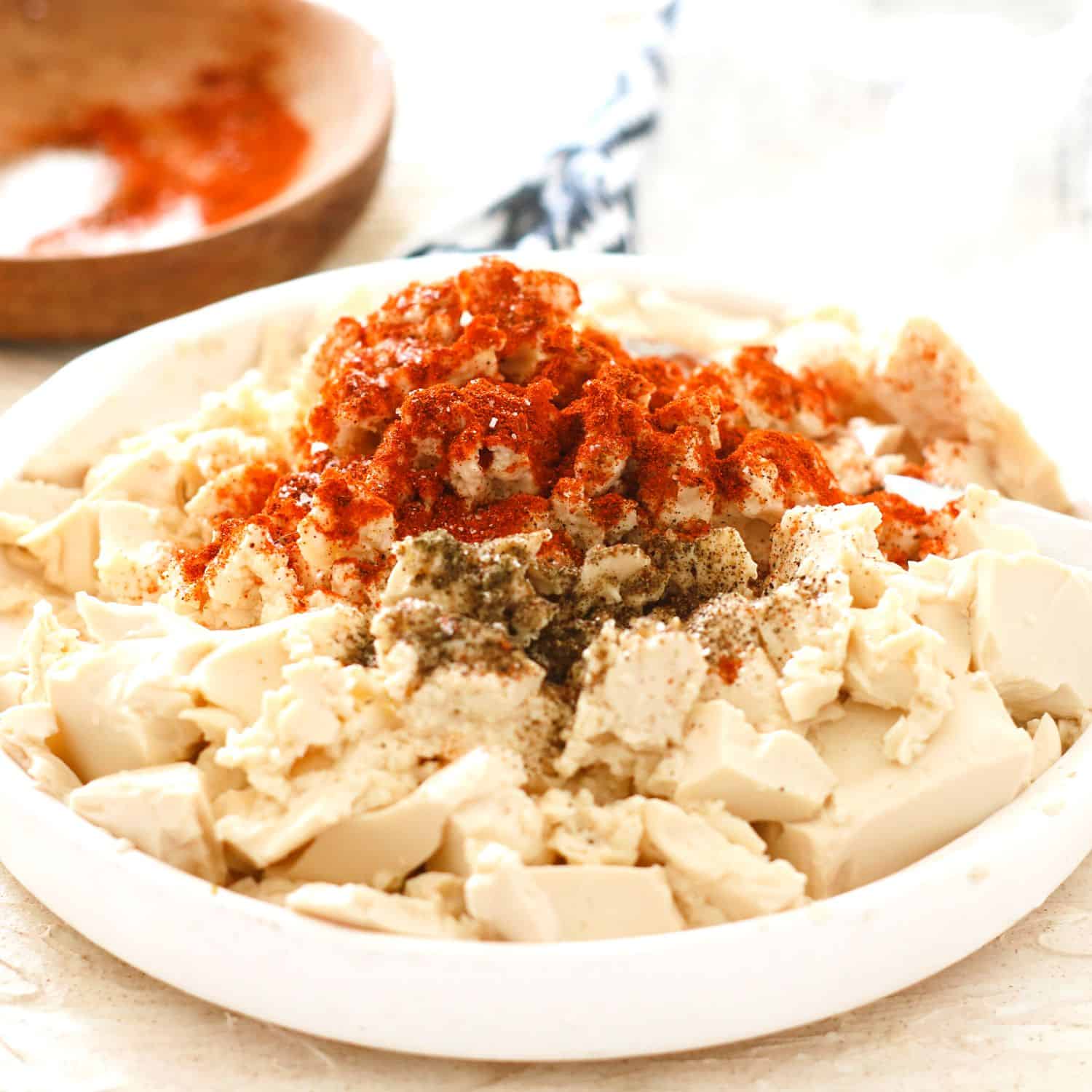 Step two: Season the tofu with smoked paprika, salt, and pepper, stirring a little to combine all the flavors. Allow the tofu to cook for 5 minutes to absorb the seasoning.
Step three: Pour the almond milk into the pan and cook the scramble for 10 minutes. Stir gently to encourage the tofu to soak up the milk and for the rest to evaporate.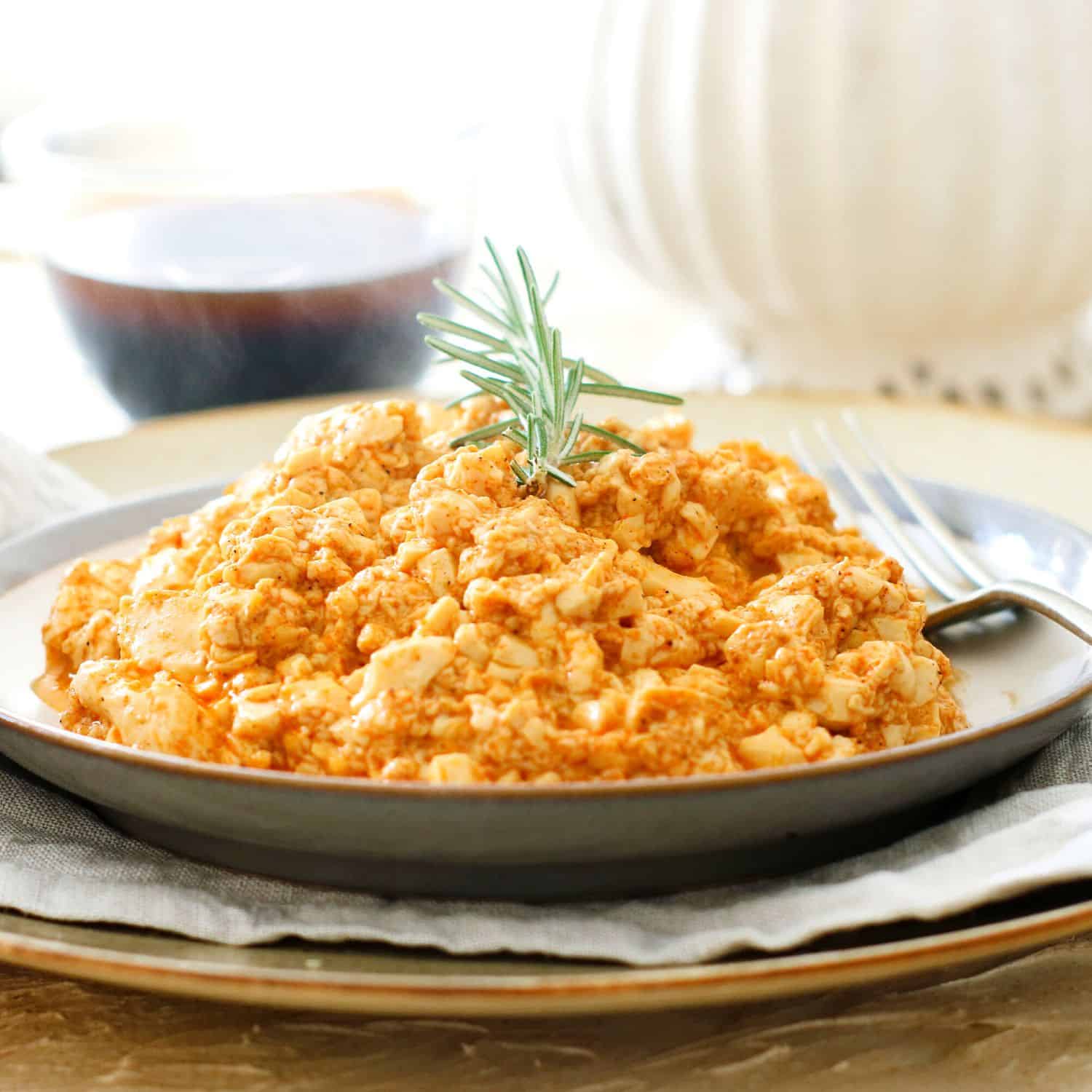 Step four: Add a little more seasoning if desired, and serve up the keto tofu scramble! For an extra kick and pop of color, I like to serve the scramble with some dried crushed chili flakes or fresh sliced chili on top.
Tips And Variations
Cheesy Keto Tofu Scramble: Our keto tofu scramble recipe is ideal as a baseline for a great scramble, but playing around with flavors is where you'll find confidence and expression in the kitchen. Transforming the tofu into a cheesy scramble while keeping it vegan-friendly is a breeze, thanks to nutritional yeast. Sprinkle a couple of tablespoons of nutritional yeast into the pan once the almond milk has been poured in to add a cheesy, nutty warmth and boost of nutrition.
Silken Tofu Scramble: Whether you can't find firm tofu at the store or don't have any to hand, silken tofu can be used to make the scramble. The final texture will, as the name suggests, be a little silkier than a firm tofu scramble but just as enjoyable. Once the silken tofu is in the pan, mash it with a fork to break it apart a little so it can take on all the wonderful flavors from the seasoning.
Kala Namak: Scrambled eggs are such a staple breakfast food for many, but recreating the typical 'egg' flavor with vegan recipes can be difficult. Kala Namak, an Indian black salt, has the power to make tofu scramble taste like eggs with just a small pinch. The salt can be found in health food stores or even some general stores if you're lucky, and it can be used in a wide variety of recipes, not just our keto tofu scramble.
Coconut Milk Tofu Scramble: Almond milk has such a wonderfully delicate flavor that helps make the tofu almost fluffy in the pan! Coconut milk can also be used for the scramble, and the sweet coconut tones blend well with the paprika and seasoning. In place of olive oil, coconut oil can be used to echo the flavors of the coconut milk and bring a tropical edge to the scramble.
Frequently Asked Questions
How Many Carbs Are In Keto Tofu Scramble?
Our keto tofu scramble recipe has only 3.1g of net carbs per serving, making it a low-carb, keto-friendly dish that can be enjoyed at any time of the day. The total carbs may vary depending on how the scramble is served, so if you're looking to keep carbs extremely low, be wary of this.
Why Is My Tofu Scramble Mushy?
A mushy tofu scramble can be prevented by using firm tofu and pressing it with a dish towel and a couple of weighted books. Squeezing additional moisture out of the tofu before cooking the scramble means less will drain out into the pan, and the tofu will remain firm.
How Do You Keep Tofu From Breaking Up?
The goal of our keto tofu scramble is to break up the tofu into smaller pieces, but some recipes involve slicing or cubing the tofu. Firm and extra-firm tofu are ideal for recipes requiring tofu to hold its shape well for the duration of the cooking process. Pressing the tofu before cooking will drain liquid from the tofu, helping it retain a more stable structure.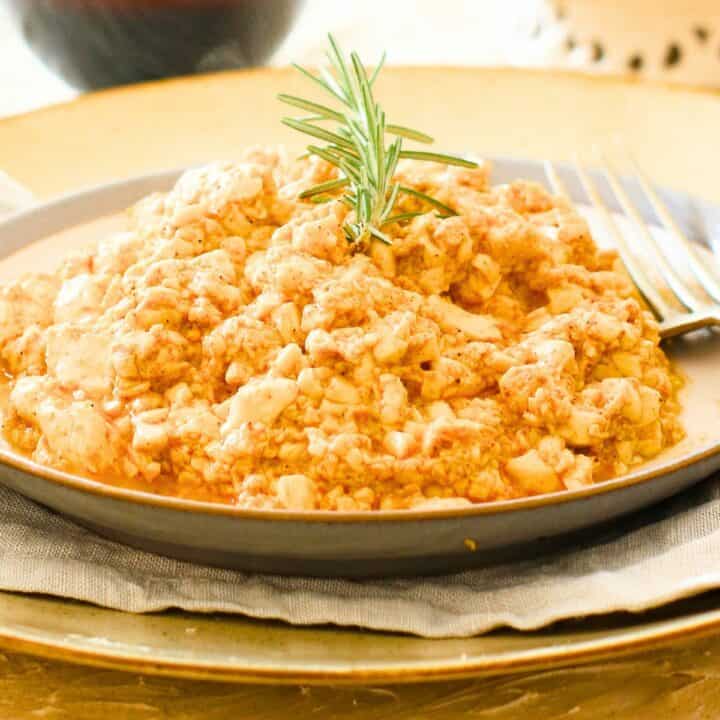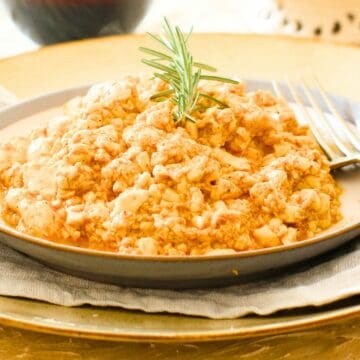 Tofu Scramble Recipe
Tofu scramble is a vegan keto breakfast that the whole family will enjoy! Tofu is a great source of protein, and it absorbs flavors like a sponge, making it the perfect base for spices and seasonings.
Pin It
Print
Ingredients
13

oz

Firm Tofu

¾

cup

Almond Milk

unsweetened

2

tablespoon

Olive Oil

¼

teaspoon

Smoked Paprika

Sea salt and freshly ground black pepper

to taste
Instructions
Heat the oil in a large, non-stick frying pan over medium heat, and crumble the tofu in.

Season with smoked paprika, salt, and pepper, and cook for 5 minutes.

Add the almond milk and cook for 10 minutes, stirring occasionally until all the liquids have evaporated.

Season to taste and serve immediately.
Last Step: Leave A Rating!
Share your recipe by tagging @keto.diet.yum with hashtag #ketodietyum on Instagram - everyone would love to see it!
Nutrition
Serving:
1
serving (2 per recipe)
Calories:
319
kcal
Carbohydrates:
5.6
g
Protein:
19.6
g
Fat:
24.9
g
Saturated Fat:
3.3
g
Polyunsaturated Fat:
7.6
g
Monounsaturated Fat:
13.3
g
Sodium:
77.5
mg
Potassium:
72.4
mg
Fiber:
2.5
g
Sugar:
0.8
g
Vitamin A:
53.1
IU
Calcium:
338.6
mg
Iron:
3.4
mg
Net Carbs:
3.1
g