This low carb eggplant pizza recipe is a keto-friendly alternative to traditional pizza that is both healthy and delicious. Topped with a rich tomato sauce, melted mozzarella cheese, and your favorite toppings, this eggplant pizza is a surefire crowd-pleaser!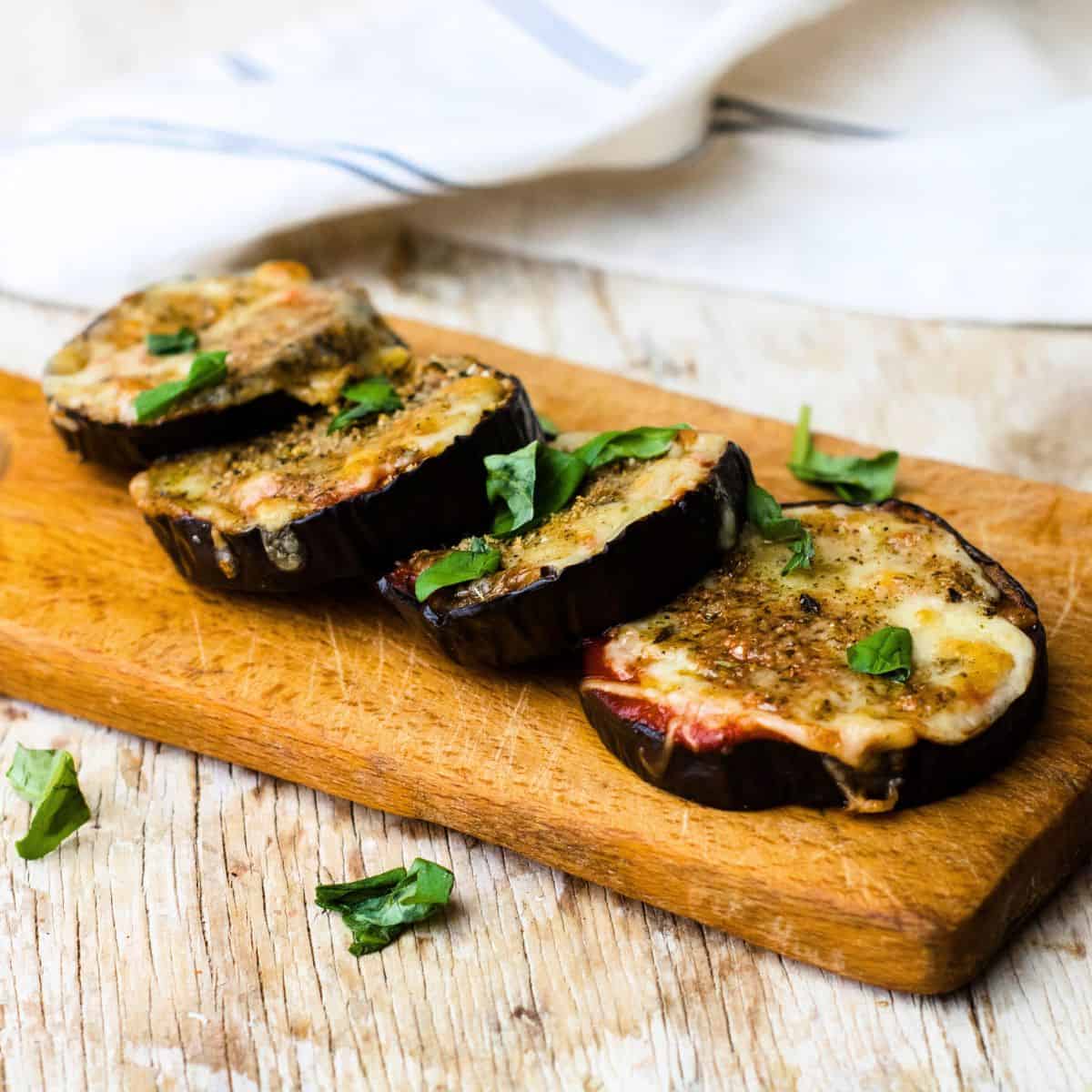 Table of Contents
Easy eggplant pizza is the delicious answer for anyone craving a taste of Italy without the heavy side of doughy carbohydrates traditional pizza is laden with. Eggplant pizza is a fantastic way of utilizing the otherwise humble eggplant and transforming it into a perfect base for tasty toppings, rich tomato sauce, and molten mozzarella cheese. Using easy ingredients that you likely have in the pantry, you can cook these mini pizzas in under 30 minutes.
Sharing platters are always a crowd-pleaser, and since these keto pizzas are on the smaller side, they are the perfect addition to a dinner party or fun family supper. To get the whole family involved, allow everyone to choose their own toppings before placing the pizzas in the oven. This not only helps fuel creativity and quality time in the kitchen, but it also means everybody can create the keto pizza of their dreams with the toppings they love the most.
It's hard to believe eggplant pizza can taste so decadent, but thanks to mozzarella and parmesan, eggplant slices evolve into cheesy discs bursting with flavor. Oregano and tomato sauce bring classic tomato and herb flavors to mimic traditional pizza, while onion and garlic powder awaken the tastebuds and unite all the ingredients for a taste explosion!
Ingredients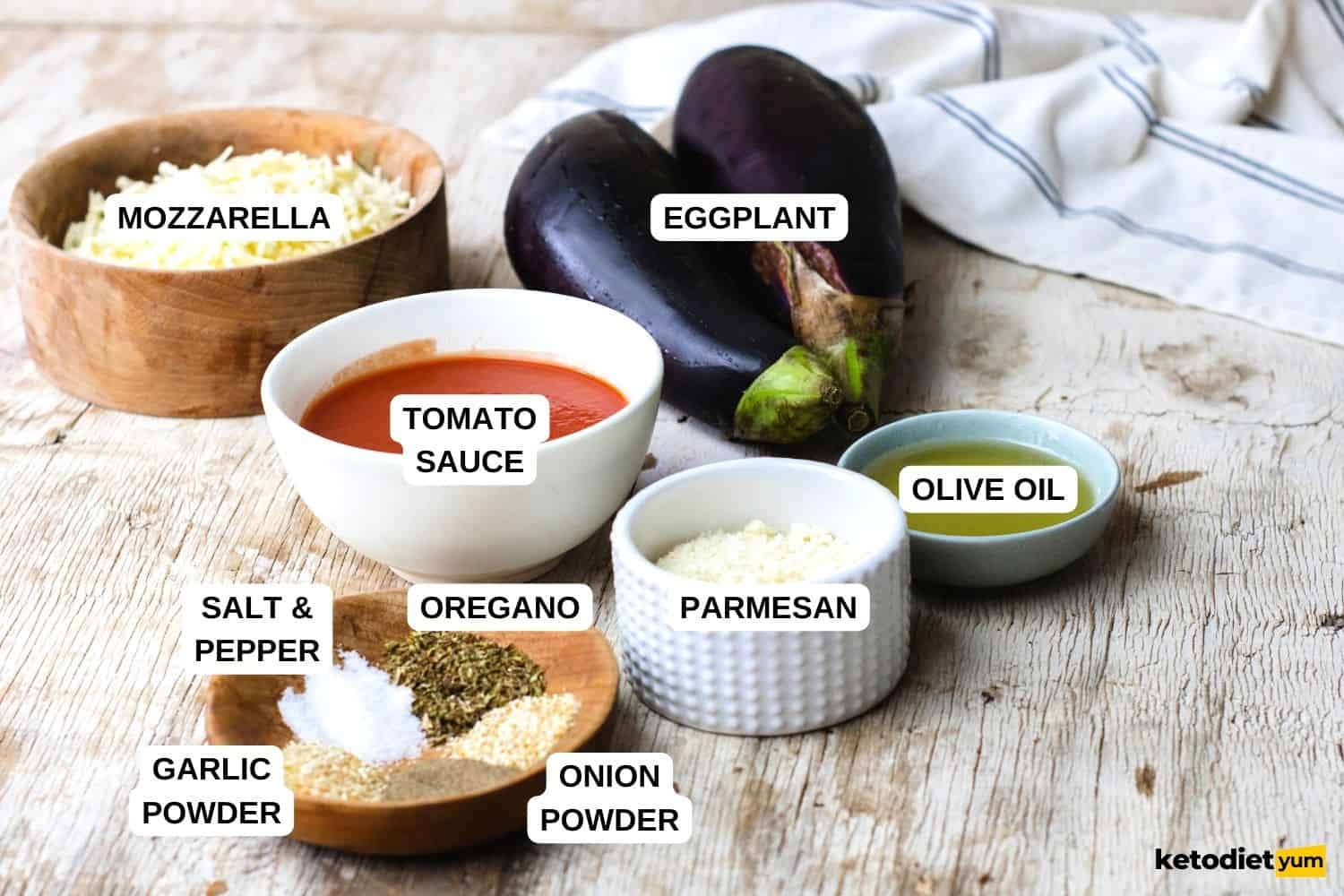 Eggplant: Naturally low in carbohydrates, eggplant is a high-fiber vegetable that acts like a sponge for absorbing flavor. Alone, eggplant isn't the most flavorful ingredient. However, marinating slices or topping sliced eggplant with bold ingredients helps bring the vegetable to life.
Sugar-Free Tomato Sauce: Pizza wouldn't be pizza without a good quality tomato sauce, and that's exactly what's needed in our keto eggplant pizza. Traditional tomato sauce is high in sugar, so when searching for a sauce to use, be sure to opt for a low-carb version. We have a great sugar free tomato sauce recipe that works well as a marinara sauce!
Mozzarella: The semi-soft nature of mozzarella allows it to melt flawlessly in the oven, resulting in a sticky, salty, molten layer on top of the eggplant pizza. For this recipe, the mozzarella needs to be shredded as this helps evenly cover each slice of eggplant and means it won't take long to melt and become bubbly in the oven.
Parmesan: A little different from mozzarella, parmesan is a hard cheese, offering a rough texture and nutty taste. Grating parmesan is a breeze, and for the eggplant pizza, a snowy mountain of grated parmesan is sprinkled on top of each pizza round to achieve a light, golden topping in the oven.
Oregano: The delicate green leaves and earthy notes of fresh oregano are a welcome addition to many recipes. Our eggplant pizza recipe, however, requires the use of dried oregano, which has a mild, sweet flavor.
Garlic Powder: Fresh garlic can sometimes be overpowering in recipes, becoming the central flavor and steering tastebuds away from other ingredients. Garlic powder is a better fit for this recipe, bringing a general hum of mellow flavor to the tasty cheesy topping.
Onion Powder: Onions are relatively low in carbs, but adding a large portion to recipes can quickly increase the total carbohydrates of any meal. On the other hand, onion powder is keto-friendly, and since it's concentrated, a little bit goes a long way.
Olive Oil: To prevent the slices of eggplant from sticking in the oven and help the eggplant slices lightly brown, there's no better option than olive oil. There's no need to use extra virgin olive oil, as only a small amount is needed. The olive flavor isn't predominant with the array of other fresh ingredients used in large quantities, so keep your best oil for a recipe where it can shine.
Salt And Pepper: Seasoning any meal is an integral part of bringing ingredients together, and for our keto pizzas, this means adding some salt and pepper. It's possible to also salt the eggplant slices before they go in the oven, as this helps draw out excess moisture. This means the eggplant will have a better structure and can absorb more flavor during the cooking process.
Eggplant Pizza Toppings: Decorating pizza with toppings is the best part of this recipe! The world is your oyster with keto pizza toppings, so go ahead and slice some veggies, meat, or fish and experiment with different flavor combinations. Shredded chicken, fresh spinach, and a few thin slices of bell pepper are a popular combination in our house, but I like to sprinkle some dried chili over the pizza, too, for a fiery kick.
How To Make Keto Eggplant Pizza
Our eggplant pizza has just 7.9g net carbs per serving and can go from kitchen to table in less than 30 minutes. This is the ideal recipe to make with the whole family or enjoy with guests at a dinner party. You won't have to miss out on anything, as it takes minutes to put the pizzas together, and the rest of the magic happens in the oven.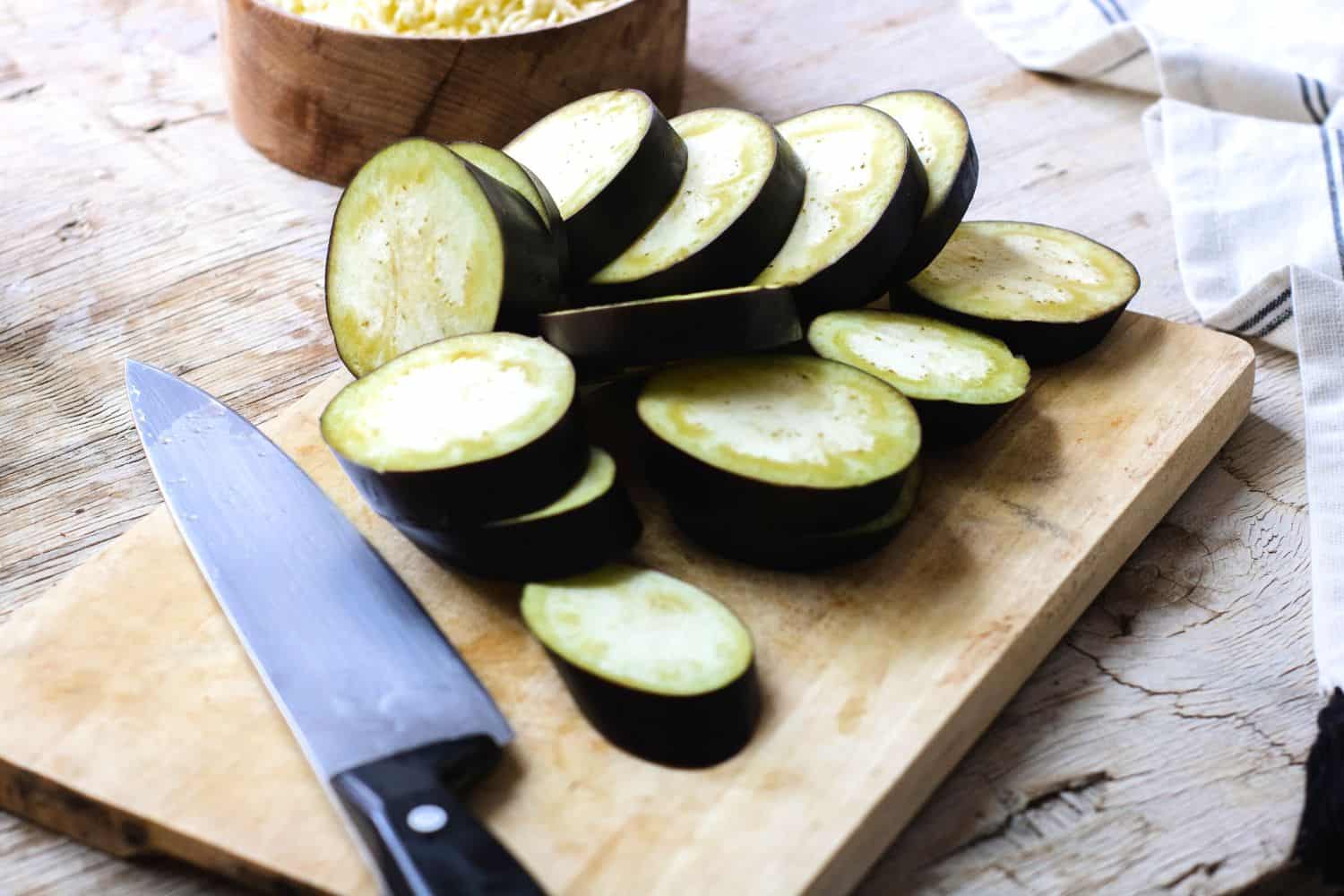 Step one: Preheat the oven to 375°F (190°C) and line a baking sheet with baking paper. Lightly grease the paper with olive oil as this will prevent the eggplant slices from sticking.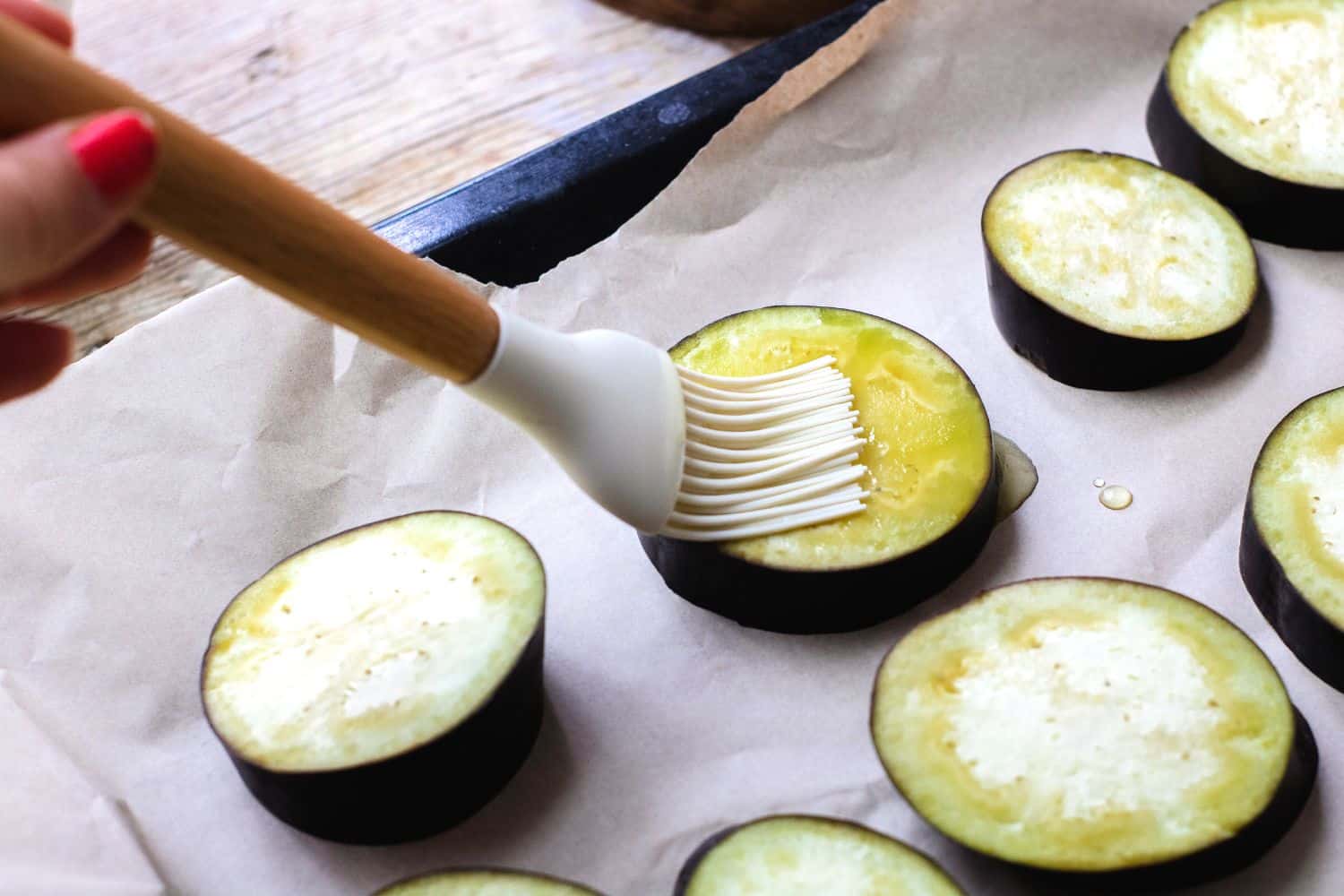 Step two: Thinly slice the eggplant and place the rounds onto the baking sheet. Brush both sides of each eggplant slice with olive oil and season with salt and pepper. Bake the eggplant in the oven for 10 minutes until each slice becomes lightly browned and tender.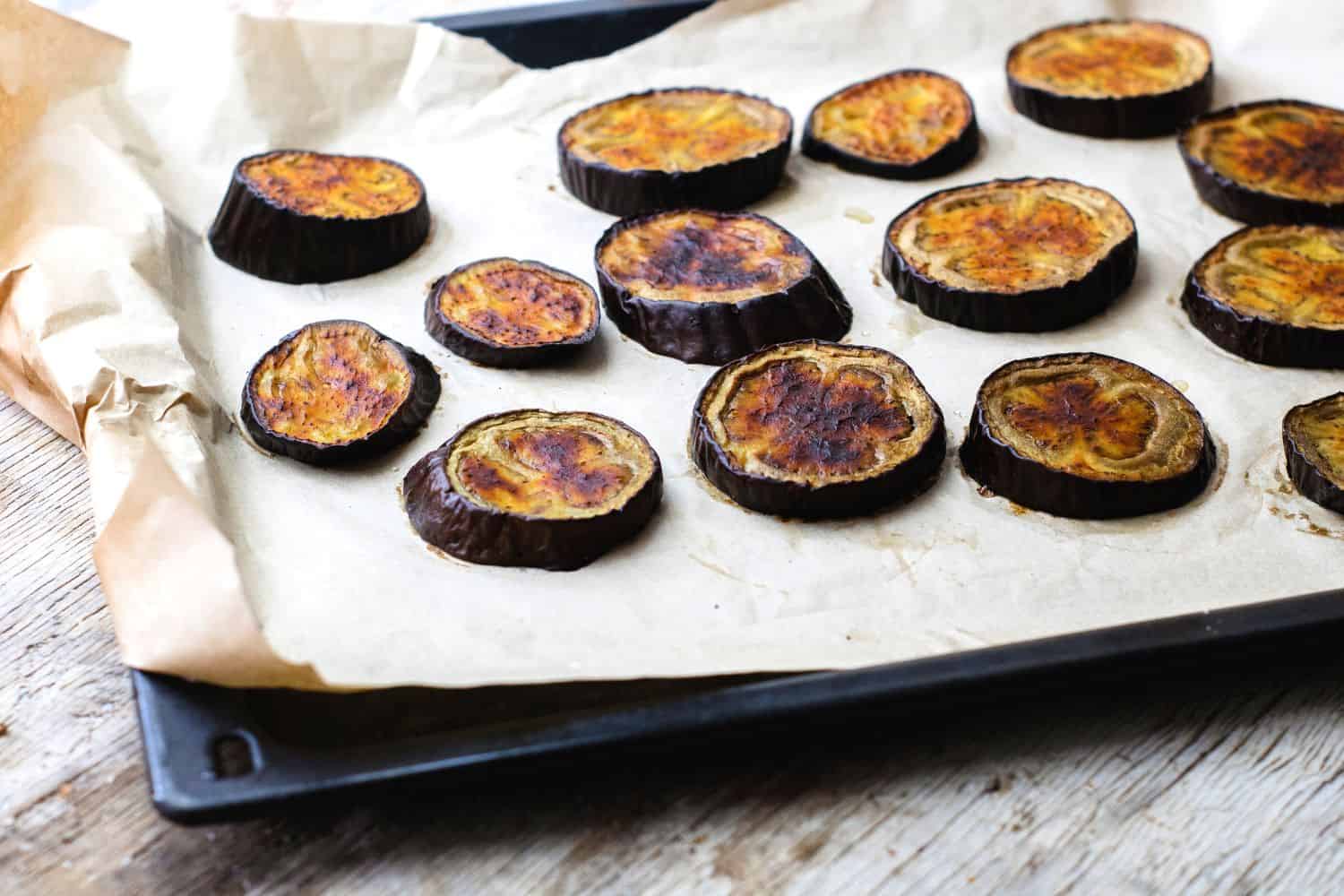 Step three: Once browned, take the eggplant out of the oven and spoon a tablespoon of tomato sauce on top of each slice. Shredded mozzarella can then be added on top of the sauce, along with any additional pizza toppings.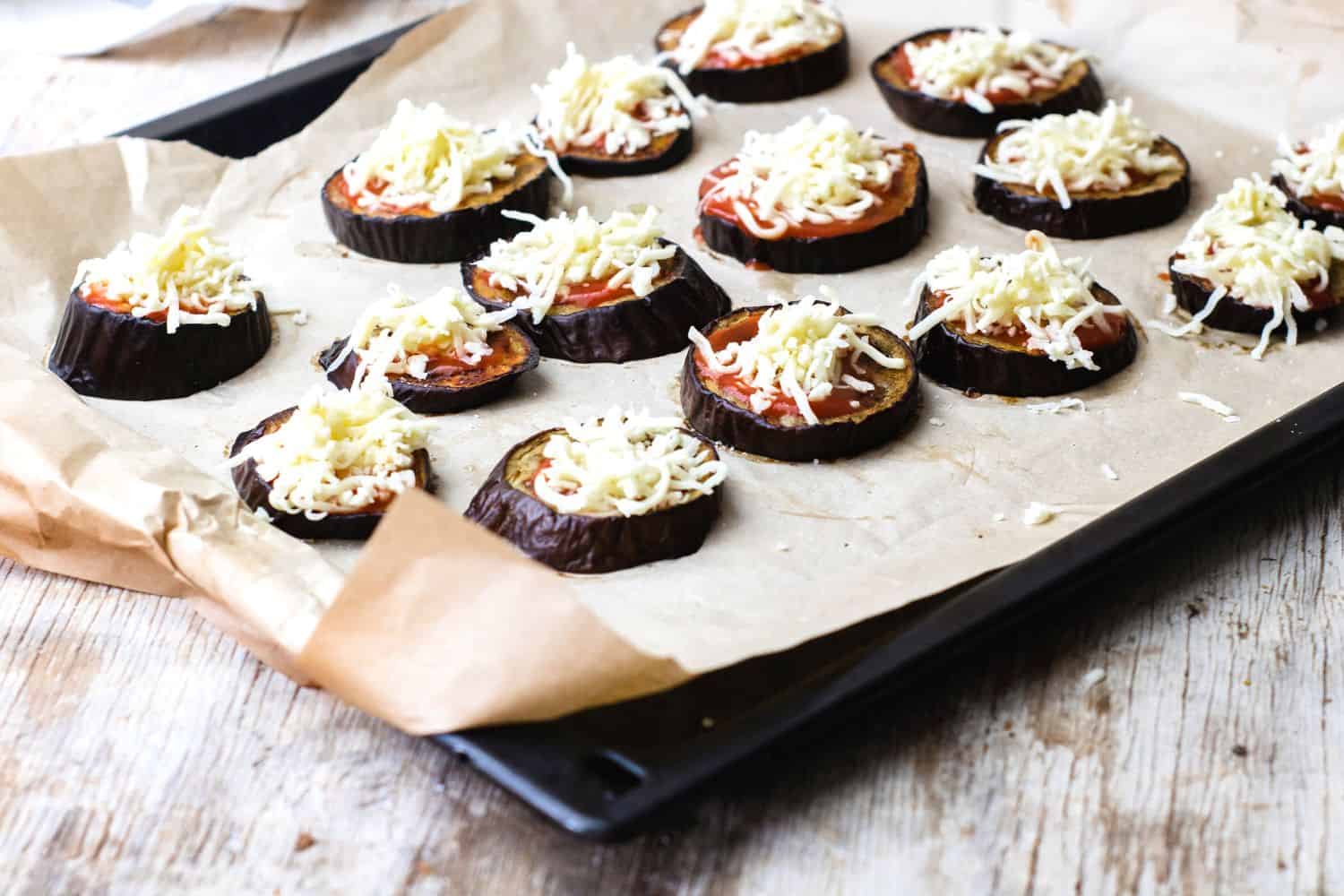 Step four: Combine the grated parmesan, dried oregano, garlic powder, and onion powder in a small bowl before sprinkling the mixture over each eggplant pizza.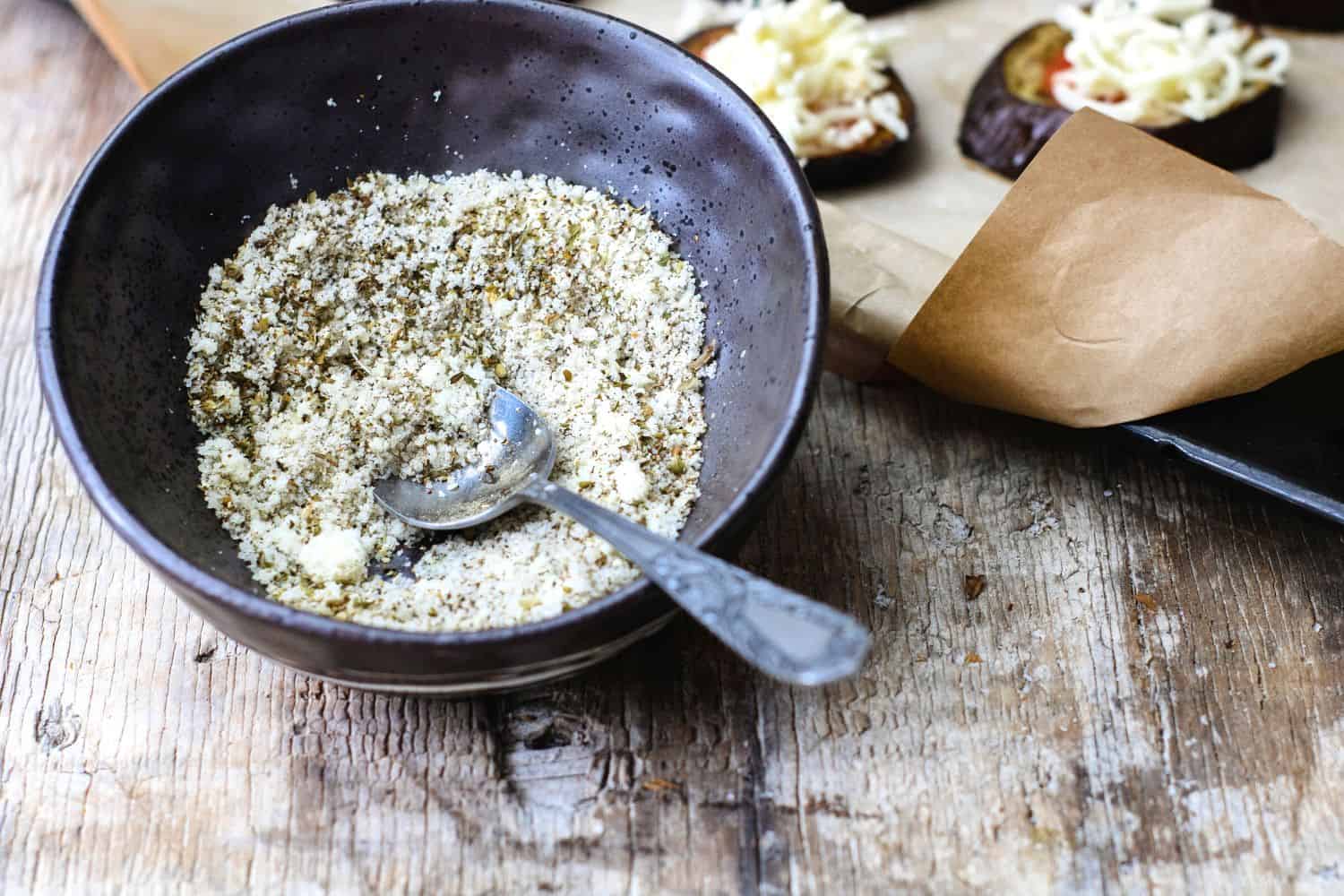 Step five: Return the eggplant to the oven and bake for an additional 10 to 15 minutes, until the cheese has melted and everything looks bubbly and delicious. The eggplant pizzas can then be removed from the oven and allowed to cool for a few minutes before serving and delving in.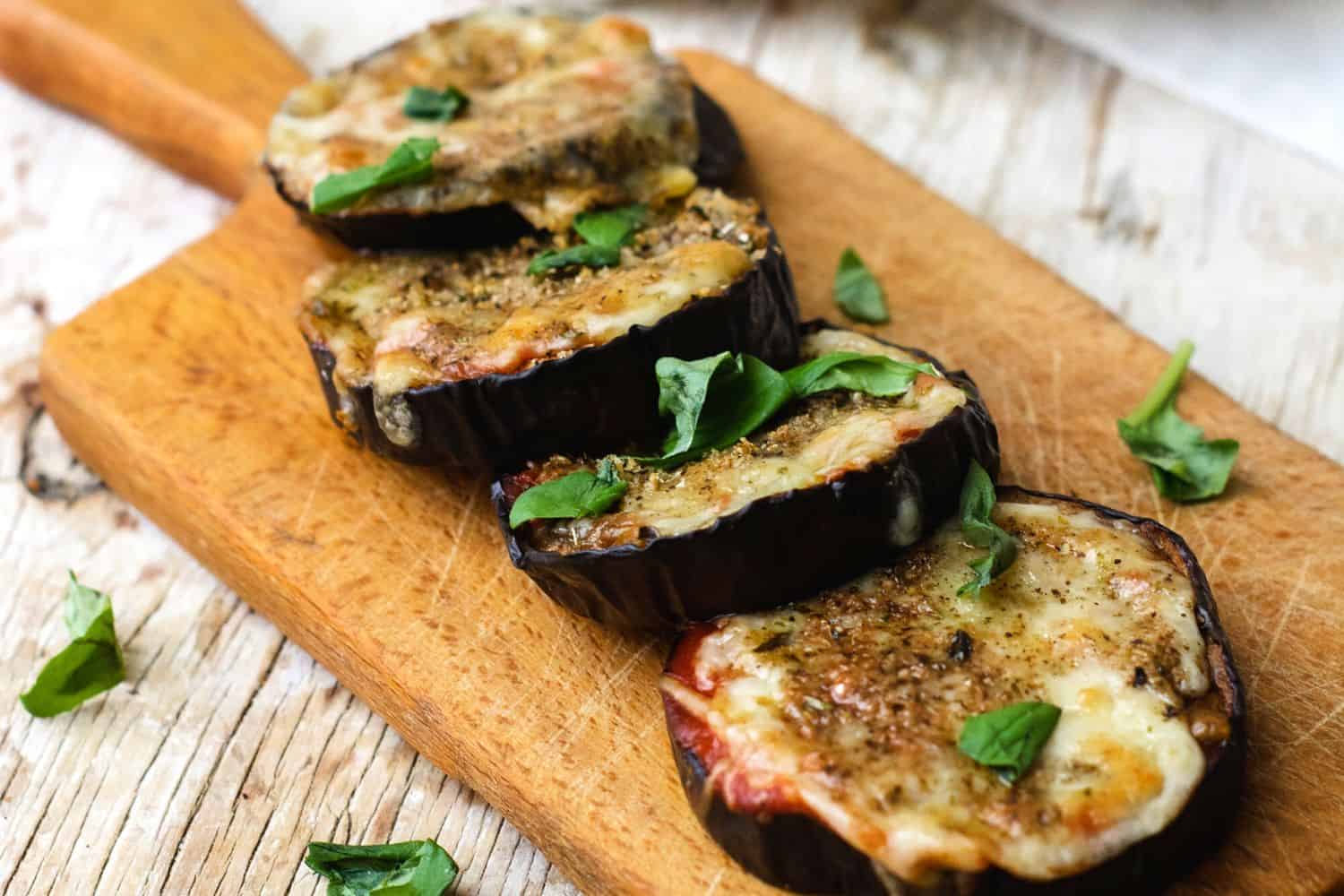 Tips And Variations
Fresh Basil Eggplant Pizza Variation: Traditional Italian pizza combines vibrant flavors to create a mouthwatering, cheesy result, and often, two of these ingredients are tomato and basil. The smell of basil alone is enough to invigorate the senses, but anointing the eggplant pizza with a few fresh basil leaves brings color, flavor, and a familiar pairing between the herb and tangy tomato sauce.
Air Fryer Keto Eggplant Pizza: Using an air fryer is a great way to cook these keto eggplant pizzas, and it will likely take some minutes off the cooking time, too! Our recipe can be followed exactly; however, instead of placing the eggplant into the oven, pop the slices into a preheated air fryer tray and cook until they become lightly golden brown.
Vegan Eggplant Pizza: Creating a vegan version of our mini eggplant pizzas is easy, as there's an abundance of non-dairy cheeses available in stores today. The entire recipe can be kept the same, with the small change of adding cheese alternatives and vegan toppings in place of mozzarella and parmesan.
Frequently Asked Questions
How To Make Eggplant Pizza Crispy?
Sprinkling the eggplant with salt and allowing any excess moisture to leak out from the slices will help them cook better in the oven and become crispy. It's also possible to lightly coat the slices in some keto-friendly breadcrumbs for an extra-crunchy final pizza.
What Pizza Toppings Are Keto-Friendly?
It's surprising simply how many pizza toppings are keto-friendly! Anything from cheese and meat to vegetables and herbs can be used to create the perfect keto pizza. Olives, feta cheese, and mushrooms are the ideal combination for a Mediterranean-inspired keto pizza.
Why Is My Eggplant Pizza Falling Apart?
There are a few reasons why a low carb eggplant pizza might be falling apart, and they are all easy to fix! Getting rid of excess water in the eggplant slices is one of the best ways of avoiding a soggy pizza, and baking the eggplant alone first without adding toppings will help brown the slices a little, too. Also, be sure to leave the skin of the eggplant on, as this will help provide structure, preventing the pizza from falling apart.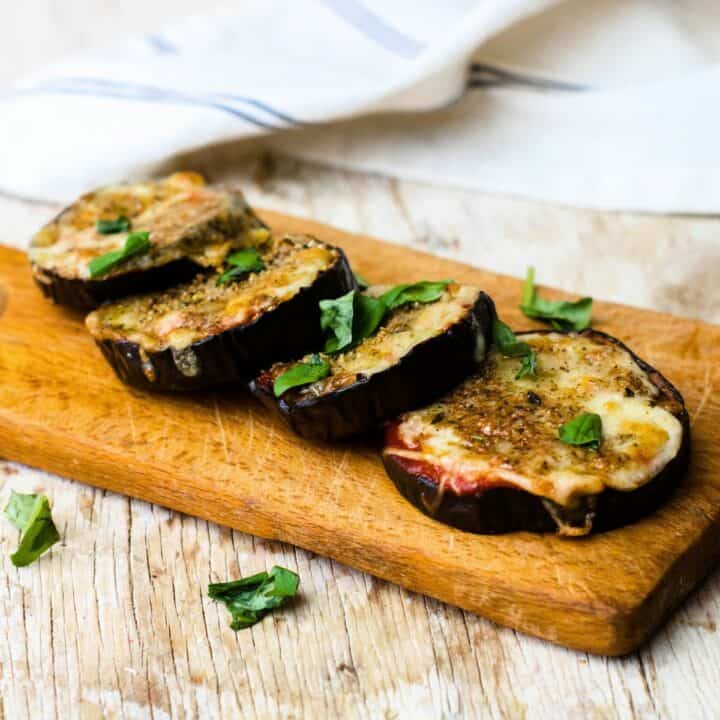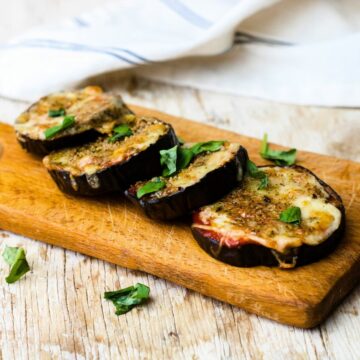 Easy Eggplant Pizza Recipe
This low carb eggplant pizza recipe is a keto-friendly alternative to traditional pizza that is both healthy and delicious. Topped with a rich tomato sauce, melted mozzarella cheese, and your favorite toppings, this eggplant pizza is a surefire crowd-pleaser!
Pin It
Print
Ingredients
2

large

Eggplants

sliced into ½-inch rounds

1

cup

Keto Tomato Sauce

2

cups

Mozzarella Cheese

shredded

¼

cup

Parmesan Cheese

grated

1

teaspoon

Dried Oregano

½

teaspoon

Garlic Powder

½

teaspoon

Onion Powder

4

tablespoon

Olive Oil

Salt and black pepper

to taste

Optional toppings such as sliced bell peppers, pepperoni, bacon, etc
Instructions
Preheat the oven to 375°F (190°C).

Line a baking sheet with baking paper and lightly grease with olive oil.

Place the eggplant rounds on the prepared baking sheet and brush them lightly with olive oil on both sides—season with salt and black pepper.

Bake the eggplant rounds in the preheated oven for 10 minutes, until lightly browned and tender.

Remove the eggplant rounds from the oven and spoon a tablespoon of tomato sauce on top of each round.

Sprinkle shredded mozzarella cheese on top of the tomato sauce, followed by your favorite pizza toppings.

In a small bowl, mix together the parmesan cheese, oregano, garlic powder, and onion powder. Sprinkle the mixture over the pizza toppings.

Return the baking sheet to the oven and bake for an additional 10-15 minutes until the cheese is melted and bubbly.

Remove from the oven and let cool for a few minutes before serving.
Last Step: Leave A Rating!
Share your recipe by tagging @keto.diet.yum with hashtag #ketodietyum on Instagram - everyone would love to see it!
Nutrition
Calories:
364
kcal
Carbohydrates:
14.8
g
Protein:
16.1
g
Fat:
27.9
g
Saturated Fat:
10.2
g
Polyunsaturated Fat:
2.1
g
Monounsaturated Fat:
14
g
Cholesterol:
50.4
mg
Sodium:
456.5
mg
Potassium:
575.5
mg
Fiber:
6.9
g
Sugar:
8.7
g
Vitamin A:
114
IU
Vitamin C:
5
mg
Calcium:
376.9
mg
Iron:
0.9
mg
Net Carbs:
7.9
g