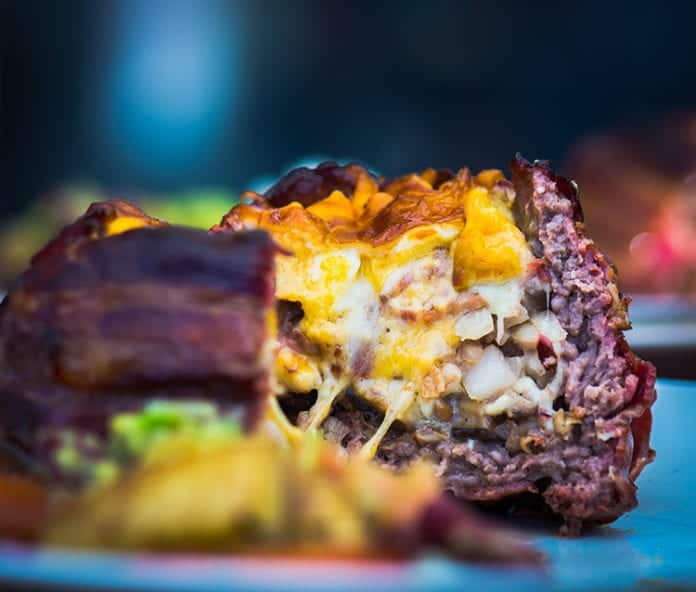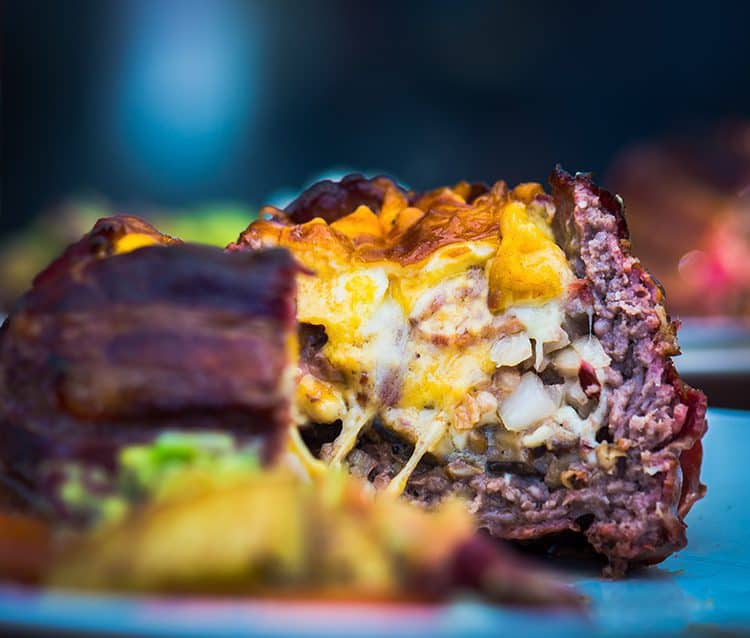 These Keto Stuffed Bacon Burgers are simple, easy and bursting with delicious flavor.
Melted, gooey cheese with extra on the top and sliced bacon for an extra crunch, yum!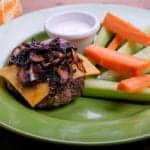 Pin
Stuffed Bacon Burgers
Nutrition per serving: Calories 177, Fat 10g, Protein 17g, 3g carbs
Ingredients
2

slices

bacon

1/8

cup

onion

chopped

1/4

can mushroom pieces

drained and finely chopped

100

g

lean ground beef

60

g

pork sausage

1

tablespoon

Parmesan cheese

grated

1

pinch

pepper

1

pinch

garlic powder

1

tablespoon

steak sauce
Instructions
Heat skillet over medium heat, add bacon and cook until crispy, remove all but two tablespoons of the dripping, add onion to the pan with dripping and cook until tender.

Crumble the cold bacon and return to the skillet with the mushrooms and place on oneside.

Combine ground beef, pork sausage, cheese, pepper, garlic powder and steak sauce in a medium bowl.

Once mixed form into 4 patties, divide bacon and onion mixture and place onto two of the patties, put the other two patties on top and press down to seal the edges.

Grill over medium coals or under the broiler until well done.
Notes
Note: sausage in burgers requires thorough cooking.
Ready to start your Keto Diet?
If you're still unsure about how to eat, what to eat or what to avoid, don't worry you're not alone! There is a little-known diet system called The 28-Day Keto Challenge which will teach you everything you need to know and guide you through your first month. Getting that in check will increase your metabolism and allow you to shed weight and shed it fast. Women who have followed The 28-Day Keto Challenge reported losing up to 21 pounds and 2-4 inches from their waist in just a matter of 4 weeks—the methods in The 28-Day Keto Challenge are all backed by scienceCheck out this video on The 28-Day Keto Challenge now to learn more about how to follow the diet—and lose weight and improve your life in 28 days.