This easy keto eggplant lasagna is a delicious and low-carb alternative to traditional lasagna. With layers of tender eggplant slices, rich tomato sauce, and melted mozzarella cheese, this dish is sure to satisfy your cravings without the carbs.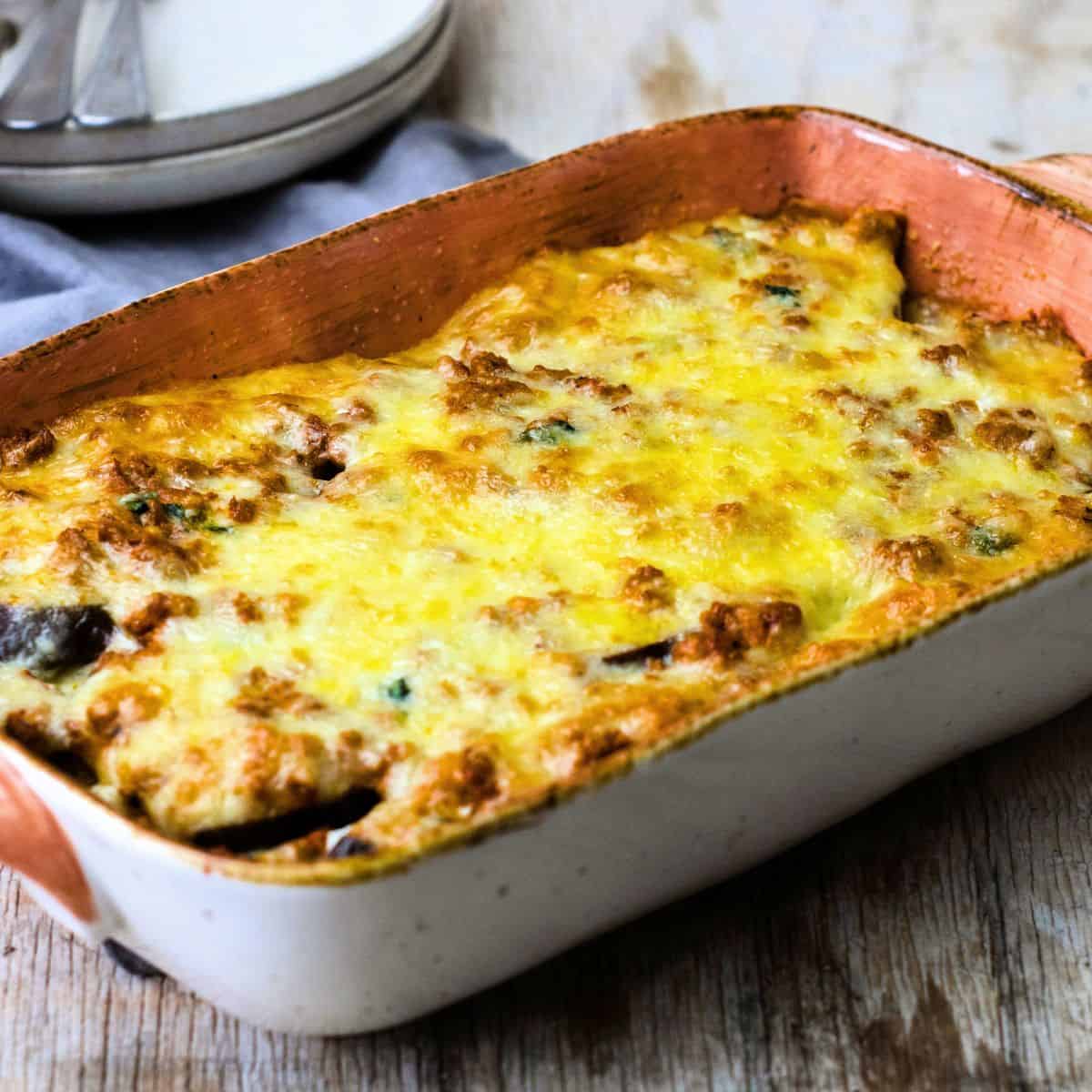 Table of Contents
Anything layered with a rich tomato sauce and packed full of herby flavor is a winner in our kitchen! This keto eggplant lasagna is a breeze to make and high in protein to keep bellies fuller and satisfied for longer. Dried oregano and fresh basil bring tastes of Italy, while parmesan and mozzarella ensure everything becomes a melty, juicy, layered dinner for any night of the week.
Eggplant is the star of the show in this lasagna, and it's incredible how well it replaces traditional lasagna sheets. The flavorful meat sauce and tender slices of eggplant help keep the lasagna low-carb without missing out on silky texture or depth of flavor. Ground beef or turkey works well in the sauce, giving each ingredient a richness that can't be beaten on a cold evening.
Replacing the meat with keto-friendly vegetables is great for vegetarians or meat-free Mondays! With a prep time of 20 minutes and a cooking time of 45 minutes, our keto eggplant lasagne can go from oven to table in less than an hour.
Ingredients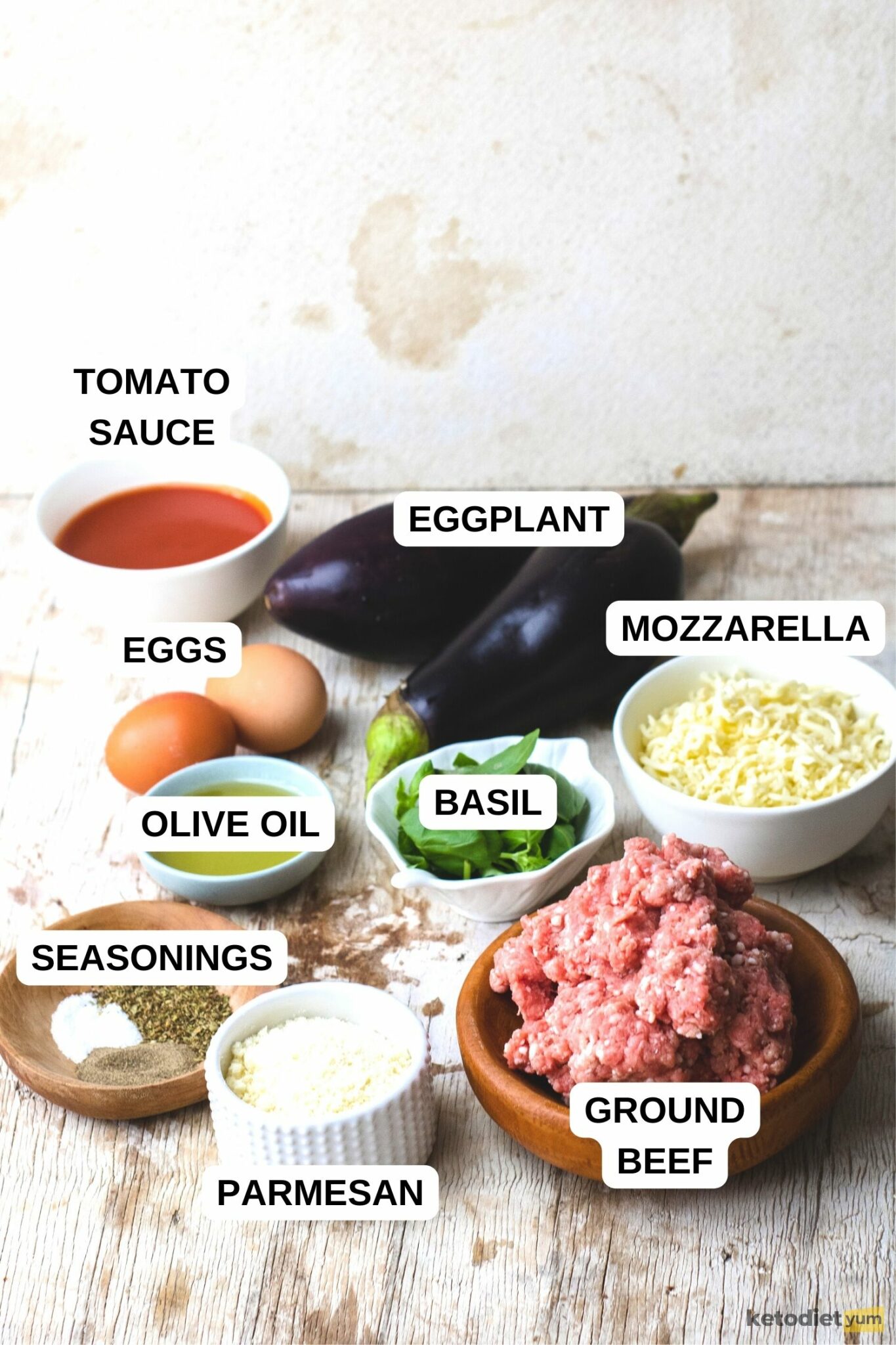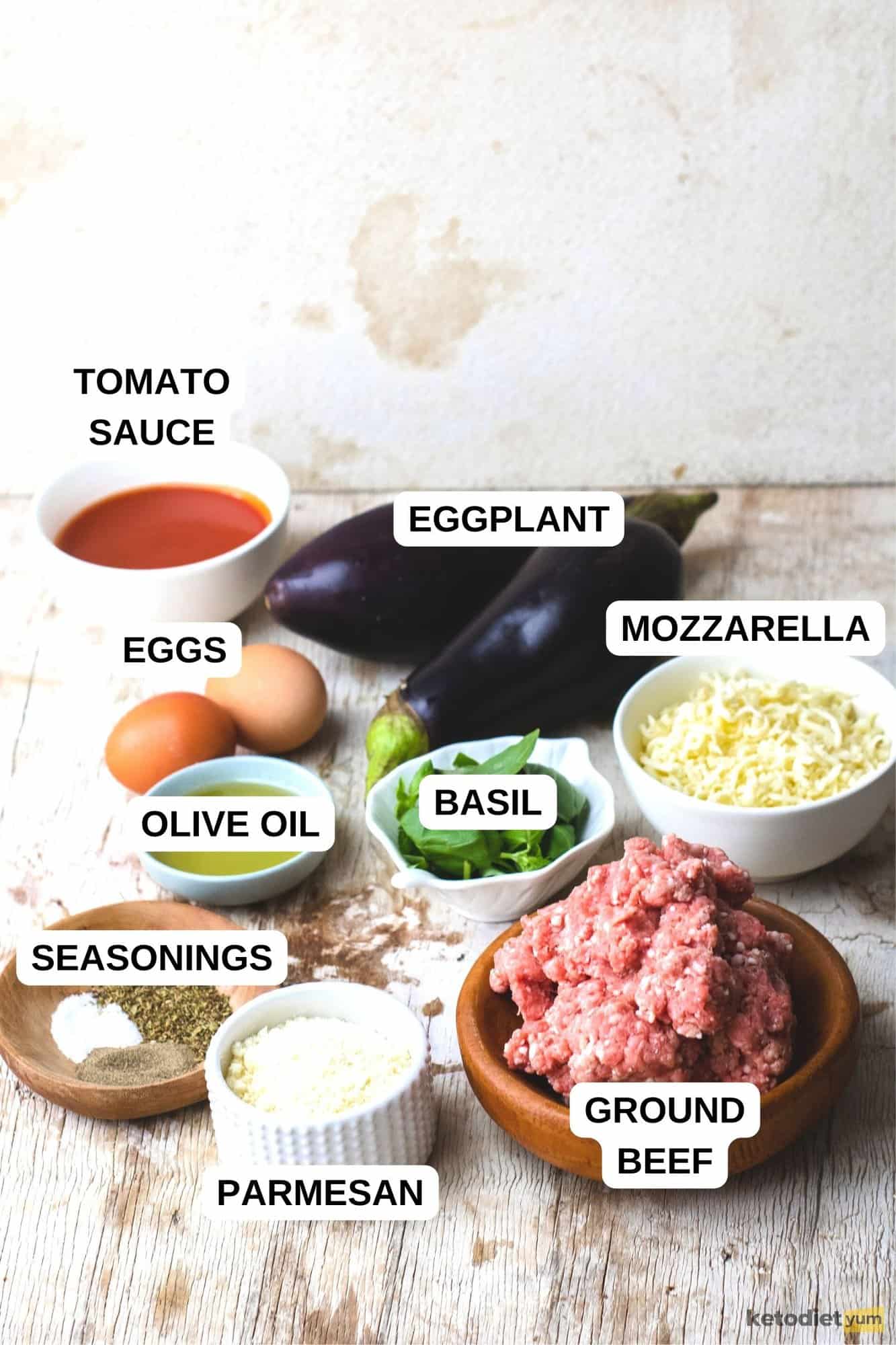 Eggplant: Sliced eggplant is the perfect replacement for pasta sheets as it absorbs flavor impeccably whilst helping give the lasagna a stable structure. There's no need to peel the eggplant, as leaving the skin on adds texture and a tasty, nutritious boost.
Ground Beef or Turkey: Meat is an excellent source of protein, but it also makes the eggplant lasagna a substantial meal that's sure to feed the whole family. Ground beef or turkey is ideal as both melt into the tomato sauce, creating a thick mixture to layer in between the eggplant.
Tomato Sauce: Store-bought or homemade low-carb tomato sauce is what helps the keto lasagna become lusciously thick and smooth. Tomato and fresh basil are a match made perfect. Bursting with vibrant Italian flavors, this lasagna would be lost without it.
Parmesan: Tangy parmesan cuts through the richness of the lasagna sauce whilst also adding a little nuttiness. Sprinkling some parmesan in between the layers of eggplant and meat sauce melts everything together beautifully, so each mouthful is decadent and moorish.
Mozzarella: Mozzarella is known for melting deliciously, and in a hot oven, nothing beats the smell of oozy, molten cheese. Using both parmesan and mozzarella in the eggplant lasagna creates rich and complex flavors and saltiness.
Eggs: Pouring combined egg and mozzarella over the lasagna adds yet another layer of taste and texture. The mozzarella and eggs create a savory mixture that, once exposed to the heat of the oven, becomes golden, bubbly, and inviting.
Basil: Just two tablespoons of fresh basil is enough to add earthiness and vibrancy to the lasagne. Fresh basil can be chopped up small and incorporated into the sauce, or if you don't have fresh herbs to hand, dried basil works wonders, too.
Oregano: The slightly bitter taste of oregano helps create a well-rounded flavor in the keto lasagne whilst also adding aesthetic flecks of forest green. A tablespoon is enough to bring a gentle oregano flavor to the dish, remaining balanced with each of the other ingredients.
Olive Oil: Cooking the lasagne sauce with oil is vital to stop the meat from sticking to the pan. The ground turkey or beef can instead become brown and tender, ready to absorb the fresh flavors of tomato, basil, and oregano.
Salt And Pepper: Forgetting to season a dish isn't the end of the world, but it sure does help flavors remain balanced. Grinding salt and pepper into the lasagna may seem like a small step, but both ingredients help bring together all the individual elements in the meal.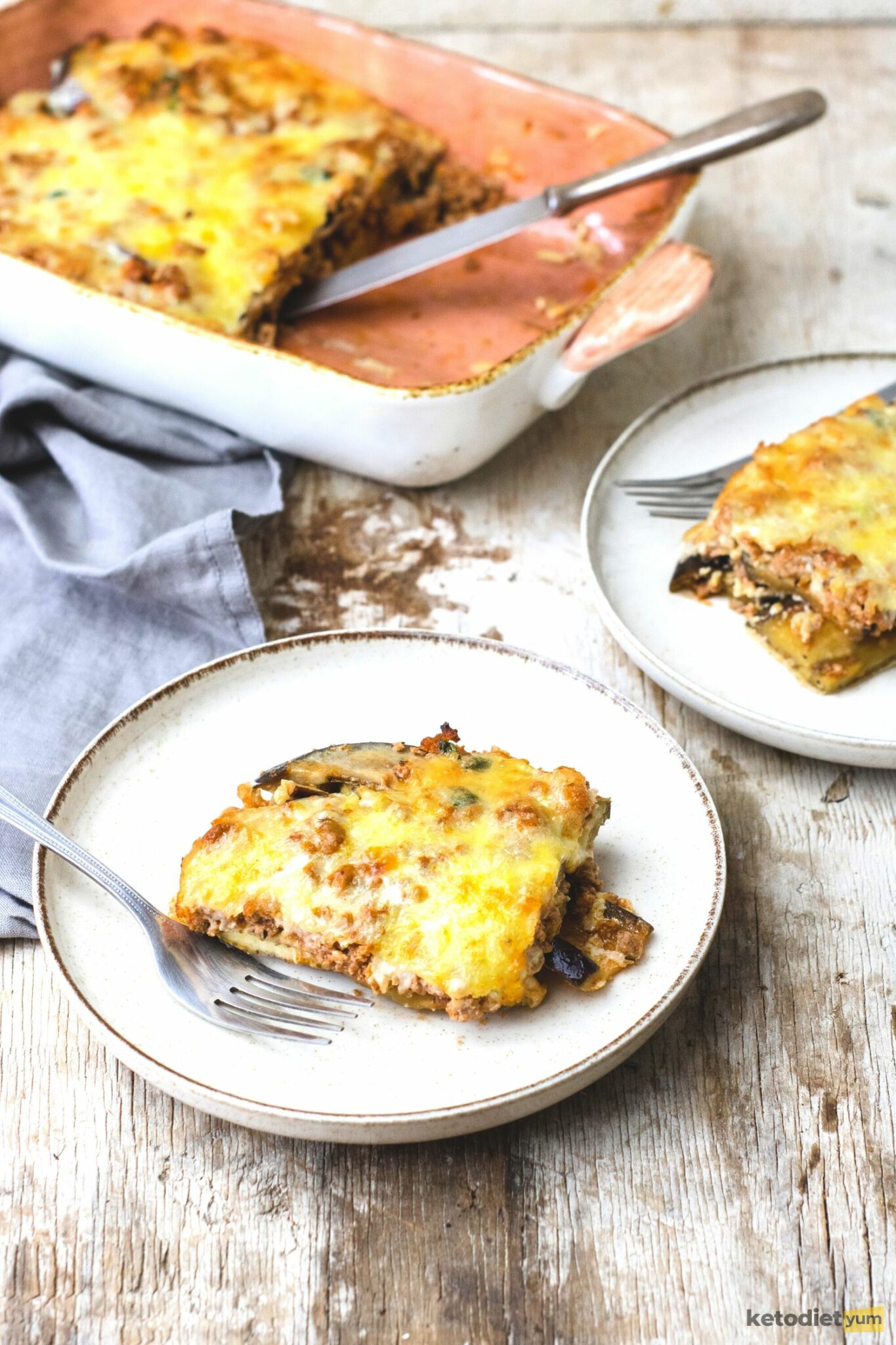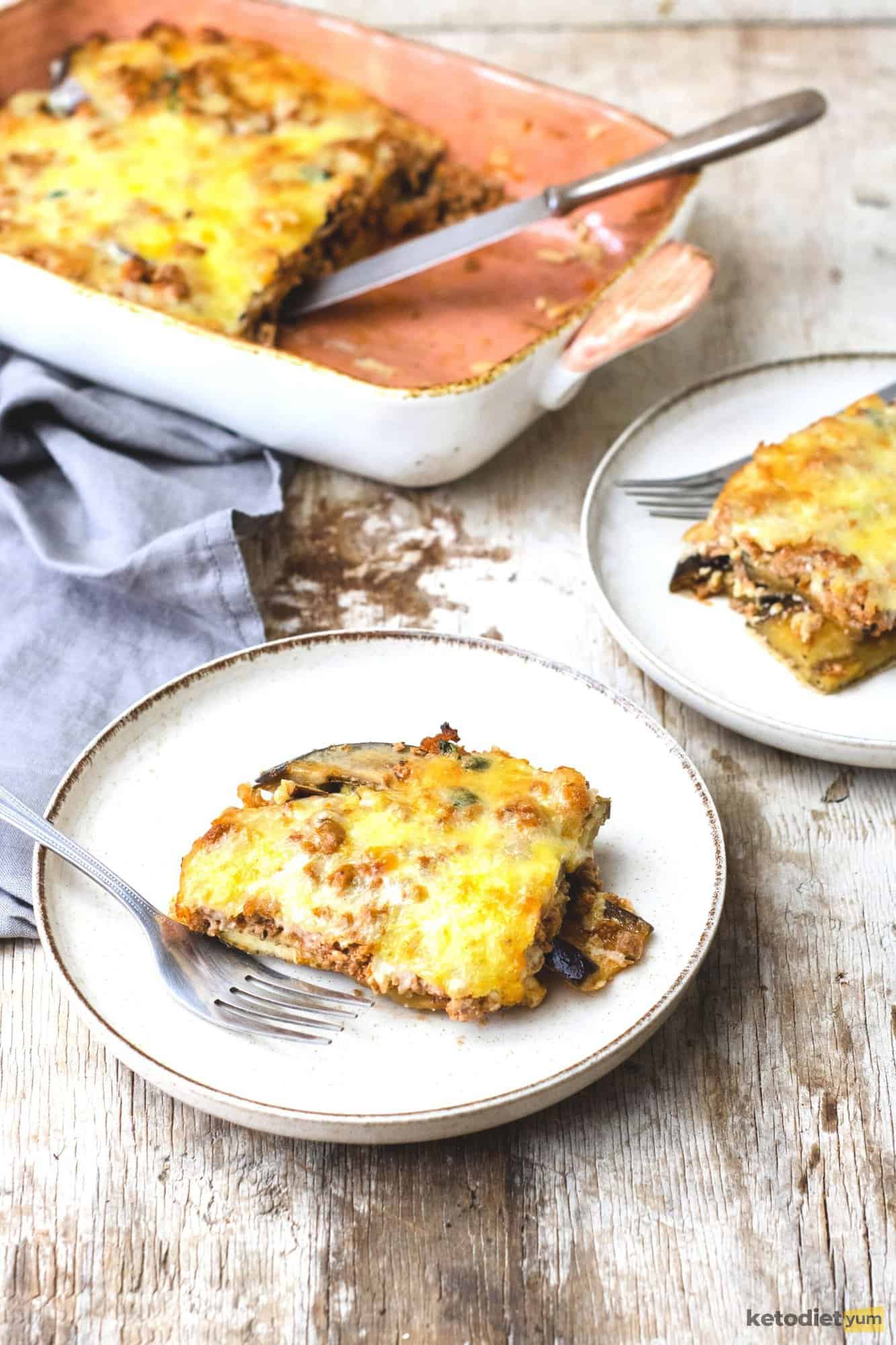 How To Make Keto Eggplant Lasagna
Our keto eggplant lasagna can be put together in just 20 minutes and needs less than an hour in a hot oven to make the eggplant tender and flavorful. It's tempting to dive straight into this tasty dish, but it's wise to let it cook for a few minutes as the cheese will be scolding, and the lasagna will firm up a little for easier slicing.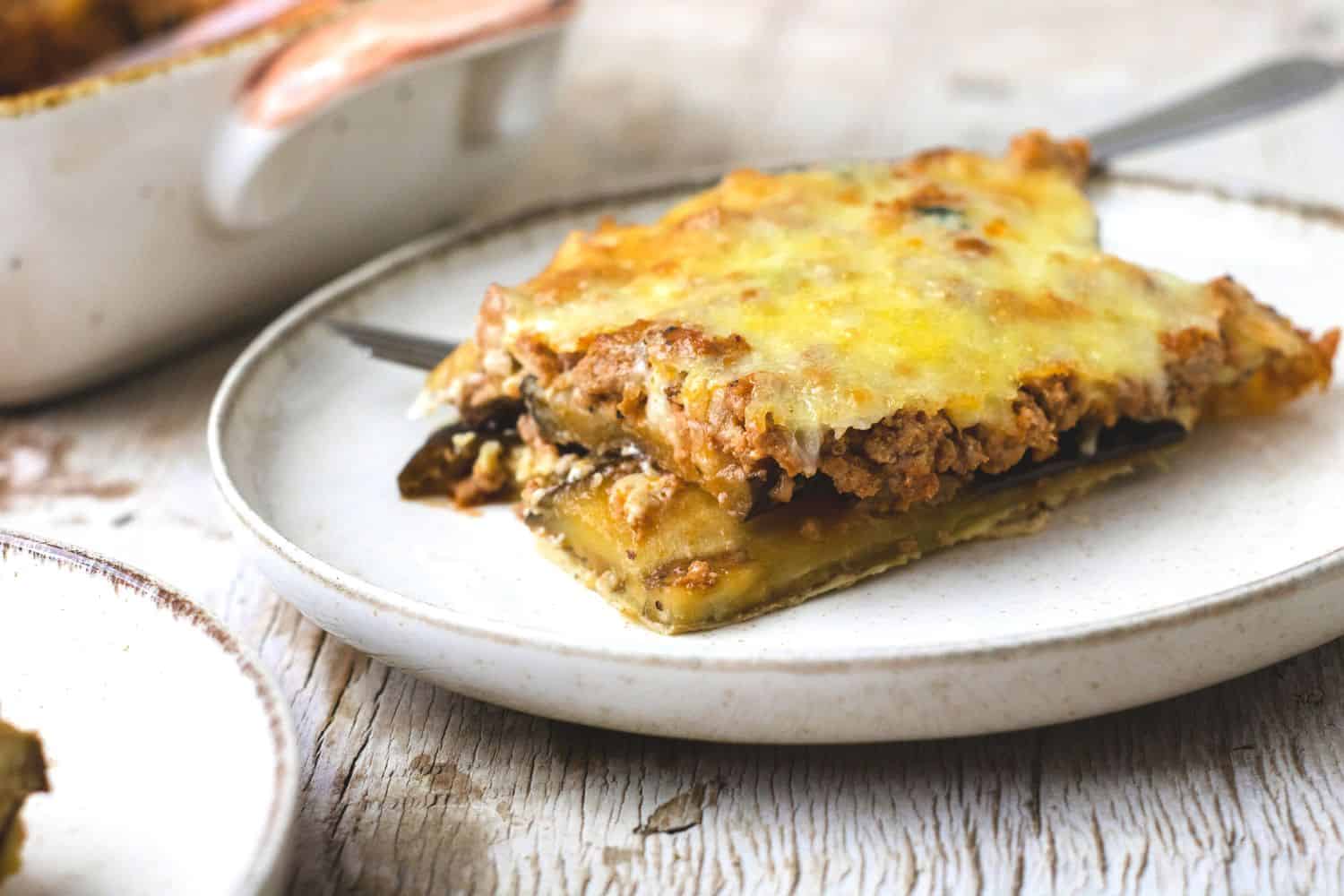 Step one: Preheat the oven to 375℉ (190℃) and heat a large skillet over medium-high heat. Allow the pan to get nice and hot before adding ground beef or turkey.
Step two: As the meat becomes lightly browned, juices and excess fat will start to appear. Drain any of the additional fat away, as it can make the lasagna too rich and oily, and break up the meat with a wooden spoon.
Step three: Using dried oregano, salt, and pepper, season the meat and add the tomato sauce, stirring thoroughly to disperse the flavorful chunks of meat around the pan. Reduce the heat and allow the sauce to simmer for 10 minutes.
Step four: Take a 9x13-inch pan and grease it with a little olive oil so the lasagna doesn't stick too badly while it's in the oven. Once the meat sauce has thickened, it's time to get layering.
Step five: Half of the eggplant slices can be layered in the bottom of the pan before being lightly coated with a dusting of fresh basil and parmesan. Only use half of the cheese and basil, as you'll need the rest for another lasagna layer.
Step six: Spoon the meat sauce onto the cheese and herb-coated eggplant, repeating the layering process with the rest of the eggplant slices, parmesan, basil, and meaty tomato sauce.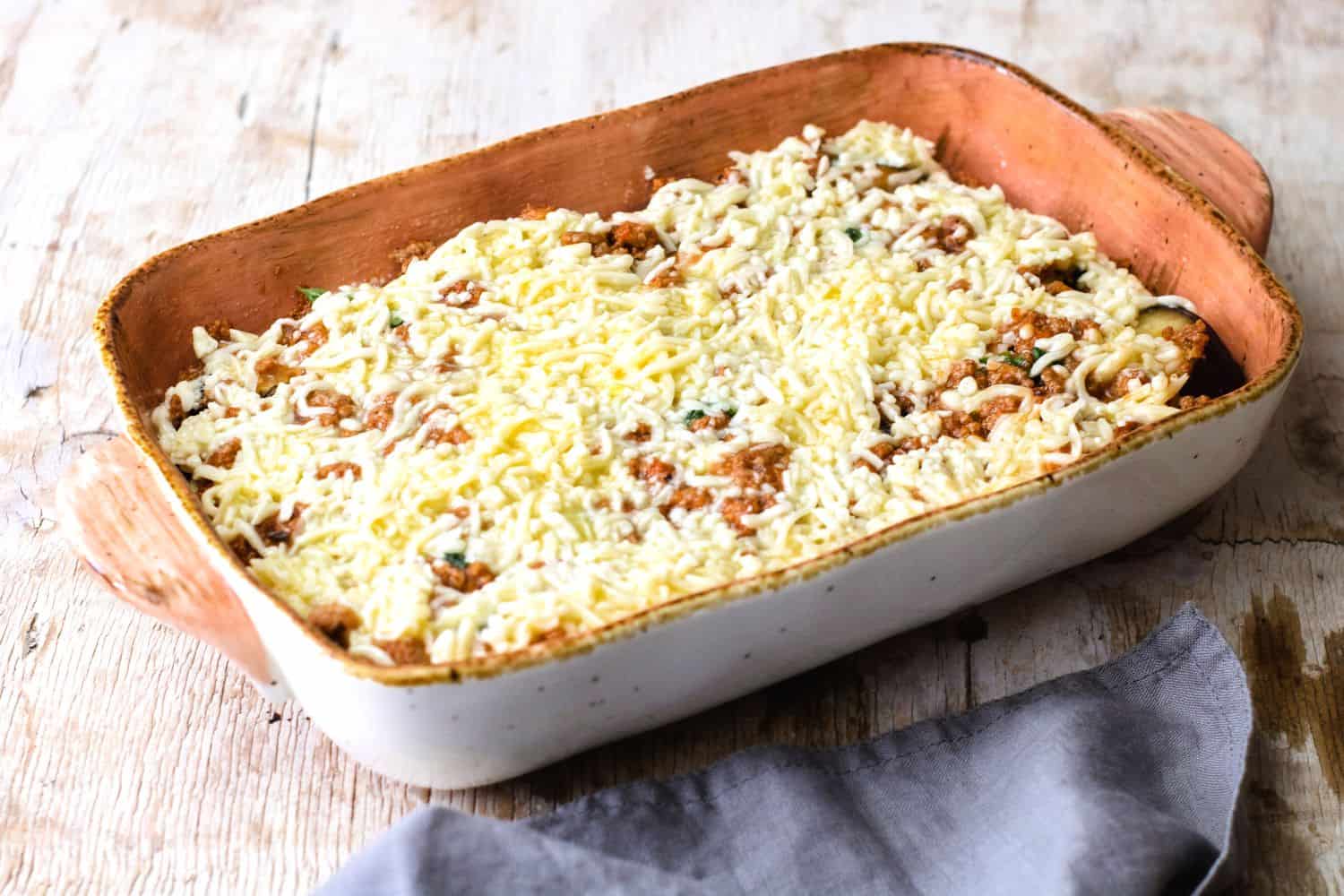 Step seven: Allow the pan to sit for a few minutes while whisking the eggs and mozzarella together. Once combined, the cheesy mixture can be poured over the lasagna and gently encouraged to each edge with a spatula.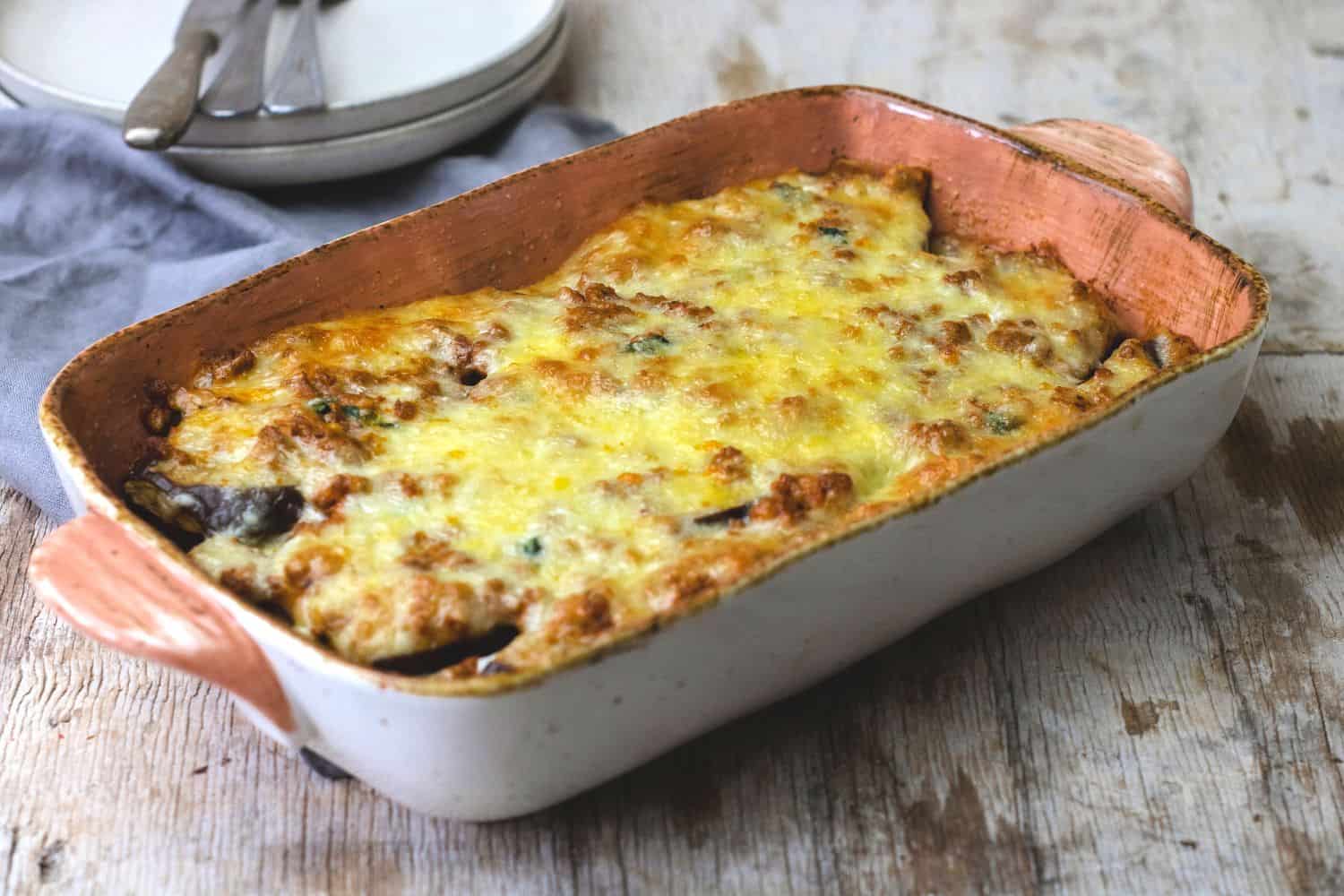 Step eight: Cover the oven dish with foil and put the lasagna in the oven for 30 minutes. The foil can then be removed, and the lasagne placed back in the oven for 15 minutes to guarantee a bubbly, golden final layer.
Tips And Variations
Keto Vegetarian Eggplant Lasagna: Creating a keto-friendly vegetarian eggplant lasagna is a breeze! Omitting meat from the tomato sauce is the only change needed. The meat can be replaced with keto-friendly vegetables such as diced bell pepper, zucchini, and mushrooms.
Keto Zucchini Lasagna: It's hard to find a vegetable able to create perfect lasagna layers other than eggplant. Zucchini, however, is a surprisingly ideal alternative, and thinly sliced, it produces very similar results to eggplant.
Ground Chicken Variation: If you don't have ground beef to hand or simply would prefer to use a different meat, ground chicken is a tasty alternative. Ground chicken can be cooked in the same way as ground beef in our keto-friendly lasagna and will still produce a delicious eggplant dinner.
Chili Variation: Nothing livens up a dish more than chili, and adding a little dried cayenne or chili flakes into the tomato sauce is a simple and effective way to achieve some heat. Just be sure your guests are happy with a kick in their lasagna, as dried chili flakes can really spice things up!
Frequently Asked Questions
Can I Freeze Keto Eggplant Lasagna?
Keto eggplant lasagna can be kept in a sealed container in the fridge for a few days, but it's also possible to freeze it. The lasagna is suitable for freezing if prepared but left uncooked in a baking dish or cooked and cooled. When reheating the eggplant lasagna from frozen, leave it to thaw in the fridge before putting it in the oven.
Why Is My Eggplant Lasagna Watery?
Too much moisture in the meaty tomato sauce can result in a watery eggplant lasagna. When preparing the lasagna, if the sauce looks a little runny, add some cornstarch to help thicken it. Roasting the slices of eggplant before layering them up in the lasagna is also a good trick to avoid a watery lasagna!
How Many Carbs Are In Keto Eggplant Lasagna?
Our keto eggplant lasagna contains 13g of carbohydrates per serving, making it keto-friendly without the need for wheat pasta. Eggplant has a silky texture and subtle taste, making it an ideal substitute for lasagna pasta sheets.
What Cheese Can You Use In Keto Lasagna?
The options are endless for the types of cheese you can use in a keto lasagna. It's wise, however, to stay away from processed, low-fat alternatives that may contain other ingredients. Sticking to cheeses like cheddar, parmesan, halloumi, and gouda is a safer bet for keto lifestyles.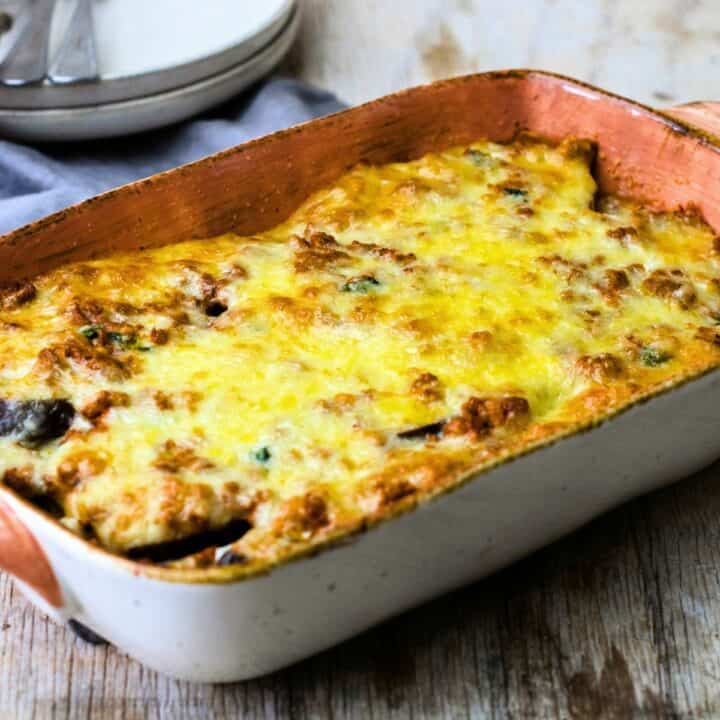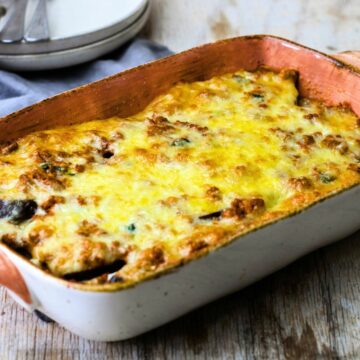 Keto Eggplant Lasagna Recipe
This easy keto eggplant lasagna is a delicious and low-carb alternative to traditional lasagna. With layers of tender eggplant slices, rich tomato sauce, and melted mozzarella cheese, this dish is sure to satisfy your cravings without the carbs.
Pin It
Print
Ingredients
2

large

Eggplants

sliced lengthwise into ¼-inch slices

1

pound

Ground Beef or Ground Turkey

1

cup

Keto Tomato Sauce

½

cup

Parmesan Cheese

grated

2

cups

Mozzarella Cheese

shredded

2

medium

Eggs

beaten

2

tablespoon

Fresh Basil

chopped

1

tablespoon

Dried Oregano

4

tablespoon

Olive Oil

Sea Salt and Black Pepper

to taste
Instructions
Preheat the oven to 375°F (190°C).

Heat a large skillet over medium-high heat. Add the ground beef or turkey and cook until browned, breaking it up with a wooden spoon as it cooks. Drain off any excess fat.

Add the tomato sauce to the skillet with the browned meat and stir to combine. Season with salt, black pepper, and dried oregano. Reduce the heat to low and let simmer for 10 minutes.

While the meat sauce simmers, lightly grease a 9x13-inch baking dish with olive oil.

Layer half of the eggplant slices in the bottom of the baking dish, overlapping slightly if necessary. Sprinkle with half of the parmesan cheese and half of the chopped basil.

Spoon half of the meat sauce on top of the eggplant layer and spread it evenly.

Repeat with the remaining eggplant slices, parmesan cheese, basil, and meat sauce.

In a mixing bowl, whisk together the beaten eggs and shredded mozzarella cheese. Pour the mixture over the top of the lasagna, spreading it evenly with a spatula.

Cover the baking dish with foil and bake in the oven for 30 minutes.

Remove the foil and bake for an additional 15 minutes, until the top is golden brown and the cheese is melted and bubbly.

Remove from the oven and let cool for a few minutes before slicing and serving.
Last Step: Leave A Rating!
Share your recipe by tagging @keto.diet.yum with hashtag #ketodietyum on Instagram - everyone would love to see it!
Nutrition
Serving:
1
slice (6 per recipe)
Calories:
321
kcal
Carbohydrates:
13
g
Protein:
34.8
g
Fat:
15.2
g
Saturated Fat:
4.1
g
Polyunsaturated Fat:
1.6
g
Monounsaturated Fat:
8.7
g
Trans Fat:
0.1
g
Cholesterol:
111.3
mg
Sodium:
854.9
mg
Potassium:
768
mg
Fiber:
6.5
g
Sugar:
7.1
g
Vitamin A:
94.3
IU
Vitamin C:
4.2
mg
Calcium:
487.7
mg
Iron:
2.9
mg
Net Carbs:
6.5
g