This fully loaded Keto Greek Yogurt Parfait is the perfect way to start your day! It's easy to make and packed with healthy fats, protein, and fiber to keep you full and satisfied until lunch. Plus, it's delicious and customizable with your favorite keto-friendly toppings.
Table of Contents
Breakfast Greek Yogurt Parfait
Nothing beats a sweet, fresh breakfast, and this yogurt parfait is the perfect addition to your weekday wake-ups. With Greek yogurt and heavy whipping cream, this parfait is silky smooth and paired with almond butter, vanilla, strawberries, and walnuts; it's a flavor explosion! Starting your day off with a healthy, nutritious breakfast is one of the most important steps to success. I love to make something simple, such as egg muffin cups, peanut butter chaffles, and this easy yogurt parfait.
One of the best things about this Greek yogurt parfait is the lack of cooking involved. There's no need to preheat the oven first thing in the morning or wack a frying pan on the stove. Instead, it's simply a matter of combining flavourful ingredients and layering them to create an attractive and tasty morning treat. With just over 300 calories in each serving, this recipe is perfect for those on a calorie-controlled diet.
There's a small list of ingredients for this recipe, and most are household staples you likely have lying around already. From walnuts to Greek yogurt, this is a nutrient-packed breakfast boasting healthy fats and protein, along with micronutrients from the strawberries. This helps keep you fuller for longer, so you can plow through until lunch without any belly grumbles. You can also substitute most of the ingredients with whatever you have available, so it's very versatile!
Ingredients You'll Need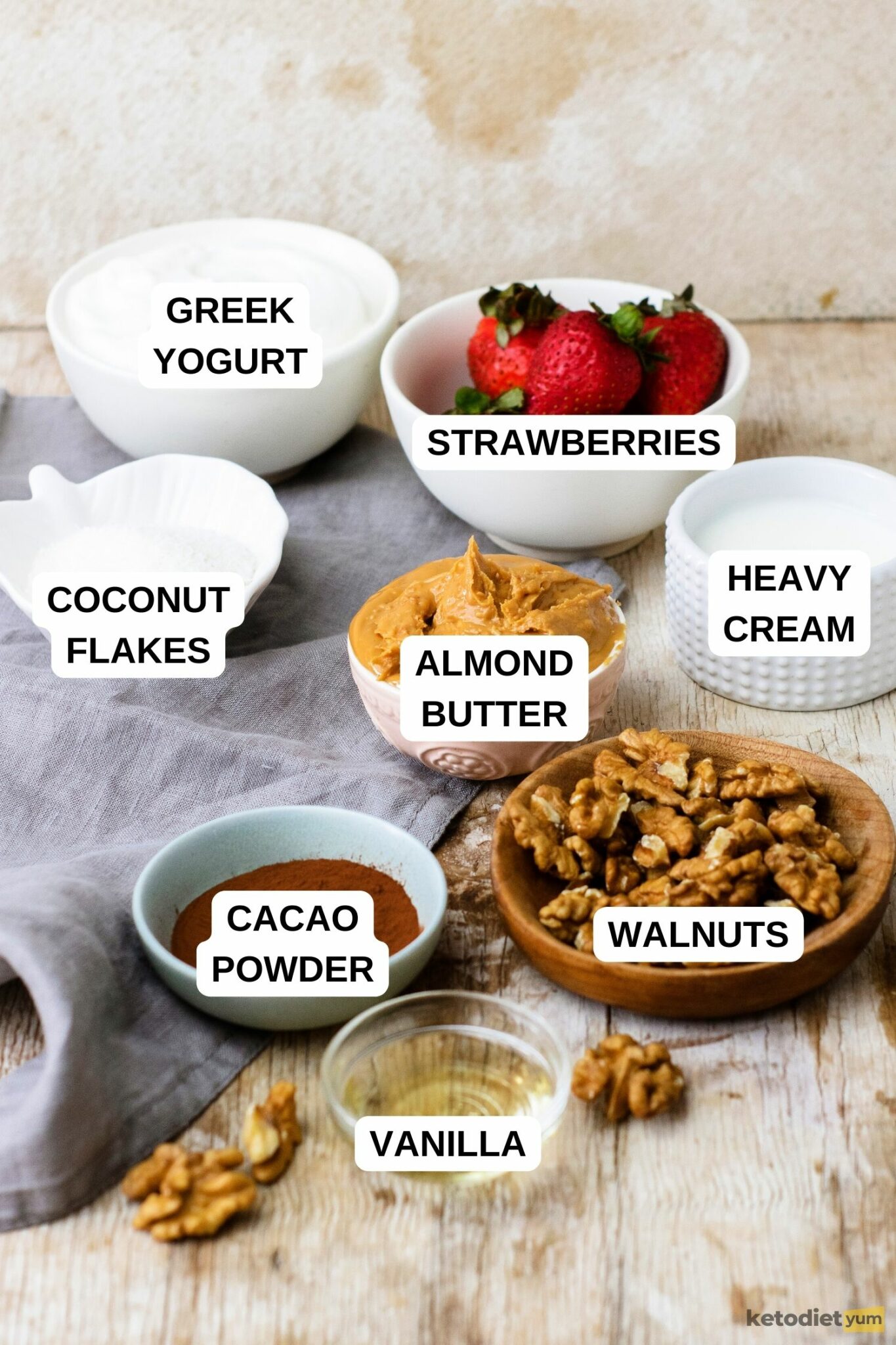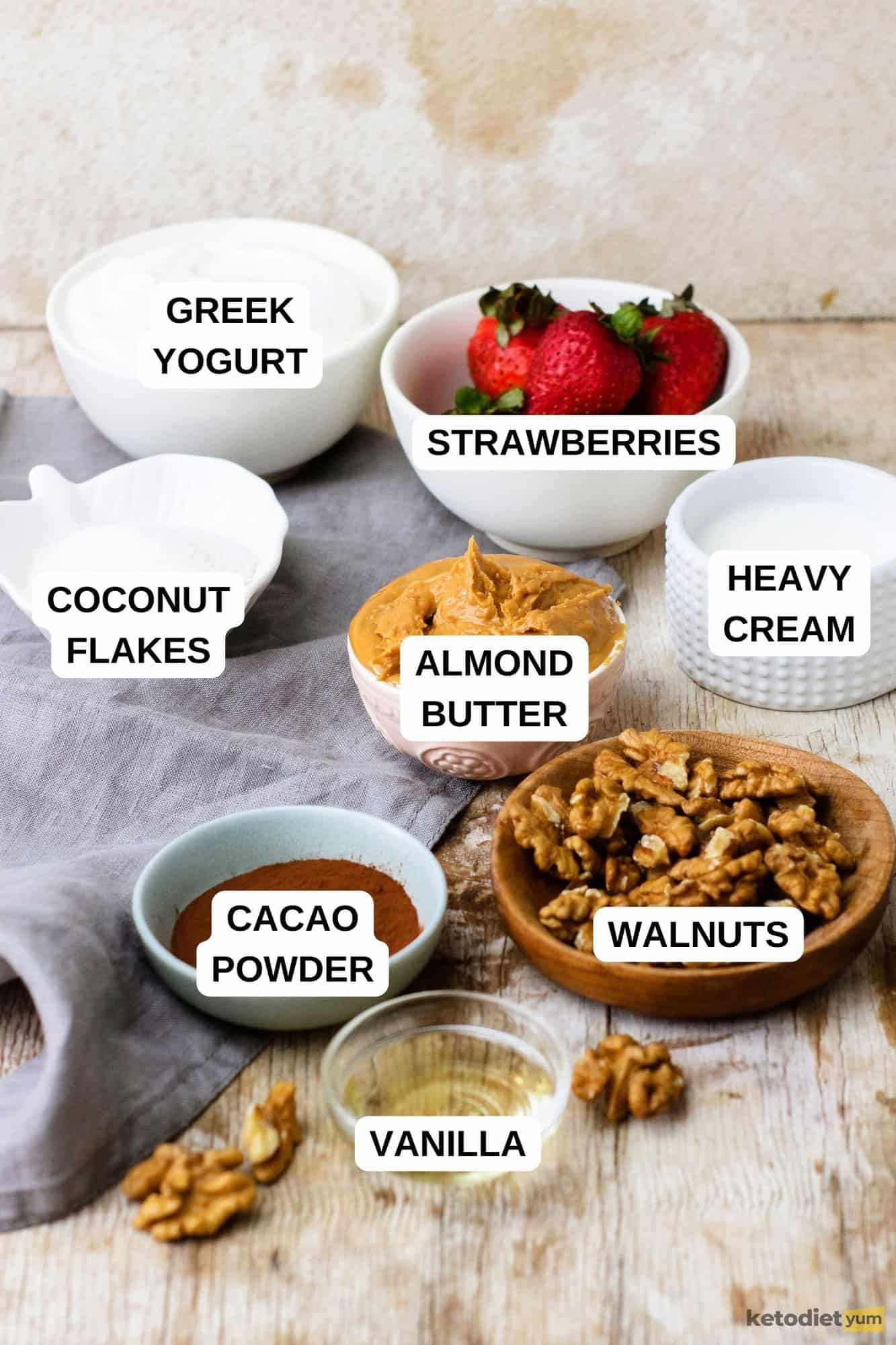 Greek yogurt: Whole milk plain Greek yogurt is the kind needed for this recipe. Many yogurts are packed full of sugar and additives, making them surprisingly quite unhealthy. However, plain yogurts tend to contain fewer ingredients, and Greek yogurt, in particular, has a distinctive tang that our keto parfait would be lost without.
Heavy whipping cream: A parfait needs to have distinct layers of fruit, cream, and nuts. Heavy whipping cream is the star ingredient that makes our keto parfait a welcome addition to any breakfast table. As Greek yogurt has such a powerful taste and thick texture, the cream helps balance everything out and brings velvety calm to each mouthful.
Almond butter: Almond butter typically contains less sugar than peanut butter, and in our fruity keto breakfast, it brings light color and a nutty flavor. High in monounsaturated fats, almonds are a great ingredient to incorporate into a keto diet, and almond butter can be used in various sweet and savory dishes.
Vanilla: The familiar, almost floral scent of vanilla is a gateway for making a kitchen smell like heaven. Although the strawberries bring their own sweetness, vanilla helps make the parfait deliciously moreish without the need for added sugar or syrup. The vanilla extract works well in the parfait, but fresh vanilla bean could also be used and would bring characterful black specks to each tangy layer.
Strawberries: The cheerful red strawberry is a keto-friendly delight, bringing color, texture, and sugary lusciousness to each glass. Vitamin C is absorbed better when consumed on an empty stomach, so having a portion of Greek yogurt parfait is a fantastic way to get the day off to the right start.
Walnuts: Our recipe only calls for a few tablespoons of chopped walnuts, but that's enough to provide just the right amount of crunch with each spoonful. Walnuts have the power to lower LDL cholesterol, along with being great for heart health and tasting good, too! If walnuts aren't your preferred nut, almonds and hazelnuts work well in this recipe, too.
Coconut flakes: Coconut is dense in calories, but there's no need to shy away from it. Only a couple of teaspoons of shredded coconut are needed to decorate the top layer and make this breakfast a showstopper.
Cacao powder: Similar to cocoa powder, cacao powder has a chocolatey taste and is jam-packed full of antioxidants. If you don't have any to hand, it's possible to substitute the cacao powder for sugar-free cocoa powder, but the chocolate flavor will likely be less of a hit for the tastebuds.
How To Make Breakfast Greek Yogurt Parfait
Nothing fancy is needed to create this Greek yogurt parfait. All that's required is a mixing bowl, a whisk, and four elegant glasses to layer it up in. This is the ultimate quick, healthy fix before the school run, and thanks to the balance of fats, protein, and fiber, you'll stay full for hours.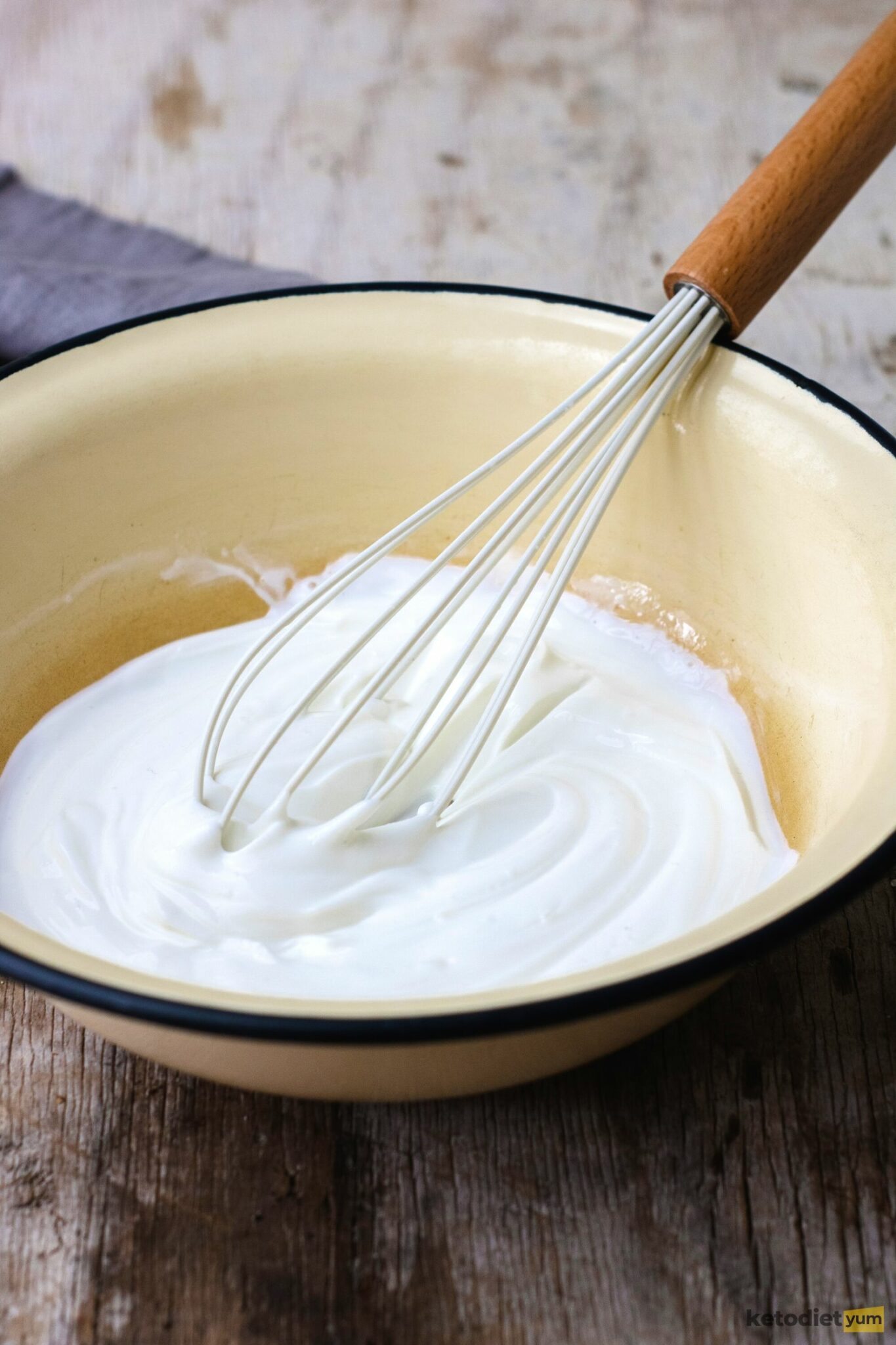 Step One: Whisk together the Greek yogurt, heavy whipping cream, and vanilla until all are combined well. The mixture should be silky smooth without any streaks of vanilla extract or lumps of cream.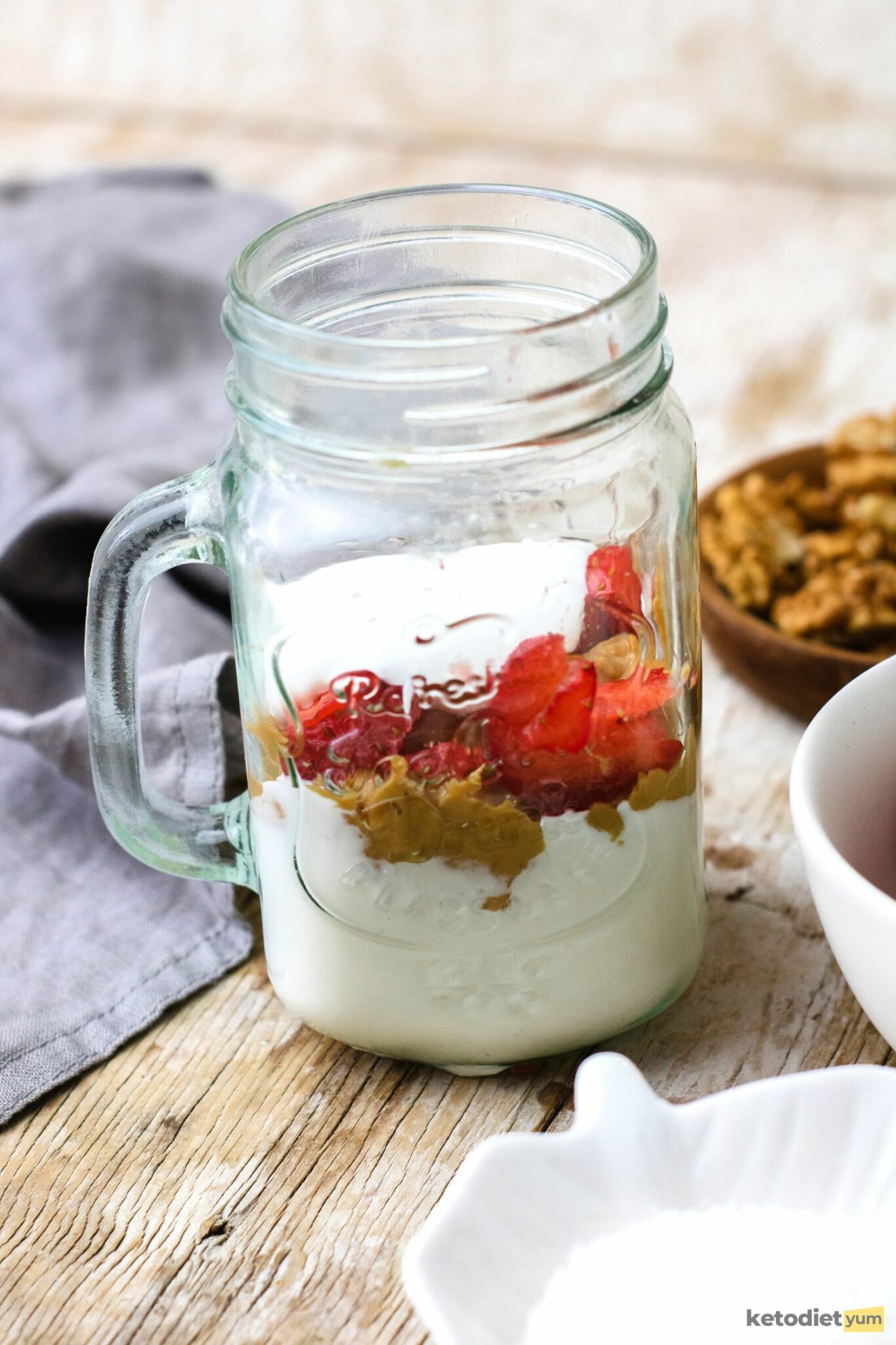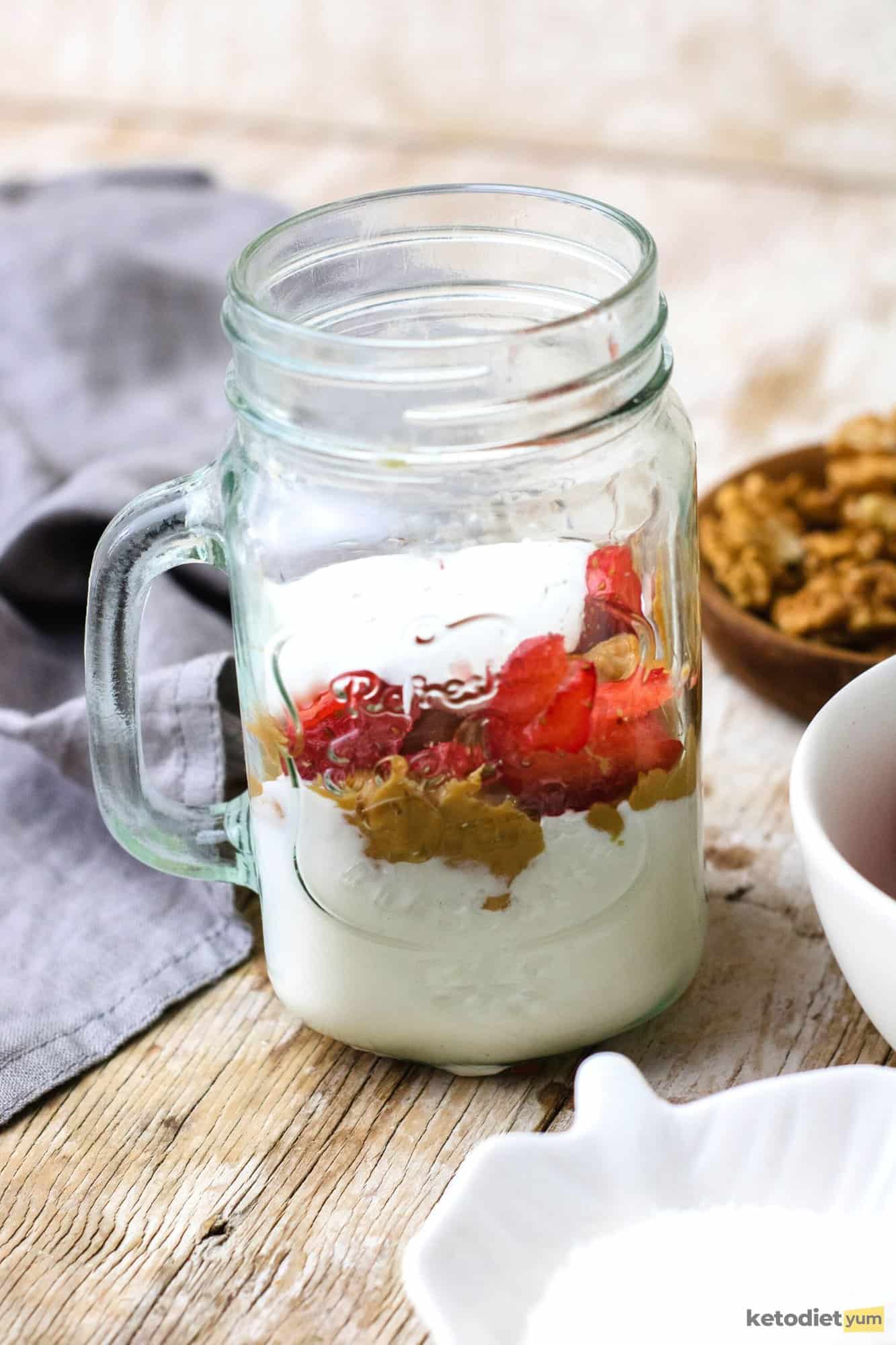 Step Two: Grab the four glasses or jars and slowly begin layering the fluffy yogurt mixture with the almond butter and strawberries. Try to keep the layers as even as possible for an attractive aesthetic and balance with every bite.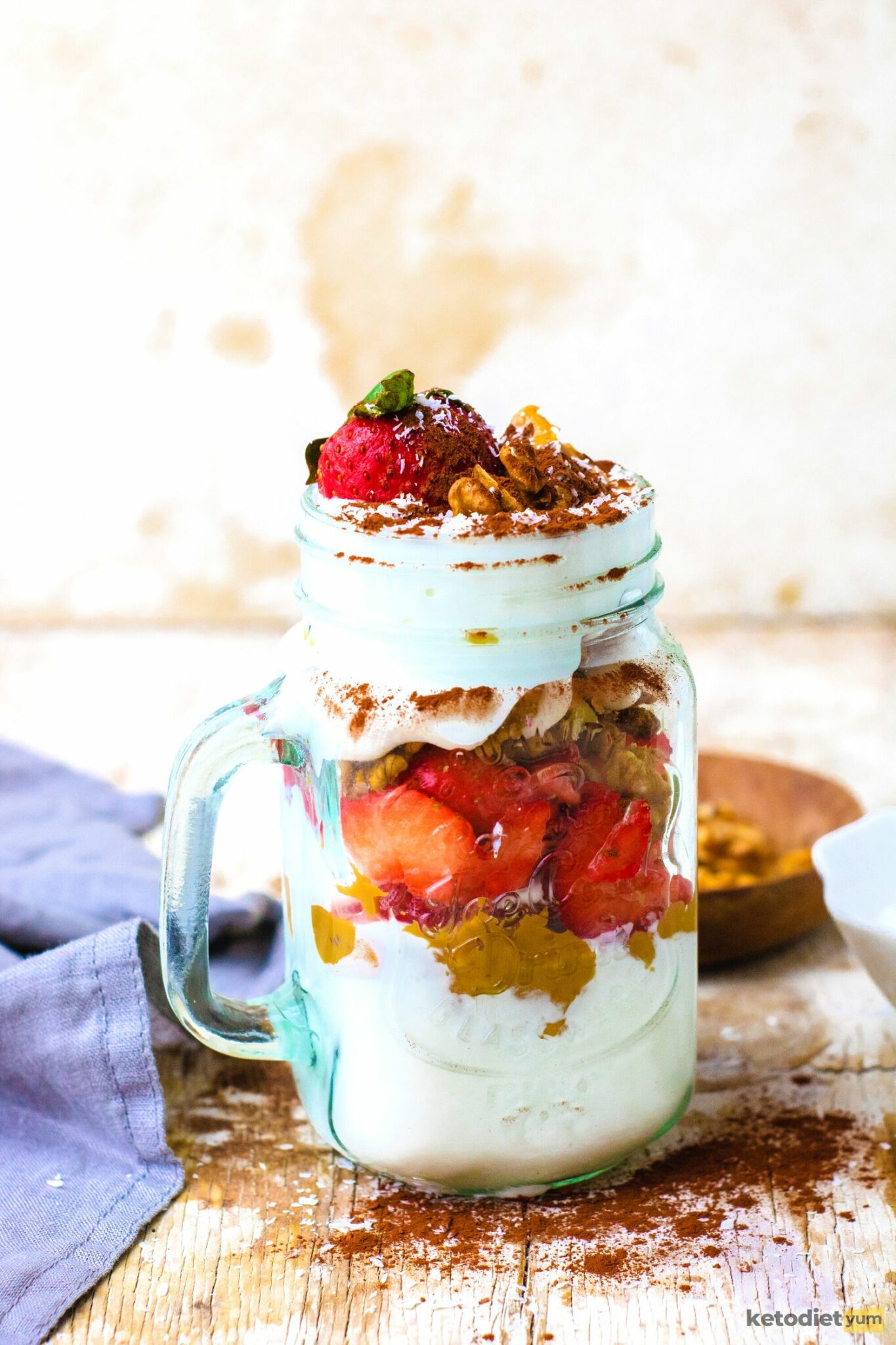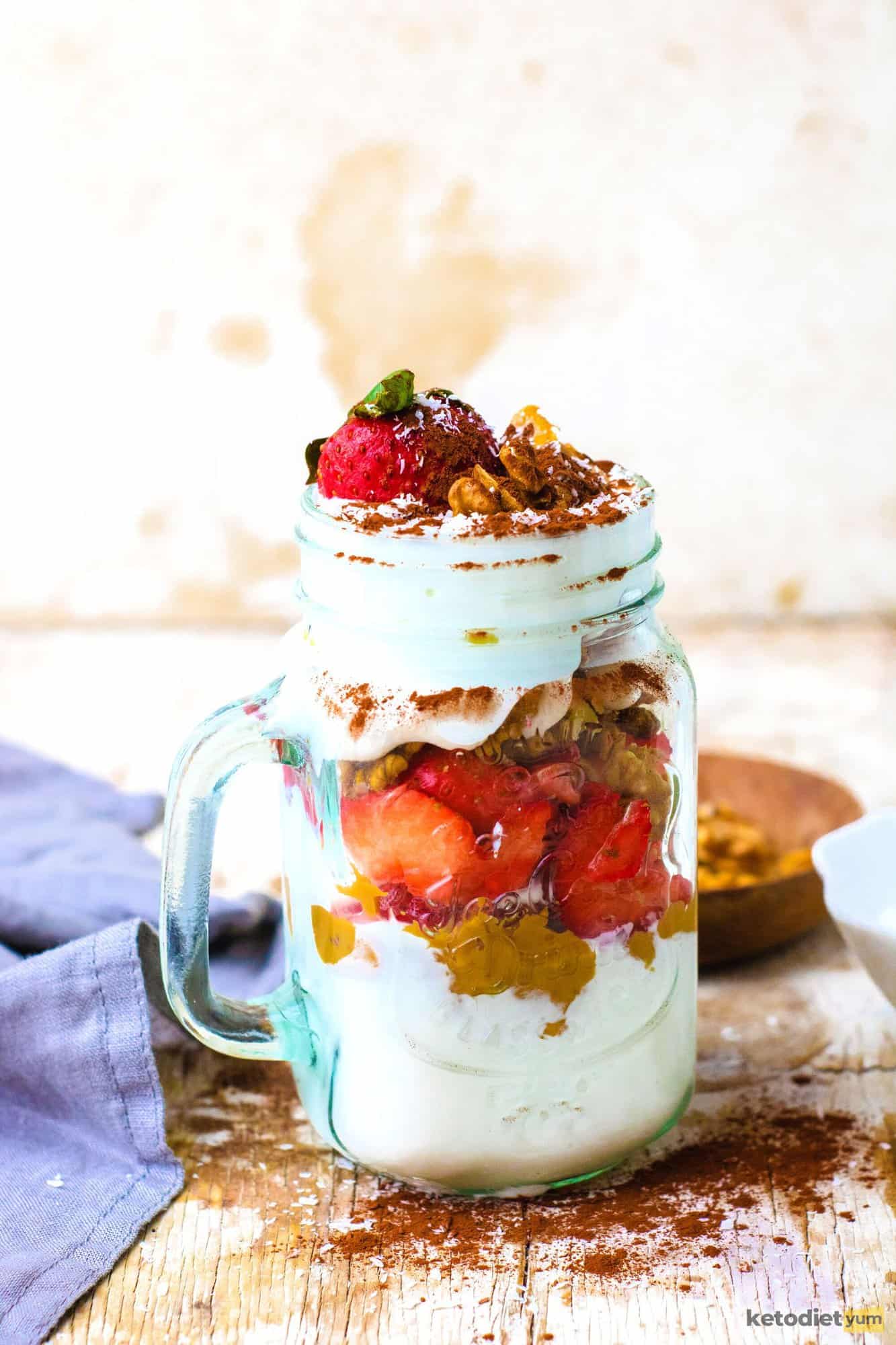 Step Three: Once the layering is complete, give each parfait a sprinkle of coconut flakes, chopped walnuts, and a dusting of cacao powder. Serve immediately or pop them into the refrigerator for up to 3 days.
Tips And Variations
Marzipan breakfast parfait: To enhance the almond flavor even more, replace the vanilla with almond extract and the chopped walnuts with thinly sliced almonds. Marzipan isn't the healthiest option for breakfast, but it's possible to mimic the taste by switching around the nuts and flavoring. Fresh cherries would work well with the almond notes, so substituting the strawberries would be a tasty alternative.
Chocolate and forest fruits parfait: Our yogurt parfait recipe is fully customizable, so you can change the toppings however you like. Chocolate and forest fruits parfait is an indulgent combination that's amazingly still keto-friendly. All that's needed is some mixed berries instead of the strawberries and some shavings of high-quality, sugar-free, dark chocolate on the top of the final layer.
Decorative glass presentation: It's nice to make a little extra effort when serving up dishes to guests or on special occasions. Thinly slicing a couple of strawberries and pressing them against the inside of the glass before creating the parfait layers results in a stunning effect that friends and family will love!
Frequently Asked Questions
How long will yogurt parfait keep?
This yogurt parfait will keep well in the refrigerator for up to 3 days. Before eating the parfait straight from the fridge, allow it to sit for a couple of minutes so the intense coolness fades and the blend of fresh, fruity flavors retake center stage.
Is yogurt parfait a healthy breakfast?
Parfait is absolutely a healthy breakfast! Unless you're creating a version that's crammed full of syrups, sugar, or chocolate, parfait is a fantastic breakfast option. Using fruit in the recipe brings an additional hit of nutrition on top of the proteinaceous yogurt and nuts.
How many calories are in a breakfast parfait?
Our breakfast parfait recipe contains 316 calories and contains a huge 29% of recommended daily protein. There are only 7.7g of net carbs in this recipe, making it a good option for keto lifestyles but also for those on a calorie-controlled diet.
Can I substitute the almond butter?
Yes, this recipe works with all types of nut butter. Make sure it's a natural kind with no added sugars. I've made this parfait with peanut butter, cashew butter, hazelnut butter, and walnut butter.
Can I substitute the walnuts?
Yes, substitute the walnuts for almonds, pecans, cashews, brazil nuts, hazelnuts, and more.
What other berries can I use?
The best berries for this parfait are strawberries, blueberries, blackberries, and raspberries, or a combination of your favorites.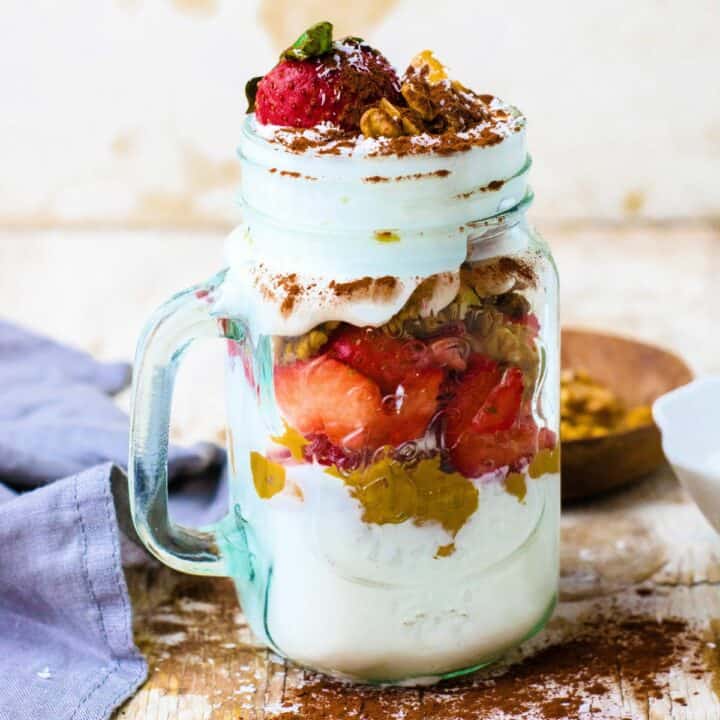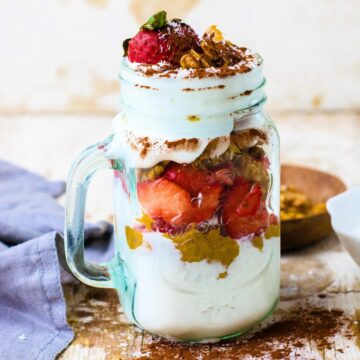 Breakfast Yogurt Parfait Recipe (Easy, Low Carb)
A mouthwatering and oh-so-healthy breakfast yogurt parfait! Packed with wholesome ingredients and bursting with flavor, this delightful concoction is sure to energize you for the day ahead.
Pin It
Print
Ingredients
1 ½

cups

Greek Yogurt

plain

½

cup

Heavy Whipping Cream

4

tablespoon

Almond Butter

2

teaspoon

Vanilla Extract

½

cup

Strawberries

4

tablespoon

Walnuts

chopped

2

teaspoon

Coconut Flakes/Shredded Coconut

Cacao Powder

to garnish
Instructions
In a mixing bowl, whisk together the Greek yogurt, heavy whipping cream, and vanilla extract until smooth.

Layer the yogurt mixture with the almond butter and strawberries in four glasses or jars.

Top each parfait with chopped walnuts, coconut flakes, and a sprinkle of cacao powder. Serve immediately or store in the refrigerator for up to 3 days.
Last Step: Leave A Rating!
Share your recipe by tagging @keto.diet.yum with hashtag #ketodietyum on Instagram - everyone would love to see it!
Nutrition
Serving:
1
breakfast parfait (4 per recipe)
Calories:
316
kcal
Carbohydrates:
10.3
g
Protein:
14.7
g
Fat:
24.9
g
Saturated Fat:
7.5
g
Polyunsaturated Fat:
6.4
g
Monounsaturated Fat:
9.5
g
Trans Fat:
0.2
g
Cholesterol:
30.8
mg
Sodium:
43.2
mg
Potassium:
346.5
mg
Fiber:
2.6
g
Sugar:
6.5
g
Vitamin A:
64
IU
Vitamin C:
10.8
mg
Calcium:
182.3
mg
Iron:
0.9
mg
Net Carbs:
7.7
g