There's nothing quite as delicious as a beef stew, especially as the colder months draw in and your body craves something warming, filling and nutritious.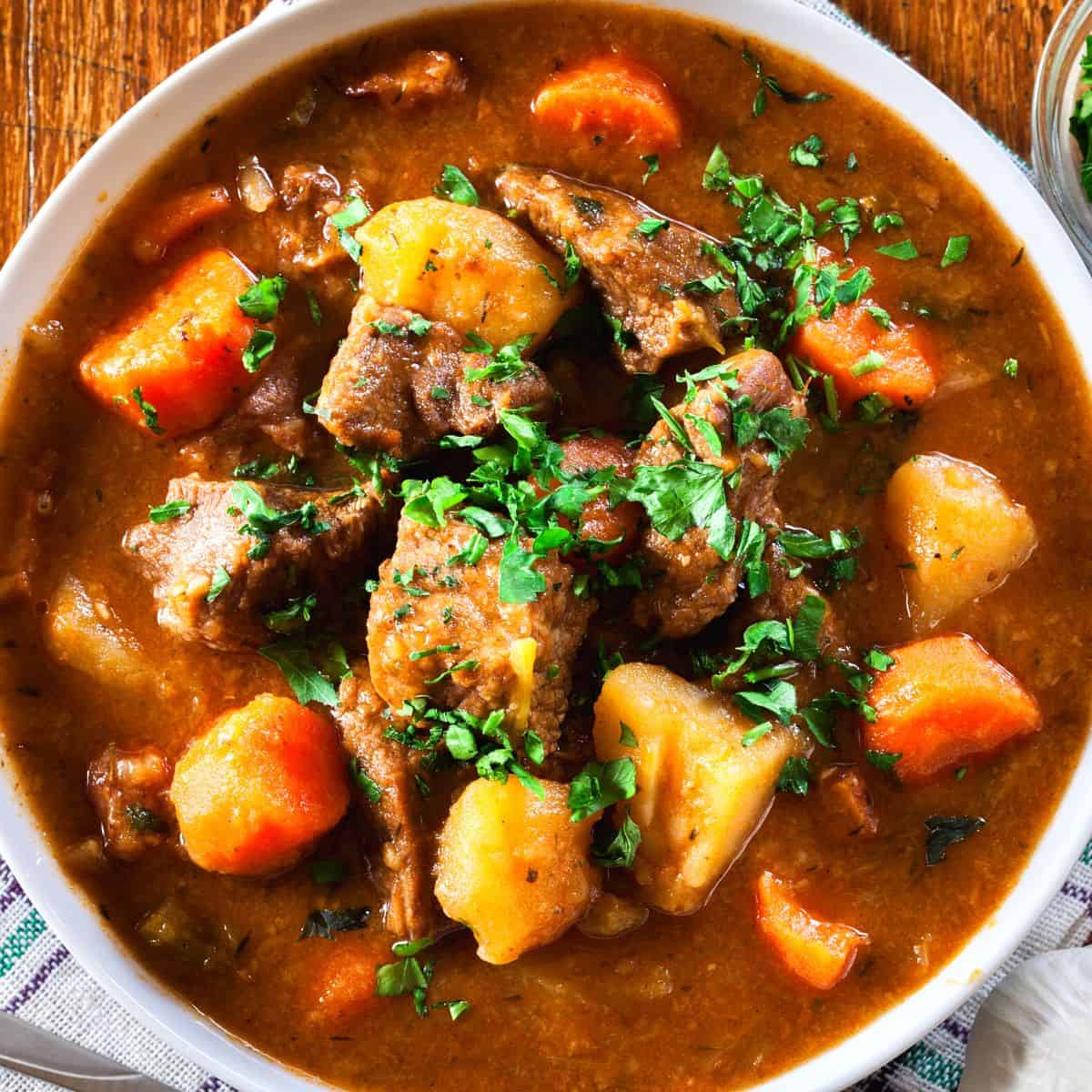 Table of Contents
Is Beef Stew Keto?
However, if you're on a Keto diet or any low-carb diet then finding the right ketogenic beef stew recipe isn't always easy.
Beef stew (or beef casserole) is traditionally made with potato, definitely not a Keto-friendly vegetable because of its very high carbohydrate content.
That doesn't mean you can't enjoy a keto stew.
We've got the perfect keto beef stew recipe for you and your family that tastes so good, it's even better than regular beef casseroles, made with potato.
If you've got a slow cooker, even better because that way the flavors all meld together very slowly, producing the ultimate beef stew.
If you don't have a slow cooker, don't worry, you can still make this recipe in a deep, lidded casserole pot on the cooktop or in the oven on a low light for three or four hours.
The idea is that once cooked, the beef falls apart and is soft and tender to eat while the vegetables all fuse together to deliver an extraordinary flavor.
Ideal for all the family, you can make this recipe in advance because it freezes for up to 3 months (in an airtight container) or refrigerates it for up to three days.
So, get yourself off to the supermarket and stock up on all the ingredients you need to make easy Keto friendly beef stew.
Here's what you'll need:
1. A slow cooker
If you don't have one you can buy one on Amazon at a budget-friendly price, do watch which size you buy though as if it's for a family, you'll need a large slow cooker.
Of course, if you don't have a slow cooker, you can still make this recipe but simmer it for less time in the oven on 285 degrees F / 140 degrees C (around 3 to 4 hours) or on a very low light on the cooktop for 2 to 2 ½ hours.
Check the meat regularly.
2. A chopping board
3. A sharp knife
Then you'll need the ingredients (this makes enough for ten people)
Keto-friendly oil such as extra virgin olive oil or coconut oil
32 oz / 900 g of stewing steak, cut into cubes and fat trimmed off
2 beef stock cubes (check the ingredients for lowest carbs)
34 oz / 1 liter of boiling water
1 teaspoon of dried rosemary
1 bay leaf
1 teaspoon dried parsley
½ teaspoon ground black pepper
Seasalt
2 sweet potatoes peeled and cubed
1 onion chopped
1 large carrot, chopped
4 sticks of celery cut into 1-inch / 2.5 cm pieces
1 oz / 30 g of button mushrooms
1 small aubergine, cubed
½ small butternut squash cubed
Worcestershire sauce
1 oz / 30 g of cherry tomatoes, whole
Beef gelatine to thicken
How to Cook Keto Beef Stew in a Slow Cooker
This is ridiculously easy.
Simply place all of the ingredients (except the beef gelatine) in your slow cooker and cook all day for 7 hours on low or if you want it quicker, cook it on high for four hours.
Once your slow cooker low-carb beef stew is ready, add the thickening agent using gelatine – see below for preparation.
Making Beef Gelatine
In regular beef stew recipes, cornflour is usually used to thicken up the juice but it is not a Keto-friendly ingredient so you'll need something else.
Here's how to thicken without cornflour:
Add 1 tablespoon of beef gelatine to a bowl
Sprinkle three tablespoons of cold water onto the gelatine
Allow it to sit for a couple of minutes
Add 1.7 fl oz / 50 ml of prepared beef stock (made from a stock cube) to the gelatine
Stir it together and add to your low-carb stew
How to Cook Keto Beef Stew on a cooktop or in the Oven
If you are making this in the oven, set it the temperature to low, 285 degrees F / 140 degrees C (adjust your oven according to fan or fan assist).
If you make this on your cooktop, choose a small ring and keep the gas on low.
You'll need a large casserole pot with a lid and a deep saucepan
First, use the saucepan. Add a little oil and heat up.
Then, add the onion and fry it until it is soft.
Then, brown the meat on all sides in the saucepan.
Meanwhile, add the vegetables and herbs to your casserole dish except for your mushrooms, tomatoes and parsley.
Once your meat is browned off, add it together with the onion and all the juices from the pan to the casserole dish.
Season with salt and pepper.
Add the bay leaf.
Sprinkle with a little parsley.
Add a dash of Worcestershire sauce.
Add the stock cubes along with the boiling water.
Place the lid on the casserole and put it in the oven or on the cooktop.
If you are cooking your Keto casserole in the oven, after two hours, remove it and add the mushrooms then cook for another hour, remove it and add the tomatoes and cook for half an hour.
Finally, remove it and add the gelatine thickener, stir in thoroughly.
Your Keto Beef Stew is ready to serve.
Total time 3.5 hours (or 4 hours)
If you are cooking your beef stew on the cooktop, repeat the above but put the mushrooms in after 1.5 hours and the tomatoes another half an hour later, for half an hour.
Total cooking time 2 hours (or 2 ½ hours).
Keto Beef Stew Nutrition
Of course, apart from tasting absolutely delicious, you want to know what the nutrition value is.
3.5 oz / 100 g of Keto beef stew consists of:
310 calories
22g fat
12g carbs
5g fiber
30g protein
Not only does this beef stew make an incredible meal for you and your family, but it is also extremely good for you, containing a vast number of essential vitamins and minerals, ideal for keeping winter colds and other illnesses at bay.