Is keto sustainable long term? Learn how to succeed with the ketogenic diet for improved health, more energy, and weight loss.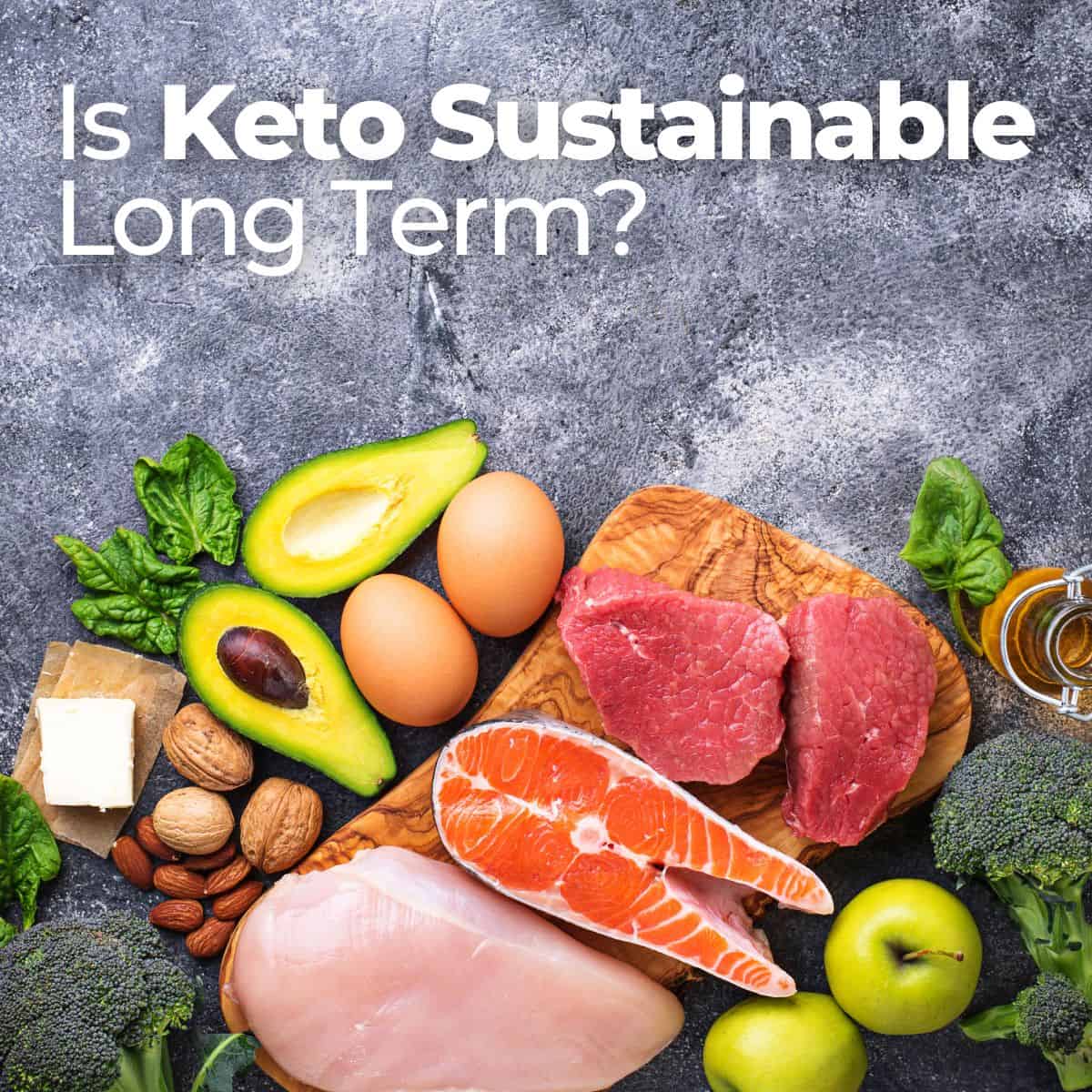 Table of Contents
Are you trying to go keto but feeling a little overwhelmed by the prospect of keeping up with such a specific diet?
We've all been there! It's definitely not easy to stick to any diet, let alone one as strict as the keto diet.
Luckily, there are some simple ways to make keto a more sustainable diet in the long run.
Keto Hacks: How to Make This Diet More Sustainable For You
Whether you're just starting out on your keto journey or you're a seasoned keto expert, it's always a good idea to take a look at how you can improve your diet and make it more sustainable.
After all, if you're going to make a lifestyle change, you want to make sure it's one you can stick to in the long run. With these tips, you'll be on the path to a healthier, happier you!
Tip #1: Swap High-Carb Foods with Keto Staples
Making a keto diet sustainable for you does not have to be difficult, and one of the key strategies for success is to swap high-carb foods with keto staples.
This means that instead of reaching for sugary snacks, opt for healthy fats and proteins. Some high-carb foods to consider swapping for keto-friendly options include:
White bread - Swap for keto-friendly alternatives such as almond flour bread, coconut flour bread, or even a lettuce wrap.
Pasta - Swap for zucchini noodles, spaghetti squash, or shirataki noodles.
Rice - Swap for cauliflower rice, broccoli rice, or even a low-carb stir fry.
Potatoes - Swap for turnips, radishes, or even mashed cauliflower.
Sugary drinks - Swap for unsweetened teas, sparkling water, or unsweetened coconut water.
Dried fruit - Swap for fresh berries, unsweetened coconut flakes, or dark chocolate chips.
Processed snacks - Swap for nuts, seeds, or low-carb protein bars.
By swapping high-carb foods with keto staples, you can ensure that you are eating a balanced and healthy diet. Additionally, these swaps can help you stay in ketosis and reduce cravings for unhealthy snacks.
Tip #2: Follow an Easy Keto Meal Plan
Meal planning can help you stay within your daily macros and ensure you get all the nutrients you need. Having a plan in place can also make it easier to stick to your diet and make sure you're not reaching for unhealthy snacks or convenience foods.
Creating a meal plan doesn't have to be complicated. Here are some simple tips to get you started:
Start by planning out your meals for the week. Make sure to include breakfast, lunch, dinner, snacks, and drinks.
Create a grocery list based on the meals you planned. This will help you stay focused in the store and ensure you're buying all the ingredients you need.
Look for simple recipes that include ingredients you already have in your pantry. This will help you save time and money.
Consider prepping meals ahead of time. This will help you save time during the week and make sure you have healthy meals ready to go.
Don't forget to include healthy snacks. This is a great way to stay on track with your diet and ensure you're not reaching for unhealthy snacks when you're hungry.
With the right meal plan, you can stay on track and reach your health goals. So, find a meal plan that works for you and give it a try!
Tip #3: Create Energy-Boosting Snacks Made from Healthy Fats
While it's easy to be tempted by the high-carb snacks that we're all used to, it's important to remember that the keto diet is all about getting your body into a state of ketosis, which means that you need to be consuming a higher level of healthy fats than carbohydrates.
Creating energy-boosting snacks made from healthy fats is a great way to keep your energy levels up throughout the day and to make sure that you don't get too hungry.
There are a few different options when it comes to creating healthy fat-based snacks, and these can easily be adapted to suit your own preferences.
One of the most popular options is to make your own nut butter, which can be made with various nuts and seeds. You can also use nut butter as a base for other snacks, such as energy balls or protein bars.
Another great way to get your healthy fats in is to make your own keto-friendly trail mix. This can be made with a combination of nuts, seeds, and dried fruits, and it can be a great way to satisfy your cravings without overdoing it with carbs.
Tip #4: Be Sure to Get Enough Electrolytes
When you're on a keto diet, your body is going to be losing electrolytes through increased urination. This can lead to dehydration, cramps, fatigue, and other symptoms.
To avoid this, you should make sure you're getting enough electrolytes in your diet.
The best way to do this is to add electrolyte supplements to your diet. These can be tablets, powders, or even electrolyte-rich drinks like coconut water.
You can also get electrolytes from natural sources such as fruits and vegetables. Some examples include avocados, spinach, bananas, and potatoes.
It's also important to drink plenty of water throughout the day to stay hydrated, as this will help your body absorb the electrolytes more efficiently.
Also, make sure you're eating enough salt. A good rule of thumb is to consume at least one teaspoon of salt per day.
By ensuring you're getting enough electrolytes, you'll be able to make your keto diet more sustainable and prevent any potential side effects.
It's an easy and effective way to keep your body functioning in tip-top shape while you're on the keto diet.
The Bottom Line: Making the Keto Diet an Easier Transition to Sustain
Transitioning to the keto diet can be difficult, but with the right knowledge and tools, it can become an easier transition to sustain.
By understanding which foods are allowed on the keto diet, being prepared, and staying motivated, you can make the transition to the keto diet a much smoother experience.
At Keto Diet Yum, we are passionate about helping you reach your health and wellness goals. We offer the best keto meal plans that are easy to make and full of nutrition, so you can feel good about what you're eating. We hope you find something delicious and nutritious here that you love. Contact us today!