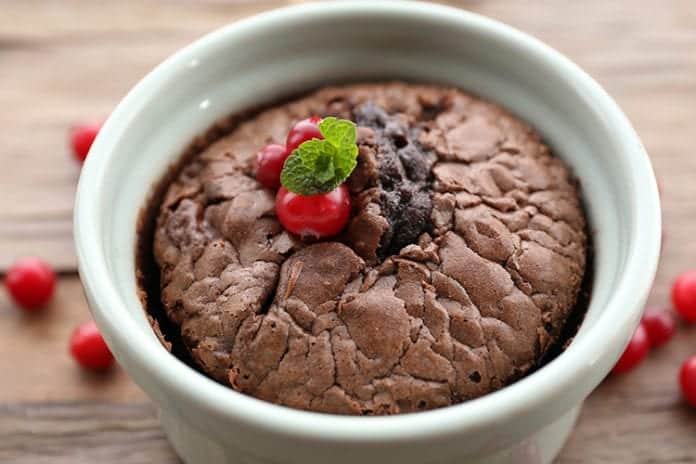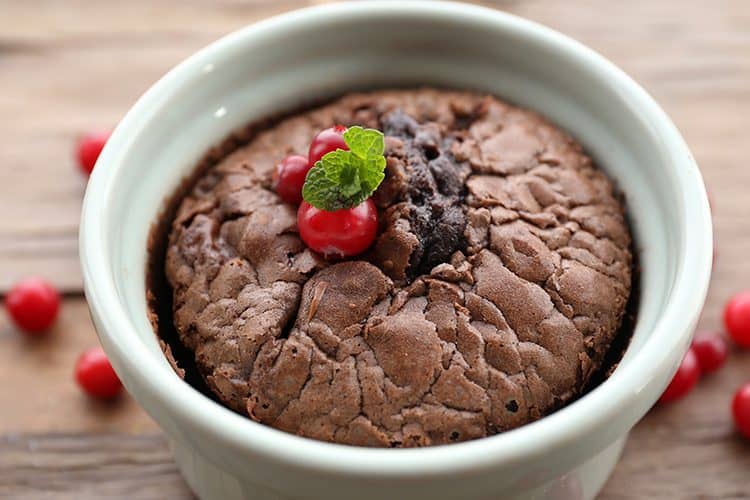 A molten chocolate low-carb lava cake with a decadent and rich flavor that manages to stay keto-friendly with only 4g of net carbs!
Super quick and simple to make it's my go-to recipe when my sweet tooth is calling.
Keto Lava Cake
Nutrition per serving: Calories 173, Fat 13g, Protein 8g, Carbs 4g
Ingredients
2

tablespoon

cocoa powder

2

tablespoon

zero-calorie powdered sweetener

1

medium egg

1

tablespoon

heavy cream

1 1/2

teaspoon

vanilla extract

1/4

teaspoon

baking powder

1

small pinch

salt
Instructions
Preheat your oven to 375 F / 190 C.

In a small bowl mix the cocoa powder, powdered sweetener, baking powder, and salt.

In a small bowl, beat your egg until a little fluffy. The air in the egg is needed as there is no flour.

Combine the two mixtures together along with the heavy cream and vanilla extract.

Wet a large mug with a little oil, and fill with cake batter, place on baking tray and bake for 10 – 15 minutes, the top of the cake should be firm but jiggly.

Another option is to microwave your mug cake for around 60 seconds. Remember, each microwave is different, so after 60 seconds, check on the mug cake and if it isn't solid, put it back in for 10-second intervals until done.
Ready to start your Keto Diet?
If you're still unsure about how to eat, what to eat or what to avoid, don't worry you're not alone! There is a little-known diet system called The 28-Day Keto Challenge which will teach you everything you need to know and guide you through your first month. Getting that in check will increase your metabolism and allow you to shed weight and shed it fast. Women who have followed The 28-Day Keto Challenge reported losing up to 21 pounds and 2-4 inches from their waist in just a matter of 4 weeks—the methods in The 28-Day Keto Challenge are all backed by scienceCheck out this video on The 28-Day Keto Challenge now to learn more about how to follow the diet—and lose weight and improve your life in 28 days.