Blueberries and walnuts: What a heavenly combination of flavors, colors, and textures! Decadent and moist, you'll never suspect that it is keto-friendly and that it packs just 6 grams of net carbs per slice. Relying on almond flour and baking powder to achieve a luscious texture, this is one of the best pound cakes we've ever tasted! Make sure to let it cool down before you slice it unless, of course, you eat it straight from the oven. Who has time for slices, after all?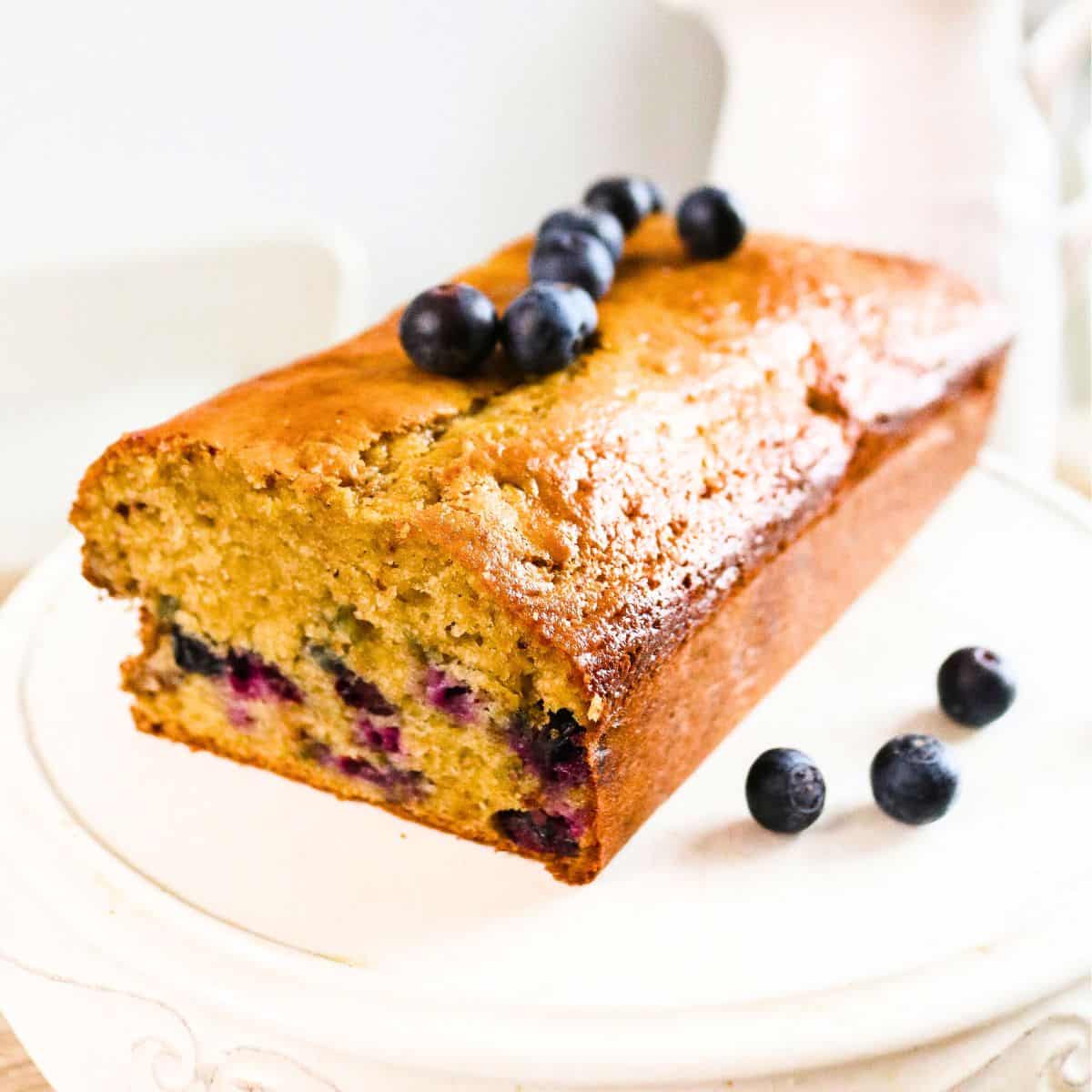 Table of Contents
Traditional pound cake is generally made with a pound each of flour, butter, eggs, and sugar. We've modernized our keto blueberry pound cake into a low-carb treat with a tangy, fruity twist. Almond flour and baking powder work together to create a dense and satisfying texture. It's hard to believe this luscious cake contains no added sugar! Thanks to erythritol and stevia, our keto pound cake brings harmonious sweetness everyone will adore after dinner.
Blueberries have a fruity tartness in this dessert and a gorgeous purple color that ripples through the pound cake, unleashing a river of flavor. With less than 10g of carbohydrates per serving, our pound cake recipe is a keto dream. With so many exciting flavor combinations and textures, you won't miss the sugar-laden traditional version at all.
This blueberry pound cake recipe is a breeze to cook, and the result is a lusciously golden cake that's perfect paired with a drizzle of cream. Blueberries work well in this recipe, but if you have different fruits, such as raspberries or blackberries, to hand, feel free to give them a go, too. In under an hour, you'll have a delicious dessert you'll love serving up to guests any day of the week!
Ingredients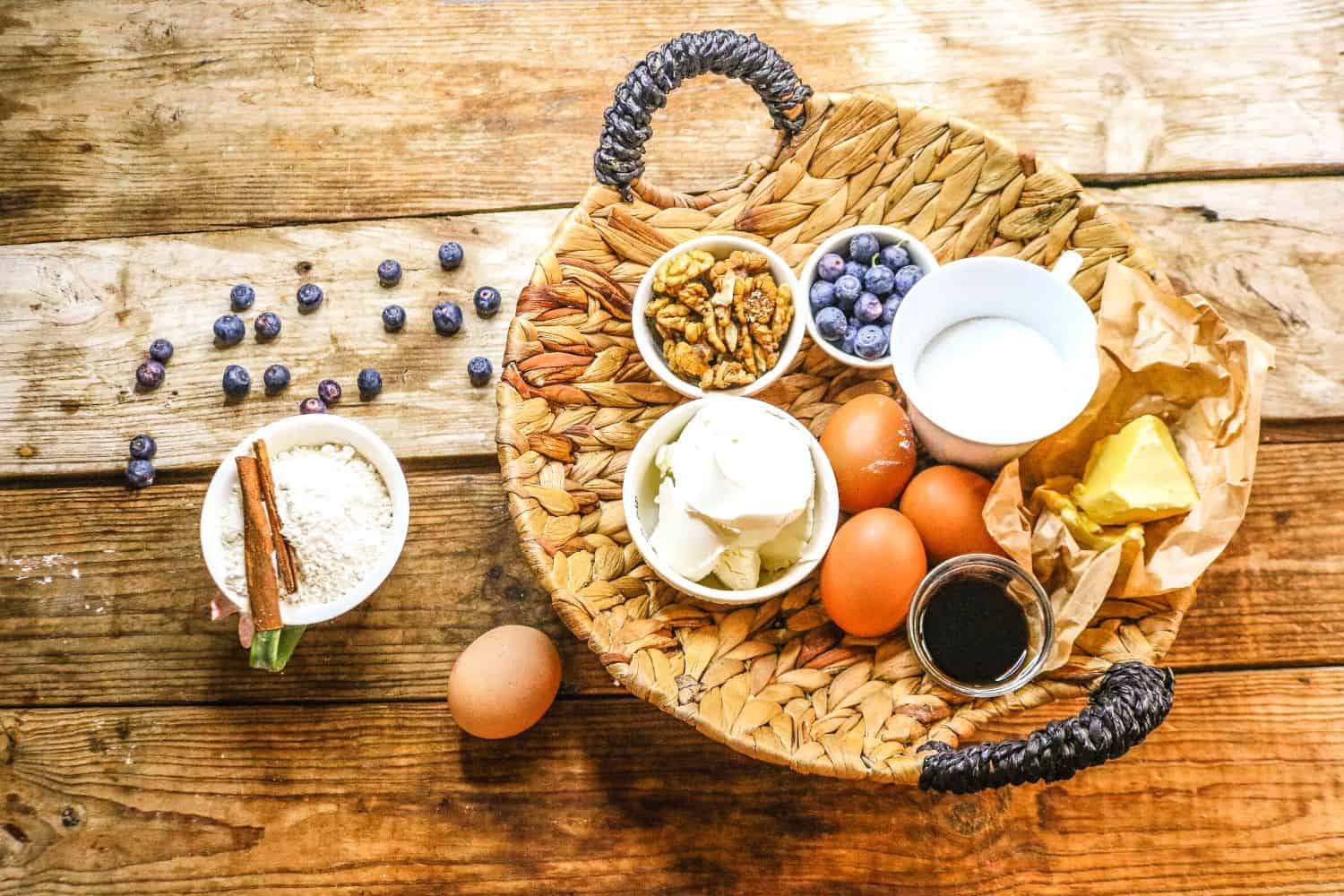 Almond Flour: In a typical pound cake recipe, regular flour would be used, but we find almond flour is a fantastic keto-friendly alternative. The subtle sweetness and dense texture of almond flour keep our keto pound cake moist and delicious, ideal alongside a hot cup of coffee.
Eggs: The addition of four large eggs creates an inviting yellow batter, which, when speckled with blueberries, takes on a vibrant shade of blue-purple. There's no need to separate the yolks and whites, as the entire egg is needed to help lighten the cake's texture.
Cream Cheese: Zesty blueberries are a match made in heaven for cream cheese. It's surprising how much the unique flavor of cream cheese brings to the pound cake batter, but it's impossible to find a tangier ingredient! The silky texture of cream cheese keeps the batter smooth and light, resulting in a delicately flavored and fluffy pound cake.
Walnuts: Giving plenty of thought to texture is vital when baking! Chopped walnuts folded into the cake batter just before it goes into the oven provide a delicious crunch in between bursts of juicy blueberry. Chopped almonds are a good alternative if you don't have walnuts at home. Be sure to roughly chop the nuts, leaving some bits bigger than others, as this adds yet even more texture.
Blueberries: More than just a boost of antioxidants, the humble blueberry is a joy to bake with, providing a sweet and sour edge to any recipe. Blueberries of course add a fruity twist to a traditional pound cake, but they also produce moisture, keeping the pound cake from getting dry.
Butter: Is any cake recipe complete without adding butter? Unsalted is the best kind of butter to use for this keto pound cake. When baking, it's better to add your own salt and have better control over the ingredients. Salt is a great flavor balancer, and in this cake, it helps each ingredient mold together so no taste becomes overpowering.
Erythritol: Those on a keto diet will likely be familiar with erythritol! The subtle taste isn't noticeable in the pound cake, but instead, its light sweetness is all that remains. Finding a tasty keto-friendly alternative to sugar can be tricky, but erythritol is a great option since it doesn't have a strange aftertaste and adds the perfect balance of sweetness to our keto pound cake.
Sour Cream: The distinctive taste of sour cream is a must in this keto pound cake. Not only does sour cream bring moisture, but it also helps keep the batter lusciously thick from the mixing bowl to the tin.
Baking Powder: A pound cake needs to rise in the oven, and baking powder is the chosen ingredient we use to create a fluffy yet dense cake able to serve 10 people. Eggs also help the cake rise, but adding just a small amount of baking powder lightens the texture even more.
Cinnamon: Cinnamon is often seen as the holiday season spice, and a sprinkling of ground cinnamon is all that's needed to bring extra warmth to any recipe. Cinnamon compliments the vanilla extract, intertwining two delicate flavors perfectly for an afternoon pick-me-up with a coffee!
Vanilla: Just half a teaspoon of vanilla extract magically transforms our keto pound cake into a delicately floral delight. Vanilla seeds straight out of the pod also work well, gently stirred into the mixture until the golden batter is flecked with black dots.
Stevia: Erythritol ensures this cake is sweet as can be, but a small spoon of stevia into the mixture really hits the spot! Unlike erythritol, stevia, unfortunately, can have an unpleasant aftertaste. Since there's so little stevia in this cake, however, the aftertaste isn't even noticeable when up against blueberries, vanilla, cinnamon, and walnuts.
Salt: Adding salt to a sweet recipe may sound a little crazy, but it can actually enhance the other flavors substantially and bring overall balance to the pound cake's sweetness. Only using a small amount of salt is essential; otherwise, you'll be left with a pound cake with an overpowering salty taste!
How To Make Keto Blueberry Pound Cake
It's hard to believe this pound cake is keto-friendly, but by making smart changes to ingredients, the total carbs per slice are only 6g. Blueberries help bring color and juiciness, but feel free to play around with the recipe and use whatever low-carb berries you have to hand!
Step one: Preheat the oven to 350°F (176°) and line a loaf pan with parchment paper. If you're struggling to keep the paper in the tin, take a little butter and use it to stick some corners of the paper down.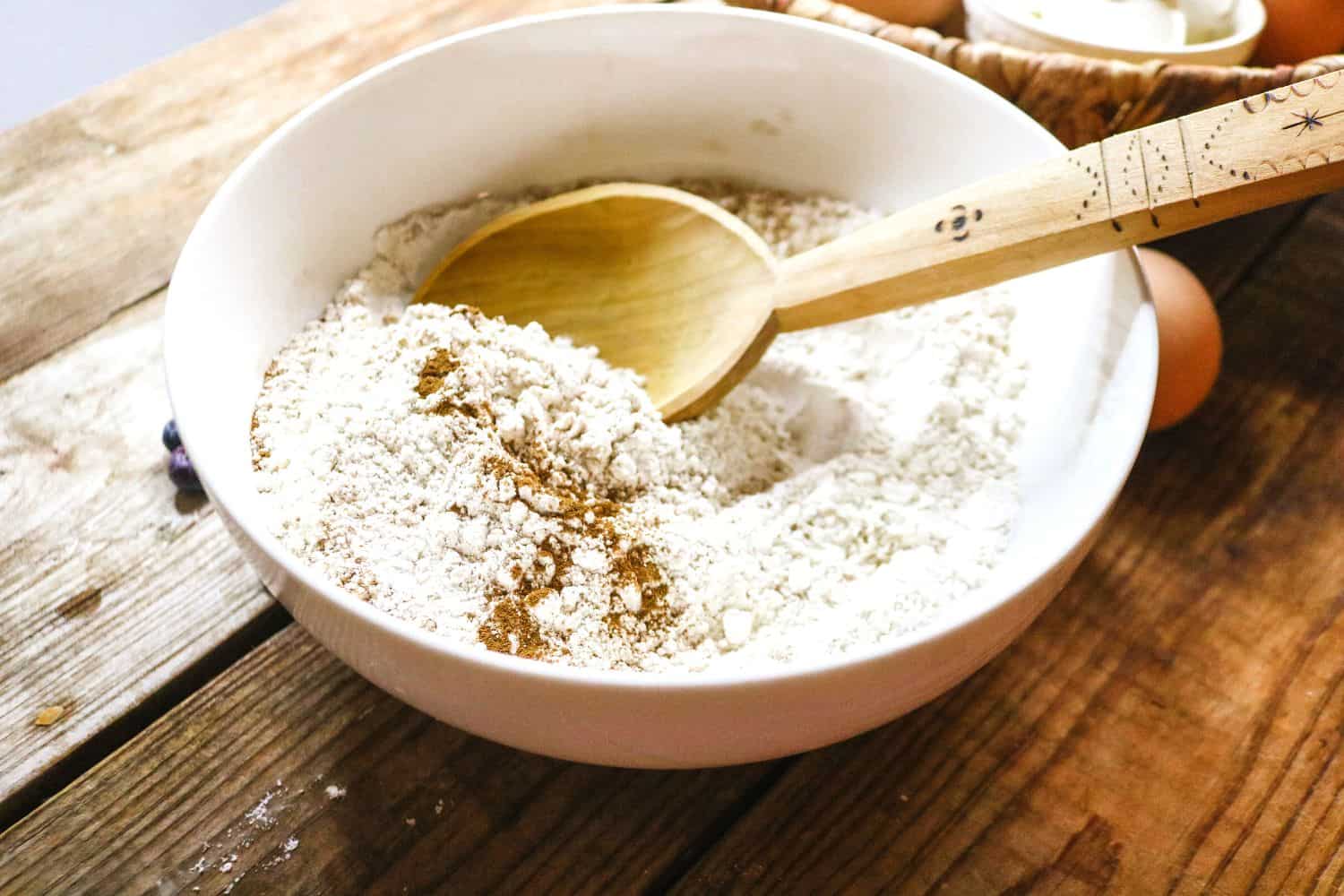 Step two: Use a mixing bowl and combine the almond flour, baking powder, cinnamon, and salt. Give the dry ingredients a stir-through until everything is well combined.
Step three: With a mixer, blend the cream cheese, butter, and erythritol together in a separate bowl. Keep mixing until everything becomes light and fluffy. This can take a couple of minutes.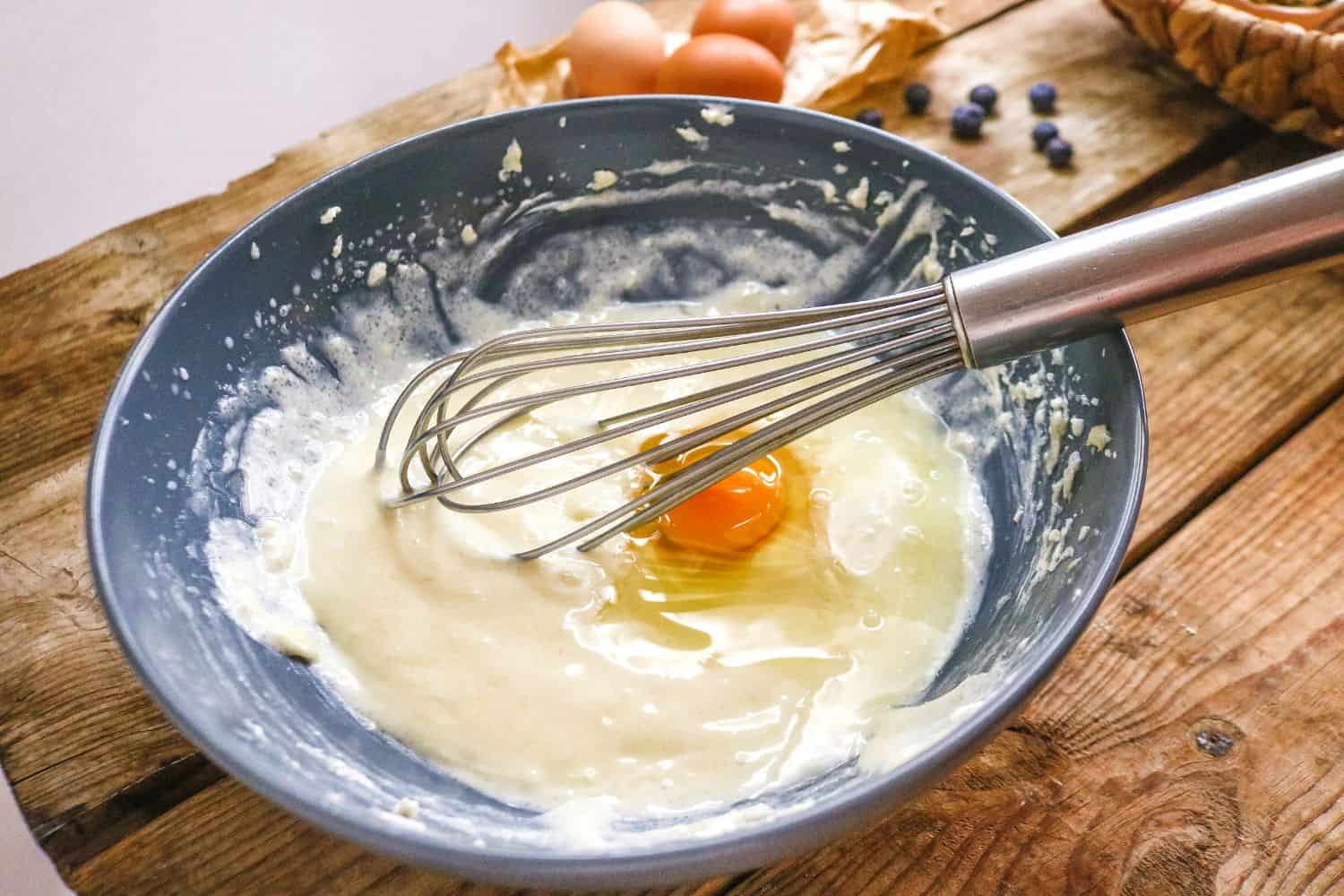 Step four: The vanilla extract, liquid stevia, and sour cream can then be added to the cream cheese blend, and a mixer can again be used to combine everything. Once the batter becomes smooth and glossy, 4 large eggs can be cracked and added in, one by one.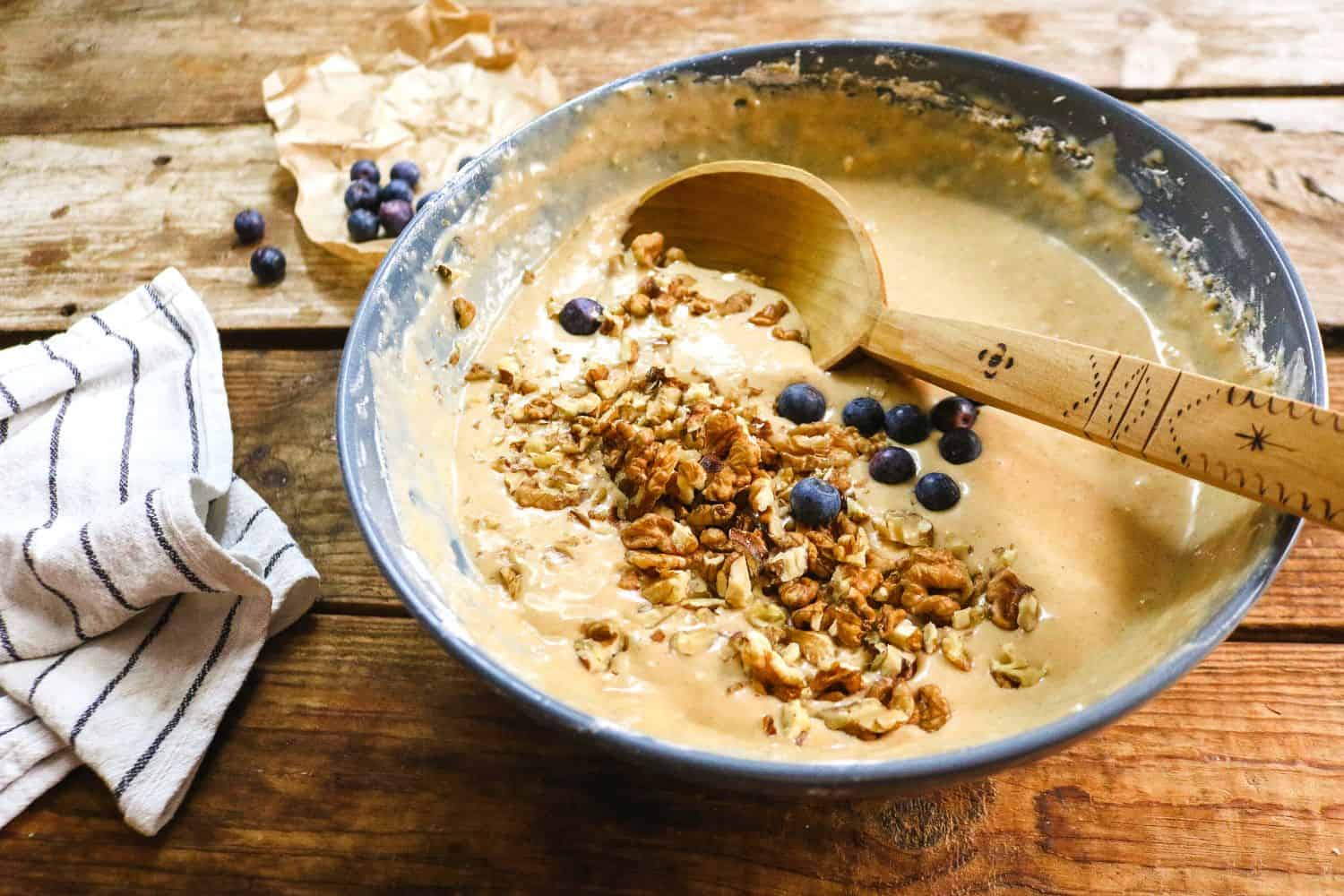 Step five: Gently fold the flour mixture into the golden batter before adding the chopped walnuts and fresh blueberries. Be sure to softly combine all the ingredients as it helps keep the batter aerated.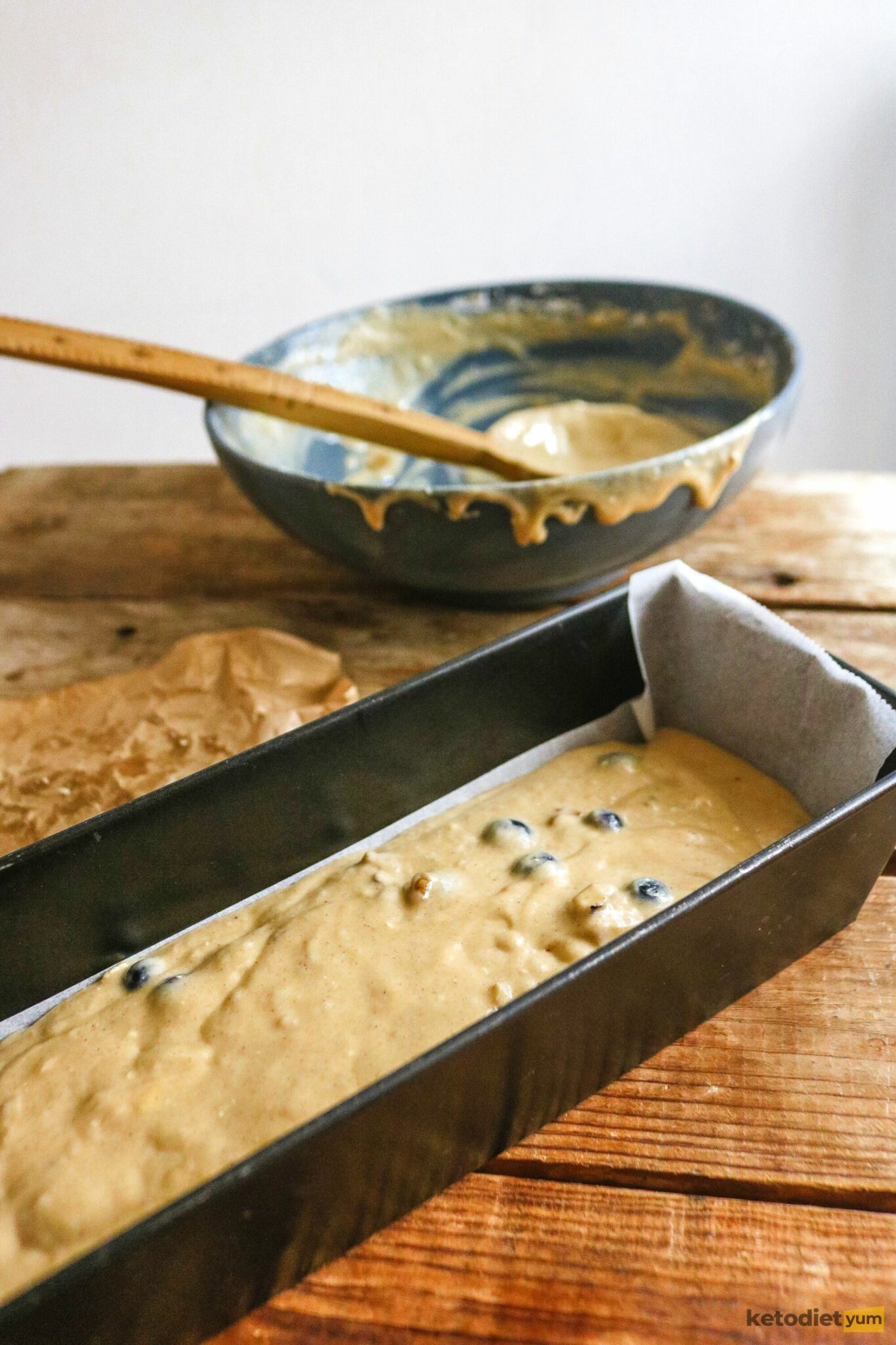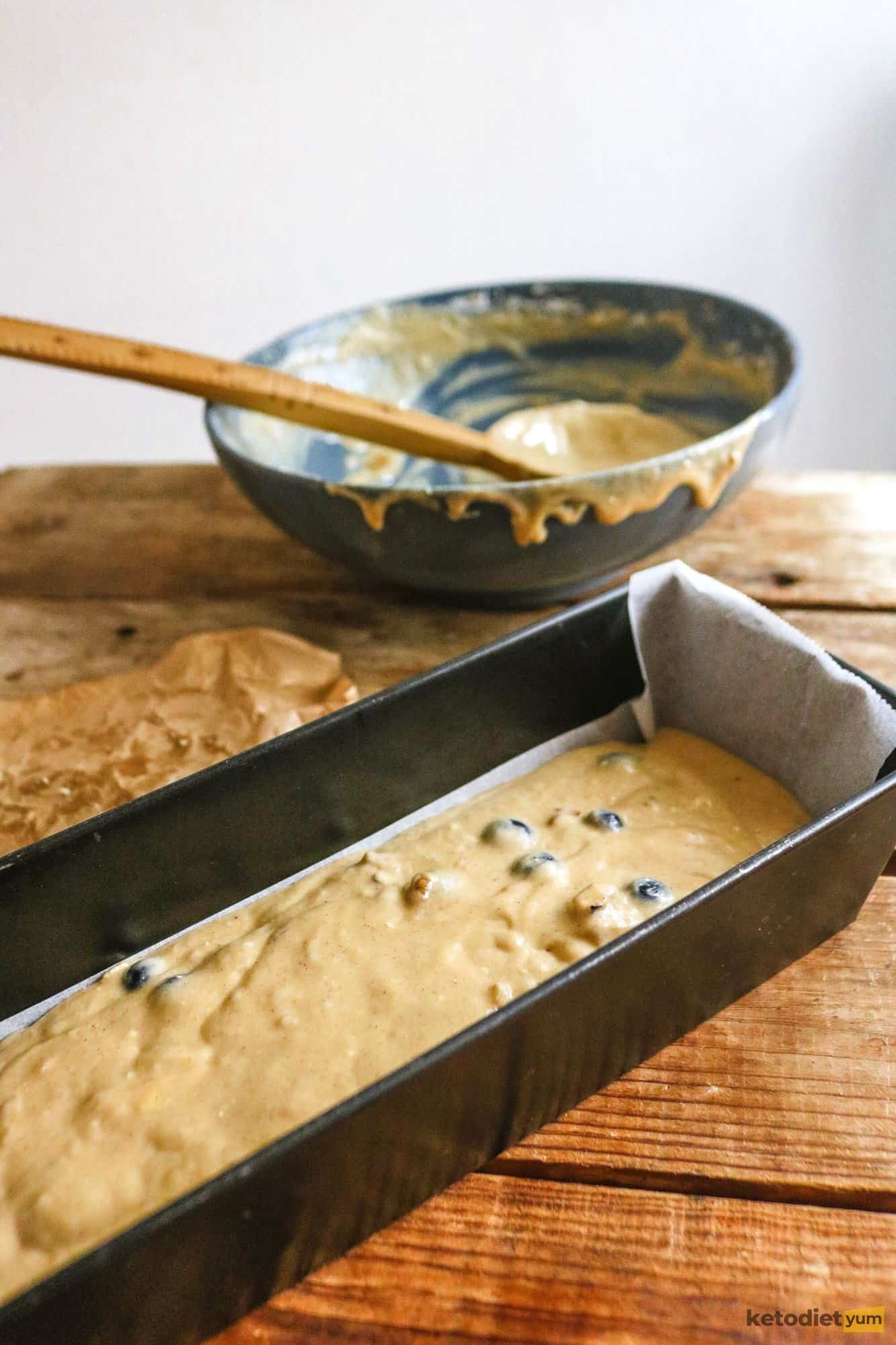 Step six: Slowly pour the batter into the payment paper-lined loaf pan and bake the keto pound cake for 40-45 minutes, or until it's a light golden brown. The cake is best enjoyed at room temperature and is even more of a dream dessert when paired with fresh blueberries and cream.
Tips And Variations
Zesty Keto Pound Cake: Nothing tastes more like sunshine than lemons, and a little zest gives this pound cake a fresh flavor boost. Grating confetti of fresh lemon zest into the batter before cooking gives the cake even more vibrancy. The sour notes of lemon complement the blueberries, resulting in a tantalizing cake!
Bundt Tin Variation: It's impossible to have just one cake tin at home, as different occasions call for different cakes. A loaf pan is ideal for our keto blueberry pound cake as it can easily be sliced and shared among loved ones. For a show-stopping pound cake, have some fun and cook it in a bundt pan! It takes no longer than pouring the batter into a loaf tin, but the result is a beautifully sculpted cake, excellent for a centerpiece on any table.
Coconut Flour Variation: Almond flour of course brings subtle nuttiness, but replacing it with coconut flour creates even more moisture and texture. Coconut flour has an enchanting way of bringing ingredients together so well, which works wonders for the cinnamon, blueberries, and vanilla.
Greek Yogurt Variation: Cream cheese is undeniably a key ingredient for achieving ultimate tanginess in recipes, but don't feel lost if you don't have any to hand! Greek yogurt has a looser texture than cream cheese, but the silkiness it brings to this pound cake is still impressive.
Frequently Asked Questions
How Many Carbs In A Slice Of Blueberry Keto Pound Cake?
Our keto blueberry pound cake has 6g of total carbs per slice. This depends on the ingredients used, so if you're planning on swapping out ingredients for others, the total carbs per slice may be affected.
Can You Ice A Keto Pound Cake?
Generally, icing isn't a keto-friendly ingredient. Making keto icing for a pound cake is simple, though, and can be done by combining a suitable keto sweetener of your choice with cream and a splash of vanilla extract. This glaze can then be drizzled over the blueberry pound cake for a glossy finish and an extra layer of flavor.
Can You Make Keto Chocolate Pound Cake?
The flavor combinations of pound cake are endless, and it's even possible to make a keto chocolate pound cake! Adding a couple of tablespoons of high-quality cocoa and chopping some dark, keto-friendly chocolate into the batter makes the pound cake irresistibly chocolatey.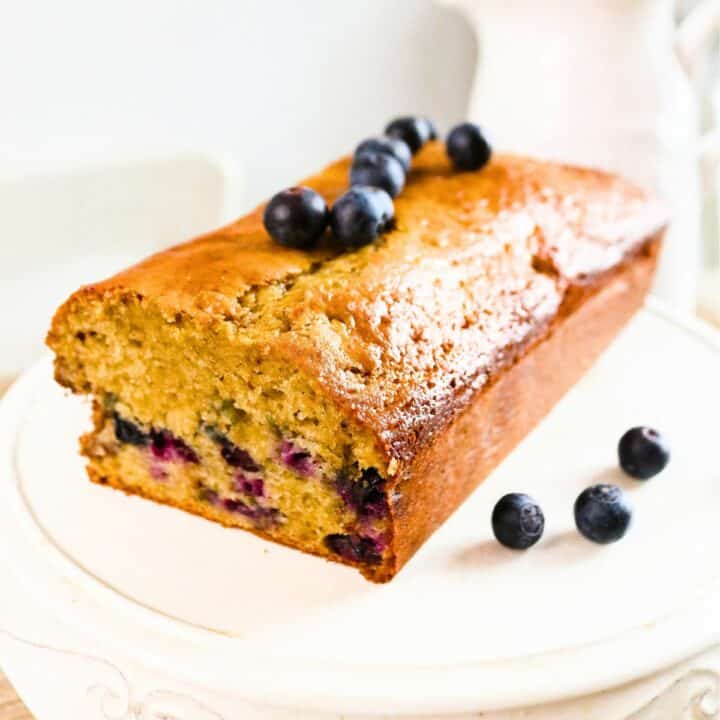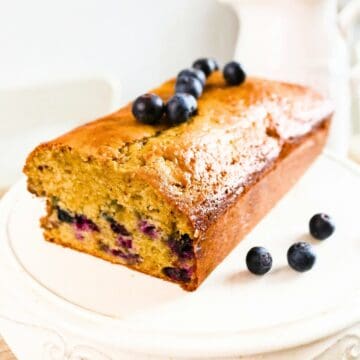 Ingredients
2

cups

Almond Flour

4

large

Eggs

½

cup

Cream Cheese

softened

½

cup

Walnuts

chopped

⅔

cup

Blueberries

fresh

¼

cup

Butter

unsalted, softened

¼

cup

Erythritol

¼

cup

Sour Cream

2

teaspoon

Baking Powder

½

teaspoon

Cinnamon

ground

½

teaspoon

Vanilla Extract

½

teaspoon

Liquid Stevia

½

teaspoon

Salt
Instructions
Preheat the oven to 350°F (180°C) and line a loaf pan with baking paper.

In a mixing bowl, combine the dry ingredients: The almond flour, baking powder, cinnamon, and salt.

In another mixing bowl, combine the cream cheese with the butter and Erythritol. Using a mixer beat until smooth and fluffy.

Add the vanilla, sour cream, and liquid stevia to the cream cheese mixture and mix until well combined.

Once the mixture turns into a smooth and glossy batter, gradually add eggs one by one and beat well with the mixer.

Fold in the flour mixture, and lastly, add the blueberries and walnuts. Mix briefly with gentle moves.

Pour the batter into the prepared loaf pan and bake for 40-45 minutes until golden brown.

Allow the cake to reach room temperature before removing it from the pan and slice. Serve at room temperature, optionally garnished with blueberries and a drizzle of cream.
Last Step: Leave A Rating!
Share your recipe by tagging @keto.diet.yum with hashtag #ketodietyum on Instagram - everyone would love to see it!
Nutrition
Serving:
1
slice (10 per recipe)
Calories:
294
kcal
Carbohydrates:
7.5
g
Protein:
7.6
g
Fat:
19.5
g
Saturated Fat:
6.8
g
Polyunsaturated Fat:
3.6
g
Monounsaturated Fat:
3.9
g
Trans Fat:
0.1
g
Cholesterol:
101.7
mg
Sodium:
281.3
mg
Potassium:
83.9
mg
Fiber:
1.5
g
Sugar:
2.6
g
Vitamin A:
114
IU
Vitamin C:
0.4
mg
Calcium:
91.6
mg
Iron:
0.7
mg
Net Carbs:
6
g