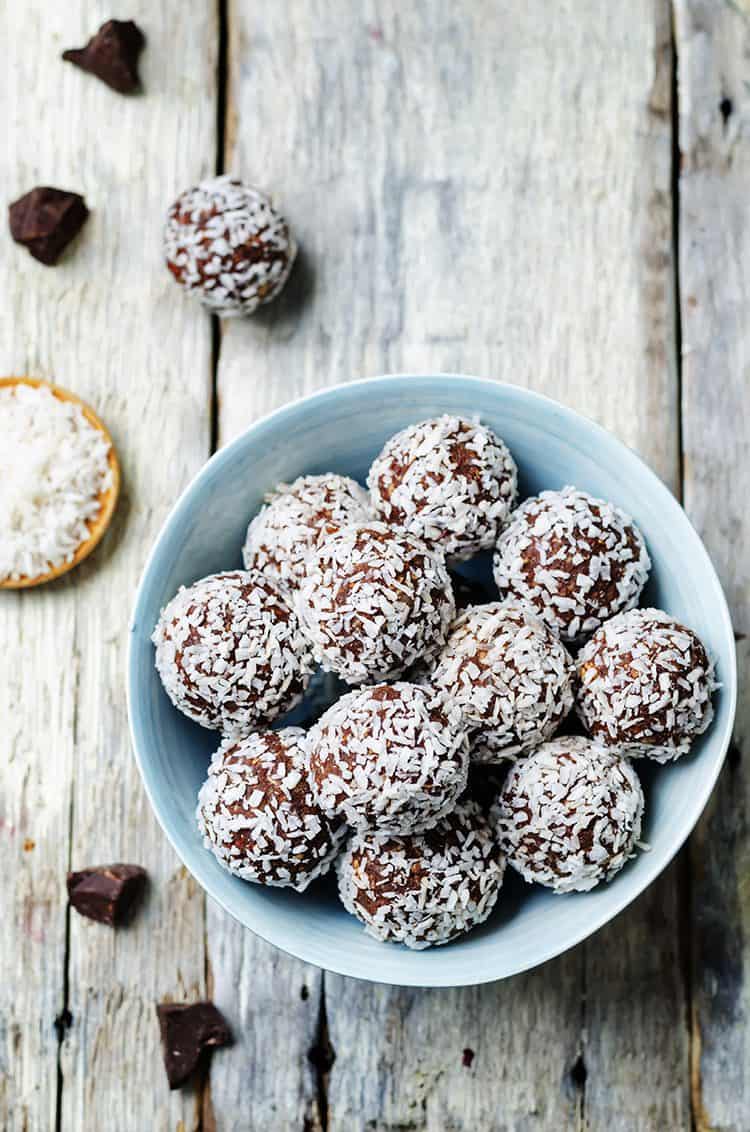 Our no-bake keto chocolate peanut butter balls are a super easy snack or dessert that is low-carb and sugar-free!
The perfect keto snack that is high in fat and loaded with energy, yum!
Keto Chocolate Peanut Butter Balls
Nutrition per serving: Calories 208, Fat 20g, Protein 4.4g, Carbs 1g
Ingredients
1/2

cup

Coconut Oil

1/4

cup

Unsweetened Grated Coconut

1/4

cup

Cocoa Powder

4

tbsp

Peanut Butter

(or Peanut butter powder)

6

tbsp

Shelled Hemp Seeds

2

tbsp

Heavy Cream

1

tsp

Vanilla Extract

28

drops

Liquid Stevia
Instructions
In a medium bowl, add all the dry ingredients and mix with a fork until combined.

Add coconut oil and using hands, mix until everything is combined and starts turning into a paste.

Add the heavy cream, vanilla, and liquid stevia. Mix again until everything is combined, and you have a slightly creamy texture.

Measure out the unsweetened grated coconut on to a plate.

Form balls using your hands, and then roll in the grated coconut.

Lay on to a baking tray covered in parchment paper.

Place in the freezer for about 30 minutes.
Ready to start your Keto Diet?
If you're still unsure about how to eat, what to eat or what to avoid, don't worry you're not alone! There is a little-known diet system called The 28-Day Keto Challenge which will teach you everything you need to know and guide you through your first month. Getting that in check will increase your metabolism and allow you to shed weight and shed it fast. Women who have followed The 28-Day Keto Challenge reported losing up to 21 pounds and 2-4 inches from their waist in just a matter of 4 weeks—the methods in The 28-Day Keto Challenge are all backed by scienceCheck out this video on The 28-Day Keto Challenge now to learn more about how to follow the diet—and lose weight and improve your life in 28 days.